Hindman Auctions Presents Objects Designed and Curated by Late Celebrity Irish Architect and Interior Designer David Collins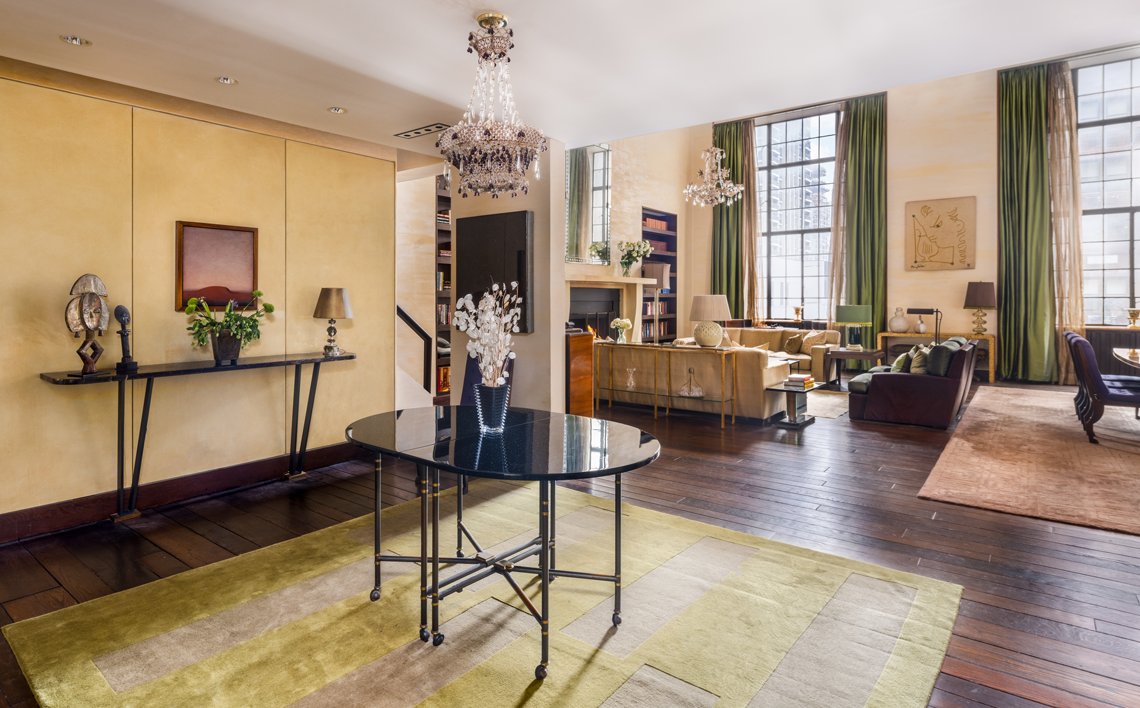 Objects from this apartment at 322 East 57th Street in Manhattan decorated by the late AD100 interior designer David Collins will be presented at an online auction on June 14th. Photo: Evan Joseph
Hindman Auctions Presents
Objects Designed and Curated by
Late Celebrity Irish Architect
and Interior Designer David Collins
The Collected Home by Hindman
Lots Open: June 1; Lots Close: June 14
Click here to view the auction
by Benjamin Genocchio
When Gemma Sudlow was asked if she might be able to help sell the contents of an apartment at auction she didn't think twice. That apartment, at 322 East 57 Street in New York, had been decorated originally around 1997–1998 by David Collins, the late AD100 Irish celebrity interior designer whose projects for A-list clients included retail interiors for Alexander McQueen and Jimmy Choo, and restaurants for Marco Pierre White and Gordon Ramsay. He also consulted on Madonna's New York and London apartments among numerous other residential commissions around the world.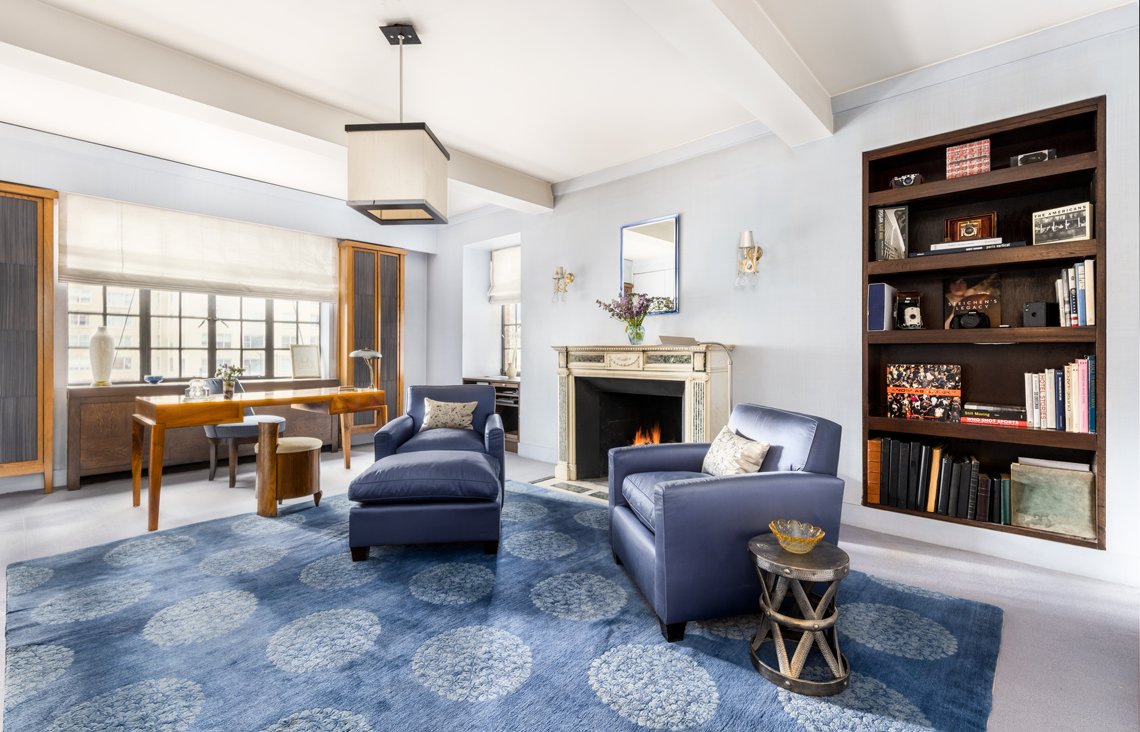 The blue study with a French walnut desk circa 1940 attributed to Jean Royère is one of the pieces included in the auction. Photo: Evan Joseph
Sudlow, the Managing Director, New York Region, of Hindman Auctions, one of the largest auction houses in the US, started her career at Christie's in London and immediately knew who Collins was, and his importance. She jumped at it. "I was excited to learn that objects curated and designed by Collins would be coming up for auction. He was one of the most influential interior designers of the past three decades, having designed all manner of interiors for hotels, luxury retail stores, bars, restaurants, private residences, and yachts. He defined an era, at least in Britain and his legacy continues as the David Collins Studio is still a major force in interior design."
Born in Ireland, Collins was based in London for most of his career. He trained initially as an architect and retained a love of classic, historic European design and architectural proportion. His interiors exude old-world charm and decadence, though always infused with "a modern aesthetic and lightened by a great sense of fun," as a reporter for The Times of London once wrote about him and his distinctive interiors.
The primary bedroom designed by David Collins. On the wall at right, a mirror by Line Vautrin, one of the special objects to be presented in an upcoming Modern Design auction scheduled for the fall. Photo: Evan Joseph
"Collins had a special passion for French design and frequently liked to incorporate key moments and artists on this theme in his spaces," Sudlow said. Memorable and striking was his love for the French artist Line Vautrin. Images of the apartment he designed at 322 East 57 Street show works by Vautrin in the interior, obviously and spectacularly a rare oval mirror with magenta petals, and a shimmering gold lamp with a richly tiled central apron in the primary bedroom that, as Sudlow puts it, "provided moments of boisterous luminosity in an otherwise calm oasis of celadon-hued calm."
Vautrin's rare, coveted designs will be sold at a Hindman modern design auction in the fall, Sudlow says. Meanwhile, around 40 other items from the interior will be sold at Hindman in an online auction that is planned for June 14. The collection will be offered in a recently launched series titled The Collected Home, with the provenance of items noted as Property from a Manhattan Residence: A David Collins Studio Interior.
Iain Watson, CEO of David Collins Studio in London, regards the residence as one of the designer's late masterpieces. "This apartment interior, created by David Collins over two decades ago for his close friends living in Manhattan, has all the hallmarks of The Studio's extraordinary oeuvre, including a mix of period references, texture, colors, and luxurious finishes. This home looked to redefine timeless glamour for New York living."

A pair of luxurious custom-designed sofas in pale gold silk by David Collins Studio, to be offered in the June 14th auction.
Among the "leitmotifs" of a David Collins interior also present in the apartment decor is the use of bespoke and richly upholstered or leather-bound and shagreen-bound furniture created by the Collins studio, including a pair of custom sofas covered in pale gold silk, and a pair of ebonized bergère chairs with pale pink velvet upholstery and scatter pillows, both circa 1997–1998. These items, along with a custom magenta velvet banquette from the same period will be part of the Hindman sale.
The mezzanine area of the apartment. 40 pieces from the residence, including rugs, artworks and furnishings will be auctioned in Hindman's "Collected Home" series event on June 14th, including the ebonized bergères with pale pink upholstery pictured here. Photo: Evan Joseph
"His taste in furniture often follows the designs of great masters of modern interior design such as Paul Dupré Lafon, who, himself, trained as an architect," Sudlow points out. "The pair of brown leather and green silk custom upholstered easy chairs with bold outlines and elegant simplicity of form included in the upcoming sale are after a design by Lafon, a truly great French master of the Art Deco period."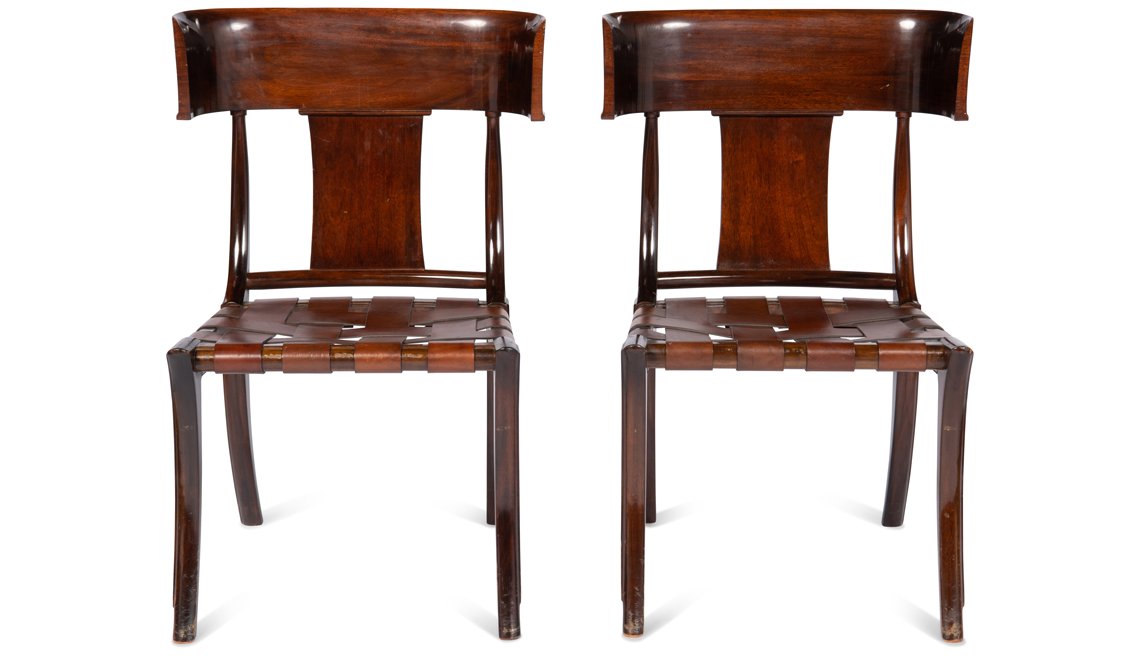 A pair of beautifully proportioned lustrous mahogany Klismos chairs with woven leather seats from the David Collins-designed apartment.

Art Deco period pieces were frequently incorporated into his interiors and included in this auction. On offer is a Macassar ebony chair, possibly by Maison Dominique, with a stepped outline mirroring architectural masterpieces of the New York skyline, similar to the Empire State Building. It dates to the same period, the 1930s or 1940s. There is also a French walnut desk, attributed to Jean Royère, from circa 1940, with two frieze drawers on tapering legs with obvious Art Deco influences.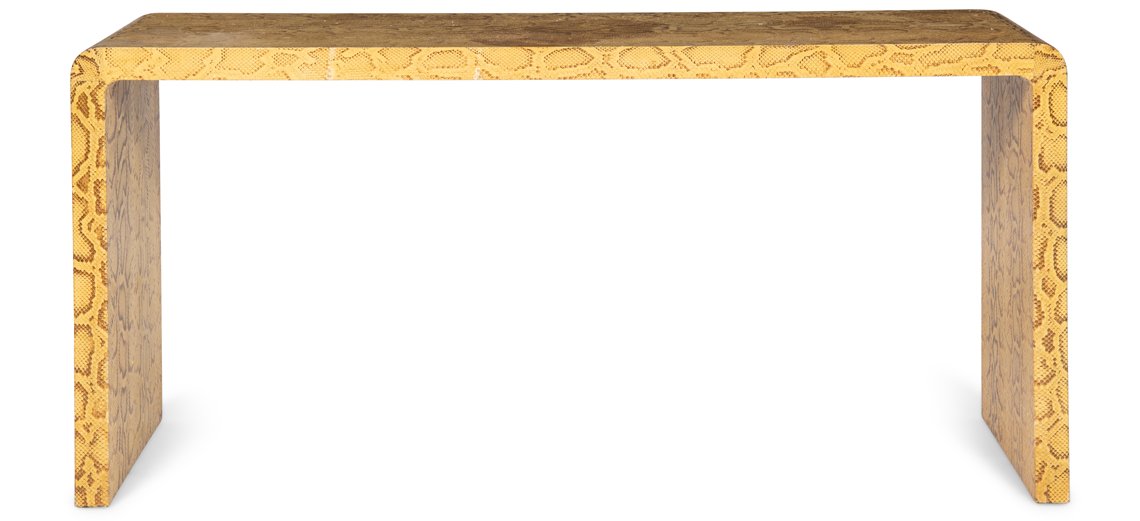 This waterfall python console table is a chic, iconic piece by Karl Springer. The quality of Springer's workmanship is superb.

"David Collins often worked with Art Deco objects and principles of design in his interiors and he favored streamlined geometric forms along with the use of rare and textured timbers to add color and depth," Sudlow adds.
Contemporary art and photography were also important components in his designs, and the 3,330 square-foot Sutton Place property included many artworks. This interior incorporated a suite of works by Mary Pinto from her series of cyanotype photograms — silhouetted botanicals — circa 2000 that, Sudlow says, "worked beautifully in the blue study alongside the desk in the manner of Jean Royère."
Paintings by Mario Duricic, Jack Lembeck, Stacey Greene, and David Lund added a pop of color and accent to various rooms. The Duricic, a large painting of red apples that blurs and blends from realism in the top left portion, to abstraction in the bottom right, hung at the top of a staircase connecting two different spaces — the mezzanine area and the vast entry reception rooms. Ms. Sudlow concluded, "So much love and care and passion went into creating this interior, so much joy, and it really shows in everything that is here."