How Sustainability & Community Guide Growth at Autonomous Furniture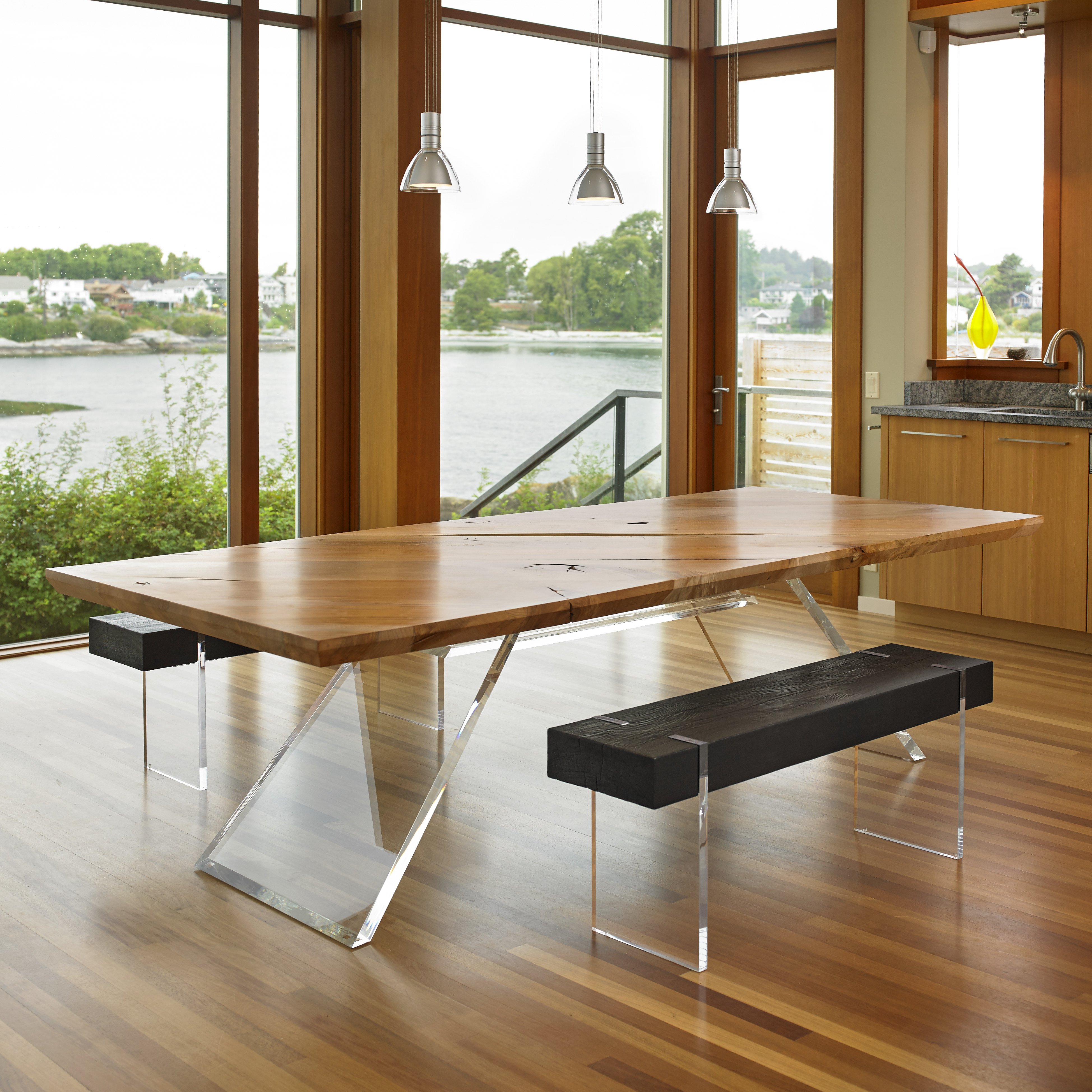 The CB3 Dining Table from Autonomous Furniture is built with a sustainably sourced Pacific Coast Maple top. On either side of the table is the Tillikum Bench, which is made by hand from solid Douglas fir.
| | |
| --- | --- |
| | |
| | |
A
lthough his eco-friendly company, Autonomous Furniture, creates pieces for households and galleries across the globe, including many Canadian embassies in Europe and the Middle East, designer Kirk Van Ludwig still operates like the owner of a local business. Based in Victoria, British Columbia, Van Ludwig is a short drive away from his favorite wood supplier, a third-generation family-owned lot, and he loves to get to know his clients. He sends them pictures and videos of their furniture being produced in the shop, as if they were in the showroom watching him work. When he launched Autonomous Furniture in 2013, he says that few people thought he could maintain the same hands-on approach and communication with clients as the business scaled up. "Many people argued with me and offered opinions, and rightly so," he says. "But I had to trust my intuition and play the long game."
Now, Autonomous builds about 200 pieces per year with a team of four, in addition to his wife and the business's cofounder, Jodie Webb. Soon, Van Ludwig and Webb plan to put together a registry of their furniture that clients can use to sell their old pieces if they so choose, and make room for new ones. "We've been focusing on our sustainability and how we contribute to the circular economy," he says. From his innovative inspirations — like designing the cut-outs of a wood bench using the panel angles of Lamborghinis — to ideas on how to avoid waste, Van Ludwig shares how he channels his values into his hand-crafted furniture.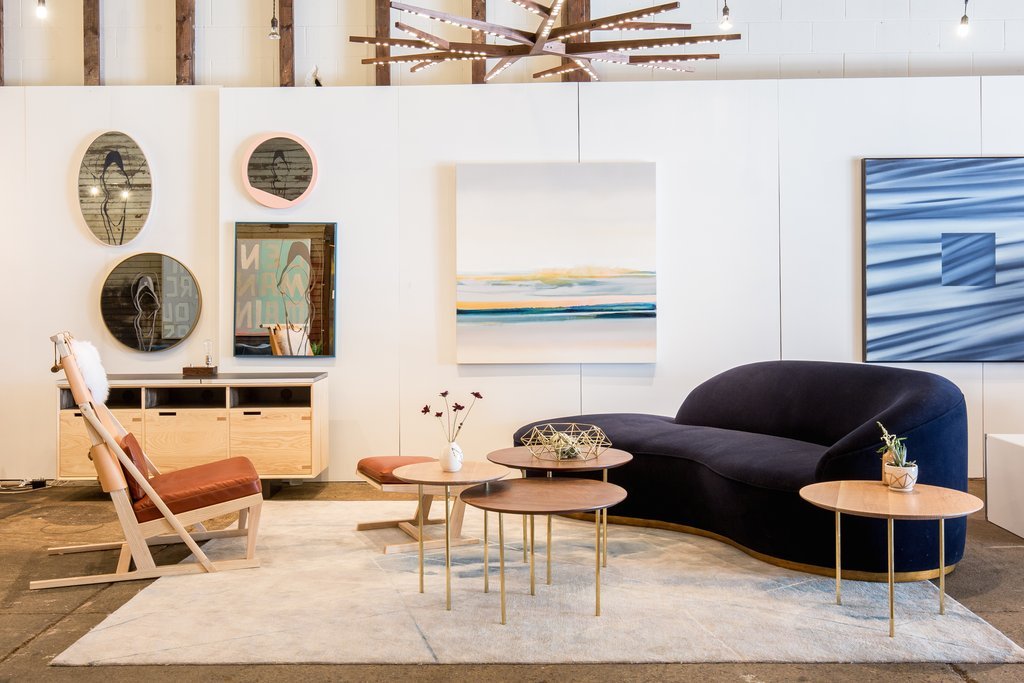 A grouping of Saxe nesting tables and the Ben Credenza at Address Assembly, an annual design show in Vancouver.
How do you incorporate sustainability into your business and design practices?
The list runs deep, but what's easiest to talk about includes knowing our wood suppliers. I try to use Vancouver Island wood first. If I can't get that, I look to the Pacific Northwest, and when necessary, I stick to North American suppliers, where I can understand their harvesting practices, with nothing offshore. In the design of a furniture piece, I'm trying to optimize any mixed material use to eliminate waste. It's tough. I've scrapped designs that don't fit this mantra. We've eliminated our waste down to a single garbage bin per week, which is similar to what a family creates. And of course, the finishes are all-natural oil and wax. That's really the next level. You can dump a bottle of wine on our tables and it won't stain them, and the finishes are better for the health of our craftsman.



The Freeman Bench, inspired by Frank Lloyd Wright's iconic 1937 Barrel Chair, is offered in walnut, mahogany, or white oak.
Which products are you proudest of?
From a design and art perspective, I'm most proud of our Freeman Bench. Its intricate details combine to make a piece our clients view as art. From an optimization and sustainability practice, I would say our Clair End Table is something I'm quite proud of too. The usage of material off-cuts and optimization of clear acrylic, and in the case of our Clair Black End Table, the matte black 65-percent recycled paper composite material yields extremely limited waste. Often clients who own another piece from us, say a dining or coffee table, will return for a set of Clair end tables, and are smitten with how functional and beautiful they are in their home.
Why did you choose a slatted design for the Freeman Bench?
Back in 2014, I was approached by a client to create an entrance bench to hold a couple pairs of shoes. It was a simple task. However, I visited the home and found a West-Coast modern environment with First Nations art and mission-style furniture. This was a tall order to design a bench cohesive with an eclectic mix. I looked to Frank Lloyd Wright's slatted barrel chair. To paraphrase a quote from him, he once said something like, "I believe sitting to be in itself an unfortunate necessity, it ought to make you look more graceful." That idea seemed like a good starting point. The client also had an impressive car collection, including a Lamborghini, a company that uses an interesting angle in light assembly and blade panels. I get a lot of inspiration from car design and used that common Lamborghini angle on the Freeman bench.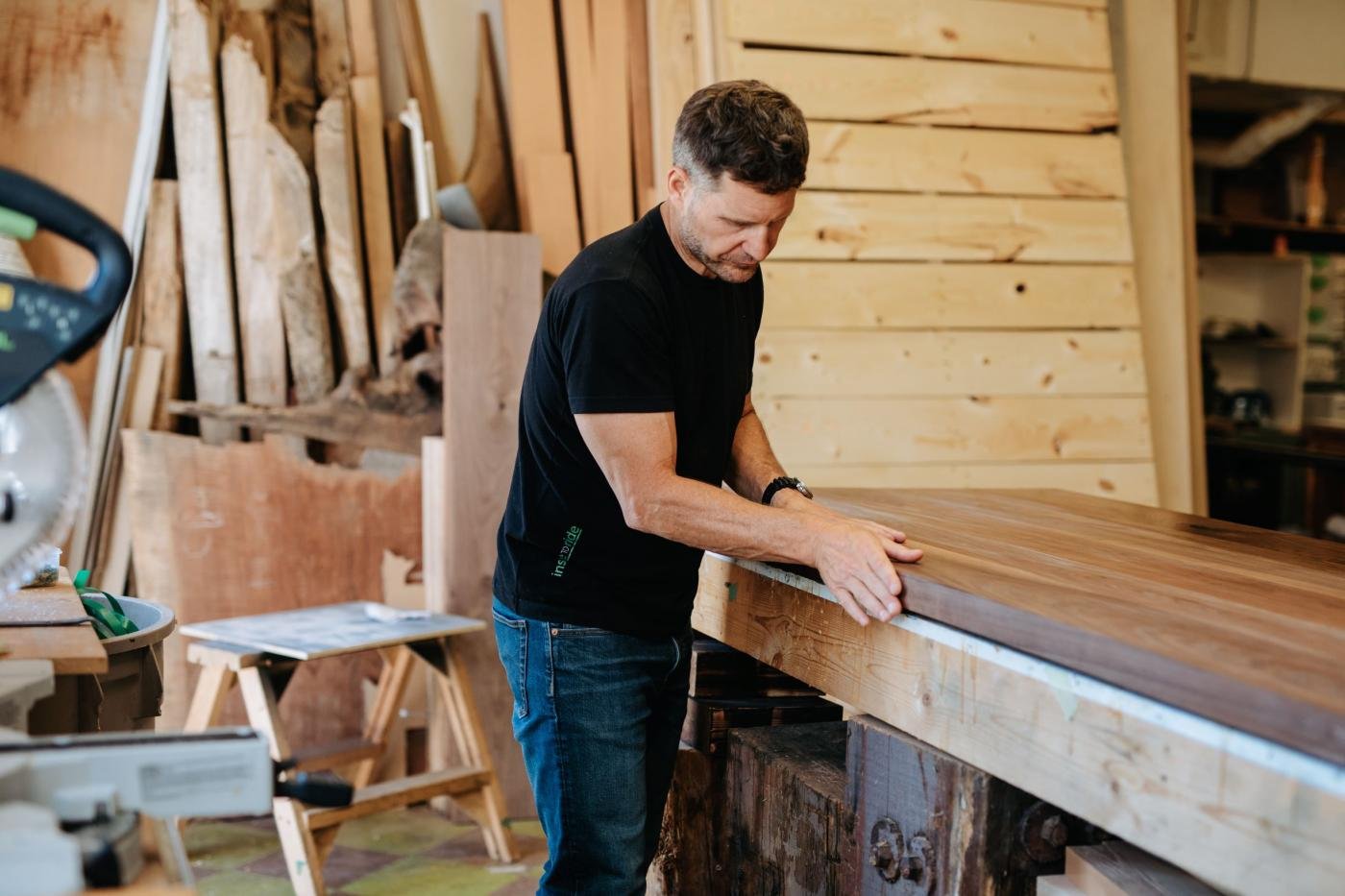 Van Ludwig at work in his studio in British Columbia.
How did you manage to grow Autonomous without sacrificing your "boutique" approach?
I remember years ago walking around Tribeca and Soho, and marveling at the galleries where the maker or artist would sit in the back turning out their latest works. Sadly, those days are mostly gone, replaced with name-brand retail. This idea, however, is the basis behind our studio and showroom in Victoria. Even though we export about eight out of 10 pieces, we strive to replicate that vibe to our clients from a distance. We often send pictures or videos of their piece in production. With online orders, I try and personally contact the individual to get a sense of their personality, and then I communicate the objectives with our craftsman. Our clients become part of the Autonomous community. That's why we have so many return orders and strong word-of-mouth referrals.



The Clair End Table is made in two versions, matte black and acrylic, and a variety of wood tops.

What do you like about acrylic, as in the acrylic version of the Clair End Table?
It's no secret that I love using acrylic. Heck, right now I'm staring at a Clair end table in our house. The sunlight is creating a prismatic reflection on the table's surface, offering the room dimension, and the top is hovering just over the sofa, allowing for an airiness that seems to defy gravity. In production every scrap of acrylic is optimized and used. Even the smallest of pieces are used in brackets and flanges on our dining tables. We can also repurpose pieces. For example, dining table legs have been transformed into benches for past clients.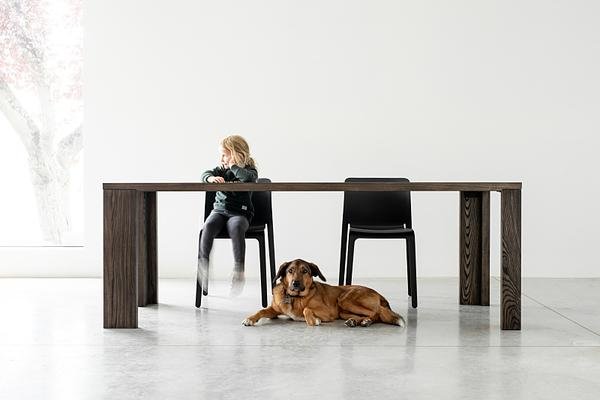 Available in white or blackened Ash, the
Jack Table
was designed this past year.
What inspired the design of the Jack Table?
On March 15 in 2020, Autonomous was having a banner month, but the very next day the world basically shut down because of COVID-19. My goal was to keep our people employed and the business functioning. Over the next four-week period, I secured a large quantity of Ash from our supplier after negotiating a good price. I came up with a design for a dining table that would optimize the lengths of boards, creating both the leg and top of the dining table with a goal of minimal material and labor. It's our own little version of the Case Study Houses, but for a dining table. We would offer this table at an affordable price to most, knowing that families would be spending a lot of time at home. It packs flat for shipping.
Could you tell me about the upcoming "Autonomous Furniture Registry"?
In keeping with our value of sustainability, our furniture is intended to last a lifetime. Some of our original clients' needs have changed over the past nine years — perhaps they are downsizing or their lifestyle has changed. Many of those pieces we created nine years ago have increased in value or now have limited production numbers. In releasing the new registry of our furniture, we wanted to offer a platform for those folks to resell our work on the registry. I also want to use the registry to understand where each piece lives. The registry will also give examples of where each piece is displayed; for example, we would list that one of our Freeman Benches is located within the Canadian embassy in Vienna.
The Kai Hallway Bench, shown here, features a long wood seat and matte black steel legs.
How has your business evolved over the past eight years? What have been the most difficult lessons?
Look, if we were on Shark Tank and I said we were going to design, engineer, market, build, and ship all of our furniture, they would say, "you are nuts." It's such a difficult task, so much so that I know almost all our peers in North America. It's a rare group. In the beginning I had beliefs and theories about what I wanted to design and how to go about the business. With many businesses as time goes on, often the quality or core values diminish with the desire to improve revenue or the bottom line. I chose the name "Autonomous Furniture" for the company as a symbolic gesture of doing whatever I wanted, free from trends and those typical business paths. I'm proud to say that our pieces continually get better, our internal core values get stronger, my team is more and more talented, and more and more people are getting a chance to experience our brand.
Kirk Van Ludwig gives a tour of his studio.