How Craftsman Ian Love Uses Foraged Wood to Create One-of-a-Kind Furniture
Finding beauty in unlikely materials
Ian Love at his showroom and workshop in Industry City, Brooklyn. The upholstered sofa was built from Brazilian and American cherry wood. The stool at the left side of the image was crafted from elm and features a chattered wood design, and hanging above the artist, the wall piece is created from ambrosia maple.
Brooklyn-based woodworker Ian Love relies on his intuition to craft standout furniture, art, and decorative objects. Self-taught, he built a bench as a bonding activity with his young daughter and found his creativity so engaged that he devoted himself to building furniture as a career. His collection now features numerous works, including coffee and dining tables, stools, headboards, wall art, and a sofa. Love's designs are notable both for the source of his wood and his unusual creative process. Often using felled trees, he treasures the imperfections inherent to salvaged woods and sculpts around them, allowing the nicks and discolorations to direct the final form of the object.
Here, explore how Love began creating innovative pieces by learning from his materials.
In this video, Love introduces design enthusiasts to his brand. He created the video as part of a panel discussion at Closeup, a digital event co-sponsored by ICFF and WantedDesign Manhattan.
Born and raised in Brooklyn, Love worked as a musician for much of his life, playing with post-hardcore band Rival Schools as well as his own band, Cardia, and writing music for television shows. In his 40s, he was living on Long Island when he decided to build a bench with his daughter, who was then nine or ten years old, from a rotting oak tree on his property. Black veins ran throughout the wood as a result of fungi. He bought a chainsaw and cut into the tree, delicately guiding the blade to preserve the grain. He then used the wood to make simple objects, like side tables with hairpin legs that were given to friends, and gradually allowed the wood to inspire him with ideas of what it could become.
"Looking back on them now," he says of his first projects, "they clearly could be cleaned up, but that's what opened my mind to the aspect of using whole trees instead of lumber from Lowe's, so I'm very grateful for those first few pieces." Since he built the bench with his daughter, he has crafted 25 different objects from that tree alone, including stools, light fixtures, and wall art.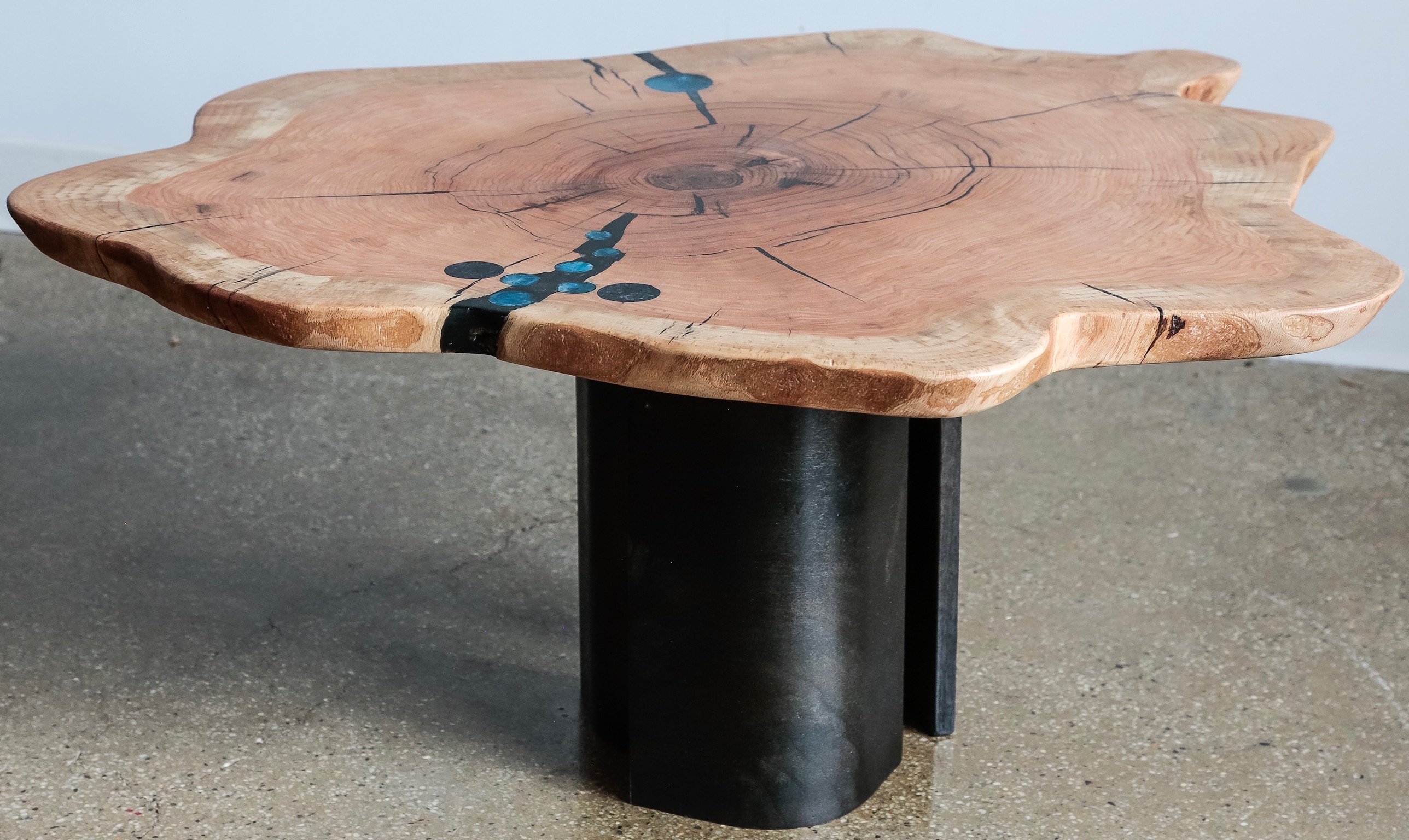 Made from the spalted oak tree that first inspired Love's career in craftsmanship, this coffee table features ebonized bent plywood legs and resin inlay.
When he was just beginning to build furniture, his mother was diagnosed with cancer. For the next two years, as he learned to create with wood, he was also his mother's caretaker. He didn't recognize at first that the work he was doing was also a source of healing. Caring for wood, instead of his mother, transformed fraught, painful emotions regarding her death into a source of creativity, and the act of using whole, discarded trees gave him the sense that life was being channeled into other forms, instead of ending. "It was clear that there was a connection with my interest in taking materials that were dead, dying, diseased, and going to be thrown away, and having a pull towards those materials to find the beauty in them and give them this new life in a way," he says.
Together, he and his mother developed a form of intimacy that could not have happened without her cancer, despite the suffering inherent to their changed bond. Responding to whether he found woodworking healing during her illness, he says, "Finding the beauty in death and being able to not hang on to it, as well as an opportunity to bring a relationship closer and even develop a new, deeper connection, is where woodworking and healing connected." With the oak tree, he experimented with the Japanese technique of shou sugi ban, in which wood is burned to preserve and blacken it, and carved simple sets of coasters. He gave them to his mother. When she passed, he kept them.



The Cherry Blossom Burl Stool with a resin and acrylic top. The stool is part of Love's Singular Tree Concept collection.
Love developed his Singular Tree Concept using the original oak tree, as well as a cherry blossom and black walnut that were removed from properties on Long Island. Experimenting with the cherry blossom's form, Love shaped the raw wood into a range of items, including a new idea for a series called Heirloom Objects, inspired by his mother's death. For the initial piece in the series, he hollowed out the burl of the tree and inlaid it with resin, leaving a Polaroid of his mother, a belt that belonged to her, and colorful dried flowers in the void. Thus far, the black walnut has given rise to tables, wall art, a vase, and a bowl. Because he lets the wood dictate the design, he often crafts large pieces of furniture first, before preceding to small, decorative objects that come from the discarded sections of former projects. He finds that working with a single tree challenges him. "It's pushing the boundaries of something I wouldn't necessarily think of," he says.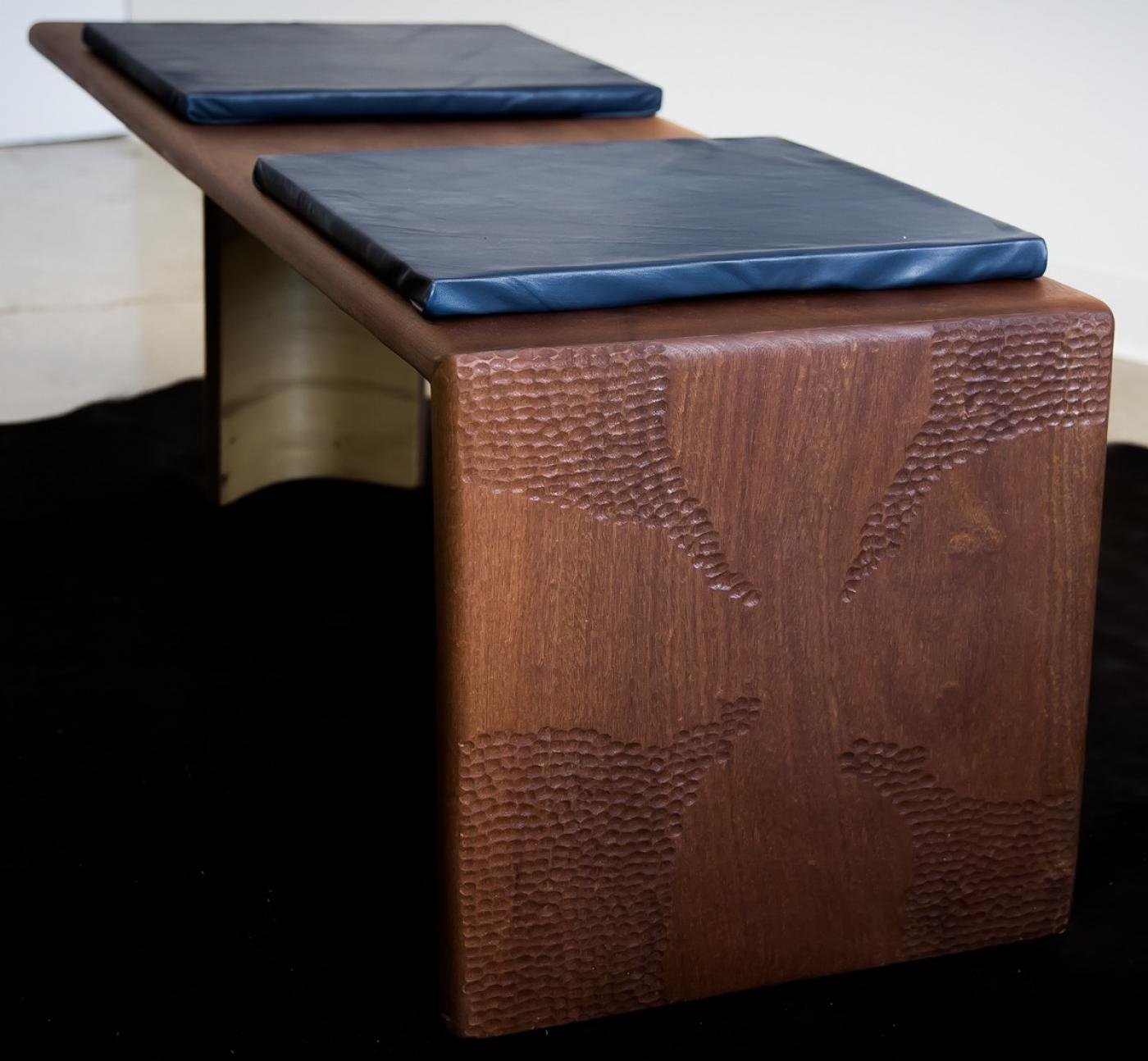 New on Incollect, the Mahogany Bench with a leather cushion and chattered detailing.
Even when he isn't creating from a single tree, he works with personality-rich wood that's been slotted for disposal or use as firewood. Instead of taking trees to the dump, local Long Island arborists drop them off in his driveway. "It's not just the one tree on my property," he says of his commitment to using most of a tree in his process. "It's an intention I've tried to stick with."



Left: The designer's Curly Maple Side Table features a concrete base and a walnut "X" inlay that contrasts with the maple tabletop. Right: Recently, Love has expanded into light fixtures. Shown here is his English Walnut Wall Sconce.
Beyond wood, his sense of intuition has led him to experiment with other materials, particularly concrete, upholstery, and lately, wax. In one of his pieces available on Incollect, a raw-edged maple tabletop is juxtaposed against a pigmented concrete base. Another design features an elegant cherry wood daybed covered in faux wolf fur, with circular resin inlays along an extended base that serves as a side table. His signature wood markings include a small "X" inlaid into his work that contrasts with an organic style — included, for example in his black walnut coffee table — and the use of a chatter tool to create unique details, as shown in his new elm side table. Through these combinations of materials and styles, he explores the limitations of wood and the aesthetic raw wood often represents.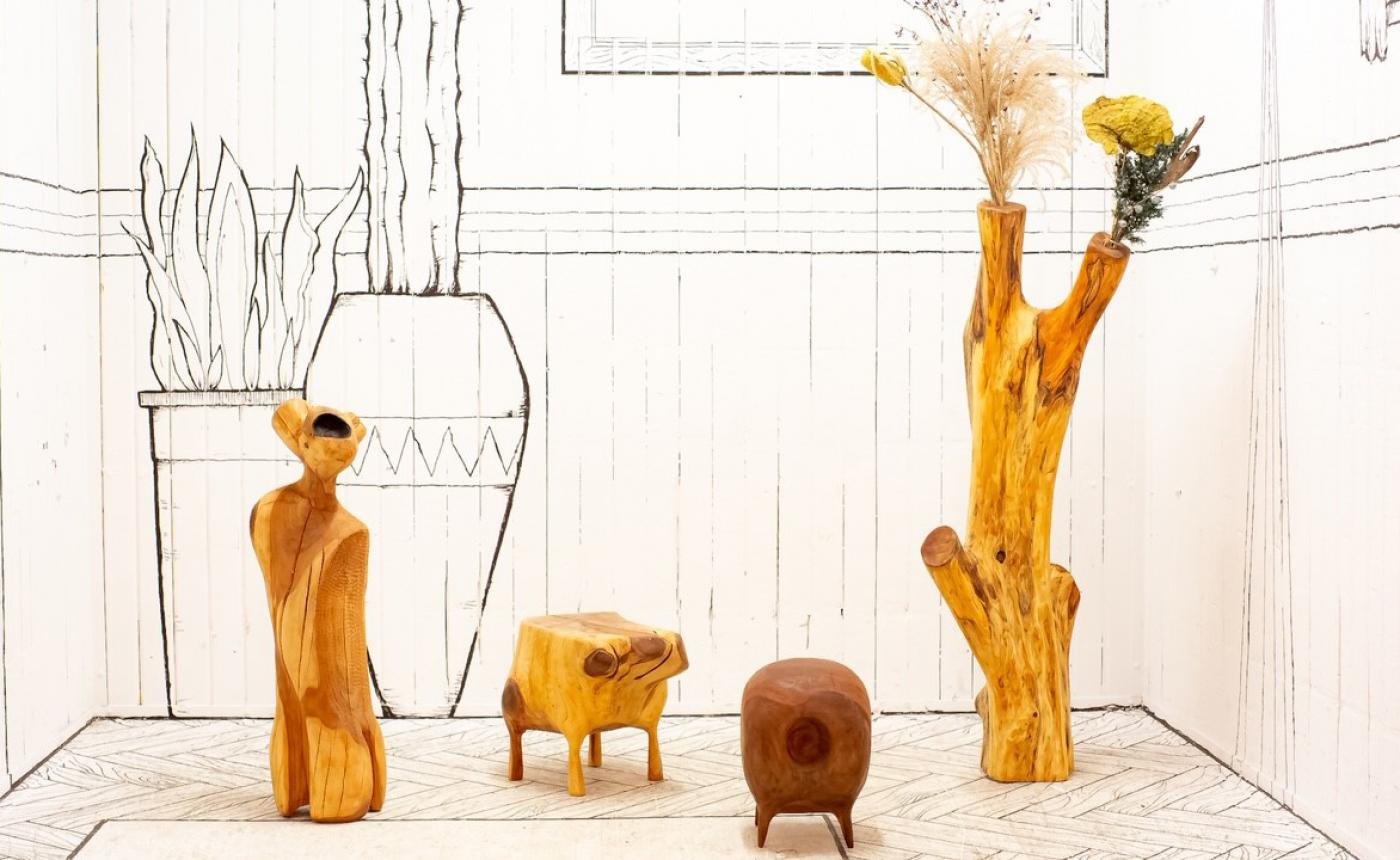 A collection of objects that Love has made through his Singular Tree Concept.
Without a premeditated outcome to his craftsmanship, his work tends to take on a personality of its own. During a panel discussion hosted by Dwell editor-in-chief William Hanley at the recent Closeup virtual design showcase, Love described his stools as unintentionally animalistic. "I don't mean them to be animalistic," he says. "It just kind of comes out that way." The word functions in two senses: the chairs resemble animals — one is "pig-like" he says during the same interview — and they also possess a raw physicality, unmediated by the designer's intent for the wood. For Love, woodworking is an instinctual process based on "letting the material designate what's going to come out of it." In his work, the wood decides its own fate.