​​How Women Old Master Painters Conquered the Winter Show
How Women Old Master Painters Conquered the Winter Show
By Wen Li
| | |
| --- | --- |
| | |
| | Martha Walter (Philadelphia, 1875–1976), Lady with a Parasol (Portrait of Alice Schille?). Oil on canvas, 195.6 x 96.5 cm. |
Of the many outstanding booths at the 2023 Winter Show at New York's Park Avenue Armory, a surprising success hit was an unusual themed gallery booth, Heroines of the Brush: Women Artists from the Renaissance to the 20th Century, an exhibition devoted to women artists of the past organized by Robert Simon Fine Art.
The show was a near sell-out, with 9 paintings by as many women artists, some celebrated, others overlooked, sold to private collectors and museums, said Robert Simon, President of Robert Simon Fine Art, a New York gallery specializing in old master paintings. Simon said he was excited and pleased by the response.
Before the 18th century, most women had little or no opportunity to receive education let alone all of the formal training required to become a professional artist. In most cases, early female artists were either daughters or wives of male painters or members of religious orders that permitted creation of religious images.
"What is clear is that these artists have received less attention simply because they were women," said Simon. "We are not looking at an alternate art history, but when seen together with their male peers, it is an expanded one." For him the booth was about expanding knowledge and education of great artists who just happen to be women. Politics was not part of his thinking in organizing the booth.
Among the sold paintings was Fede Galizia's (Milan, 1578–1630) A Silver Tazza "Alzata" with Figs and a Melon. Simon says Galizia "occupies a singular position in the history of Italian painting. The daughter of the painter Nunzio Galizia, with whom she trained, Fede was not only an accomplished artist, but a pioneer. She was the author of the earliest signed and dated purely still-life painting by an Italian artist (1602) and a key figure in the adoption and development of still-life as a genre on the Italian peninsula."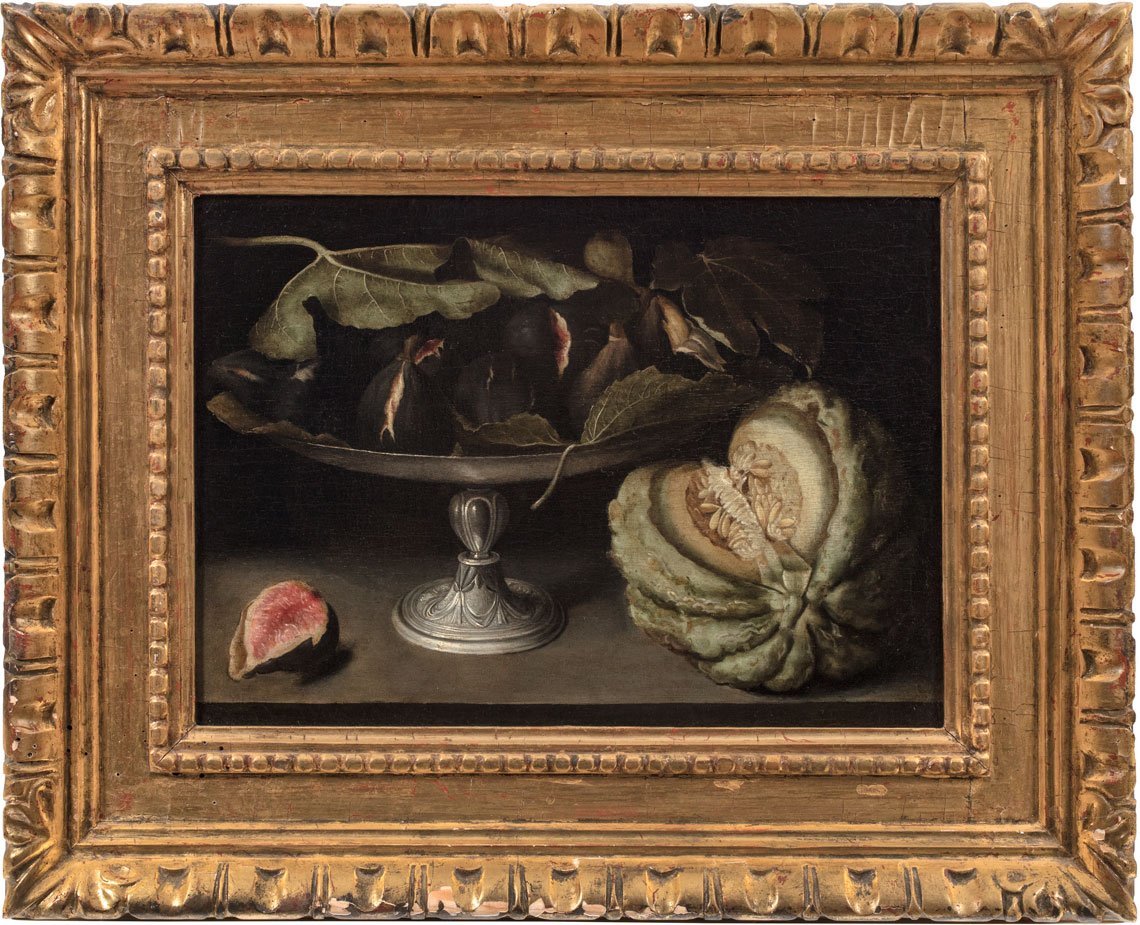 Fede Galicia (Milan, 1578–1630), A Silver Tazza "Alzata" with Figs and a Melon. Oil on panel, transferred to canvas, 29.2 x 39.4 cm.

Paintings sold quickly at the 2023 Winter Show. Last year, by contrast, at the same show hosted in the old Madison Avenue Barney's building, a temporary location due to the pandemic, only three artworks from Simon's booth found new homes. "We saw lots more foot traffic and energy this year, not only in the number of visitors but in the significant number of professional dealers and curators," said Simon.
| | |
| --- | --- |
| | |
| | Elisabetta Sirani (Bologna, 1638–1665), Head of a Youth. Colored chalks with pastel and white heightening on paper, 32.1 x 23.2 cm. Inscribed, lower right: Sirani. |
One work that received considerable attention was Head of a Youth by Elisabetta Sirani (Bologna, 1638–1665) in colored chalks with pastel and white heightening on paper. Examples like this are rare, Simon says, and represent "great value ." Only two other examples are known, one in the Louvre and the other at the Uffizi. Several works of this type by Sirani are recorded in early Bolognese art inventories, but only these three are known to have survived.
Good timing was a factor contributing to Simon's successful booth sales at this year's Winter Show. Both Sotheby's and Christie's hosted Old Masters Auctions the same week, which brought in dealers and curators from Europe, Simon says. But he also has a good eye for paintings, among them Lady with a Parasol (Portrait of Alice Schille?) by Martha Walter (Philadelphia, 1875–1976) one of the most accomplished women artists of the American Impressionist movement.
"Executed on a monumental scale and evoking the work of Walter's teacher William Merritt Chase," Simon explained, "this impressive painting is a romantic evocation of a fashionable but solitary woman of the Edwardian age, standing in vivid contrast to the Impressionist subjects for which the artist is better known." The subject is thought to be Alice Schille, Walter's lifelong friend and fellow painter.
Simon has been collecting women artists' works for over 20 years. He has made three trips to Europe in the last year and, he says, discovered unusual early works. "The field is wide open for anyone willing to look at quality in painting."