In Pursuit of History: A Lifetime Collecting Colonial American Art and Artifacts
| | |
| --- | --- |
| | |
| | Fig. 1: H. Richard Dietrich Jr. (1938–2007). |
Driven by an abiding love of American history, especially the Colonial Period, the late H. Richard Dietrich Jr. relished the pursuit of books, letters, artifacts, paintings, furniture, and other decorative arts and household items from the past (Fig. 1). He also knew early on that he wanted to make these works available to the public, and in 1963, created a foundation to be the recipient of the finest aspects of the collection. By the time of his death in 2007, the Dietrich American Foundation's collection numbered over 2,400 pieces and was on loan to over thirty different institutions, with a focus on American history between 1740 and 1820.
Growing up outside Philadelphia, in Villanova, the eldest of three brothers, Richard had a love for Pennsylvania and the greater Philadelphia area. The Dietrich family was originally from Reading, in Berks County, and was involved in the food industry, in particular, flour milling. In 1927, Richard's father and his uncle Daniel purchased Luden's Candy Company at the exceptionally young ages of nineteen and twenty-four, respectively (Fig. 2). In the Autumn of 1927, a newspaper article called Daniel Dietrich the "Lindbergh of Finance."
In 1962, at the age of twenty-four, after the death of his father, Richard Jr. dropped out of Columbia Business School and entered the family business. He presided over its expansion and high-water mark, and eventually steered its sale. The company, Dietrich Corporation, owned Luden's, as well as other holdings such as Nan Dusken Department store on Philadelphia's Main Line. Richard served as president of the corporation, with his two brothers, Daniel and William, serving as vice presidents until the family sold Luden's to Hershey Corporation in 1986. All the while, history and collecting and the development of cultural institutions were Richard's parallel passions.
Fig. 2: William Henry Luden was twenty years old when he began his candy business in Reading, Pennsylvania, in 1879. By the time Daniel and his younger brother Richard purchased Luden's Candy Company in October 1927, Luden's had three hundred lines of candy, and William Luden was known as the Cough Drop King. Public Ledger, Philadelphia, Sunday Morning Edition, October 30, 1927.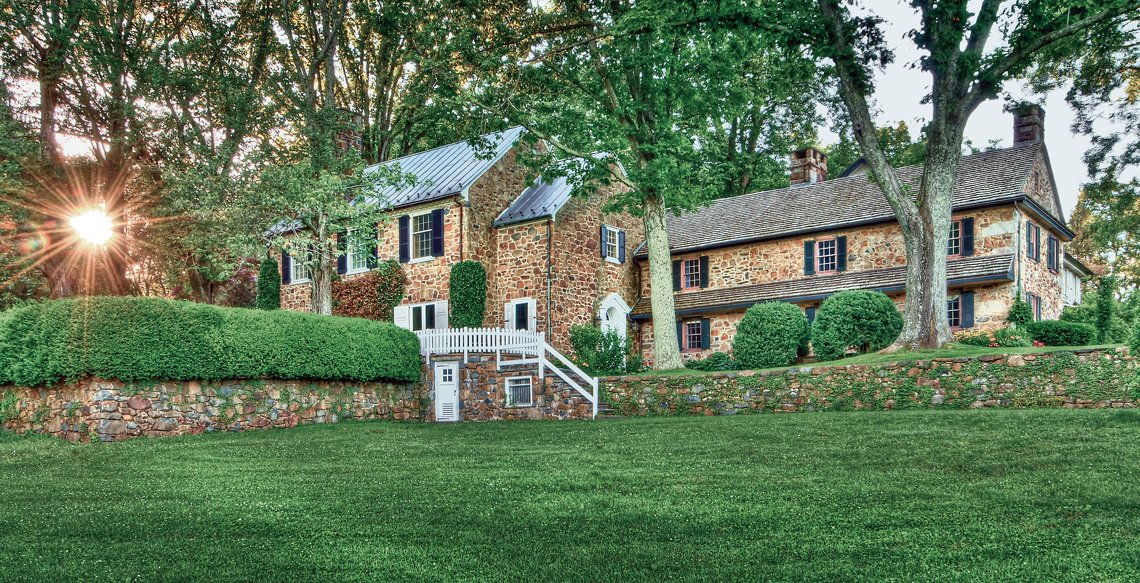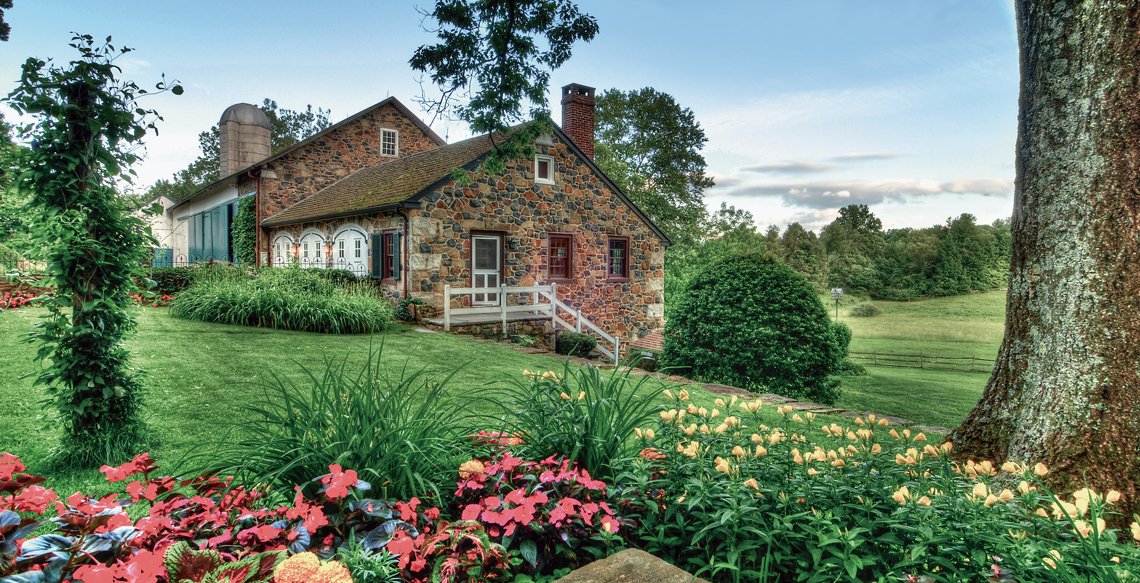 Fig. 3: Views of H. Richard Dietrich Jr.'s home, Arkadia, Chester Springs, Penn., built in 1721, with various additions made to it through the years. Photo by Mike Irby Photography.
In the early 1960s, Dietrich moved into Arkadia, in Chester Springs, Pennsylvania, a 1721 house that had been extended over many years and would serve as a major inspiration for Richard's collecting (Fig. 3). Dietrich bought antiques thinking that he was a steward of the pieces. He felt an obligation to preserve history and to see that these pieces be studied in order to benefit scholars and to help tell the story of American history. Initially, he considered creating a museum, but ultimately decided there were enough museums dotting the cultural landscape. He established the Dietrich American Foundation with an objective to help institutions and expand public education about history through material culture by gifting or loaning material to institutions with "holes" in their collections or to complement existing strengths.
A closely linked passion for Richard was the preservation of farmland and open space, especially in his beloved Chester County, where he helped provide early and ongoing support to local land trusts and preservation efforts. In the mid 1960s Richard and his brothers bought environmentally and historically significant tracts of land for a dairy business, and for open space. Some fifty years later, in a deal with Natural Lands Trust, the non-profit land conservation organization with headquarters in Media, Pennsylvania, about forty percent of the purchased land was designated to become a park and preserve, and sixty percent was sold to conservation-minded owners. Ten miles of public trails now run throughout the sprawling 1,500-acre property. Whether in his business life or during the years of assembling the acreage, Dietrich's collecting of art and artifacts was an abiding passion. The Foundation continued to grow.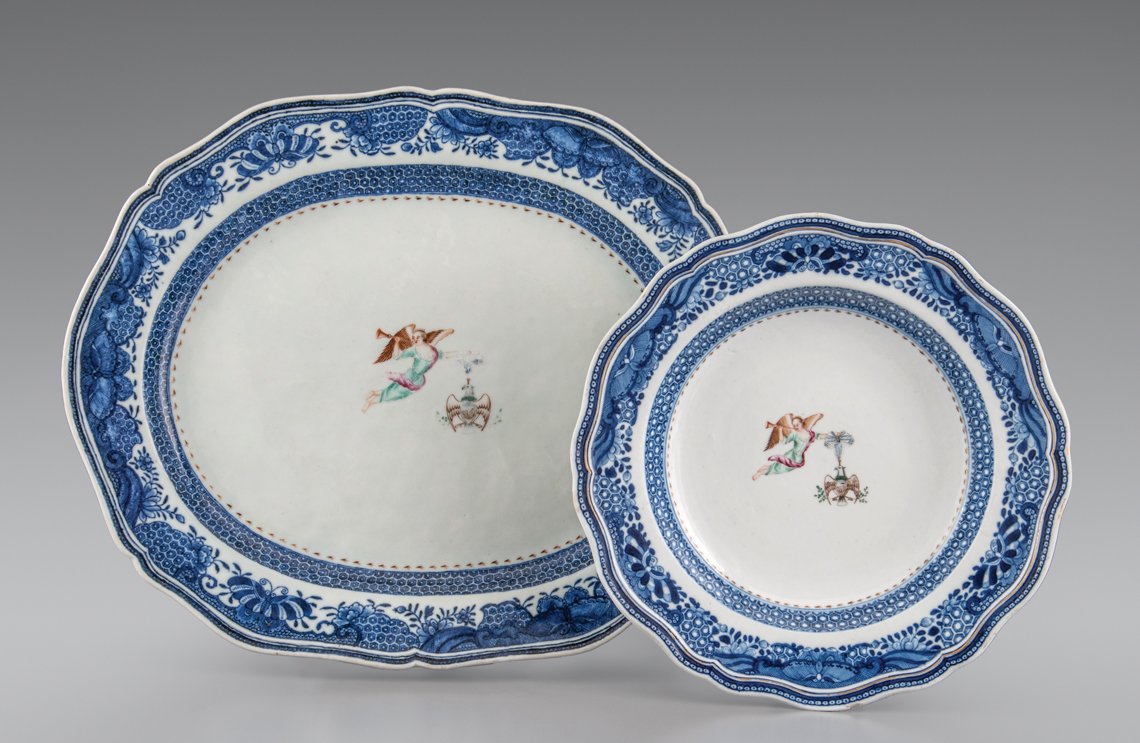 Fig. 4: Platter and plate from a dinner service, with the emblem of the Society of the Cincinnati, made for George and Martha Washington of Virginia by an unknown maker. Chinese export, 1784-1785. Hard-paste porcelain with overglaze enamel and gilt decoration. Platter: H. 10½, W. 83⁄16 in; Plate: D. 9¾ in.
The first objects acquired for the Dietrich American Foundation in 1963 were this platter and plate from the dinner service owned by George Washington, with the emblem of the Society of the Cincinnati. The order for the service was placed on the first voyage to China by an American ship. Washington used pieces from the 302-piece dinner service in the first Presidential homes in New York and Philadelphia, and later at Mount Vernon. Dietrich owned nineteen pieces of this service, along with examples of other services decorated with the emblem of the Society of the Cincinnati.
| | |
| --- | --- |
| | |
| | Fig. 5: The dining room at Arkadia. Above the sideboard is Washington Crossing the Delaware, by Edward Hicks (1780–1849). To the right are a large mirrored candle sconce and a William and Mary walnut high chest on frame, Philadelphia, 1720–1735. This room is one of the oldest in the house, dating to 1721. |
At any given time, Dietrich American Foundation items are now on loan to about thirty different institutions, with special consideration given to the Philadelphia Museum of Art. Richard also developed close bonds with The Metropolitan Museum of Art, the State Department's Diplomatic Reception Rooms, Winterthur, the Huntington Library, and Mystic Seaport, among other institutions. Foundation objects have been in and out of these collections for decades, the Foundation acting as a kind of lending library of objects that fill gaps in other collections.
Richard was most active as a collector in the late 1960s through the late 1980s. During his intense buying years, Richard was acquiring for the foundation, as well as for his personal collection, and in some cases buying to donate items, in particular to the Philadelphia Museum of Art. The first decorative-art objects that Richard acquired for the Foundation were two pieces of Chinese export porcelain from the Society of the Cincinnati Service owned by George Washington (Fig. 4). These he purchased from the late ceramics dealer Elinor Gordon, after hearing her give a lecture in 1963. Richard subsequently purchased many George Washington letters, as well as books owned by the first President, and paintings of Washington (Fig. 5), including a James Peale miniature on ivory purchased in 1966. There are close to sixty letters from Washington, as well as correspondence between other important figures from that era: Benjamin Franklin, Benjamin Rush, Richard Henry Lee, General Von Steuben, Alexander Hamilton, Lafayette, Charles Thomson, Anthony Wayne, and others. The books and manuscripts collection is housed at Wesleyan University, Richard's alma mater, and is available for research and to other institutions for loan and scholarship.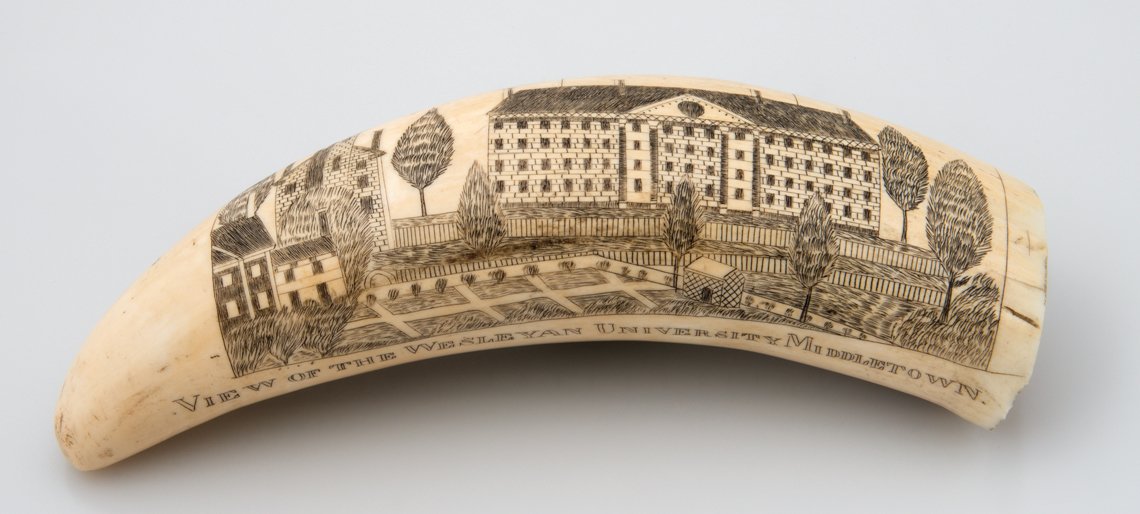 Fig. 6:
Ivory sperm whale tooth, with "View of the Wesleyan University Middletown" engraved by the Connecticut Cityscape engraver, ca. 1831–1845. L. 7 inches.
| | |
| --- | --- |
| | |
| Fig. 7: The formal living room at Arkadia, showing a Chippendale mahogany bombé desk and John Singleton Copley's portrait of John Bee Holmes. A framed photograph of Lady Bird Johnson with the John Bee Holmes portrait behind her sits on the desk, along with a silver teapot by Paul Revere. The teapot is very likely the one depicted in Copley's portrait of Revere, now in the Boston Museum of Fine Arts. | |
In 1963 and 1964, purchases of Chinese export porcelain were augmented by maritime objects (Fig. 6) such as ship models and marine watercolors. Richard also purchased documents and rare books through Sessler's, the leading antiquarian book seller in Philadelphia in those early years. He acquired his first major piece of furniture in 1963, the Massachusetts bombé desk now attributed to Nathaniel Gould (Fig. 7).
Richard came to public notice in 1987 with the purchase of a Philadelphia easy chair, a rare example of eighteenth-century American furniture, once owned by the Revolutionary War hero John Cadwalader. At $2.75 million, the chair set a record for American furniture at the time, and garnered significant press attention for a media-shy collector. Richard donated it to the Philadelphia Museum of Art in 2002, in honor of the museum's 125th anniversary. The easy chair joined the gaming table from the Cadwalader family already in the Foundation's collection and is on long-term loan to the Philadelphia Museum of Art (Fig. 8).
Furniture was not among the first objects that the foundation collected, but it quickly became a core strength. Approximately 80 percent of the furniture was made in Pennsylvania, signifying the state's pride of place and also Richard's fascination with its history. A particular focus is in furniture made in eastern Pennsylvania from the earliest years of the eighteenth century to about 1785 (Fig. 9). Because the first Dietrichs to the American colonies settled in Berks County, Richard had a strong interest in objects from that area and its Pennsylvania German heritage. The fraktur and Pennsylvania German subject matter of the collection represents the important artistic and religious traditions of the Germans settling in eastern Pennsylvania in the eighteenth and early nineteenth centuries. The collection includes birth and baptismal certificates, as well as Vorschriften (writing exercises). A major strength is that the majority of the collection is either signed by or can be attributed to a specific artist (Fig. 10).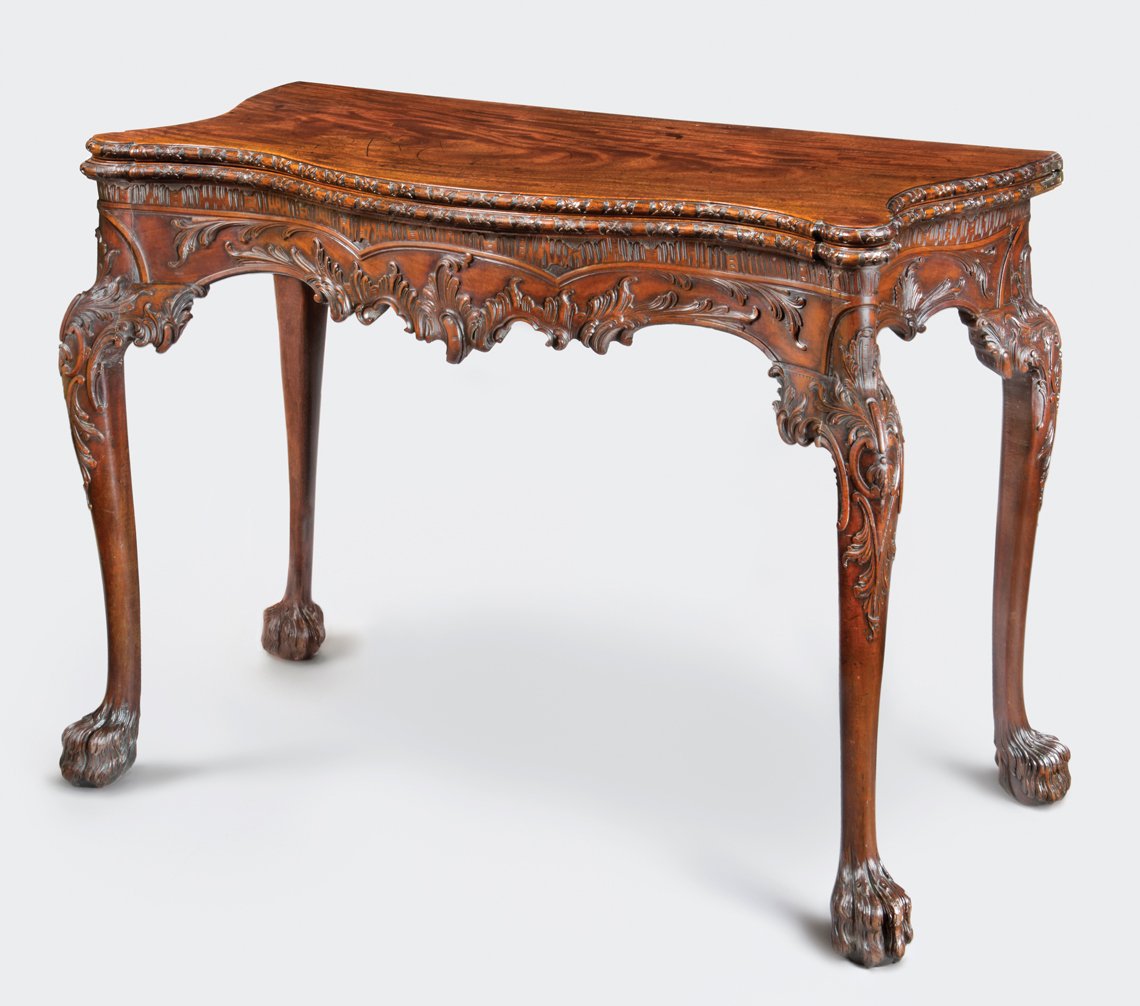 Fig. 8: Card table, owned by General John Cadwalader (1742–1786) of Philadelphia. Made by Thomas Affleck with carving by James Reynold. Philadelphia, Penn. Mahogany, oak, hard pine, H. 28⅝, W. 39¾, D. 19¾ in.
| | |
| --- | --- |
| | |
| Fig. 9: Tall case clock. Movement, John George Hoff (1733, Westerberg, Germany–1816, Lancaster, Penn); Case, unknown artist. 1768, Lancaster, Penn. Cherry, red mulberry, black walnut, yellow poplar, pewter and mixed wood inlay, H. 105, W. 19¾, D. 11⅜ in. | |
Paintings were purchased mainly for their historical importance and to enhance the decorative arts objects. The true masterpieces are the John Singleton Copley portraits of Josiah Quincy (Fig. 11) and John Bee Holmes (see figure 7). Pennsylvania masterpieces include one by Charles Hofmann of the Montgomery County almshouse and one by Louis Mader of the Berks County almshouse. Three Paul Revere prints, The Bloody Massacre, A View of the Year 1765, and A View of Part of Boston in New England complement three pieces of Paul Revere silver, one by the father, two by the son.
The primary focus of the silver collection, on permanent deposit to the Philadelphia Museum of Art, is Philadelphia-made pieces. There are also several examples of the work of New York silversmiths, such as Myer Myers, Henricus Boelen, John Hastier, Thomas Hammersley, and a wonderful brandywine bowl by Benjamin Wynkoop (Fig. 12).
The ceramics collection consists of pieces made abroad for the American market and pieces made on American soil. Chinese export porcelain is the largest category of ceramics in the collection, with examples of various forms showing state and family coats-of-arms, personal insignias, and decorative motifs such as ships, and eagles, among others.
Two of the Foundation's most highly prized objects are the earliest documented American carved and decorated whale teeth from the whaleship Susan, currently on loan to Mystic Seaport Museum. Other scrimshaw forms include swifts, jagging wheels, toys, watch holders, canes, candlesticks, busks, baskets, and boxes.
The Foundation's book and document collection, housed at Wesleyan University, consists of approximately one thousand documents and manuscripts and three hundred books and pamphlets. The primary emphasis is on the years between 1700 and 1815, specifically the American Colonial period, the American Revolution, and the naval engagements of the War of 1812. Some areas of concentration include eighteenth- and nineteenth-century Indian affairs, signatories of the Declaration of Independence, and early exploration. There are documents relating to the Barbary Wars as well as documents and diaries that concern the Civil War. In addition, the Foundation has a collection of approximately 130 maps. Many show the early years of colonization in America, among them, two of the first large-scale maps of North America.



Left Fig. 10: Religious text, Heinrich Engelhard, active c. 1819–1836, Berks County, Penn., 1822. Watercolor and ink on paper, 13 x 16¼ inches. Right Fig. 11: Portrait of Josiah Quincy, John Singleton Copley (1738–1815), Boston, Mass., ca. 1767. Oil on canvas, 34¾ x 28 inches.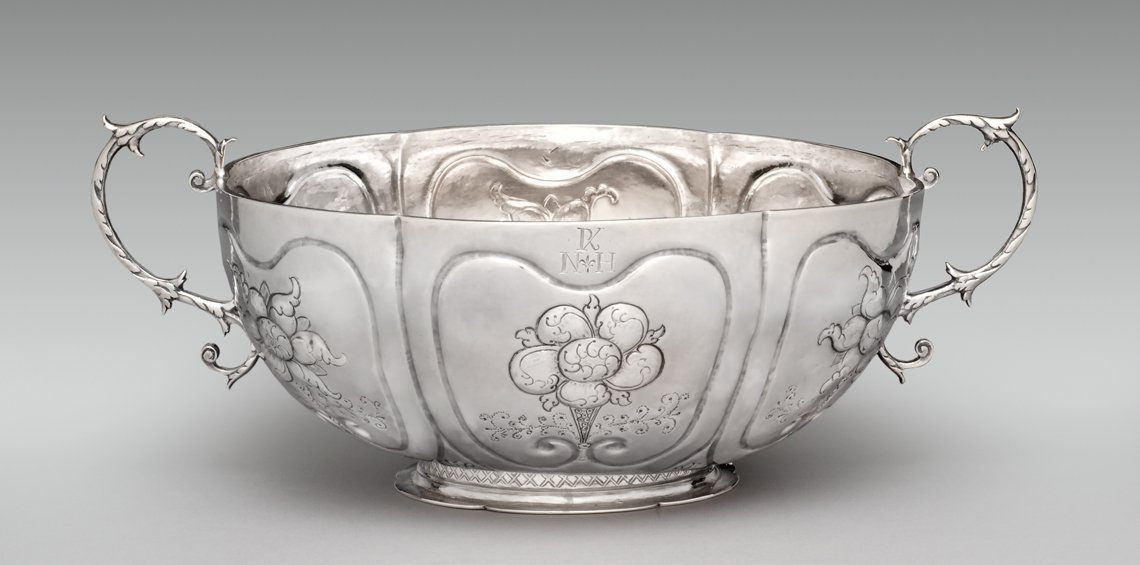 Fig. 12: Brandywine bowl, Benjamin Wynkoop (1675–1751), New York, 1698–1710. Silver, H. 4½, W. 11 in.
| | |
| --- | --- |
| | |
| | In Pursuit of History: A Lifetime Collecting Colonial American Art and Artifacts, January 28, 2020. 304 pages, 9½ x 11½; 215 color illus.; ISBN: 9780876332931, Hardcover. |
A Collector's Vision: Highlights from the Dietrich American Foundation will be on view from February 1 to June 7, 2020, at the Philadelphia Museum of Art. The exhibit will feature highlights from the foundation's collection. There will also be an exhibition of letters, manuscripts and maps pertaining to the Revolutionary War to be held at the Museum of the American Revolution in September of 2021.
In January 2020, the Dietrich American Foundation will publish In Pursuit of History: A Lifetime Collecting Colonial American Art and Artifacts, in association with the Philadelphia Museum of Art, and distributed by Yale Press. The book showcases highlights from the Dietrich American Foundation, and is edited by H. Richard Dietrich III and Deborah M. Rebuck, with contributions by David L. Barquist, Edward S. Cooke Jr., H. Richard Dietrich III, Michael P. Dyer, Kathleen A. Foster, Morrison H. Heckscher, Philip C. Mead, Lisa Minardi, Deborah M. Rebuck, and William S. Reese. For more information about both events visit dietrichamericanfoundation.org.
---
Richard Dietrich is President of the Dietrich American Foundation, and also serves as co-managing partner of Bryn Coed Farms Company, having just helped preserve the family's farmland. Richard serves on the Boards of the Philadelphia Museum of Art, the Museum of the American Revolution, and the Shaw Institute in Blue Hill, Maine. Richard holds a BA from Wesleyan and an MBA from Yale.
Deborah Rebuck has worked for the Dietrich American Foundation since 1981, managing all curatorial and registrarial aspects. She holds a Bachelor of Arts in History and Art History from the College of William and Mary and a Master of Arts in American Cultural History and Museum Studies from the University of Vermont.
All photographs are by Gavin Ashworth unless otherwise noted.
This article was originally published in the 20th Anniversary (Spring/Summer 2020) issue of Antiques & Fine Art magazine, a fully digitized version of which is available at www.afamag.com. AFA is affiliated with Incollect.com.