Keeping Time: Tall Case Clocks at Colonial Williamsburg
Tall case clocks often evoke a sense of nostalgia. Even the twentieth-century name, grandfather clock, suggests an object revered for its connections to people and other times. But when these objects were first made, the tall case clock had a very different connotation. An expensive mechanical timepiece, the clock, together with its fashionable wooden case, was a practical, often highly ornamental symbol of the owner's status and prestige. Before the early nineteenth century, only the wealthy could afford such expensive mechanisms, and most people working in homes, farms, or businesses went through the day with little need for a clock. The location of the sun in the sky, sundials, or public clock chimes helped to regulate the days. As society became more dependent on time regulation, clocks became more necessary and through technological advances and streamlined production, more attainable.
The tall case clock is a weight-driven mechanism regulated by a pendulum and housed in a tall wooden case. Multiple artisans, including a clockmaker and a cabinetmaker, participated in its production. Specialists of various types were often involved in producing components or decoration, including casting brass parts for the movements, engraving or painting dials, or creating wooden, brass, or painted ornament for the cases. However, typically, only the clockmaker's name appeared on the dial.
Just like purchasing an expensive item today, an eighteenth-century patron could choose various options for his tall case clock, from what extra features might be included in the mechanism to how fashionable or expensive his case might be. The movements might include extra elements like strike/silent levers, which allowed the owner to choose whether to hear the clock chime, date of the month, a lunar calendar indicating phases of the moon, a high tide indicator, or even in some rare instances, the astrological sign associated with a date. The cases tended to follow the furniture fashions for the time and place of manufacture and their intricacy depended only on the depth of the purchaser's pocketbook.



Figs. 1 and 2: Tall case clock. Movement: Thomas Planner, London, England, ca. 1700. Walnut, various veneers, oak, glass, brass, iron, and steel. OH. 96, OW. 20½, OD. 10¾ in. Gift of Mr. & Mrs. Joseph H. Hennage (1990-290). Photos courtesy of The Art Museums of Colonial Williamsburg.
An early clock by Thomas Planner of London, circa 1700 (Figs. 1, 2), is an example of a typical eight-day clock (one that can run for eight days between windings) of that period. The square dial, with its silvered chapter ring denoting the hours and minutes, and a smaller seconds register above the hands, the date of the month showing in the square aperture below the hands, and the cast decorative spandrels in each corner, typify the standard elements on early eighteenth-century clocks. The form of the case is also quite conventional, including the domed or sarcophagus-shaped hood and the rectangular trunk door, with its round lenticle or window. But the elegant small-scale foliate or arabesque marquetry, known by some in the period as filagree, ornamenting the entire case, was found only on high-end furniture at that time. Often attributed to the workshop of London cabinetmaker Gerrit Jenson, this version of foliate scrollwork created by using veneers of different colored wood was popular in England at the end of the seventeenth and very early eighteenth centuries.
By the middle of the eighteenth century, numerous advancements had been made in clock movement and case design. Square dials had for the most part been replaced with arched dials, which allowed the clockmaker to incorporate additional features. In a circa-1740 example by Newport, Rhode Island, clockmaker William Claggett, the arch contains a silvered chapter ring, with the lunar calendar in Arabic numerals and the time of high tide in Roman numerals (Figs. 3, 4). Inside the ring is a round aperture through which a moon face peers, rotating slowly through the phases of the moon. Knowledge of the tides was especially important in a port city like Newport, and the inclusion of that feature suggests the clock's original owner may have been involved in the shipping industry. Clock case forms changed over time, especially with the introduction of the arched dial in the early eighteenth century. This Newport case hood conforms to the arch of the dial and displays the "costly as well as ornamental" carved convex shell on the mahogany trunk door that was fashionable in Rhode Island during the mid- to late eighteenth century.



Figs. 3 and 4: Tall case clock. Movement: William Claggett, Newport, Rhode Island, ca. 1740. Case: Unidentified maker, Newport, R.I., ca. 1765. Mahogany, chestnut, white pine; brass, iron, steel, and lead. OH. 100¼, OW. 10⅞, OD. 11⅝ in. Museum Purchase (1972-36). Photos courtesy of The Art Museums of Colonial Williamsburg.



Figs. 5 and 6: Tall case clock. Movement: John Myer, Frederick, Maryland, 1775–1790. Cherry, tulip poplar, glass, iron, brass, and steel. OH. 97⅝, OW. 20⅛, OD: 10⅝ in. Museum purchase (1992-15). Photos courtesy of The Art Museums of Colonial Williamsburg.
| | |
| --- | --- |
| | |
| | Fig. 7: Clock cases, in Thomas Chippendale, The Gentleman and Cabinet-Maker's Director (London, 1754), pl. 36. Special Collections, John D. Rockefeller Jr. Library, The Colonial Williamsburg Foundation. Photo courtesy of The Art Museums of Colonial Williamsburg. |
Not all clock hoods conformed to the shape of the dial. One walnut case made for a movement by John Myer of Frederick, Maryland, between 1775 and 1790, had a pagoda shaped hood (Figs. 5, 6). The passion for Chinese design, as interpreted by European designers, greatly influenced English and American furniture of the mid-eighteenth century. Thomas Chippendale and other English cabinetmakers and architects incorporated pagodas, lattice-work, and other elements inspired by Asian design into various furniture forms. The unknown western Maryland maker of this clock case may have been influenced by Chippendale's pagoda shaped clock case, or Batty Langley's bookcase published in the mid-1750s (Figs. 7, 8). Yet the heavy, baroque construction and design of the rest of his case is more consistent with the work of Germanic cabinetmakers working in the region. This combination of Anglo and Germanic features and influences in one object is reflected in the settlement patterns, as well as the decorative arts of western Maryland.
Brothers Aaron and Simon Willard of Roxbury, a neighborhood of Boston, Massachusetts, revolutionized clockmaking in America in the 1790s. Whereas most other American clockmakers until that point had mainly worked in small shops, relying on outside artisans for specialized parts or skills, the Willards standardized and streamlined their clock production, and brought many of those specialists into a factory-like setting and community. The Willards created the first American clock manufactories, producing clocks and cases for the local, regional, and national markets. Tall clocks with Aaron's name on the dial and/or label inside the case, have been found as far afield as Richmond, Virginia, and Chester, South Carolina. One example (Figs. 9, 10) has the name L. Lovell inscribed with a flourish inside the case, suggesting a more local original ownership, possibly by Captain Lazarus Lovell of Hyannis and Boston, Massachusetts. The white enameled iron dial on this clock, first introduced in late-eighteenth-century England, was likely painted by one of Willard's dial painters. This elaborate example has a mourning scene with the words "Sacred to Washington" on the moon dial and four women depicting the four seasons in the corners of the main dial. Willard clock cases tended to follow a standard format, allowing for a uniformity of production. The arched hood with the scrolled fret, the rectangular trunk door often ornamented with molding or string inlay, and the fluted quarter columns with inset brass stop-fluting, characterized the "Roxbury" style cases popularized by the Willards in America following British prototypes.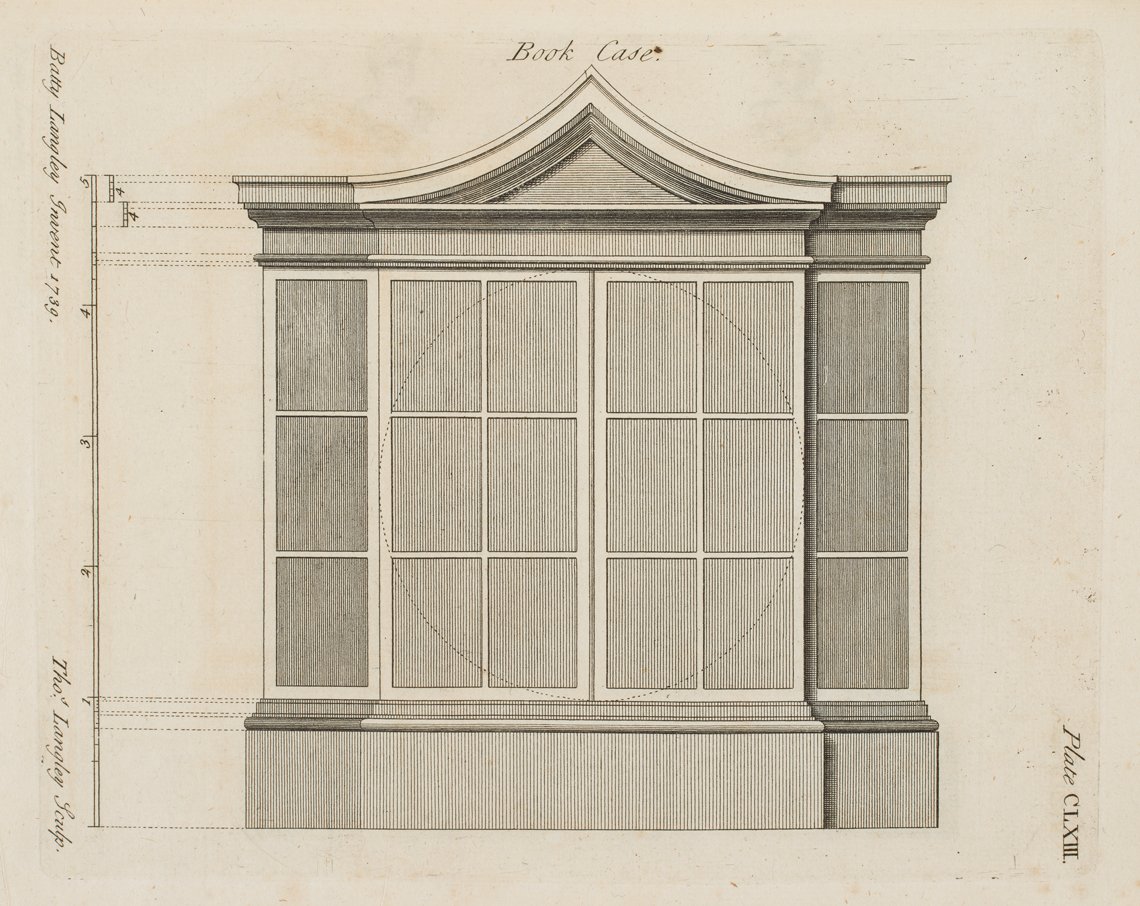 Fig. 8: Book case, in Batty Langley, City and Country Builder's and Workman's Treasury of Designs (London, 1756), pl. CLXIII. Special Collections, John D. Rockefeller Jr. Library, The Colonial Williamsburg Foundation. Photo courtesy of The Art Museums of Colonial Williamsburg.



Figs. 9 and 10: Tall case clock. Movement: Aaron Willard, Boston, Mass., 1800–1810. Mahogany, mahogany veneer, white pine, glass, brass, steel, and iron. OH. 100⅛, OW. 21, OD. 10 in. Museum Purchase, 1930-52. Photos courtesy of The Art Museums of Colonial Williamsburg.



Figs. 11 and 12: Tall case clock. Movement: attributed to Thomas Brentnall, Sutton Coldfield, Birmingham, England, ca. 1810. Case: attributed to William King, Georgetown, D.C., ca. 1810. Mahogany, tulip poplar, yellow pine, glass, brass, steel, and iron. OH. 94, OW. 20⅜, OD. 10 in. Museum Purchase, 2015-269. Photos courtesy of The Art Museums of Colonial Williamsburg.
| | |
| --- | --- |
| | |
| | Fig. 13: James Alexander Simpson (1805–1880), Portrait of William King Jr., Washington, D.C., 1841. Oil on canvas, 44 x 38 inches. Museum Purchase, Elaine and Don Bogus, Jerry Dalton, Elizabeth T. Gessley, Mary and Clinton Gilliland, Robert F. Grossman, Philip LeDuc, Marcia and Lawrence Long, Margaret Mathews, Margaret Beck Pritchard, Mark and Loretta Roman, and Community Foundation for Northern Virginia/The MOTSTA Fund, 2015-245. Photo courtesy of The Art Museums of Colonial Williamsburg. |
A clock of similar date to the Willard example but of a very different case design descended in the family of Georgetown, D.C., cabinetmaker William King Jr. (Figs. 11, 12). Family history contends that King received the clock movement from a destitute clockmaker's or retailer's widow as payment for funeral services and that King made the case himself. King was a noted cabinetmaker and undertaker (a common role for cabinetmakers) in Georgetown during the first half of the nineteenth century, producing furniture for James Monroe's White House, as well as private individuals (Fig. 13). A native of Ireland, King apprenticed with Annapolis, Maryland, cabinetmaker John Shaw before opening his own shop. Indeed, the broken scroll pediment with delicate scrolled fretwork seen on this clock case relates to that on earlier Maryland cases, including some attributed to Shaw. The movement is signed by Thomas or possibly William Brentnall of Sutton Coldfield, England, and cast into the back of the iron dial plate is "W C & J NICHOLAS/ Birmingham," for neighboring clock and watchmakers William, Caleb, and Joshua Nicholas. Americans imported English component clock parts as well as entire movements throughout the eighteenth and early nineteenth centuries.
Like so many other decorative arts objects, tall case clocks were a product of their time and place. The people who created them, the patrons who purchased them, and the trade networks that allowed makers to obtain specialized components both locally and internationally, all influenced clock technology and design. Clocks are a timeless reminder of the people who had a hand in making or owning them and of their society. While some might view these clocks through a nostalgic lens, looking deeper into a clock's mechanism or case allows us to understand these objects more fully and how they appeared to their makers and owners.
---
These clocks and many others are on view until December 31, 2022, in the exhibition Keeping Time: Tall Case Clocks, in the Iris and Mark Coblitz Gallery at the DeWitt Wallace Decorative Arts Museum, one of the newly expanded Art Museums of Colonial Williamsburg.
---
1. Adam Bowett, English Furniture 1660–1714: From Charles II to Queen Anne (Woodbridge: Antique Collectors' Club, 2002), 199-202.
2. As quoted in Wendy A. Cooper and Tara L. Gleason, "A Different Rhode Island Block-and-Shell Story: Providence Provenances and Pitch Pediments," in Luke Beckerdite, ed. American Furniture (Milwaukee: Chipstone Foundation, 1999), ftn. 11.
3. Ronald L. Hurst and Jonathan Prown, Southern Furniture 1680-1830: The Colonial Williamsburg Collection (Williamsburg, Virginia: The Colonial Williamsburg Foundation in assoc. with Abrams, 1997), 553–557.
4. Sumpter Priddy III and Joan A. Quinn, "Crossroads of Culture: Eighteenth-Century Furniture from Western Maryland," in Luke Beckerdite, ed., American Furniture (Milwaukee: Chipstone Foundation, 1997), 142–144, 165.
5. Philip Zea and Robert C. Cheney, Clockmaking in New England 1725–1825: An Interpretation of the Old Sturbridge Village Collection (Sturbridge, Mass: Old Sturbridge Village, 1992), 29–43.
6. Colonial Williamsburg owns an Aaron Willard labeled clock with the name of Richmond clockmaker William McCabe on the dial #1930-174, and the Museum of Early Southern Decorative Arts Craftsman database has examples of John McKee, Chester, S.C., clocks with Willard labels inside (see CWF # 2010-64 object file.)
7. Hurst and Prown, 155–159.
8. William Voss Elder III and Lu Bartlett, John Shaw: Cabinetmaker of Annapolis (Baltimore: The Baltimore Museum of Art, 1983), 141–143.
---
Tara Gleason Chicirda is the curator of furniture at Colonial Williamsburg.
This article was originally published in the Summer 2021 issue of Antiques & Fine Art magazine, a fully digitized version of which is available at www.afamag.com. AFA is affiliated with Incollect.com.