Designer QnA: Les Ensembliers' Richard Ouellette on the crucial nexus point, bringing in the soul, and living the dream!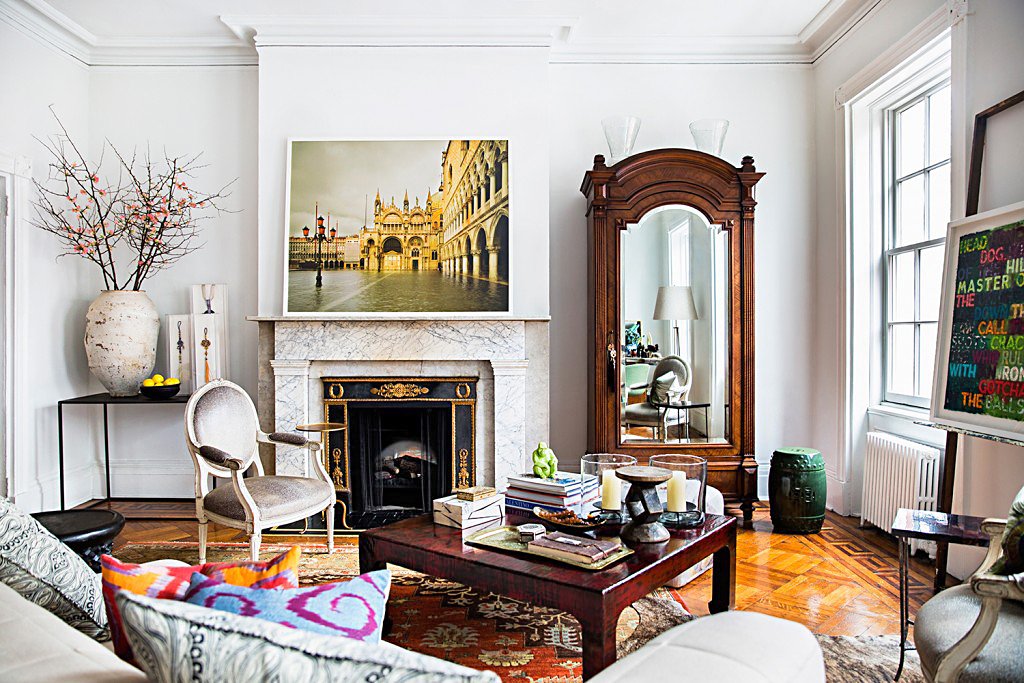 Richard and Max's Chelsea pied-å-terre. Walls and upholstered pieces were kept neutral to allow the accessories and art to shine. None of the artwork is hung, but rather stacked and leaning, atelier style. Most of the pieces were curated from their own residences in Canada; treasured acquisitions that evoke feelings of home and comfort. Although richly layered, the small space feels open and airy, with carefully balanced proportions. The Louis-Philippe-style mirrored armoire and French bergére chairs echo the past; exotica is introduced with a Chinese red lacquered coffee table and a green ceramic garden stool. At right, a work by Mel Bochner — a special gift from Richard to Maxime on his 40th birthday. Above the mantel is Acqua Alta, Piazza San Marco, Venice, Italy, a 2010 photograph by David Burdeny. Photo by Brittany Ambridge






Richard Ouellette,

photo by Brittany Ambridge
Richard Ouellette has over 20 years experience in all sectors of design, including fashion, styling, event planning and interior design. Early in his career, he distinguished himself by becoming one of the youngest recipients of the Griffe d'or for his fashion designs. Subsequently, he immersed himself in the world of industrial and urban design. After studying environmental design at the Université du Québec à Montréal, he worked in styling and graphic design as a project manager at an advertising agency. Then, in 2004, he found his true calling as an interior designer. He joined Les Ensembliers as a design partner in 2007. In 2011, he was recognized in Quebec as one of the leaders in his field. His extensive and multidisciplinary design experience with materials, objects, atmospheres and spaces has led him to become a master of his craft, taking the helm of Les Ensembliers as president in 2012.
"The first and only integrated company in the construction industry, Les Ensembliers bring together three entities: an architectural firm, a design agency and a construction company, which are controlled by two shareholders: a designer — myself, Richard Ouellette, and an architect, my husband, Maxime Vandal. Our team, comprised of architects, designers, technologists, estimators, project managers, craftsmen and accountants, works in constant synergy and has only one objective: to deliver the best possible project with maximum process flexibility. This business model provides customers with all the benefits of true synergy: we are devoted to the project rather than to coordinating stakeholders; the creative process ends when the job ends, rather than before it starts; the budget is adapted to the realities of the construction site, as well as to changing customer needs. This model serves primarily to spread out customer decisions thus accelerating the project by improving its components. The finished project isn't a mere shadow of the original idea, but the result of a holistic creative process."


Role Model:

Martha…(Stewart, obviously). She's got a good thing!

Necessary extravagance:

Candles…room spray, linen spray…every scent in our home, sheets and clothes…it's an obsession.

Secret vice:

Poutine!




Hidden talent totally unrelated to design:

Naps with Zack, the dog

Go-to color scheme:

B

lack, gold and deep teal
DISCOVER RICHARD OUELLETTE'S INCOLLECT FAVORITES



GREGORY NANGLE

Purple Flowered Steel China Cabinet with the Wind in its Hands

Wexler Gallery




GEORGE BRIDPORT

Polychrome Decorated Klismos Chair; manner of George Bridport

BURDEN



SUZANNE CLUNE

Counterpoint

Suzanne Clune




LARA BOHINC

Fortress Cupola Vase, Blue Ceramic

Bohinc Studio
| | |
| --- | --- |
| | |
| | Where it all began: Pullman bar à vin, Montreal. |
Tell us something about you that is not in your bio.
When I turned 30, I decided it was time for a major shift in my life, I had lost my passion for fashion and needed a change of scene: I dropped the big fashion job and the big apartment and went back to university to follow my dream of Interiors. About the same time, and just like Bridget Jones, I was looking for my Colin Firth! I had a blind date at Pullman in Montreal with a guy named Max, after chatting with him for an hour, I knew I had met my Colin and was going to marry my Max. We moved in together after 2 months and started working together within 6…we started building our dream of Les Ensembliers right then and there, and we celebrated our 10 year anniversary last October.
What excites you most about the design process?
Oh, everything, of course! I think that the collaboration between design and client is always the best part of the design process. It's not hard to create beautiful spaces, but finding that nexus point between what I love and what the client loves and bringing it to fruition is the greatest satisfaction. However, I must say, I really have a love affair with fabric! When I start playing with textures and colors and the story begins to reveal itself, that's when I get really excited about a project. The vision takes shape and I can see the whole thing in my head, that's what truly excites me.



Left: Bring on the glam! The two story penthouse at the Ritz Carlton, Montreal, dazzles with a floor-through light sculpture and the impact of Mel Bochner's Blah, Blah, Blah. Right: In the same penthouse, a calm oasis from which to admire the city views features The Peacock carpet from the Les Ensembliers collection for Brunschwig & Fils. Photos by Andre Rider
SHOP RICHARD'S INCOLLECT PICKS



CARLYLE COLLECTIVE

Gateau | Sideboard - Goatskin / Brass

Carlyle Collective




GARETH DEVONALD SMITH

SATELLITE Chandelier

OAK Gallery



DAVID HASKELL

Large-Scale Assemblage Sculpture #1

Donzella




KONEKT

Thing Ottoman with Horse Hair, Brass and Velvet

Konekt





Architect Maxime Vandal,
Richard's partner in life and in work.

Name an architect, artist or designer, living or dead, you'd love to collaborate with and why?
I am very lucky to have married a fabulous architect…Max truly inspires me. To be able to work side by side everyday is an incredible gift. I have always dreamt of working with my partner…when it actually happened I realized what "living the dream" truly means!
How do clients push you to think outside of the box and challenge you?
Clients challenge me everyday on so many different issues — budget, space design, color or unusual requests. Each project has its unique challenges. I've never worked on a project where, at the end, I didn't learn something new. I think the day I stop learning is the day I stop working. I do love the client relationship and the request from them to make it unique and to surprise them: Our ultimate objective is always to "wow" the client. It comes natural to us — it's in our DNA to push ourselves to always bring the magic to our projects. I guess in the end we push ourselves much more than our clients push us!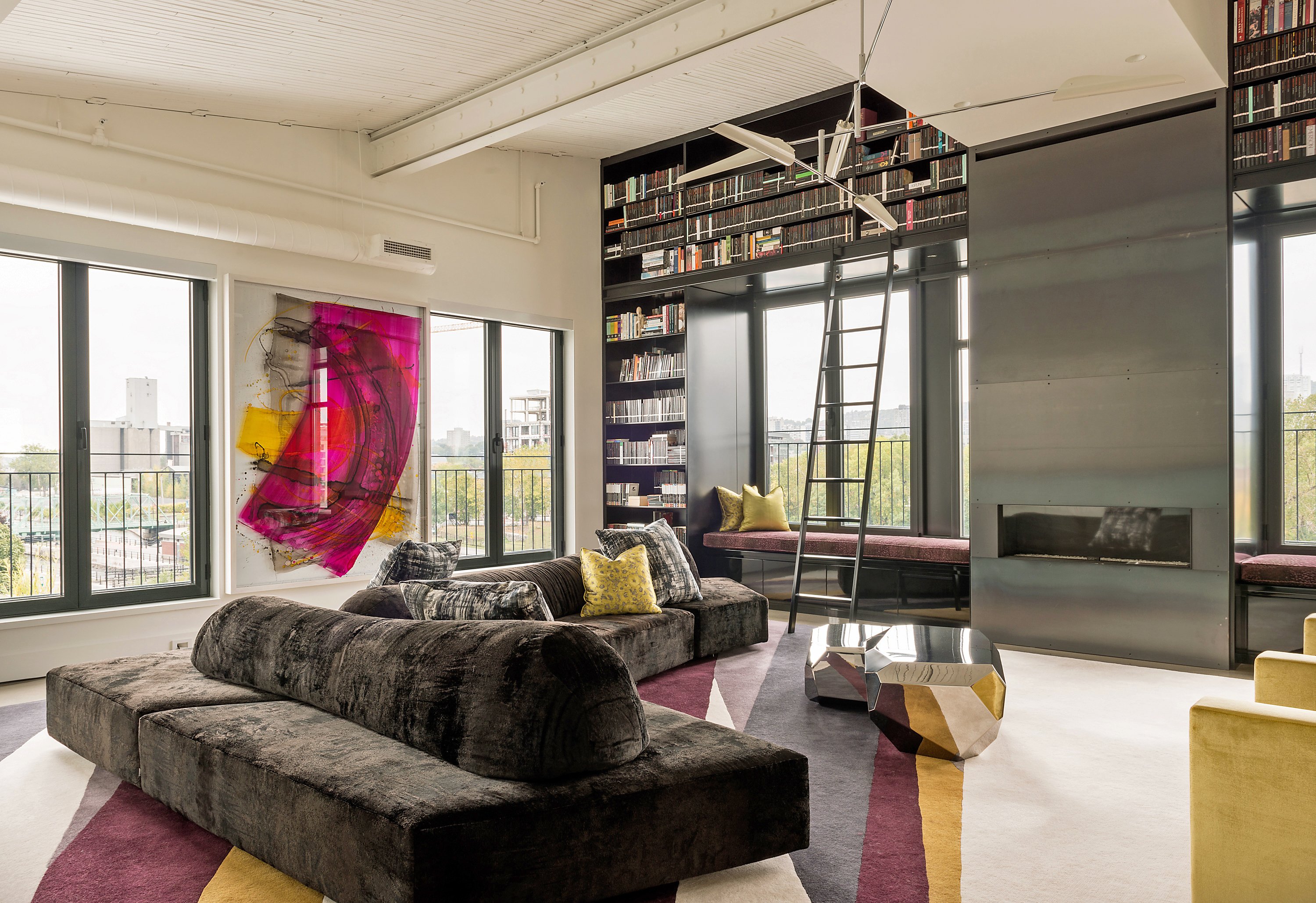 A three-story loft apartment in the Redpath Sugar Refinery building, Montreal offers stunning views of the city and a wrap-around library accessed by a rolling ladder. Photo by Andre Rider

SHOP RICHARD'S INCOLLECT PICKS



TROY SMITH

21st Century Hand Made In Italy Contemporary Three Seat Sofa

Troy Smith Designs




KARL SPRINGER

Karl Springer Studio, Free Form Low Table, USA, 2015

Todd Merrill Studio



MATTHEW BIELEN

Dangerfield

Bicycle Fine Art




TINATIN KILABERIDZE

Upholstered Slipper chair / Armchair with Ottoman

Valerie Goodman Gallery
| | |
| --- | --- |
| | |
| | Mel Bochner and Head Honcho |
What is your favorite object in your home, and how and when did you acquire it?
A Mel Bochner piece I offered Max for his 40th birthday…Head Honcho!
How does a design project start for you? Is there a particular element that you always start with that inspires the whole project?
We love old homes, new homes, old apartments, new apartments…any homes really! And when we get the chance to have a first walkthrough of a house…it is always the best way to get inspired…the orientation, the views, the scale, the spaces, the possibilities…we love to let the house reveal itself to us and then start seeing how it should function and be revisited and restored…that's when inspiration kicks in and the concept of the project takes shape.



The same, only different . . . a pair of dining rooms shows how the same layout can yield very different aesthetics. Left: The dining room of a Palm Beach home mixes Asian influences with typical Palm Beach glam, courtesy of the stunning vintage Murano chandelier. Bold graphics in the rug, chair coverings and artwork contrast with the classical architectural details. Right: Richard and Max's country home in Knowlton, Quebec was painted white throughout, while they considered their wildly vacillating renovation plans. Bit by bit, they fell in love with the home "as is" and brought in cherished treasures from trips through the countryside. A painting that reminded them of Monet's famous water liliy paintings is the backdrop for this dining room vignette, featuring an ebonized center table surrounded by vintage dining chairs covered in a navy and white zebra print. Photos by Andre Rider
SHOP RICHARD'S INCOLLECT PICKS



GLUSTIN LUMINAIRES

Brass Sphere with Murano Glass Leaves Chandelier

Galerie Glustin Luminaires




VENINI

Pair of Signed Black Glass Urns, 1978

AWK Design Antiques



Pair of Modern-Style Horse Shoe Armchairs

Castle Antiques & Design




HUNT SLONEM

Annunciation

Madison Gallery
| | |
| --- | --- |
| | |
| | Awasi, a boutique hotel in Patagonia, Chile. Photo by Fernando Alda, courtesy Interior Design. |
What is your dream project?
Branding and creating a boutique hotel would be another dream come true!
What is your favorite part of the install process?
Until everything is installed, each piece of fabric, wallpaper or furniture exists on its own. Seeing the vision I had in my mind's eye come to life is so exciting and a validation of my process. Having wowed our clients is the ultimate reward.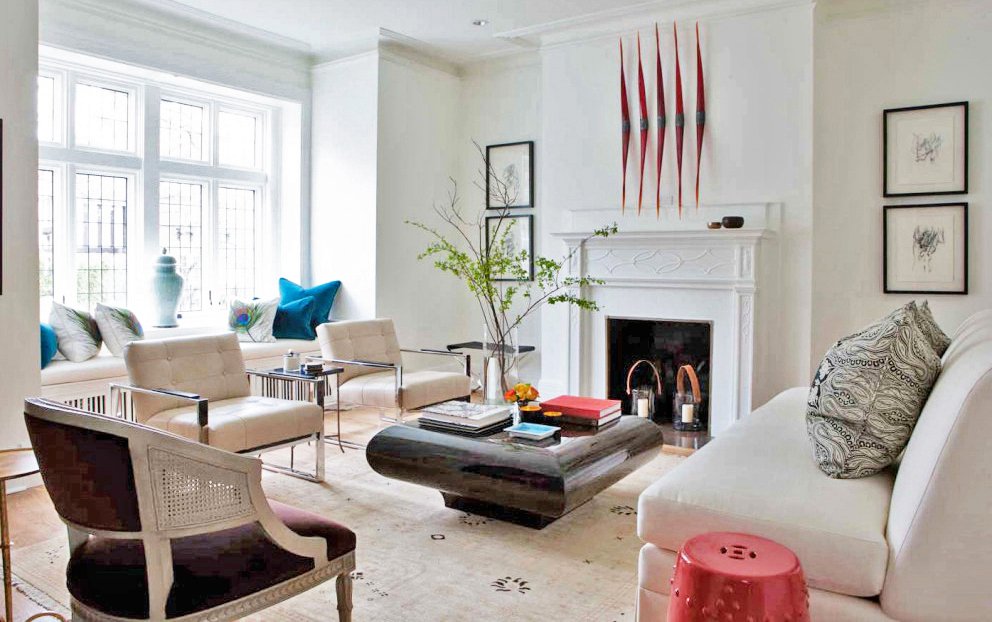 In Westmount, a wealthy enclave of Quebec, Les Ensembliers revitalized a 1940s home. The window seat was created over an existing radiator to increase seating capacity, and a pair of modern chrome chairs was selected for their open frames, to allow the light from the window to flow under the seats, pointing up the delicate tones in the Oushak carpet. The space is grounded by a large hand-lacquered coffee table. Above the fireplace is a blown-glass wall sculpture of red glass and copper by Canadian artist John Paul Robinson. Light reflecting through the glass and the shadows cast on the wall behind mimic flickering flames. Photo courtesy The Globe and Mail.

SHOP RICHARD'S INCOLLECT PICKS



EMMANUEL BABLED

Librastone

Twenty First Gallery




MARKUS HAASE

Walnut and Onyx Sculptural Sconce, USA, 2016

Todd Merrill Studio



KONEKT

Bianca Armchair in Walnut

Konekt




STUDIO MVW

'XiangSheng I' Side Table #3

Galerie BSL





Bringing in the soul:

19th Century French Louis Philippe Carved Cherry Armchair, offered by Möbel von Vert, on Incollect.

Do you have a signature element — something you always include when styling an interior?
Something old: whether its art, an odd piece, furniture…anything really that has patina, age and a previous life. It will undoubtedly bring in the soul.
Tell us what you love about Incollect and what one can expect sourcing with us.
I think the genius of Incollect is the incredible depth of inventory to browse. It's a fabulous resource for any item we might be looking for — from that one rare and exceptional fixture to the antique collectible. It's like strolling through the world's largest antique market from the comfort of my desk. I love the always unique and always inspiring weekly newsletter. And finally, without a doubt, the "concierge" service attention from your devoted team given to each and everyone of us…hats off guys!