Marc Barold Evolution from Star Wars to a "Future Nature"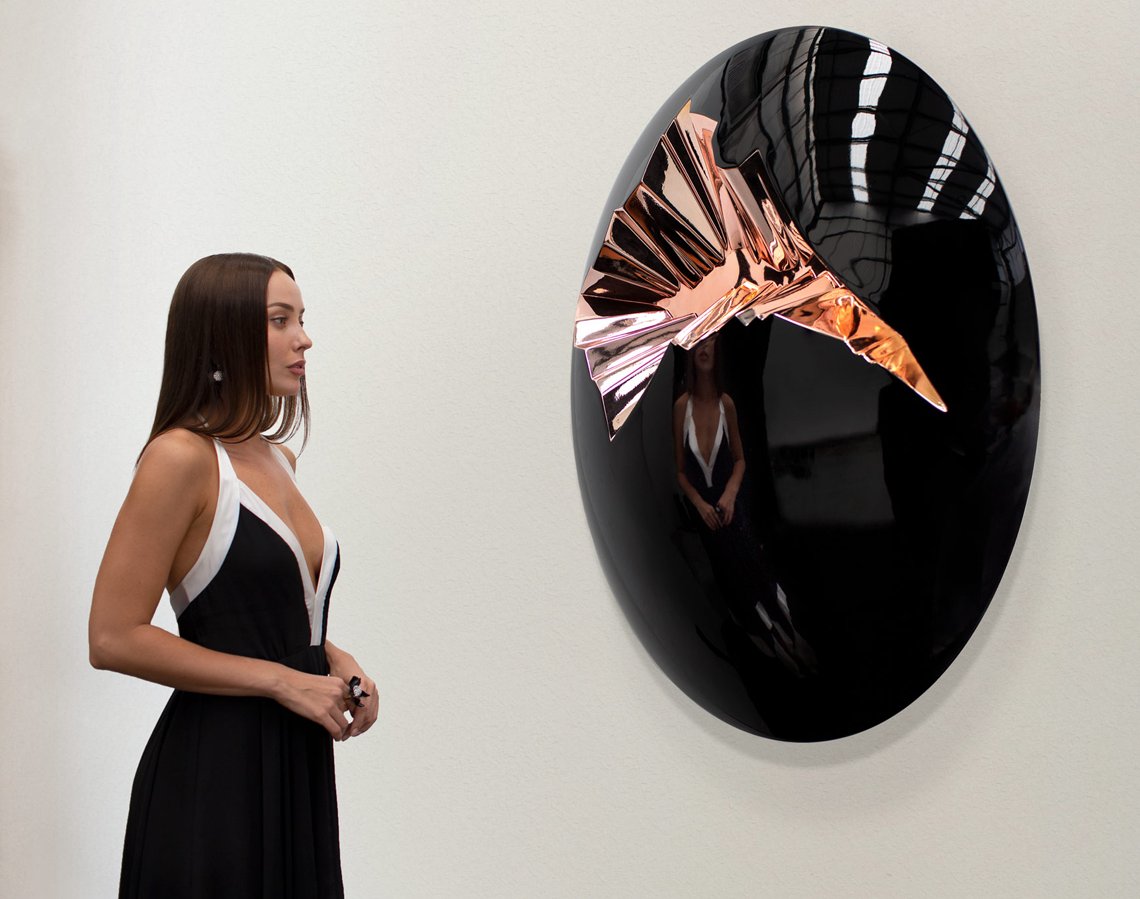 This year, Marc has been delving into a new limited edition series of geometric wall-mounted sculptures. His perception of nature evolving came to light on his journey to develop these unique works, which are entitled The Evolution Dome. By contrasting the smooth spherical outer shells with deeply carved internal fissures, the work is suggestive of planets having formed after having collided in an evolving universe. All images courtesy of Marc Barold.
Marc Barold's Evolution from Star Wars to a 'Future Nature'
By Benjamin Genocchio
| | |
| --- | --- |
| | |
| | Marc Barold |
The Australian artist and designer Marc Barold has lived and worked all over the world, doing production design for live events, film and television, collaborating with international brands such as Swarovski, Cirque du Soleil and Lucas Films, while at the same time winning prizes for his sleek, dynamic, organic sculptures that inhabit the intersection of the natural and manufactured worlds — what he calls a 'Future Nature'. Today he lives and works in Sydney, where he maintains a thriving studio.
You are best known as a sculptor but you have worked as a production designer for events and films in Australia, Europe and the United States. How did that happen?
After four years at art school in Sydney, Australia, I was fortunate to win first prize at Bondi's renowned Sculptures by the Sea, in 1997, the largest free to the public outdoor sculpture prize in the world. The press that came along with this landed me a position as a sculptor on a large-scale science fiction film, starring the late William Hurt and Kiefer Sutherland called Dark City. Here, I was exposed to a wide range of new materials and techniques that later got me work on George Lucas's Star Wars films. One of my personal sculptures, made previously, was chosen to be featured in one of the major scenes of the film. This opened doors for me to work on films and events all over the world, inspiring my current art practice.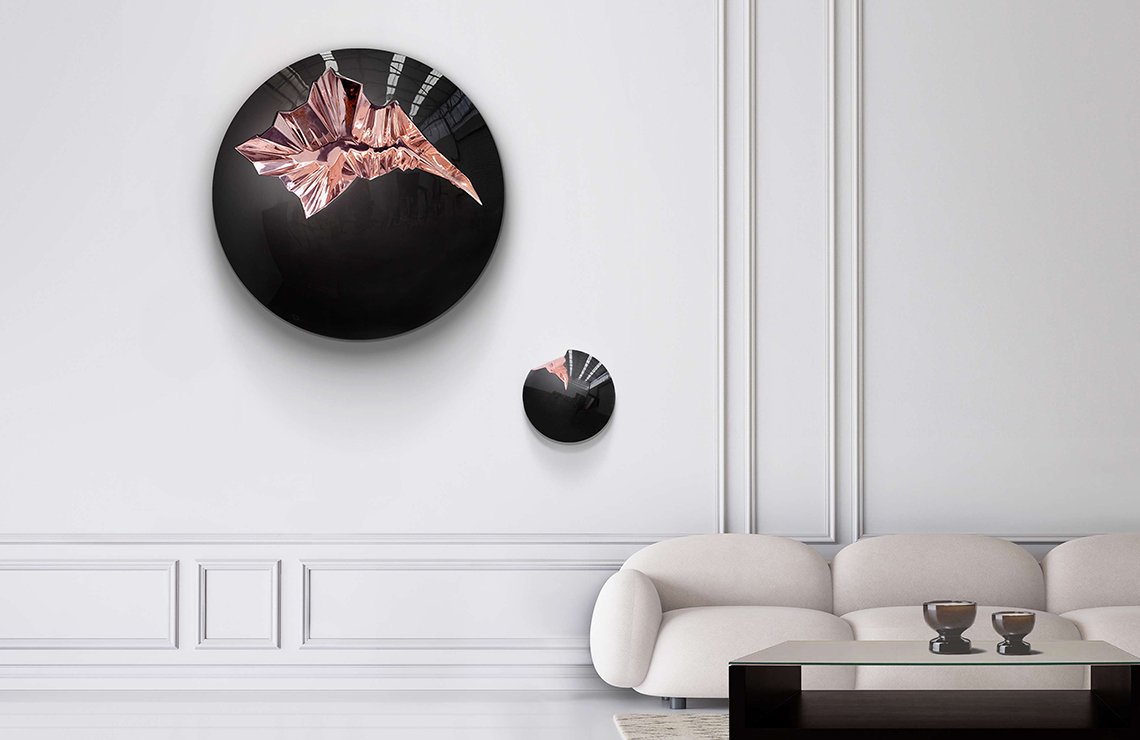 The Evolution Dome is a futuristic and dramatic counterpoint to the classic moldings in this living room. A limited-edition White Series has been released this year. The fissure can be customized to any color, and the larger dome can be paired with the smaller sister dome as shown here.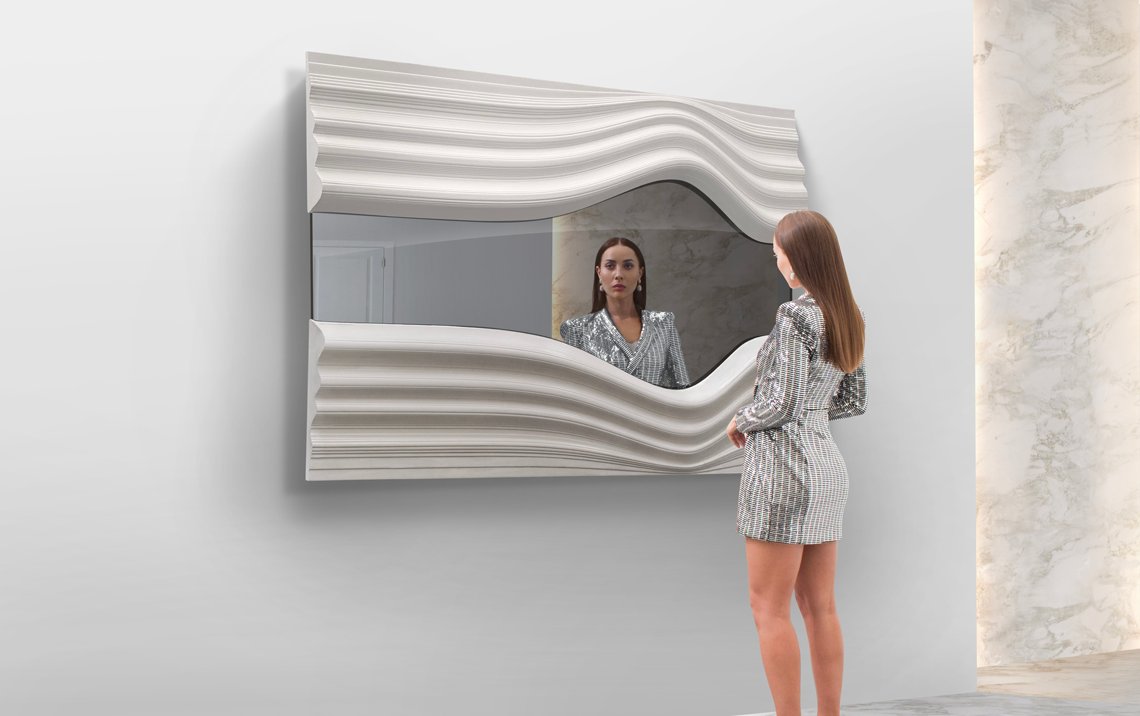 The Opening is a custom-made collection of mirrored artworks conceptually creating a porthole peering into another dimension as if drawing back the curtain of space and time. Rhythmic wave-like panels frame each mirror making for a uniquely interactive experience. Designed to be both functional and ornamental, these mirrors expand and enhance any interior creating a distinctive contemporary artwork. These mirrors can be further enhanced as the mirror itself can be fashioned in a variety of widths as well as having a choice of mirror colors, unique finishes, and orientations.

What was the inspiration for your work for Sculptures by the Sea?
The inspiration for this work was a very personal and life-changing experience for me. It was conceived from a sensory deprivation performance art piece, whereby I spent two and half days in a pitch-black room creating clay maquettes. Here I experimented with new ideas emanating from my subconscious. It was also a means of enhancing my sense of touch being that I couldn't see what I was making during this time. These maquettes were later refined and enlarged before being exhibited. This experience enhanced my belief that all art starts in the mind, and when one eliminates distractions, the subconscious really does shine.
You've described your work as attempting to occupy the space of what you call a 'future nature'. Can you unpack this concept for us, and tell us what it means to you?
My work is inspired by fluid and organic forms, exploring the intersection of the natural and the manufactured. Elon Musk currently wants us to go to Mars, and to do that we have to terraform that planet. I see a smarter future as we're rapidly evolving into the next era of evolution, cross-pollinating nature with technology harmoniously.
My current body of work is an odyssey towards a sleek and refined metamorphosis of the natural that is both familiar yet alien. I want my work to capture patterns in nature, merging these with hard industrial reflective surfaces at the crossroads of fine art, design, technology and the natural world.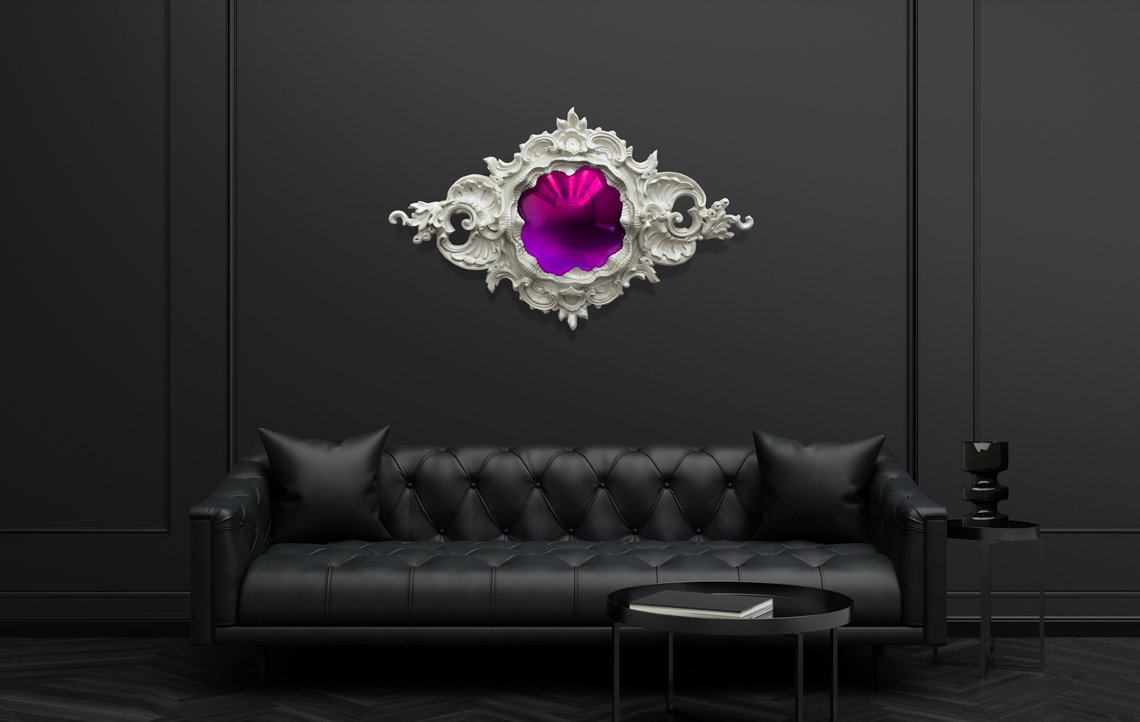 For a variety of looks, the Oculum mirror can be hung both vertically or horizontally and be custom made to any scale outside of these standard dimensions. The outer ornate sculpted rim and the dome itself can be finished in any colored paint or mirrored chrome to suit. Each unit is 100% customizable.

Who and what are some of your influences as an artist?
I am really inspired by the work of Zaha Hadid, Anish Kapoor and Daniel Arsham. More so, the intersection of patterns in nature, quantum physics, and where they meet technology.
Is there a material you haven't worked with but would like to experiment with?
Through my twenty years in production design, mostly on film sets, I have had the great fortune of working with most materials. When producing my own sculptural works, this exposure to such a wide range of materials has heavily influenced me on what's possible, inspiring new and innovative ways to push my own practice.
Transmission
is a custom-made large-scale mirrored artwork that is visually symbolic of an emitting signal that is broadcast into outer space. This grand 5-meter mirrored sculpture with its rhythmic wave-like panels acts as a focal point framing the mirror to create a unique interactive experience expanding and reflecting its environment.

What are you working on right now, and what's most exciting about these pieces?
At the moment I am playing with chrome fade finishes on my art mirrors and dome sculptures. I find this effect truly unique and beautiful when a colored mirrored surface bleeds from one color into the next. When someone walks around the piece, the colors are constantly changing with the light and therefore making it more interactive with the viewer.
Your artwork is customizable for shape, color and form. What is the thinking behind this?
What makes these new pieces unique, which I feel is a real selling point, is a technique that worked so well and that I observed the popularity of when I was assisting some of the top contemporary visual artists in NYC over the last 6 years. And it's big with customizable furniture, but not so much with art yet. I really want to push this concept so my clients get exactly what they want. For this reason, I offer a service whereby a potential client can send me a photo of where they want one of my pieces to live and I will return to them a mock-up image of what their desired piece will look like, in their desired color, in situ. This way they can see what it looks like before deciding to purchase. I like to work with my clients to achieve the best outcome for them, to deliver a piece of art that fits beautifully into their specific space of choice. Each piece is a limited edition, so no two are ever the same.
Do new technologies and materials play an important role in your art practice?
Absolutely. I am very lucky that over the last 20 years with my experience as a production designer I have been able to play with the latest 5-axis CNC routers and 3D printers, mostly for my film set production. This inspired my latest art mirrors, which are perfect examples of where I initially used technology to create them and then meticulously handcraft the finished pieces. I intentionally do this so that my personal energy is embedded in the materials of what I create, and also because I want the viewer to question how I made it in the first place.



Vervossa

, an indoor/outdoor sculpture, as seen here in semi-gloss off-white fiberglass. It can be customized in any color in gloss, satin or matte finish; also available with a natural stone plinth in sizes up to double the height shown.
Beauty, sensuality and visual harmony are also clearly very important to you. What's the secret to achieving these qualities in an artwork?
When I conceive any of my designs, I place a lot of thought into it. As sculpture is generally more expensive to produce than a painting, I always begin with a sketch, maquette or computer model to get my initial idea down. I then allow myself a day or two to sleep on it, asking some of my creative colleagues for their opinion and taking on board any feedback, good or bad, that they give me before I finalize my design.
Only then, when I can see the work clearly in my mind's eye as a finished product, as something truly beautiful that can withstand the test of time, do I then invest in the initial fabrication and molding of the piece. Quality and premium finishes are integral to my work no matter how large or small the piece is.
I believe in moments of release within my sculptures for viewers experiencing them. If an area of one of my works has detailed complexity, it should also be harmoniously counter-balanced with other areas of refined, sleek simplicity. This allows for the viewer's eyes to breathe for a moment in juxtaposition to the experience of taking in the more dynamic, visually highlighted areas. This moment creates a memorable experience that hopefully resides in their mind over time.
I really like how reflected light and shadow are frequently incorporated into your artwork. Is this intentional and if so why?
Yes, this is 100% intentional, partly because mirrors, colored chrome and stainless steel finishes are really hot in sculpture right now. I have spent a lot of time and my own money perfecting these techniques and the results have been particularly mind-blowing, especially when seen in person. I have only started working with these materials recently with my new sculptural pieces, and want to push these techniques further. I am drawn to these materials partly because when installed within any chosen environment, they immediately double the size of a room. In addition to this, the reflections also make the work way more interactive for the viewer. By someone seeing themselves within a piece, and through these distortions of themselves, they become immediately more engaged emotionally with the work.