Marshall Watson's "The Art of Elegance"
| | |
| --- | --- |
| | |
| | Marshall Watson |
If you're looking to bring more comfort and elegance into your home, there is no better source of inspiration than Marshall Watson's The Art Of Elegance. In his first book, written with Marc Kristal, you can peruse fourteen of the designer's projects, ranging from a country idyll in Sweden, an undertaking for which Watson made extensive forays into the Swedish countryside to source Gustavian antiques, to a Naples, Florida home where, at his client's request, he repurposed a substantial amount of dated 1980s furniture—with surprisingly timeless results. A client's heavy, formal Louis XVI-style Palm Beach residence is transformed into a still-formal yet light, spirited, and playful design that signals good times are to be had here. A Cabo, Mexico hacienda overlooking the Sea of Cortés features an abundance of custom commissions designed by Marshall and executed by local artisans: hammered tin doors, ironwork railings, gates and lanterns, and carved Cantera stone elements including courtyard columns and a fountain. A mantlepiece sketched by Marshall and interpreted by the artisans as a mélange of Indian, Mayan and Baroque design elements yielded a glorious surprise, and the designer recounts, "That's the whole point of working with craftspeople. As a designer, I can have a vision. But it is the interpretation of that vision that gives my design its authenticity—its sense of place—and its strength."
Lest you think Watson focuses solely on homes in exotic locales and resort areas, there are New York City apartments on Fifth Avenue and Gramercy Park, gracious family homes in St. Louis and Salt Lake City, a Northern California wine country compound with guest cottages, and a Southern California residence that pays tribute to Mexican modernist architect Luis Barragán, housing an extraordinary art collection. In one of the most engaging chapters, Marshall describes designing his own East Hampton home, and what he learned in the process. Fifteen years later, he writes that the home "made me the designer I am today," and when you read how he analyzed his work from both the perspective of a homeowner and an interior designer, you understand that Marshall Watson embodies all the best qualities of a great designer: analytical and creative, intuitive and scientific, and above all, possessing a definitive understanding of elegance: it emanates from the ultimate luxury of comfort.
| | |
| --- | --- |
| | |
In each chapter, Watson writes about the client and their relationship to their home, whether it be primary residence or vacation property, sketching out his ideas for establishing the design plan and its appropriateness for the locale and purpose. He explains the challenges he faced, what he hoped to accomplish and why he chose the design elements he did. It provides a fascinating window into the analytical and artistic thought process of the designer. Watson's deep love for what he does is evidenced by his sensual descriptions conveyed in the enticing language of design: "rare flitches of nineteenth-century Austrian burl, hand-smoked floors, slipcovered chairs with bootstrap buttoning, gutsy white oak paneling that's been bleached, wire-brushed, cerused and allowed to crack." You'll likely pick up a new phrase or two to add to your design vocabulary.
Marshall Watson's backstory is varied and interesting. Born and raised in Kansas City, he studied design and engineering at Stanford University. He began his professional life as a fine painter, but found that too solitary, both literally and inspirationally. His inclination, he says, was to interpret. The next phase of his career brought him to the field of theatrical design, where his talents for three-dimensional communication and design, and his innate desire to analyze and interpret all came into play. While in college, Marshall had begun modeling and acting, and he was asked by an agent to come to New York and appear on the soap opera As The World Turns. Contradictory as it may seem, that move brought him closer to the profession he was ultimately best suited for. He enrolled in New York City's Fashion Institute of Technology and launched his own firm in 1987. Marshall writes that his 30-year love affair with interior design shows no sign of abating, and that, "in all ways, I embrace the principles that transform a series of rooms into the true definition of elegance: Warmth. Light. Peace. Balance. Proportion. Livability. I aspire to create homes that are uplifting as well as comfortable, graceful as well as high-functioning, coherent as well as appropriate. This is my pursuit of the art of elegance."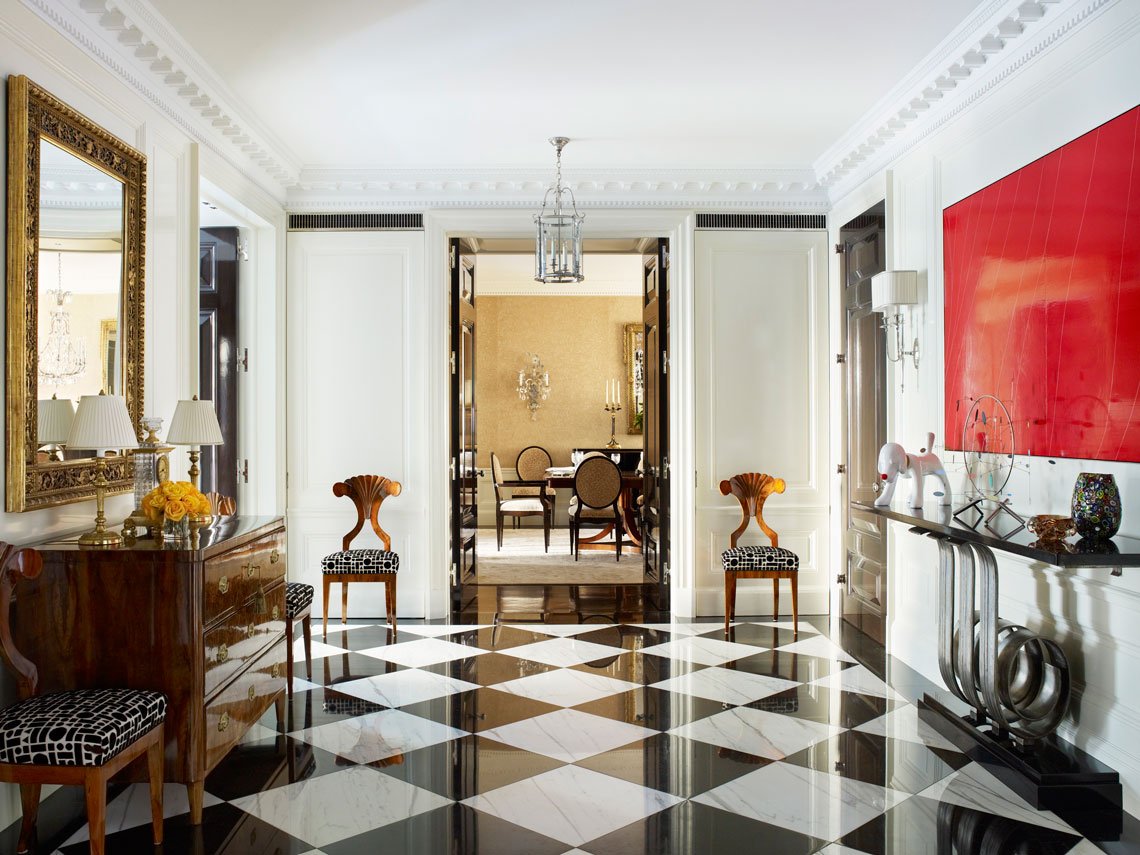 Photograph by Francesco Lagnese

A Fifth Avenue apartment with views into the Greek and Roman galleries of the Metropolitan Museum of Arts is designed around three guiding themes: reflectivity, classicism and the presence of dynamic art. Highly polished marble and walnut parquet floors, the sheen of silk velvet, French polished paneling and case goods, and gilt, silver, mirror and mercury crystal all reflect and bounce light throughout. New dentil moldings and columns, and an original Carrera marble mantelpiece help to establish a classical setting for the art collection that include works by Ross Bleckner, Charles Biederman and Alexander Calder. An elegant set of four Austrian Biedermeier chairs populates the foyer, with a pair flanking the portal to the dining room, and a pair surrounding a burled chestnut commode. Complementary opposites—the commode hosts a grouping of traditional accessories, and facing the commode, a French Deco console grounds a tableau of contemporary and modern pieces.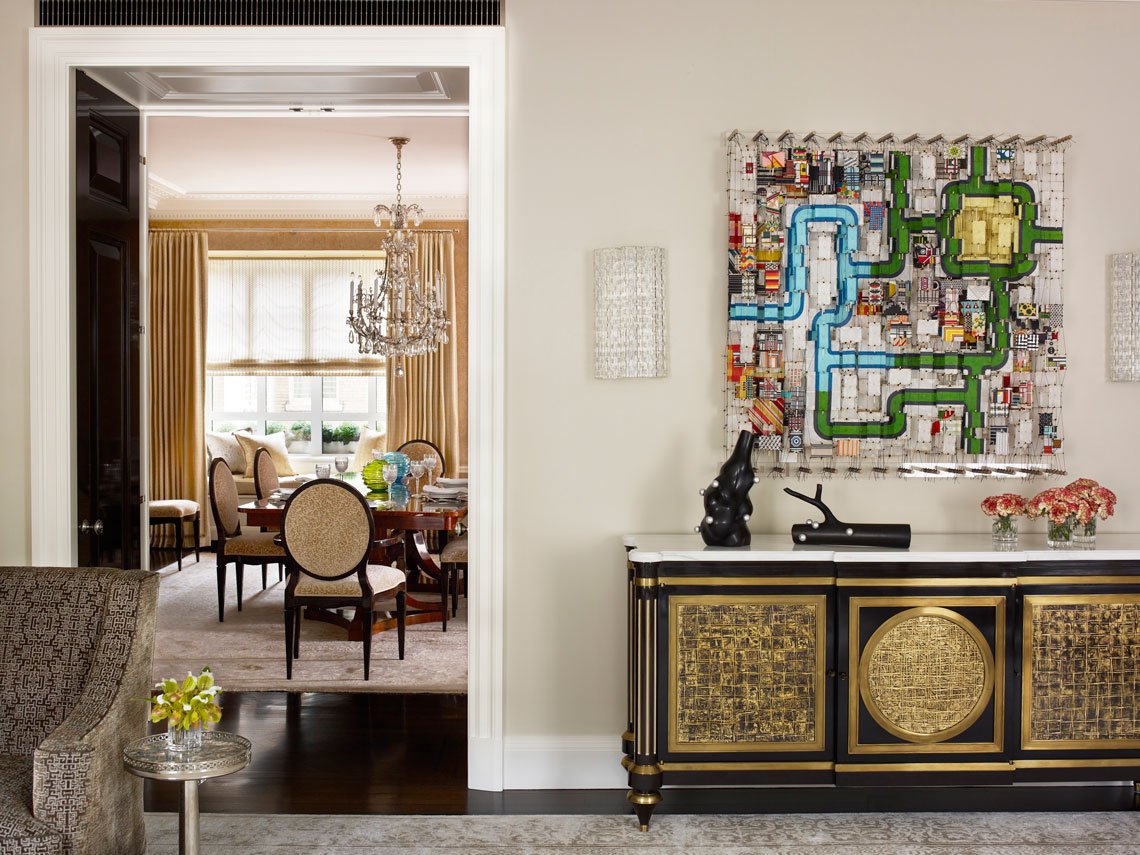 Photograph by Francesco Lagnese
In the same Manhattan apartment, a view from the living room into the dining room. A rice paper and bamboo wall work by Jacob Hashimoto, based on traditional Japanese kite-making techniques, is positioned above a custom bronze doré sideboard with marble top from New York City gallery Iliad. The intricate grid-like detail on the sideboard and the Japanese maze pattern on the chair fabric in the foreground both echo the complexity and origin of the artwork and tie the pieces together. A pair of shimmery sconces flank the artwork, illuminating and casting shadows that point up its delicate texture. The dining room boasts walls upholstered in Venetian silk velvet and a table of Austrian burl with neoclassical rosewood chairs, pieces custom designed by Marshall Watson Interiors.



Photographs by Luke White






Salt Lake City was the locale for a Mediterranean Revival home given new life by highlighting the architecture's best features. Left: Ribs and medallions were applied to the living room's barrel-vaulted ceiling to bring attention to what was previously overlooked. A Baroque mirror was positioned to reflect the ironwork and plaster relief border that were added to emphasize the graceful arched portals. The mirror is flanked by Baroque brackets, and positioned below it a sofa chosen for its "muscular" presence to balance with the grand, oversized mirror. A pair of gilt French armchairs and club chairs designed by Marshall Watson complete a comfortable and elegant seating group. Right: The exquisite filigreed gates and staircase railing were commissioned by Watson and produced by a local Salt Lake City decorative ironwork company. The elegant tracery pattern is both bold in presence and light in effect, and helps establish the Mediterranean Revival style of the home. A gilded Austrian chandelier and a sconce based on a design by Karl Friedrich Schinkel illuminate the space. The sideboard is French and the burled wood chairs date to the 18th century.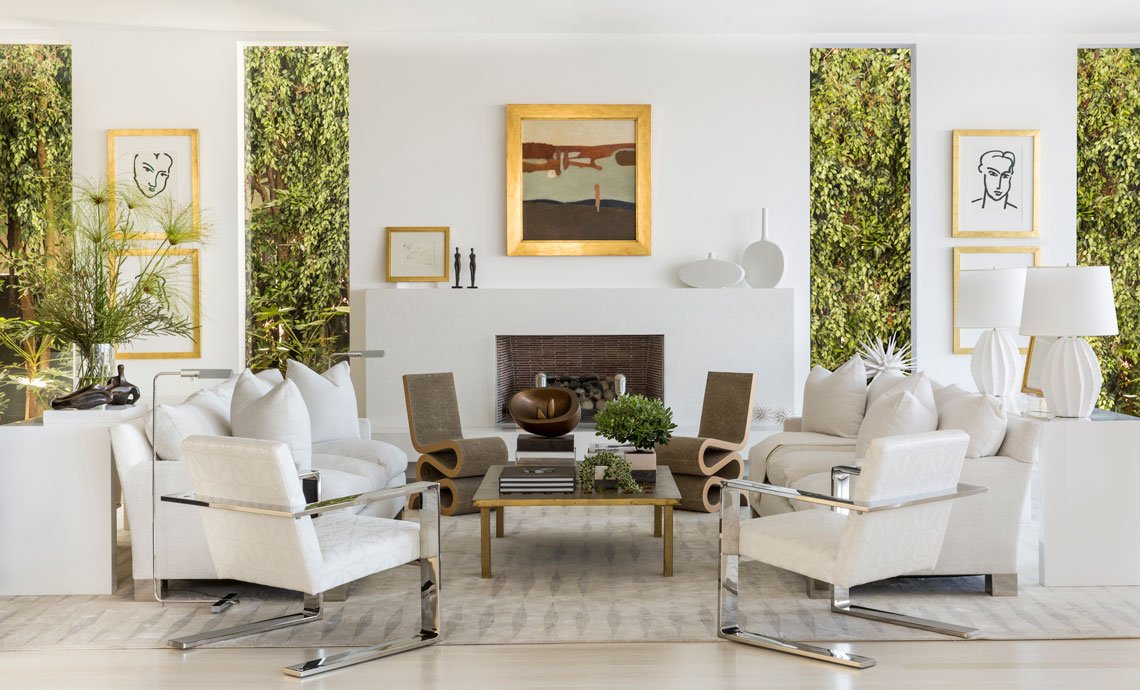 Photograph by Lisa Romerein
A Newport Beach home, built in the 1960s from an inspirational cocktail napkin sketch by Mexican Modernist architect Luis Barragán, houses a remarkable collection of modern art including works by Picasso, Matisse, Léger, Mondrian and Frankenthaler. Watson was brought in to update and unify dissonant elements that had been added in the preceding 40 years. His response was to simplify and streamline, reducing the color palette to purely white to emphasize the planes and volumes of the architecture and the shifting Southern California harborside light. Repeated themes served to tie spaces together; the undulating Wiggle chairs designed circa 1972 by architect Frank Gehry speak to the grand sweeping staircase in the entry. The floor-to-ceiling windows were squared off to become a rhythmic series, and the fireplace surround was recreated from marble to concrete to continue the planar design conversation, with square and rectangular furniture profiles chiming in. Artwork includes drawings by Matisse, a bronze sculpture by Barbara Hepworth, and an ink drawing by Picasso coupled with a Giacometti pair on the mantel.

| | | |
| --- | --- | --- |
| | | |
| Photographs by Eugenio Perches | | |
| Called upon to handle both the architecture and the interiors for a ground-up seaside home in Cabo, Mexico, and given the aesthetic guideline of an Italian hill town, Marshall responded in his typical fashion: meticulous research, travel to original sources for aesthetic inspiration, and collaboration with traditional artisans to create authenticity and sense of place. With a commanding view and dramatic envelope featuring arches, columns and soaring ceiling heights, the furnishings were kept simple. Woven-rope chairs surround a cocktail table with a traditional Aztec snake motif. The cantera fireplace was sketched by Marshall in an Italian Baroque style, and as seen here, executed in a wholly different fashion, much to the surprise and eventual delight of the designer. | | In the master suite, rustic beams and plaster walls are a serenely simple foundation. An Italianate gesso chandelier and Moroccan brass lanterns, and a 17th-century Spanish chest add exotic allure. Behind a custom-designed bed, a pair of hammered tin doors are set in a portal decorated with a hand-stenciled pattern, all designed by Watson and produced by local artisans. The doors open to the master bath, revealing magnificent views of the Sea of Cortés. |


Photographs by Luke White






The East Hampton home of Marshall and husband Paul is the project that "made me the designer I am today." In typical precise fashion, he began the process by interviewing both Paul and himself, as he would any other client. Watson has said that he prepares, analyzes and researches exhaustively, and then sets it aside and lets his artistic nature take hold, sparking creativity. Left: The English carved beechwood lion's paw table in the living room he aptly describes as "muscular," a perfect descriptor for its commanding silhouette. Right: The portal leading from the dining room to the living room is lined with Delft tiles, and framed with gloss painted trim. A decorative portal is a unique signature element Marshall uses to great effect in a number of his projects.


Photographs by Luke White






In Sweden, Marshall embarked upon a journey of discovery to source Gustavian antiques for a Swedish and American couple who wanted an authentic Midsommer-style family retreat. His forays into the Swedish countryside in search of furnishings for his client yielded eloquent examples of the Swedish aesthetic, and the added bonus of greater self-knowledge. Raised by a Swedish nanny (to whom the book is partially dedicated) and forever puzzled by her emotional reserve, his research and fieldwork in that country brought understanding of the people, the country and their social rituals. The knowledge he gained intuitively guided his design decisions, and helped to create stunningly expressive interiors. Left: A fourteen-foot long farm table of reclaimed wood, designed by Marshall, is surrounded by a set of fourteen Rococo chairs that were found in an old glass factory. The ceiling received an unusual treatment with multi-directional sections of slatted pine. Right: Swedish dealers hand-scrape their antiques to reveal the original finish, leaving a beautiful patina as shown here in the settee. The column, one of a pair, was found in a 15th-century barn. The center table is 18th-century German, and the brass kerosene chandelier is Danish.



A high-end spec house in Naples, Florida was hampered by acres of drywall and cavernous expanses, requiring that both the interior architecture and decoration be reimagined. One caveat: the client's 1980s furniture was to be utilized. WIth skillful upholstery choices, the profiles were updated to a softer, relaxed-yet-elegant look. And, as luck would have it, some items, such as the lucite table here, reincarnated to new lives as sought-after vintage pieces. The attention-grabbing lucite table, an intricately-carved French armoire, Moroccan cloverleaf-motif marble chandelier, and a pair of 1910 slag-glass torchères are highlights in the tranquil setting of the living room.


The Art of Elegance: Classic Interiors by Marshall Watson, with Marc Kristal, published by Rizzoli, can be purchased through links on Marshall Watson's website, or support your local bookseller.

Photograph by Werner Straube