Midtown Modern by Robert Couturier
| | |
| --- | --- |
| | |
| Robert Couturier | |
Robert Couturier's client, a very chic and decisive woman with opulent residences in several countries, asked him to create a home that was a distinct departure for both designer and client: an ultra-contemporary pied-à-terre for her visits to New York City. Robert is known for his vast knowledge of historic design and his creation of rich and colorful interiors, so the idea of doing something completely different was both a challenge and an intriguing opportunity. Intellectual curiosity and a boundless appreciation for fine art and design were the tools that had always served him well, and would be utilized in new ways with the creation of this residence. The gallery-like space was furnished at surprising speed, as Robert took his client on a whirlwind shopping spree in Paris and New York, and within four days acquired the dazzling array of limited edition and custom pieces that fill the apartment. The museum-worthy collection reveals itself, bit by bit, in intervals throughout the space. With sophistication and connoisseurship, a dose of humor, mastery of the concepts of proportion and scale, and always, with the guiding principle that a home must suit its inhabitants like a couture creation, Robert delivered a perfect fit.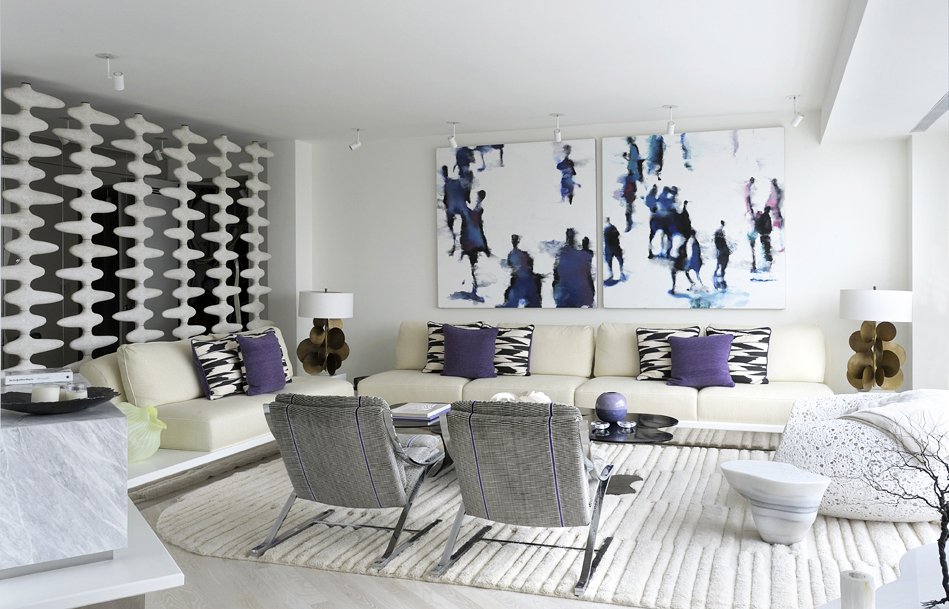 The 59th-floor penthouse overlooks Central Park, with floor-to-ceiling windows offering spectacular views of the city skyline.The pale bleached oak floors and white walls of the living room are warmed by the inclusion of organic shapes, rich accent materials of metal and stone, and plush textures. An undulating ceramic screen by British-born Brooklyn artist Peter Lane was inspired by a visit to New York's Museum of Natural History, where he viewed a diorama of a European Ice-Age home built of mammoth bones. Lane said about the structure, "It's an abstract sculpture made from unaltered found objects, and one of the first recorded works of 'architecture' in the West." To achieve the raw, elemental texture he envisioned, he created the ceramic elements by hand, scraping the surface of the clay and using stains to obtain a weathered look, like the ancient mammoth bones. Rosemary Hallgarten's alpaca Stonehenge rug is a soft, cloud-like setting for the seating group composed of a pair of vintage 1968 chrome-plated steel Zeta lounge chairs by Paul Tuttle, named for their cantilevered Z-form frame; Marcel Wanders's Crochet chair; and a custom sofa with Corian base designed by Robert Couturier. On either end of the sofa are Herve Van der Straeten Pastilles lamps; an infusion of warm tones emanating from their golden-brown patinated brass disks. Artwork above the sofa is Foulée Spectral, a 2011 work in wax paint on canvas by Pierre Counee.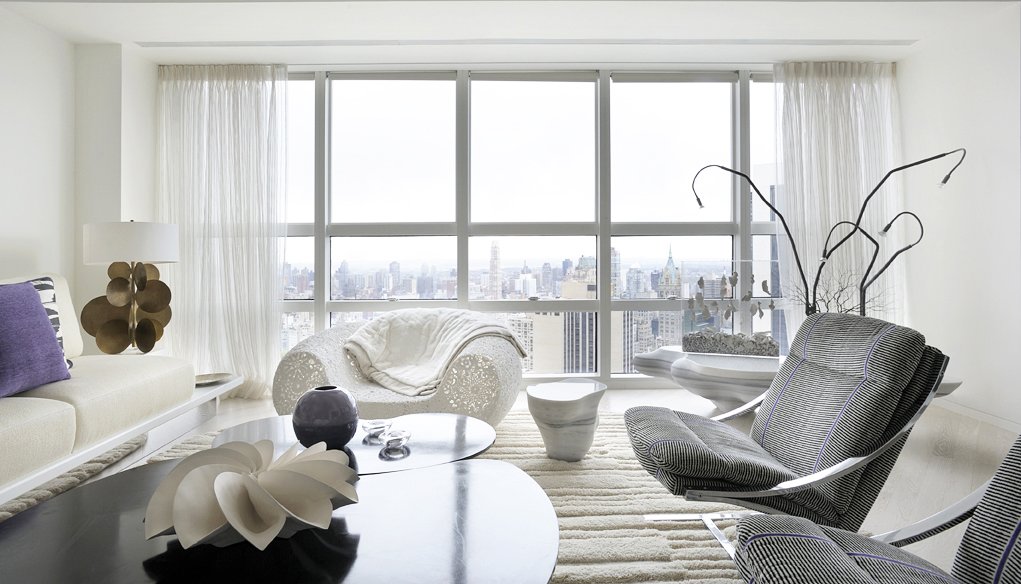 To the right by the window and next to the Crochet Chair are Joris Laarman's Cumulus Tables. Laarman's website describes the tables thus: "we used 3D animation software to mimic particle clouds that behave like gasses to generate a cloud-like coffee table. Clouds tend to become flat towards the bottom at a certain air pressure threshold and with a bit of imagination they form upside-down table compositions. The choice of material was important to me, as form and material are never separate. For the Cumulus Table we used a cloudlike Stratio Olympico marble, slightly translucent at the edges when lit by sunlight." The cocktail table is by Hubert le Gall, and is called the Nenuphar (waterlily) cocktail table because each of the leaf-like segments resembles a lily pad.
The dining area with round Leaf table by Joris Laarman and leather/polyurethane Lola chairs by Poltrona Frau. The artwork is a collage by the French artist César, and depicts one of his "compression" sculptures, which were created with compressed blocks of scrap metal.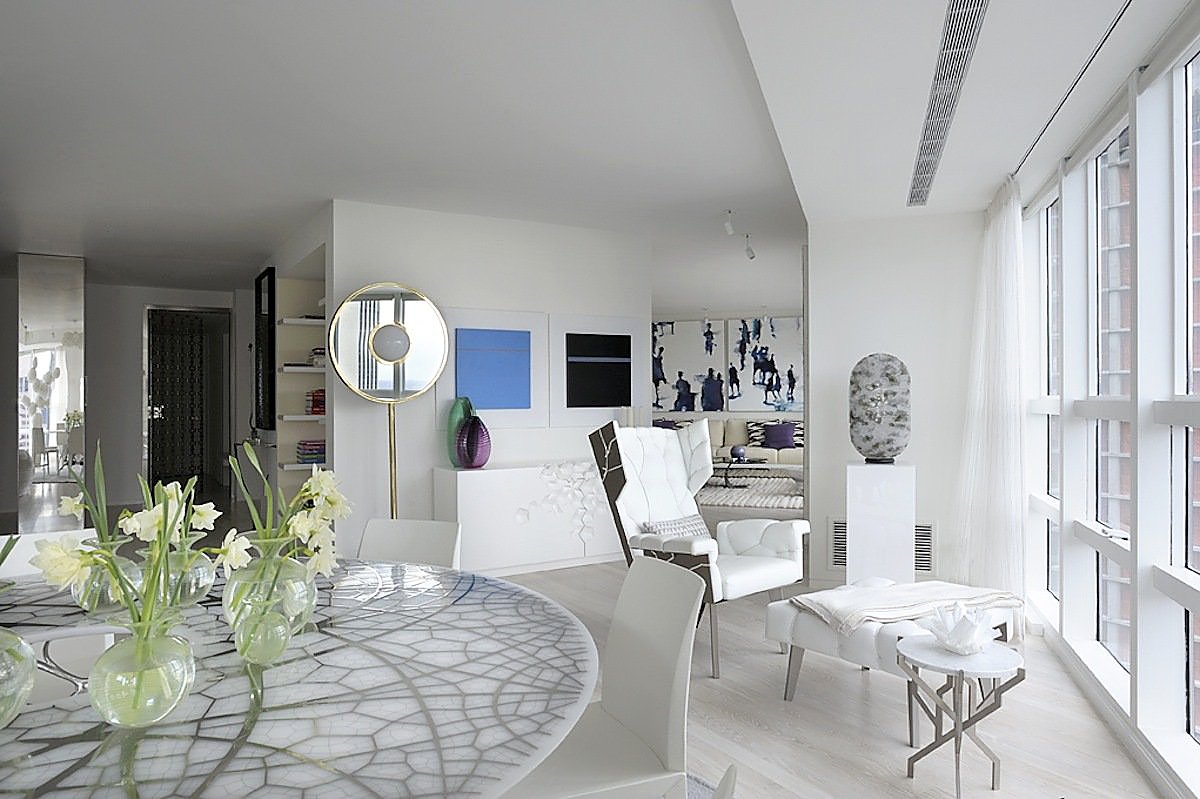 Positioned to admire the view: a white leather and steel Fredersen wing chair, footstool and a white marble and steel Plant table by Dutch design firm Kranen/Gille. Mattia Bonetti's Day & Night floor lamp/mirror/sculpture and the Quasicabinet console by Aranda/Lasch are directly behind. The design of the pieces in the Quasi series are based on the discovery in 1982 of a new type of matter called a quasicrystal, which meanders in a modular but uneven pattern.



left




A sculpture by Pascal Haudressy, Acide Aminé 2010, with its creamy orbs of white Carrera marble standing out against the rectilinear mullions and the skyscrapers beyond.
The study is decorated with a lively play of patterns, beginning with a daybed upholstered in a Clarence House velvet based on Paul Klee's 1938 painting Rich Harbor. The checkerboard rug is alpaca, and the curtains are laser cut microsuede, their rippling form recalling Peter Lane's ceramic screen in the living room. The Ponty table of brushed brass and black lacquered steel is by François Champsaur for Pouenat. A made-to-order canary yellow trestle desk by Alessandro Albrizzi is from Liz O'Brien, paired with a three-legged bronze chair by Venezuelan architect/designer Pedro Useche.
The master bedroom is an elegant cocoon, with pleated velvet wall and a winged button-tufted velvet headboard. The Gstaad table lamps are by Mauro Fabbro.
Wall panels depicting the New York City skyline were commissioned from London design studio Based Upon. The bas-relief panels are rendered in bronze and resin, with flat vertical rectangles representing the multitude of buildings in the city alternating with the iconic profiles of the Empire State Building and the Chrysler Building. The Scramble floor lamp by Mauro Fabbro features a patinated bronze base with goat parchment globe.
To view the entire project click here