Neal Beckstedt Studio's Kips Bay 2017 Vision
TOP INTERIOR DESIGN PROJECT OF THE WEEK
| | |
| --- | --- |
| | |
| | |
Photography by Stephen Kent Johnson
The attic sitting room designed by Neal Beckstedt Studio for the Kips Bay 2017 Showhouse was inspired, in part, by the powerful portrait of a South African woman by photographer Pieter Hugo, hung over a marble-topped 19th-century French chest of drawers,and positioned to engage viewers upon entry. With an array of design elements as varied as a minimalist high back lounge chair by Danish midcentury designer Fritz Hansen, to a baroque-patterned folding screen by Italian artist Piero Fornasetti, there was a wide range of styles, periods and cultures represented. This global aspect, a sort of "one-world" credo, was at the philosophical heart of the design. One could imagine the inhabitant to be a hip, adventurous, widely-traveled design omnivore, collecting meaningful talismans of journeys both real and virtual, and assembling an emotive environment for rest and reflection. That's the imagined backstory; the nuts and bolts are equally impressive: Neal Beckstedt's prodigious talent for editing and layering was in full force, along with his skills as an architect, which lent the acumen to reimagine the long, narrow shape into a comfortable living space. Down came the existing ceiling, to expose the hoped-for rustic beams — a calculated risk. Warm light oak paneling covered the lower portion of the walls; the upper section painted a rich teal blue. Light filtering in from the single window was reflected on the opposite wall by a nearly room-height mirror, illuminating the space and lengthening the view. Stone, plaster, tile — almost every surface offered a different texture; all woven into a harmonious design conversation. Six weeks from start to finish — an amazing transformation!

The view from the entrance into the room, with a glimpse at the impressive range of periods and styles represented: rustic, contemporary craft, industrial, midcentury modern, Scandinavian modern, and bespoke, to name a few.



Left: The photographic portrait of a South African woman by Pieter Hugo, just inside the doorway of the room, provided inspiration for both palette and perception. The warm woods of the light oak paneled walls, rustic exposed ceiling beams, teak armchair and refined antique French chest of drawers contrasted with the cool gray Moroccan-inspired cement floor tiles and rustic stone hearth. Originally designed as an office chair for the Indian government, and later modified with a slightly more relaxed profile and a seat cushion, this iconic 1955 minimalist design by Pierre Jeanneret, cousin of LeCorbusier, was crafted of cane and teak, materials deemed most resilient to the hot and humid climate of Chandigarh, India. Jeanneret and LeCorbusier collaborated on the massive urban planning project of Chandigahr, from the layout of the streets to the smallest details, including this beloved and enduring chair known as the Chandigarh Easy Armchair. Right: The fireplace wall was created by the designer, with an organic curved shape offering contrast to the rectilinear room. It was constructed of black plaster with a wax finish and accented by a contemporary craft mirror in white bronze by Brooklyn metals artist Darcy Miro. The Swedish rya rug is a design by Marianne Richter, circa 1941. Jean-Michel Frank's Art Deco Table Basse, Aragon carved oak coffee table with notched, sculpted "pineapple" legs was designed circa 1934.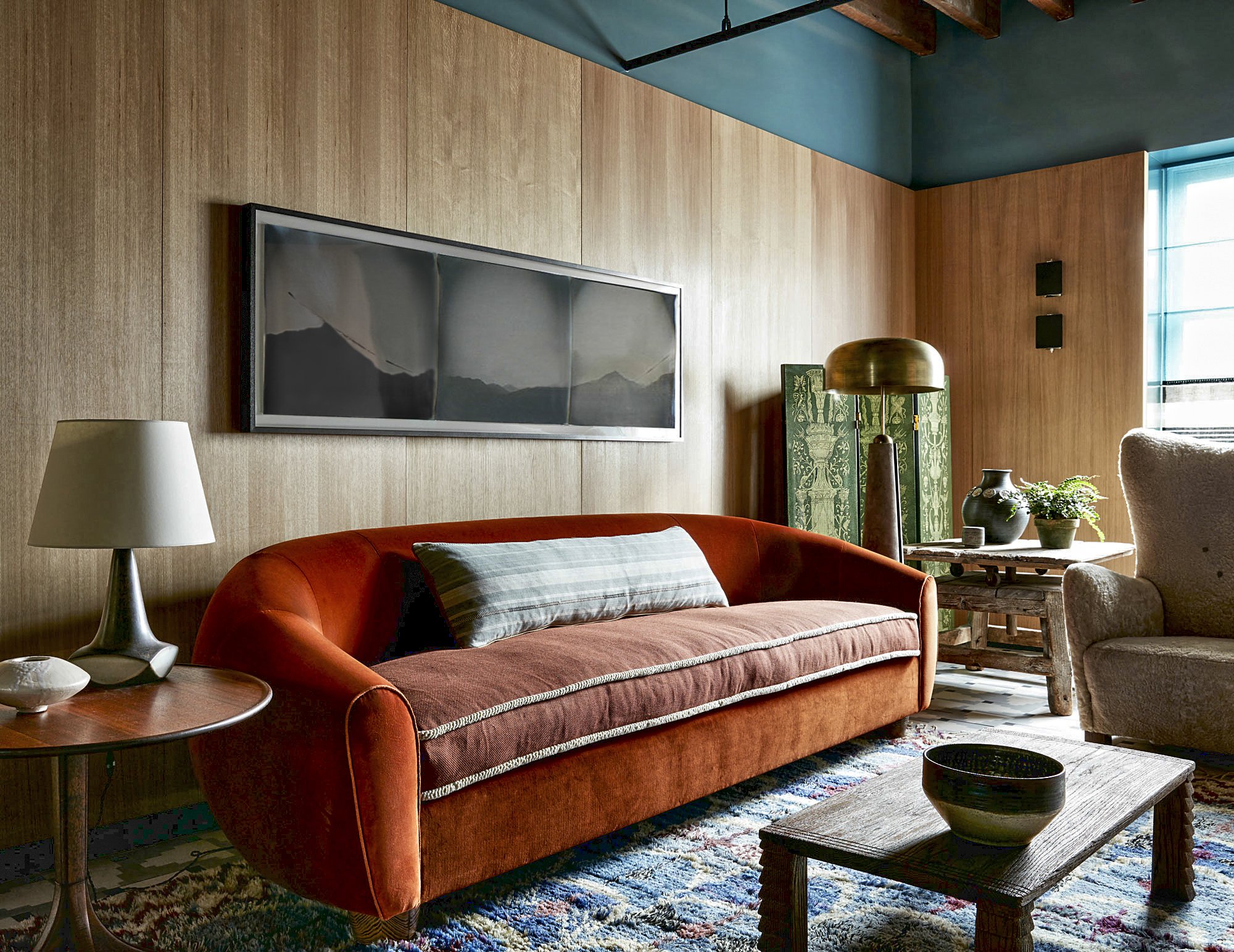 The curved sofa is a custom design by Neal Beckstedt, and the Cuban mahogany raised-rim circular side table is vintage Frits Henningsen. The table lamp is vintage midcentury by Danish ceramics studio Michael Andersen & Son. A high-back, sheepskin-upholstered lounge chair is from Danish midcentury design producer Fritz Hansen, model 1672, circa 1940s. Over the sofa is a photographic tryptich by Chris McCaw, Sunburned GSP #785 (Near Deitrich River, Arctic Circle, Alaska), 2004. Produced by a fascinating process in which the photographer re-exposes the images to sunlight, burning sunspots and arcs, and tracing the sun's path onto the image, McCaw's work can be seen at Yossi Milo Gallery.



Left: Contrasting styles and a harmonious whole: contemporary industrial-chic is represented by the Metronome floor lamp with suede base and patinated brass shade by Apparatus. The highly whimsical and baroque mind of Italian designer Piero Fornasetti produced this circa 1950s four-panel folding screen featuring classical motifs — with a twist. Right: A tranquil corner of the room is presided over by a squat but majestic pre-Columbian goddess, and features an x-based stool by Jean-Michel Frank with vintage French linen fabric seat, and four gelatin silver prints by Alison Rossiter from her series Fours.




Left: The full-height mirror was strategically positioned to reflect light from the single window, and offered a lovely view of the rear perspective of Jeanneret's modernist icon — all jaunty angles — which contrasted with the subtle curves of Fritz Hansen's lounge chair. Right: The circa 1934 Zig-Zag chair by Dutch DeStijl designer Gerrit Rietveld is simple in appearance, but complex in construction, with dovetailed joints, screws and reinforcing structural wedges. The DeStijl movement championed the reduction of design to the most basic elements, and the four simple planes of the chair adhere to that tenet. Hanging above the chair is a vintage black-and-white photo of a young girl in First Communion garb, posed next to a television. The girl is Neal's mother (!), and he explained the inclusion of this sentimental item: "I wanted a personal touch, so I brought this photo of her that usually is hanging near my desk at my office to the room. Hung it with silk cord and tassels from the wood paneling to bring a traditional touch and ground the chair."

TO VIEW THE ENTIRE PROJECT CLICK HERE