New Visitor Center at Drayton Hall
| | |
| --- | --- |
| | |
| | Aerial rendering of the Sally Reahard Visitor Center in foreground with Drayton Hall in background. Images courtesy Drayton Hall Preservation Trust. |
Opening May 1, 2018
3380 Ashley River Road, Charleston, S.C.
For information visit www.draytonhall.org

Drayton Hall Preservation Trust (DHPT), the privately funded nonprofit responsible for the operation, administration and interpretation of Drayton Hall, a National Trust historic site, will open its new Sally Reahard Visitor Center and corresponding facilities on May 1, 2018. The visitor center will include a shop, interactive orientation hall, and education center with gallery space. The project was undertaken to enrich the visitor experience and enable the organization, for the first time, to display its collection of historic artifacts, many not found elsewhere.

"This transformation marks a new era for the site," says Drayton Hall Preservation Trust President and CEO Carter Hudgins. "Drayton Hall's power to educate, enlighten and inspire is undeniable. Our new facilities amplify its voice and broaden its impact." The project was funded by the "Drayton Hall Reimagined" campaign, an outpouring of support from donors around the world resulting in more than $5 million in project capital to date. Please visit the website to learn more about the campaign, the new facilities, and the vital work of Drayton Hall Preservation Trust.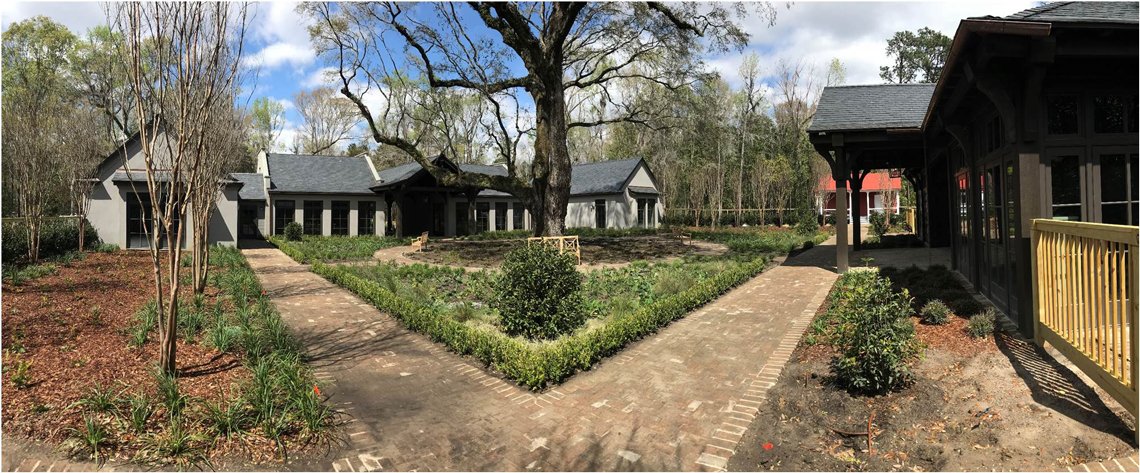 The Lenhardt Courtyard Garden centers the new visitor facilities.
This Highlight was originally published in the Summer 2018 issue of Antiques & Fine Art magazine, a fully digitized version of which is available at www.afamag.com. AFA is affiliated with Incollect.