New York Design Gallery Hopping at Twenty-First Gallery, Hostler Burrows, Emma Scully Gallery and Valerie Goodman Gallery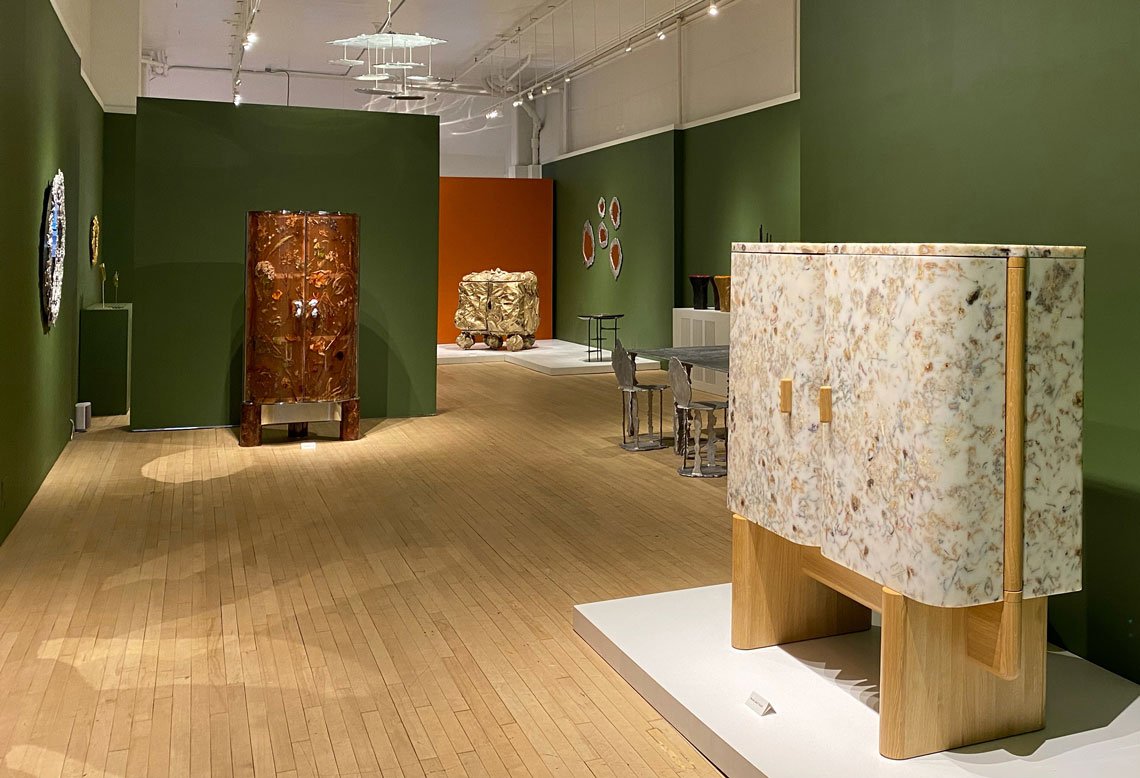 Marcin Rusak
together with
Twenty First Gallery
present Flora Contemporaria — four new pieces inspired by the iconic design of Josef Frank's Flora Cabinet. With influences drawn from the same source, each cabinet is a unique, autonomous piece made using a variety of different materials and processes. The color palette ranges from black, through bronze and ochre to white and finally completely translucent. Each component has been designed using thoroughly researched techniques.

New York Design Gallery Hopping at Twenty-First Gallery, Hostler Burrows, Emma Scully Gallery and Valerie Goodman Gallery
By Benjamin Genocchio
One of the advantages of design galleries beginning to operate like art galleries and vice versa is that these days, you can see more exhibitions of contemporary design in more New York galleries than at any time in history. Right now there are at least a dozen interesting design shows on view, four of which are profiled here.
Twenty First Gallery
Marcin Rusak: Flora Contemporaria
Through July 15
76 Franklin Street, New York
Top row left:
Marcin Rusak, Flora Cabinet 176 Black, 2021. Discarded flowers and leaves, black resin, steel powder-coated in matte black textured finish. Edition of 3. Signed and numbered. Top row right: Marcin Rusak, Protoplasting Nature Cabinet Bronze. Thaumatococcus Daniellii leaves, bronze, steel. Edition of 3. Signed and numbered. Bottom row left: Marcin Rusak, Flora Cabinet 90 Clear, 2021. Discarded flowers and leaves, clear resin, stainless steel. Edition of 3. Signed and numbered. Bottom row right: Marcin Rusak, Flora Perma Cabinet 143 Oak. Discarded flowers and leaves, white resin, oak. Edition of 3. Signed and numbered. Photos by Mathijs Labadie.
Marcin Rusak Studio together with Twenty First Gallery presents Flora Contemporaria, the unveiling of four extraordinary new works of collectible design. Each cabinet is a unique, autonomous piece made using a variety of different materials and processes in conjunction with actual botanical material used in the molding process, as seen in the piece at left, or suspended in resin, as in the three at right. The son and grandson of flower growers, Rusak has a lifelong fascination with flowers, and this presentation traces the complete arc of life, decay and preservation.
Just 4 objects make up this show, though what astonishing objects they are — all cabinets of a kind, each custom made using leaves and flowers that have been set into resin or blasted with a thin layer of molten bronze. Marcin Rusak, born in Poland in 1987, is a young man with an old sensibility, for these fabulously original, highly decorated cabinets hark back to Josef Frank's iconic Flora cabinets from the 1930s to the 1950s, and more broadly, the ornate baroque floral marquetry cabinets made in Europe during the 17th and 18th centuries.
It is a testament to the technology of today that there is no need to imitate nature anymore, rather you can simply incorporate it directly into the artwork — here the flowers, as well as leaves, are preserved in the resin during the casting process, as in "Flora Cabinet 90 Clear", or "Flora Cabinet 176 Black", the latter resting on two black conical steel powder coated legs and made in an edition of 3. The resin cabinet doors appear three-dimensional, with the flowers and leaves seeming to float within the cabinets.
The artist has produced similar credenzas in brass and resin that are exquisite, and one of his resin flora screens is in the front gallery window. He is also experimenting with new construction techniques and materials, as evidenced here in "Protoplasting Nature Cabinet Bronze 90", edition of 3, which for all intents and purposes is a work of contemporary sculpture. The framework is made of steel wire with various kinds of wild leaves placed to form a kind of skin, followed by a coating of resin and finally, a thin layer of bronze is sprayed over the result to seal it all in and preserve the tiniest details of the organic matter. The process is fascinating.
Hostler Burrows
Pernille Pontoppidan Pedersen: Tentacular Thinking
Through June 18
381 Broadway, New York
Top row left:
Pernille Pontoppidan Pedersen,

Weaving like mating, 2022. Top row right: Pernille Pontoppidan Pedersen, Ursula's dragongirl (vølve), 2022. Bottom row left: Pernille Pontoppidan Pedersen, Marianne's Baby, 2021. Bottom row right: Pernille Pontoppidan Pedersen, Donna's octopuskin (tentacular thinking), 2022.
There are now 75 galleries in the downtown area of New York, including the latest addition to the Hostler Burrows stable — 381 Broadway, a bright, functional gallery across the street from PPOW and Andrew Kreps, and just a few doors down from a new Pace Gallery venture. The area below Canal Street bordering Tribeca and City Hall is now a bona fide gallery district and no doubt why Hostler Burrows chose to open a new space here to show some of their most artistic sculptural work.
Their inaugural exhibition is devoted to Pernille Pontoppidan Pedersen, the talented Danish artist who has a ceaseless commitment to experimentation. She likes to play with clay, making sculptures of fascinating complexity. Formless, abstract, inventive and ambiguous by design, they exist on the edge of functionality, but not really, for the artistic imperative is purely imaginative — her forms are so insanely original and strange it takes you the longest time to work out what it is you are looking at, That is until you realize it's an artwork pure and simple, designed to stir the imagination.
Especially inventive are the handmade, cast porcelain stools and other platforms on which the objects are displayed and which are part of the artworks. They, too, are not your traditional support and together make each of the pieces look and feel like anti-monuments, relics of some faded ideology or grand political dream. The larger scale of these new works seems to have freed up the artist to take more risks in terms of the final design, enabling more expressive, even unpredictable shaping of the clay.
Emma Scully Gallery
Anti Chairs
Through July 1
16 East 79th Street, New York
Top image, from left to right:
Louis Bressolles, Azure Puzzle Stool, 2022. Wood, plaster, plexiglass, 19 H x 13 W x 15 D inches. Unique. Bradley L. Bowers, Frank Chair, 2022. Wood frame, upholstery, 30.5 H x 32 W x 26 D inches, 23 in. seat height. Jumbo, Barricade Bench, 2022. Bent and welded steel tubing, powder coat, 27.75 H x 34.5 W x 27.25 D inches. Edition of 8 + 1AP. Ellen Pong, Pagoda, 2022. Steel, glass, 40 H x 24 W x 41 D inches. Edition of 3 + 1AP. Bottom left: Ilana Harris-Babou, Hot Seat II, 2022. Pigment and collage on paper, 21 x 17 inches framed. Unique. Bottom right: Chris Wolston, Carriqui Tapestry, 2020. Estera palm (astrocaryum malybo), hand dyed, 80 x 57 inches. Unique.
This new gallery on the Upper East Side, unencumbered by the past, freely mixes art and design, all of which are displayed in the same space. The effect is invigorating and especially apparent in their current exhibition "Anti Chairs", for which they have assembled a group of six rising, multidisciplinary artist-designers, each showing new work. The pieces here include a bench by Justin Donnelly and Monling Lee of Jumbo, a chair by Bradley L. Bowers, illustrious collages by llana Harris-Babou, a pair of palm rugs on the wall by Chris Wolston, a brilliant standing desk by Ellen Pong (her first non-ceramic piece), and a unique blue puzzle stool by Louis Bressolles.
Each piece is designed to encourage us to think, and look, gesturing toward political and cultural issues such as environmental change. But each is broadly functional. I like that about this show, which has its roots in traditional designing and craft practice and yet everything has been updated — the fact that there is a standing desk here is a good example, as opposed to a work table. Color is freely used as are several new construction techniques — Bowers's chair, seemingly the most conventional object in the show, employs a flexible, curved wood frame to create a cantilevered seat. How Bressolles constructed a stool from plaster, plexi and wood is anyone's guess.
Valerie Goodman Gallery
Upstrokes and Downstrokes by Jacques Jarrige
Through November 27
315 East 91st Street, New York
Top left:
Jacques Jarrige, "Luca" Table desk, 2017. Lacquered wood, 30 x 69 x 35 inches. Top right: Jacques Jarrige, Large unique chandelier "Fiori", 2020. Hand Hammered Aluminum, 74 x 61 x 60 inches. Bottom left: Jacques Jarrige, "Meanders" 7-panel screen, 2013. MDF, 77 x 170 x 33 inches. Bottom right: Jacques Jarrige, Cabinet/console "Waves", 2016. Aluminum and Lacquered MDF, 34.50 x 74 x 13.70 inches.
| | |
| --- | --- |
| | |
| | This mid-career survey of the works of Jacques Jarrige marks the 12th anniversary of Valerie Goodman's fruitful collaboration with the artist. |
Valerie Goodman Gallery is pleased to present Jacques Jarrige (b. 1962) an artist who lives and works in Paris but is well known to lovers of design all over the world. He has an enticing solo show this month at Valerie Goodman Gallery to coincide with a new, impressive publication on the artist's work with texts by Glenn Adamson, award-winning French novelist Maylis de Kerangal and art historian Father Maxime Deurbergue. Introduced by Valerie Goodman, the book includes photos of her home interiors designed with Jarrige.
Titled Upstrokes and Downstrokes, the exhibition includes an ebonized spruce wood dining table "Nazca," and a smaller-scale version of his hand-hammered aluminum site-specific sculpture "Christ", the original at Saint John the Divine Cathedral in New York, on view there until May 20, 2022. To round out the exhibition are older pieces, such as his vintage cabinet or traveling desk "Carnac" from 2004 and bronze "Adam & Eve" table lamps, representing the male and female forms, from 2010 and 2012.
Valerie Goodman is also showing some of Jarrige's jewelry, made from hammered bands of brass or aluminum that are sculptures on a small scale. Looking carefully through everything here, from so many decades, you can see a guiding thread: the artist takes inspiration from the human form in terms of scale, shape, and volume. It is played out in different ways with different materials, and with different goals in mind as the artist always keeps an eye on functionality, but at heart, he is a loving humanist — an old-fashioned philosophy, refreshing in a time of conflict and chaos.