Paavo Tynell and the Art of Radical Simplicity
by Benjamin Genocchio
Romantic and poetic, a rare Snowflake chandelier by Finnish lighting master Paavo Tynell, often referred to as 'the man who illuminated Finland.' First produced in 1946, numerous variations were designed, but all of them featured similar elements: an intricately perforated brass bowl through which pinpoints of light radiate, with brass rods that rise up and spill over, suggesting branches or fireworks, and suspended from the branches, a drift of handcrafted mesh snowflakes that casts dancing shadows across the room. This spectacular piece was recently sold by
Donzella
.
We all recognize artwork by Andy Warhol, a table by George Nakashima, a chair by Hans Wegner, or a table or sofa by Charles and Ray Eames.
Brand awareness is everything these days, as much as for art and design as it is for cars and cereal. The more easily identifiable an object or image, the more a brand is known and trusted and in turn, the more popular it tends to be. This is certainly the case for the Finnish designer Paavo Tynell (1890–1973), whose lighting designs have won him a place in the lexicon of classic 20th-century design.
Tynell designed a great many varied lighting fixtures throughout his career and yet today, the body of work remains remarkable in its distinctiveness. Simplicity is a hallmark of his style, along with the originality of his light fixtures — elegant, delicate, unadorned, and at the same time functional, and always with a high quality of execution.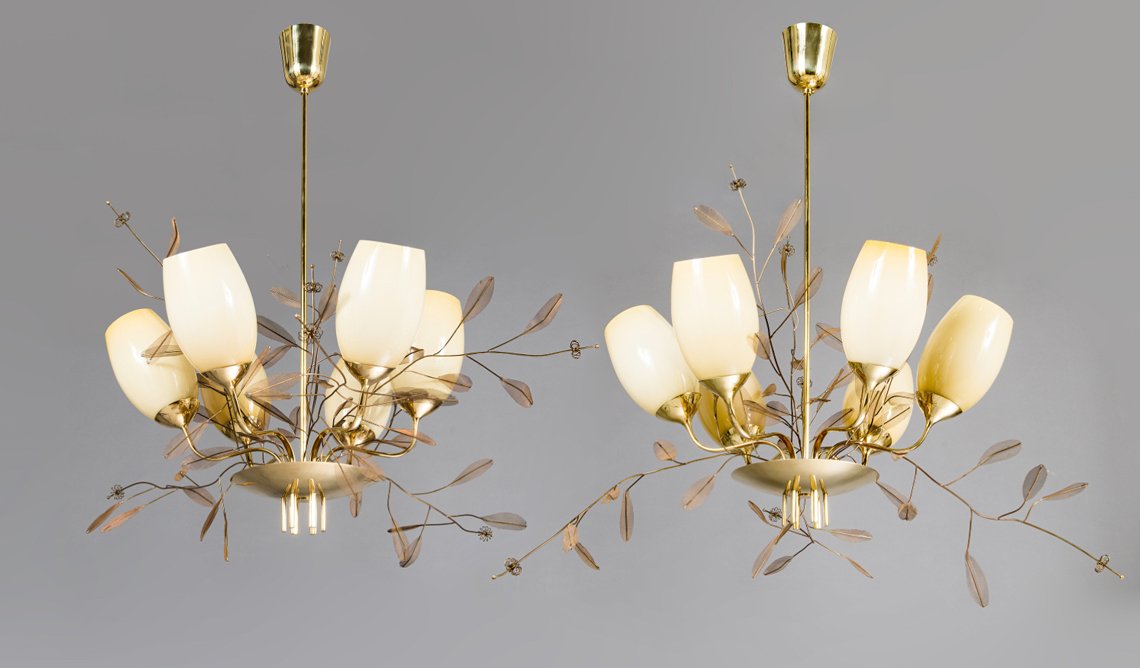 A pair of Model "9029/6" mid-20th-century six-light chandeliers. Image courtesy of VN Vintage & Modern.



Left: Detail of Model "9029/6" chandelier. Right: Ceiling light by Paavo Tynell for Taito Oy, Finland, ca. 1950. Images courtesy of VN Vintage & Modern.

"You can't mistake his designs with someone else's," states Val Nikitin from VN Vintage & Modern who has over 20 available Tynell models on display in his New York gallery including a pair of chandeliers custom designed for the Hotel Vaakuna in Helsinki in the 1940s, made of glass, brass and fabric. "The proportion and combination of materials is superb," qualities indicative he says of the "absolute brand awareness of his work."
Tynell's innovative use of metal and brass is perhaps the signature feature of his designs for floor lamps, sconces, pendants, and wall lights, which characteristically include enameled or painted metal shades, polished brass or occasionally copper fittings, are clean-lined and frequently decorated with pinhole perforations in simple patterns or shapes in a reference to geometry or nature, like the sky and stars.
Tynell began his career as a sheet metal work's apprentice and studied metalwork and design at the Central School of Applied Arts in Helsinki where he absorbed the basics of Nordic design with a focus on simple, functional aesthetics and nature. In 1918 with colleagues he co-founded light and metalworking company Taito Oy, which became the first industrial producer of metal light fixtures in Finland. They designed and produced numerous successful lighting products that were sold internationally.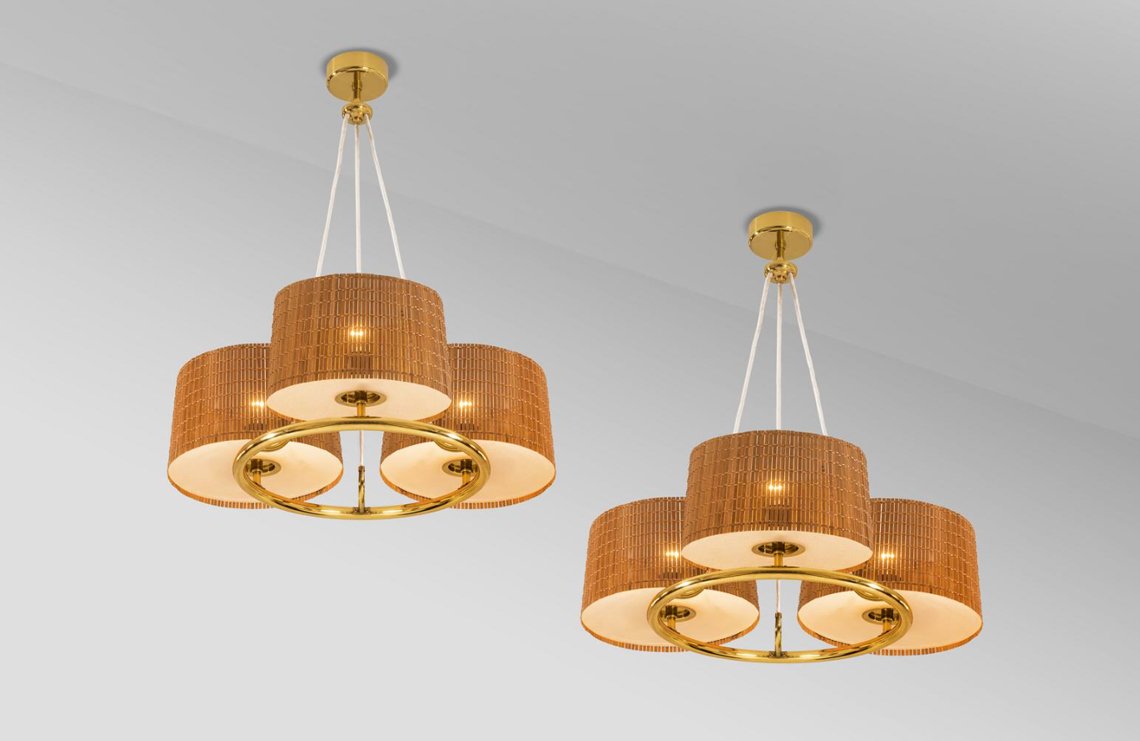 A pair of chandeliers designed by Paavo Tynell for Hotel Vaakuna in Helsinki, Finland, circa 1940s. Image courtesy of VN Vintage & Modern.

Nikitin characterizes Tynell's approach to lighting design as "practical and rational." Tynell, he says "found a way to use [metal and brass] in a simple and unusual way, which inspired other manufacturers to start to use turned and stamped metal parts with simple perforation, wires, and mesh decoration. Also, the usage of prefabricated shapes gave him the possibility to create a large number of different models. This reduced the cost of the production and made it affordable for consumers."
Tynell also began to collaborate on making custom lighting fixtures for interiors with numerous architects in Finland and abroad, especially Alvar Aalto, following growing recognition of the originality of his designs. In 1948 he designed several fixtures for New York City's Finland House, a cultural center promoting Finnish design that also sold Tynell's Finnish-made lights through the mid-1950s. Later Tynell created lighting designs for the United Nations and the American lighting company Lightolier.



Left:

A rare model 'A 1942' pendant lamp by Paavo Tynell. Image courtesy of Bloomberry. Right: Large-scale counterweight chandelier model "A1965" by Paavo Tynell for Taito Oy, Finland, ca. 1950s. Image courtesy of

Gallery L7

.



Left:

Paavo Tynell chandelier designed for the Sokos Helsinki-house, ca. 1950. Right: A rare 1940s model 5066 table lamp by Paavo Tynell for Taito, Finland. Images courtesy of Bloomberry.
Tynell's lighting designs are not only attuned to the materials and finishes but also questions of light distribution—they are often described by writers as "atmospheric." Adjustable lamp heights with weights, pulleys or levers enabled controlled and varied lighting effects and can be seen in a rare model "A 1942" pendant lamp in white lacquered metal with a brass counterweight and a pull for height adjustment that is available for sale through Bloomberry in Maastricht, or also in a large counterweight chandelier "A1965" with perforated shade in enameled metal, with a frosted glass diffuser that is currently available for sale at Gallery L7 in Los Angeles.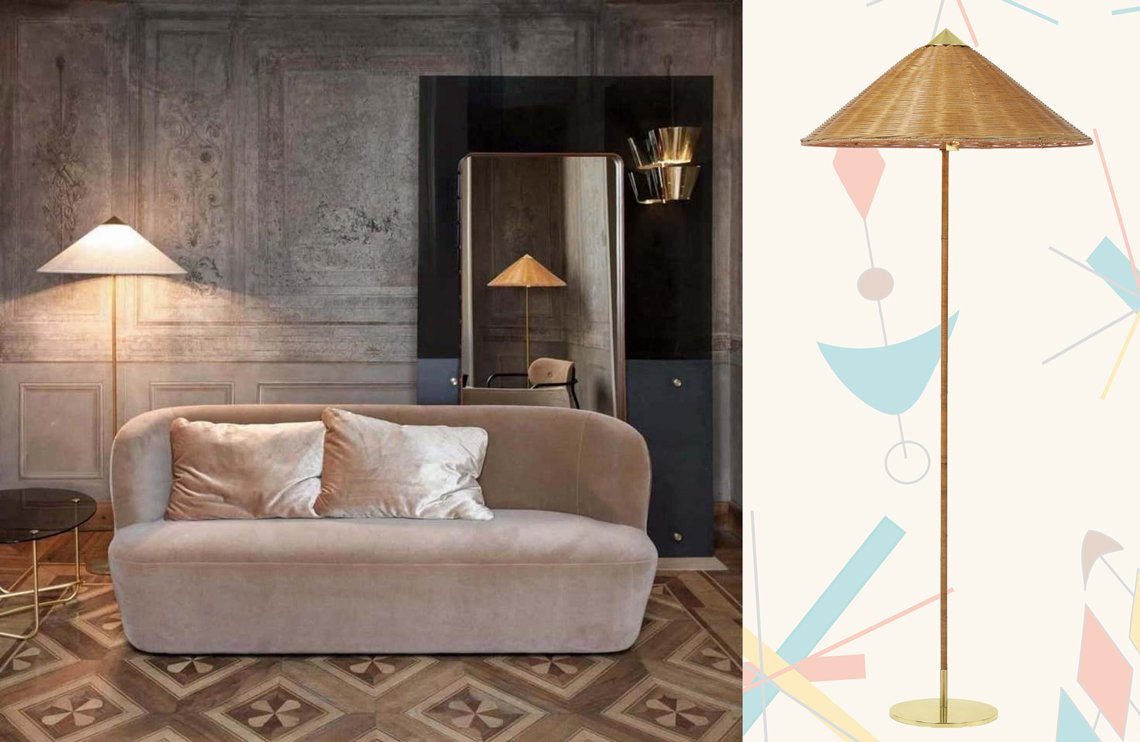 Paavo Tynell model 9602 floor lamp with fabric shade. Originally designed by Paavo Tynell in 1935. This authorized GUBI re-edition is executed in brass, rattan and a willow wicker or fabric shade with brass finial. The 9602 floor lamp, also known as "Chinese Hat" was designed by Tynell for the Hotel Aulanko. Images courtesy of Two Enlighten.

| | |
| --- | --- |
| | |
| | Paavo Tynell 9459 wall lights for Taito OY, Finland, ca. 1950. Image courtesy of Two Enlighten. |
Nature appears and reappears as a source of inspiration throughout his career, at times literal and obvious as in his coveted snowflake chandeliers conceived in the mid-1940s and expanded into more complex designs over the next decades, or in more oblique and subtle ways as seen in the model 9602 floor lamp with a wicker conical shade, rattan-wrapped pedestal and a circular brass base. Designed in 1935, for the Hotel Aulanko in Finland, it exudes a poetic tranquility resembling a flower with its slender stem and blossom-like shade gently diffusing light downwards.
The model 9602 lamp ceased production in the 1960s but has proven so popular that the Danish interiors company Gubi relaunched a selection of Tynell's lighting designs in 2018, including this one. John Ballon of Two Enlighten has one at his showroom in Los Angeles, which, he says, "is faithful to the original in every way including real and heavy polished brass, the rattan wrapped by hand, but offered for sale at a far more accessible price of $1,499." The vintage ones currently cost around 10 times that.
"Today Tynell has enormous market cache," Ballon says, "his name makes people feel comfortable or inclined to pay astronomical prices along with the fact that supply is limited." Ceiling lights regularly sell in excess of $100,000, while his wall lights and floor lamps have joined the $50,000-$100,000 range. Snowflake chandeliers are his most coveted items, partly because of their beauty and partly because relatively few of them were produced, as all handmade in the Taito Oy workshop on commission.
Artnet auction records show that during the years 2019 to 2020, $6.124 million worth of design objects by Tynell sold at auction worldwide, making him remarkably the 7th most popular designer at auction internationally by sales volume. That figure was up dramatically from 2018, when Artnet tracked only $2.108 million in auction sales for Tynell, suggesting, on the one hand, a rapid upward trend in demand for the late Finnish designer's work as well as an escalation in prices for all items.



Very rare and large ceiling lamp designed by Paavo Tynell. Produced by Taito Oy in Finland. Offered by

Studio Schalling

.




Very rare table lamp designed by Paavo Tynell. Produced by Taito Oy in Finland. Images courtesy of

Studio Schalling

.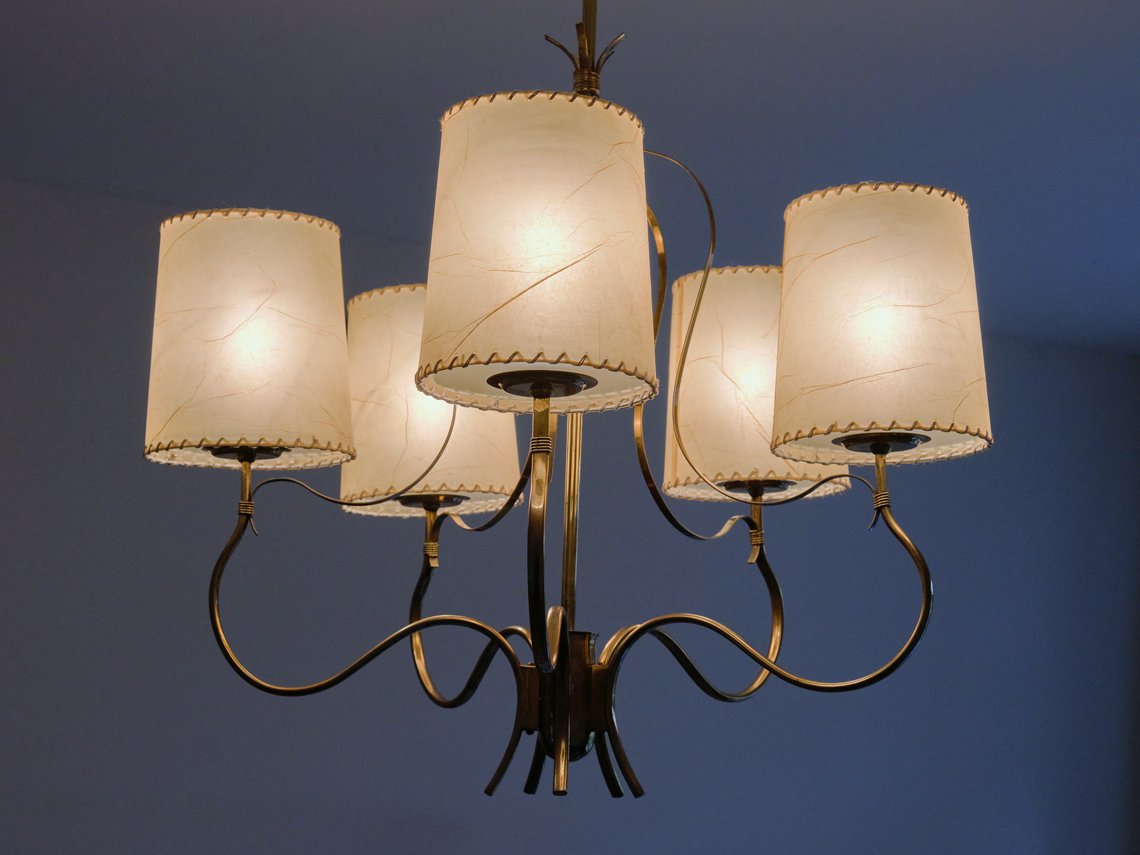 This exceptionally rare chandelier was designed by Paavo Tynell and produced by Taito Oy in Finland in the 1940s. The model is number 9001/5. The brass frame with 5 arms, supported by refined hay string-like strands which are bundled together on the top part of the stem. Brass ceiling cup with a decorative spiraled brass ornament below. The original shades in original marbled parchment with frosted glass diffusers create a striking and pleasant light effect. Image courtesy of Kabinet Hubert.
"Tynell's designs have always been widely known and admired around the world," says Jan-Clemens Hoek, the co-owner and gallery director of Kabinet Hubert in the Netherlands. "Jean Royère visited Finland and became a great fan after seeing his work there. Architectural and design media throughout the world published images of his work. Tynell's designs became very popular in the United States, particularly after the opening of the Finland House in Manhattan in 1948."
The appreciation of his work continues to this day but the high prices seen on the secondary market for Tynell are however a relatively recent phenomenon. In 2000, for example, a lovely brass chandelier, today a highly-priced item, was sold at Wright in Chicago for $8,625. Since then, according to Artnet records, 3,378 works attributed to Tynell have been sold at auctions with a record price of $400,000 set in July 2020, at Artcurial in Paris, for one of the artist's exquisite snowflake chandeliers.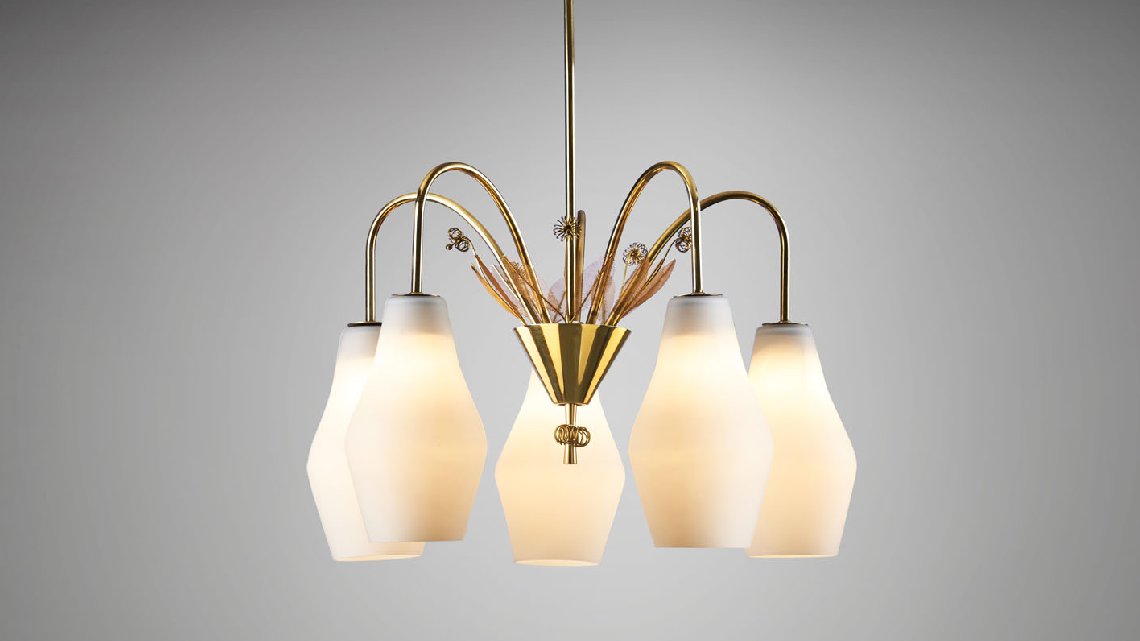 One of Paavo Tynell's more decorated designs from the 1950s, this model is quite rare in Tynell's repertoire. There are a number of details that distinguish this chandelier from typical Tynell models. Firstly, the five shades face downwards, which is rare for his chandelier designs not only for this era but also in general. Secondly, the opal glass shades have an unusual shape that gives the lamp a modern look. At the same time, this K1-9/5 has delicate decorative details that are very characteristic of Tynell: the perforated brass bottom "vase" is adorned by brass flowers and leaves, arranged freely between the arms to bring some artistic playfulness to the otherwise symmetrical structure. The finial is decorated with a brass flower-like detail that is slightly larger than the five flowers sitting on the body. Five opal glass shades provide a soft, intimate light that highlights the brass. Offered by H Gallery.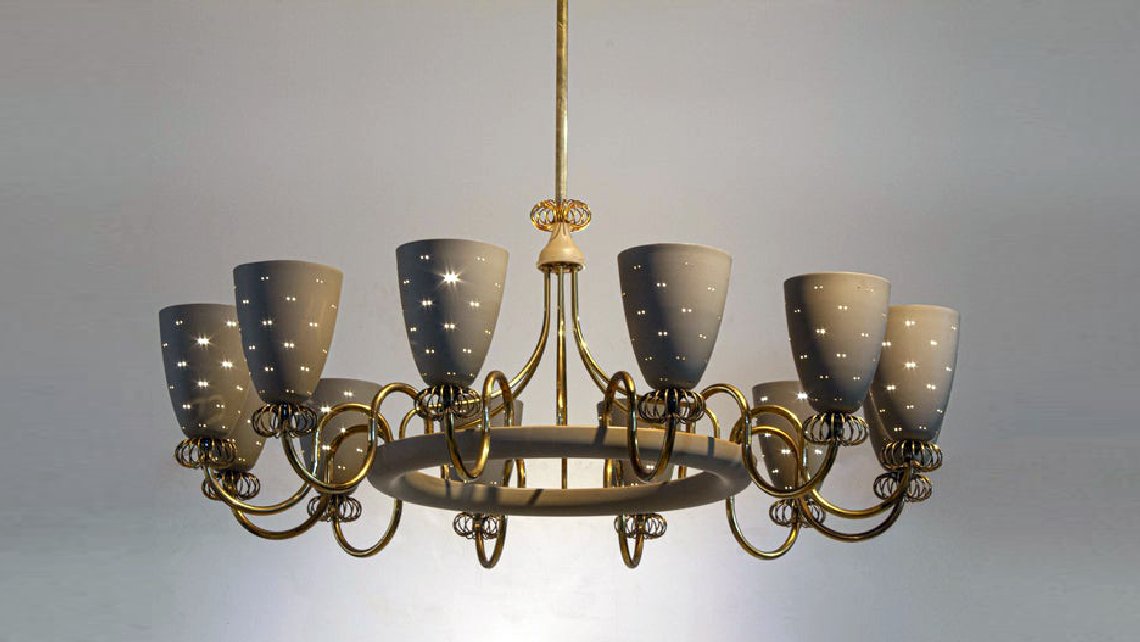 Paavo Tynell Ballerina Chandelier, designed in the 1960s and produced by Lightolier for the American market. Consists of 12 perforated spun aluminum shades in the original flat beige lacquered finish. Image courtesy of
20cdesign
.






"Starry Sky" ceiling light by Paavo Tynell, in white perforated enameled metal, brass grill, and frosted glass ceiling light. Model 9068, smaller version, manufactured by Idman Oy, Finland, 1950s. Image courtesy of

Fuchs Interiors OHG

.

Kabinet Hubert has an unusual chandelier designed by Tynell and produced by Taito Oy in the 1940s. The model is number 9001/5 and it is made of a brass frame with 5 arms "supported by refined hay string like supports which are bundled together on the top part of the stem," according to the gallery's description, a "brass ceiling cup with a decorative spiraled brass ornament below." Marbled parchment shades and opaline glass diffusers combined with the ornate, fluid art nouveau style brass work produce an organic, effusive if delicate flower-like design arrangement.
Part of Tynell's continuing success Ballon believes is that his lighting fits perfectly in all contemporary interiors, no matter which style they are created in. Philippe Rapin of Maison Rapin, sees the appeal in a synthesis of opposing historical design styles. "The lighting he made was based on modernism and romanticism—two opposing concepts he brilliantly put together. His relationship to nature was constant as in the snowflake chandelier, a lyrical masterpiece embodying lightness and modernity."
Nikitin is also an admirer of the snowflake chandeliers. The key to the design is a perforated lower bowl for globes that diffuses light downward and sideways but mostly up and through a cascading rain of reflective mesh snowflake ornaments. The pinnacle of these creations for Nikitin is "a gigantic one (almost 10 feet high) custom ordered for the Enso-Guzeit Club House Honkapirtti in Finland in 1947," he says. "This flawless composition of 120 brass snowflakes installed in a traditional interior with wooden walls is very Scandinavian, very Finnish, very Paavo Tynell."



Adjustable pendant light made with brass and glass, featuring Tynell's ingenious pulley system, ca. 1950s. Images courtesy of Maison Rapin.