Pablo Picasso's Enduring Legacy
Pablo Picasso's Enduring Legacy
By Benjamin Genocchio
To mark the 50th anniversary of the Spanish painter Pablo Picasso's death, on April 8, 2023, France and Spain have agreed to declare 2023 as the Year of Picasso. More than 45 exhibitions are being organized in France, Spain and elsewhere, worldwide, to celebrate Picasso and his legacy, a powerful restatement of his global reputation and influence as a major — if not the most important — 20th-century artist.
Picasso (1881–1973) was the central figure in Cubism, a movement of young painters living in Paris in the first decade of the 20th century who sought to redefine the form and content of painting. His legacy of innovation inspired artists everywhere to abandon traditional modes of representation and subject matter and embrace experimentation. He helped to alter the course of modern art.
Picasso was an immensely talented and enormously productive artist who throughout his long career of 70 years produced paintings, sculpture, ceramics, drawings and prints, among other things. His paintings are the most desirable among art collectors — his auction record sits at $179 million, for Les femmes d'Alger (Version 'O'), 1955, sold at Christie's in New York in 2015. It is one of the world's most expensive works of art.



Left: Pablo Picasso (1881–1973), Femme Au Beret, 1939. Lithograph on Arches paper, 29 x 22 in. Edition of 500, 34 AP. Right: Pablo Picasso (1881–1973), Femme au Tablier Rayer Vert, 1920. Lithograph on Arches paper, 27 x 18 in. Edition of 500, 34 AP. Images courtesy of Ro Gallery.
Five of Picasso's paintings have sold for above $100 million dollars at auction, and another for $95 million, along with a dozen more above $50 million. Prices in the stratosphere restrict ownership of these works to museums and top collectors, but for anyone looking to own a Picasso there are other, more affordable options. His prints can be bought for only a few thousand dollars and in many cases are hand signed by the artist. Editioned ceramics are also affordable. Knowledge of editions and of edition sizes and signatures is important, but the market tends to be fairly transparent.
There are almost 75,000 listings in the Artnet price database for Picasso's prints and multiples, a category that includes prints of all kinds but also ceramics. Breaking the data down, there are 18,500 listings for etchings, and 18,000 listings of lithographs, the two main printmaking techniques Picasso employed, with prices ranging from a few thousand dollars for prints to over $8 million dollars for a rare detailed etching from 1904, "Le repas frugal," that was sold at Christie's in London, in March 2022.
Robert Rogal of RoGallery has been dealing in Picasso's paintings, prints, and ceramics for 40 years. He has handled more than 800 works by Picasso and today has more than 200 of the artist's works on offer online and at his New York gallery, the bulk of which are prints. He says the market is always strong. "Picasso has a worldwide market," Rogal says, "with a worldwide client base so there is always demand. The fact of the matter is that at any time, anywhere, someone is looking to buy a Picasso artwork."
Rogal has customers in the US, Japan, Australia, New Zealand, Canada, Germany, Austria and other places. He is always actively acquiring Picasso artworks and says the best value is in the print market. "The market for estate print pieces has soared in the past few years," Rogal says. Estate prints are those, he explains, which were produced after Picasso's death and approved by the artist's granddaughter, Marina, who had the rights to the originals. They are therefore authenticated by the estate.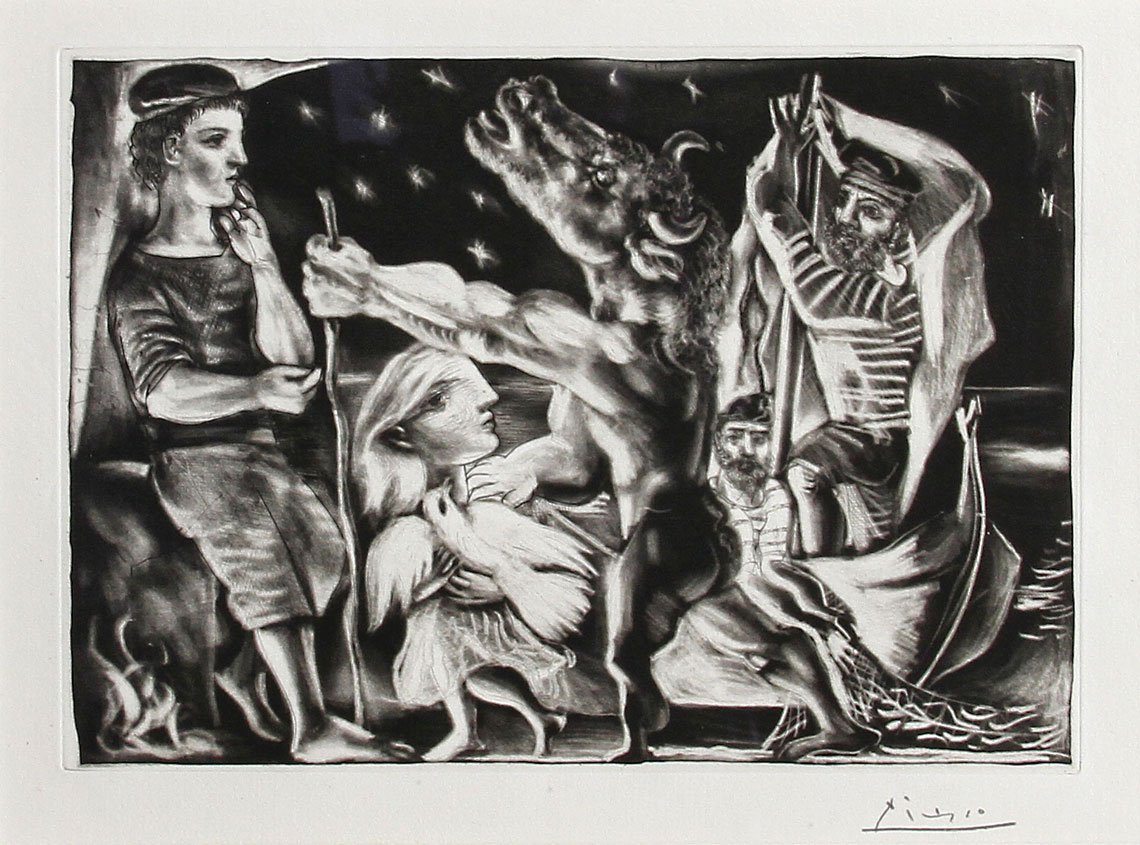 Pablo Picasso (1881–1973), Minotaure aveugle Guidé par Marie-Thérèse au Pigeon dans une Nuit étoilée, 1934. Aquatint, Grattoir, Drypoint and Burin on Vollard watermarked Montval laid paper, 13¼ x 17½ in. Image courtesy of Ro Gallery.
Pablo Picasso (1881–1973), Bacchanale, circa 1922. Lithograph on Arches paper, 14½ x 19½ in. Edition of 500, 34 AP. Image courtesy of Ro Gallery.
Tabitha Philpott-Kent, director for Shapero Modern in London agrees with Rogal that the Picasso print market is extremely strong. She says the market for Picasso prints has cemented the artist as "the world's leading printmaker in his lifetime." The linocut prints in particular have lately been hugely popular," she says. "The great thing about his market is that there is something available across all price ranges, from the low thousands up into many millions. Picasso is considered a prime blue chip artist and his works seem to weather the storms of fashion in the art world."
Prints are a democratic medium because they are made in multiples and can be owned by many people. Various techniques are used, but in general, an image is incised or painted onto a wood or stone block, metal plate or tile which is used to create editions of an image. Each is original but not unique and therefore tends to be more affordable and a good entry point into an artist's market for those wanting a work by a famous artist but are unable or unwilling to make a big financial commitment.
"The Vollard Suite is certainly a masterpiece of Picasso's work with etching," says John Szoke, a well-known New York dealer who is one of the most knowledgeable people on Picasso's prints, having been involved in the Picasso print market for 50 years. Each week he produces an email newsletter to send out to his subscribers, with a short essay he has written on one or another of Picasso's print artworks.



Left: Pablo Picasso (1881–1973), Jacqueline au Bandeau de Face, 1962. Linocut on watermarked Arches paper, 75.3 x 62 cm. Right: Pablo Picasso (1881–1973), Flûtiste et Jeune Fille au Tambourin, 1934. Etching, hand-coloured in red ink, 46 x 35.2 cm. Images courtesy of Shapero Modern.
"The 100 etchings in the Vollard Suite series were made in the 1930s, over a period of seven years from 1930 to 1937, after Picasso made a deal to trade artworks by other artists with the French art dealer and publisher Ambroise Vollard," Szoke says. The etchings are clustered around several of the artist's favorite themes, including the Dutch artist Rembrandt van Rijn, imagery of the mythical Greek Minotaur, and representations of the artist's studio and his muse and mistress Marie-Thérèse Walter.
Szoke says the 100 prints were editioned in a group of 50 with large margins and another group of 250 with smaller margins. That's a total of 30,000 prints plus proofs of each individual print. There are 4,500 auction records alone for the prints from the Vollard Suite in the Artnet price database, and thousands have been traded privately via art dealers making this a Picasso sub-market in and of itself. Not all of the prints are signed by the artist, but for Szoke accessing the authenticity and value of the print is not only about a signature: the quality of the print is the most important factor.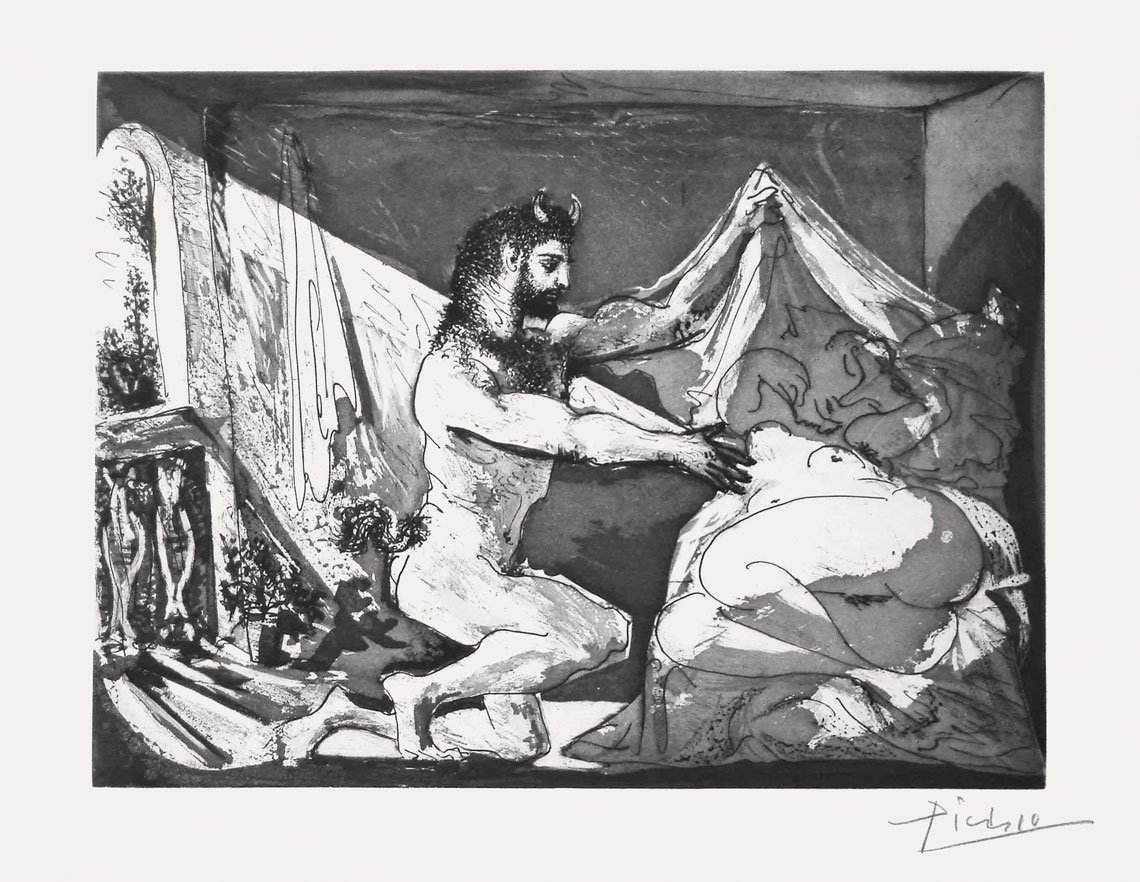 Pablo Picasso (1881–1973), Faune dévoilant une Dormeuse (Jupiter et Antiope, d'après Rembrandt) (S.V. 27), 1936. Sugarlift aquatint and burin with scraper, 12¼ x 16⅛ in. Image courtesy of John Szoke Gallery.
Pablo Picasso (1881–1973), Minotaure aveugle guidé par Marie-Thérèse au Pigeon dans une Nuit étoilée (S.V. 97), 1934. Aquatint, scraper, drypoint and burin, 9¾ x 13¾ in. Image courtesy of John Szoke Gallery.



Left: Pablo Picasso (1881–1973), Le Repas frugal, 1904. Etching and scraper, 18⅛ x 14⅞ in. Image courtesy of John Szoke Gallery. Right: Pablo Picasso (1881–1973), Portrait de femme de profil, 1965. Linocut rinse, 29½ x 24½ in. Image courtesy of John Szoke Gallery.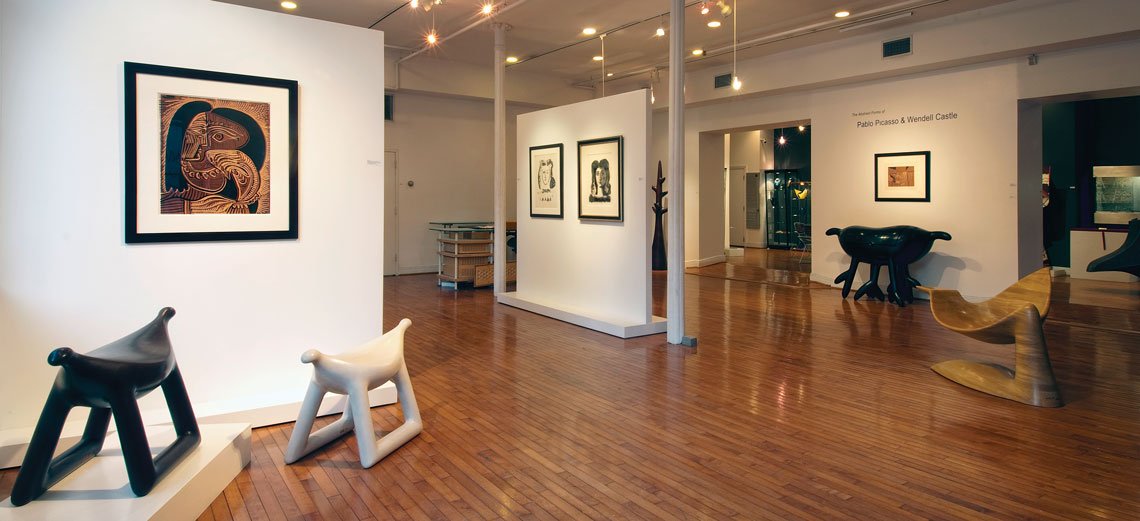 Installation view from The Abstract Forms of Pablo Picasso & Wendell Castle held at Wexler Gallery in Philadelphia, December 3, 2011 – February 25, 2012. Image courtesy of Wexler Gallery.
Today more and more artworks are offered online, and as such Szoke offers a larger variety of images than before. These selections include unique works, small edition prints, and more expensive and rare works as well. Anything in a small edition usually commands from $100,000 and up, he says. Unique works come off a lithographic stone or copper plate like other prints, but just one or even just a few of them in a limited edition are printed, which makes them rarer, and more valuable.
Szoke is constantly approached to lend his Picasso prints to exhibitions at museums and art galleries — he has works going to several museums next year for anniversary exhibitions, and in 2011 Lewis and Sherri Wexler from Wexler Gallery in Philadelphia and New York worked with him on an exhibition pairing Picasso prints with the work of Wendell Castle. "We put together a selection of prints using different methods and styles and we matched them up with the furniture based on forms that Wendell was doing at the time," Lewis Wexler says. "It was one of our more successful shows."
Picasso's ceramics are less plentiful than the prints but equally popular. The market is also more straightforward: the forms are distinct and markings clear — questions of authenticity are rarely an issue, as each work is marked with an atelier stamp, edition number and frequently an additional mark such as 'Edition Picasso'. The editions are usually in 200, 300 or 500, and each piece is hand painted by Picasso so tends to be slightly different, a quality prized among serious collectors of Picasso's ceramics.



Left: Pablo Picasso (1881–1973), Picasso Editions Ceramic Dish, Madoura Bird Motif, circa 1952. Edition of 500. Diameter: 6¼ in. Right: Detail of signature. Images courtesy of Pavilion Antiques & 20th Century.



Right: Pablo Picasso (1881–1973), Picasso Editions Ceramic Dish, Madoura Picador, circa 1952. Edition of 500. Diameter: 6 in. Left: Detail of signature. Images courtesy of Pavilion Antiques & 20th Century.
Picasso worked with timeless clay forms — jugs, pitchers, vases, and vessels of one kind or another. These were mostly made at the Madoura pottery studio in Vallauris, a famous pottery center in the south of France owned by artists Suzanne and Georges Ramié who set aside space in the studio for Picasso to work. Picasso first visited the studio in 1946 and over 24 years, until his death, made over 630 ceramic designs, some unique, others in editions and engraved with the Madoura atelier stamp.
"This is one of the most famous artist collaborations of the 20th century in France," says Deborah Colman, owner of Pavilion Antiques and 20thc in Chicago. "It is thought that Picasso produced over 3,500 original editioned ceramic works." The pieces that are most collectible she says are vases, pitchers, and plates that were made in limited editions and are signed and numbered. But even pieces made in large editions and not numbered but signed 'Picasso Editions,' Colman says, are quite desirable.
Picasso painted the ceramics with ease, fluency and flair. It is one of the reasons the ceramics are so dynamic and today meld gracefully into almost any home. "The more fantastic the drawing is and the most exuberant pieces always see the strongest prices," Colman says. "Even better is if one has a piece included in the catalog raisonné by Alain Ramié." Unique glazed ceramic works command a premium and have fetched up to $2.5 million at auction; three other pieces have fetched over a million at auction and seven ceramic works have sold for over $500,000 according to the Artnet price database.
So what continues to drive the Picasso market endlessly forward 50 years after his death? "There is a difference between art and decoration," Szoke says, "and that's what makes Picasso so special. He was one of the most significant artists of the 20th century. He was not only a tremendous artist but he had his finger on the heartbeat of the times and his art, though not political, is a reflection of the times. His technical mastery is also unparalleled — no one was as technically astute as Picasso."