Palm Beach Modern + Contemporary
An International Fair Presented by Art Miami
Palm Beach Art Scene: Hot and Getting Hotter
Palm Beach Modern+Contemporary Art Fair Kicks Off On March 25th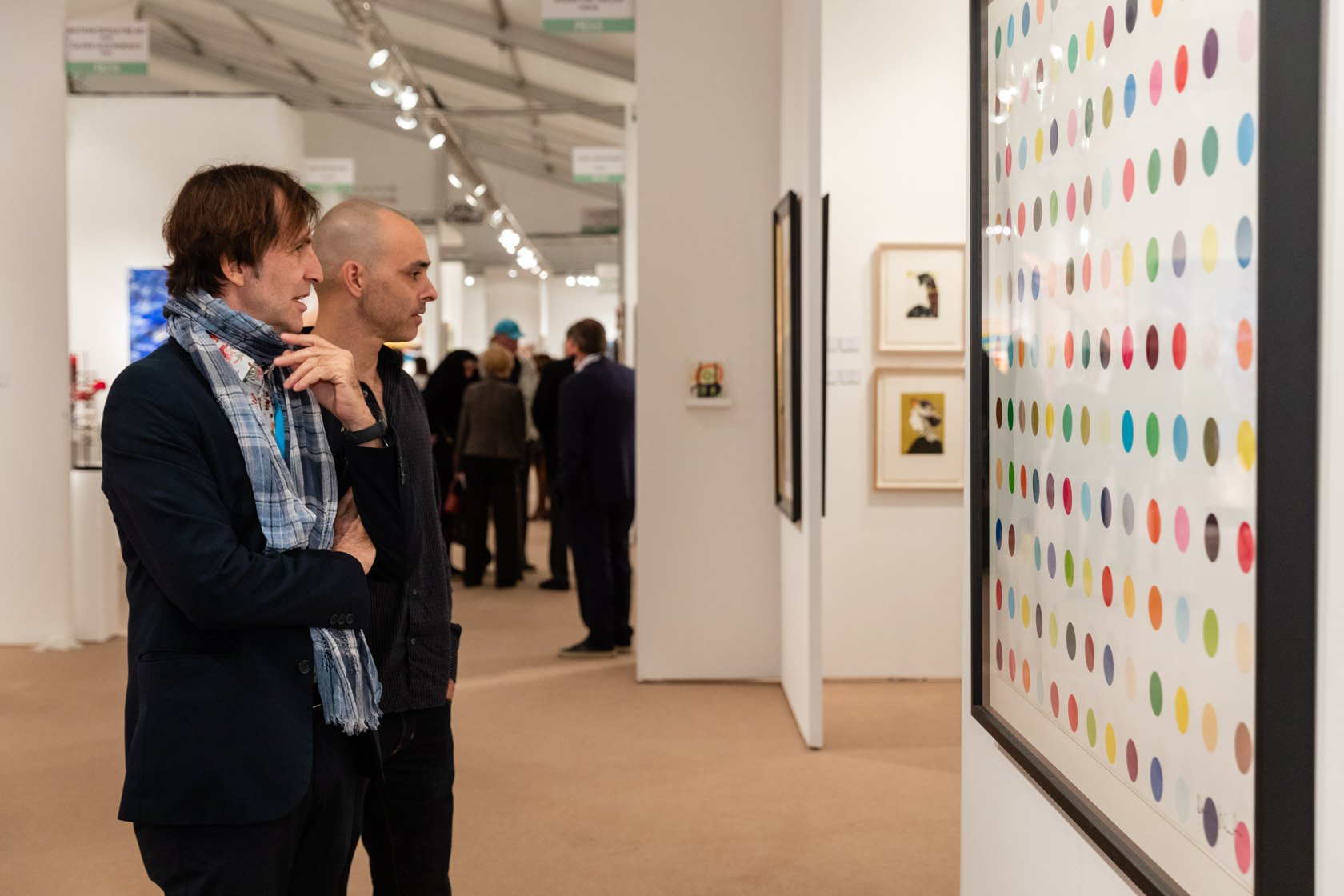 Palm Beach Modern + Contemporary (PBM+C), presented by Art Miami, returns for its fifth edition opening with an exclusive invitation-only VIP Preview benefiting the Ann Norton Sculpture Gardens on Thursday, March 24 and running through Sunday, March 27, 2022 at the Palm Beach County Convention Center.

by Benjamin Genocchio
Palm Beach Modern + Contemporary

March 24 - 27, 2022

Palm Beach County Convention Center



Feel like springing into spring? There is nowhere nicer in late March than Florida where the days are warm (but not too hot) and the nights cool and long. Palm Beach Modern + Contemporary (PBM+C), presented by Art Miami, returns for its fifth edition after two years and provides a welcome excuse to head south, or if you live locally, across town to the Palm Beach County Convention Center for a preview benefiting the Ann Norton Sculpture Gardens on Thursday, and running through Sunday.
Hunt Slonem (b. 1951), Montana, 2019. Oil, resin and acrylic, 50 x 60 inches. Image courtesy of Rosenbaum Contemporary.



Left:

David Hockney (b.1937), Dandelions, 2011. iPad drawing printed on paper, 37 x 28 inches. From the edition of 25, signed, dated and numbered by the artist. Printed by the Hockney Studio, Los Angeles. Image courtesy of Archeus/Post-Modern.

Right:

Tapestry after Sonia Delaunay, Counterpoint. Wool tapestry. Signed and monogrammed 'Sonia Delaunay P/F [Pinton/Felletin]' (lower left); on the reverse, two bolducs, one numbered '2/6' and the second 'd'après le carton de Sonia Delaunay / P-F [Pinton/Felletin]. 225 x 175 cm 7' 3'' x 5' 7''. Made around 1970. Image courtesy of

Boccara Gallery New York

.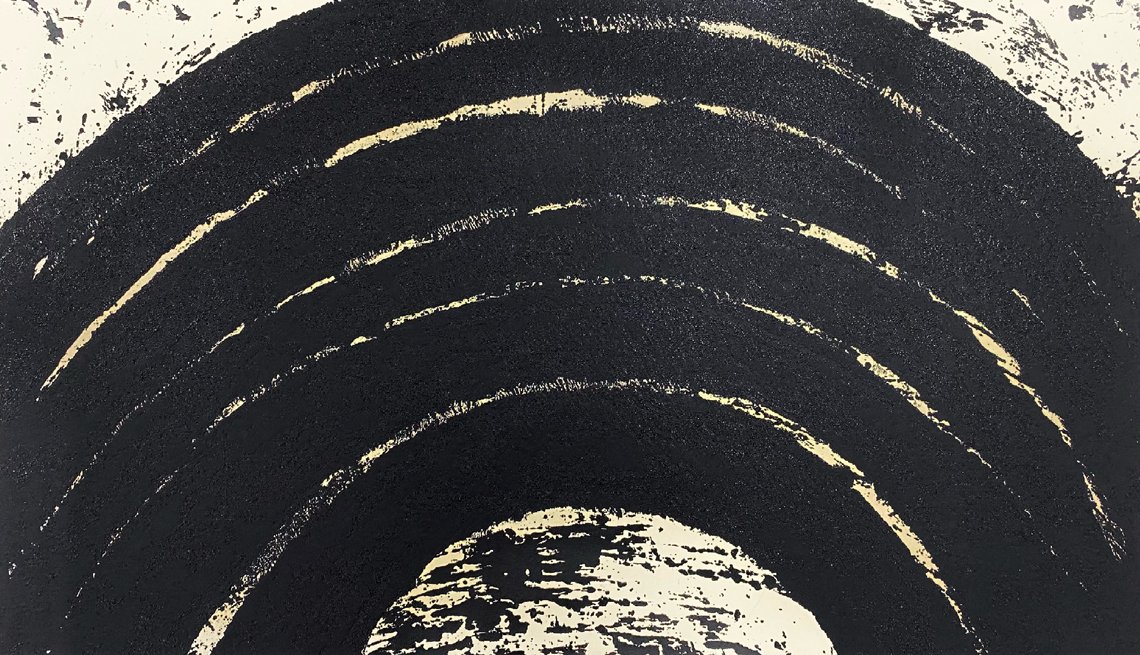 Richard Serra (b. 1938), Paths and Edges #4, 2007. Etching on paper, edition of 60, 21 x 38.5 inches. Publisher: Gemini G.E.L, Los Angeles. Image courtesy of Evelyn Aimis Fine Art.




Left:

Alex Katz (b. 1927), Yellow Flags #4, 2020. Aquatint and etching, 46 x 31 inches. Image courtesy of Adamar Fine Art. Right: Jean Arp (1886-1966), Apparat d'une danse, 1961. Bronze, 46.2 x 43.1 x 6.2 inches (177.5 x 109.5 x 15.8 cm). Numbered 0/2 (on the interior). Image courtesy of Miriam Shiell Fine Art.
There are over 85 galleries included in the art fair, including Adamar Fine Arts, Adelson Galleries, Archeus/Post Modern, Ascaso, Berry Campbell, Boccara Gallery NY, C Fine Art, Chase Contemporary, Evelyn Aimis, Foster Gwin Gallery, Holden Luntz, Long-Sharp Gallery, Marlborough, Michael Goedhuis, Rosenbaum Contemporary, David Benrimon and West Chelsea Contemporary, among others, displaying a broad and eclectic range of 20th- and 21st-century artworks from artists Robert Motherwell, Kiyoshi Nakagami, Roy Lichtenstein, Lynn Chadwick, Kenneth Noland, Banksy, Kaws, Yayoi Kusama, Alex Katz, David Hockney, George Condo and Fernando Botero, to name a handful.
Palm Beach Modern + Contemporary is the little sister to Art Miami fair, which takes place in Miami in December to coincide with Art Basel Miami Beach. It does not draw the prominent collectors, curators, art connoisseurs, museum directors, as much, but the local collecting base is wide, knowledgeable and passionate. There is also a lot less crowding, with fewer people through the run of the show making it easier to stroll the halls, look at the artwork and talk to the dealers without being trampled underfoot. This year, the fair also coincides with the Palm Beach International Yacht Show.



Left: Alice Aycock (b. 1946), Alien Twister, 2018. Powder-coated aluminum, 84 x 74 3/4 inches. Image courtesy of Marlborough Galleries. Right: Harry Benson (b. 1929), Beatles Pillow Fight, Paris. Infused dyes sublimated on aluminum. Executed in 1964, printed later. Signed, titled, dated and numbered from an edition of 20 on verso. 42 x 43 3/4 inches. Image courtesy of Holden Luntz Gallery.
Guan Zhi (b. 1970), A Thousand Miles of Torrents Cleaning My Heart, 2021. Ink and colour on paper. Image courtesy of Michael Goedhuis.



Left:

Fernando Botero (b. 1932), Woman on a Horse, 2010. Bronze. Image courtesy of Opera Gallery. Right: Andres Valencia (b. 2011), Charlie. Acrylic paint and oil pastel on cotton canvas, 48 x 60 inches. Image courtesy of Chase Contemporary.
Highlights among the exhibitors include Holden Luntz Gallery, Palm Beach which will present Harry Benson: A Life of Legendary Photographs by Scottish photographer Harry Benson, who has photographed The Beatles, Michael Jackson and Andy Warhol. Benson is a Palm Beach resident and the fair will honor him as the third recipient of the Lifetime Achievement Award presented at the launch of the fair. Opera Gallery will feature works by Fernando Botero, Chase Contemporary will present new works by 10-year-old prodigy artist Andres Valencia and Marlborough will have works from Ahmed Alsoudani, Alice Aycock, Claudio Bravo, Deborah Butterfield, Sam Francis, and Alex Katz. C Fine Art is showing Kevin Barrett, Norman Mooney, Bill Barrett, John Van Alstine, and Elizabeth Gregory-Gruen. "Each artist masterfully fabricates his or her work, reaching far beyond the boundaries of their chosen materials," says gallery owner Cheryl Sokolow. The Ann Norton Sculpture Gardens will also serve as a satellite venue for sculpture.

TICKET INFORMATION
This year, to further sustainability initiatives as well as touchless entry, all tickets will be available exclusively online with no box office onsite. Please note tickets are available online at www.artpbfair.com/tickets.
One-Day Ticket: $35
Multi-Day Ticket: $60
VIP Ticket: $175 (Includes access to VIP preview opening night, unlimited admission on public fair days, access to VIP lounges and one-day general admission to the Palm Beach International Yacht Show)
Seniors 62+/Students 12-18 Years Old: $20
Groups of 10 or more: $20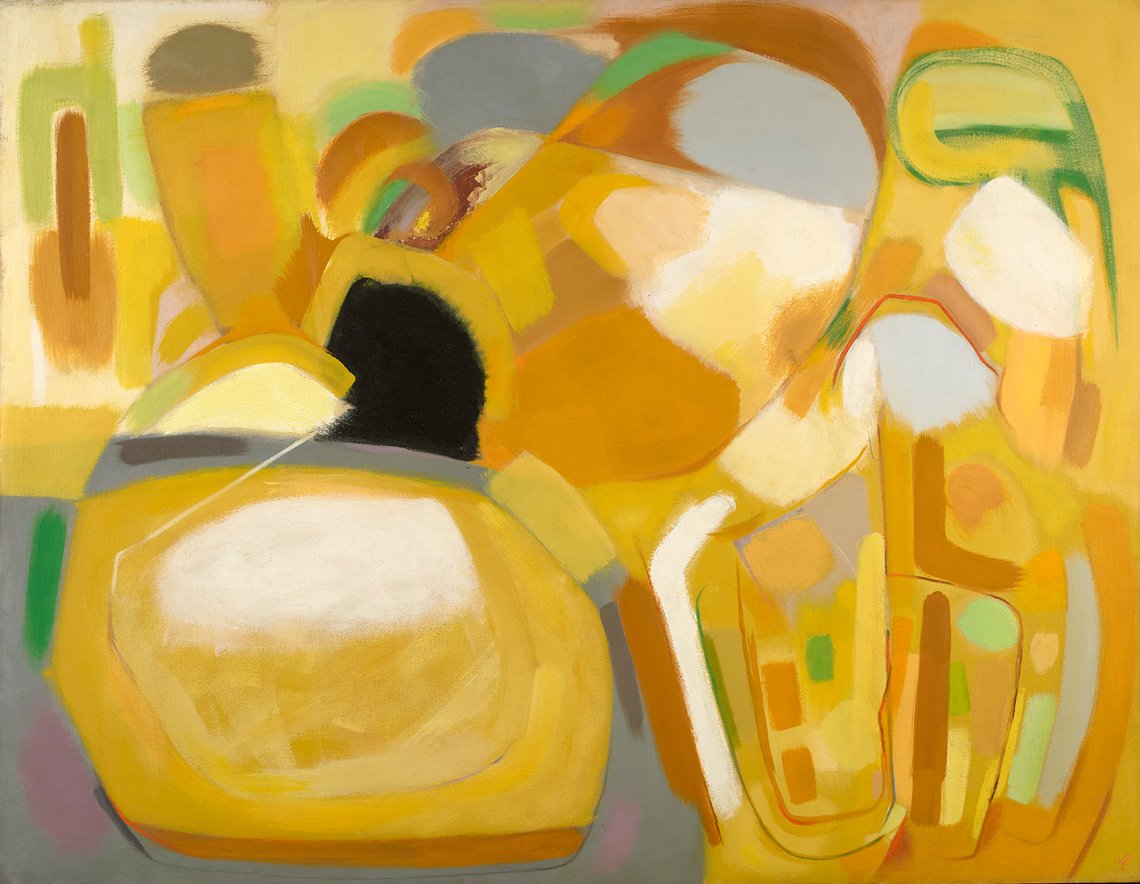 John Ferren (1905–1970), Desert Landscape, 1951. Oil on canvas, 50 x 63 3/4 inches. Initials lower right. Image courtesy of Berry Campbell.
FAIR HOURS
VIP Preview:
Thursday, March 24, 2022, 5pm - 9pm
Access for PBM+C VIP Cardholders & Press, benefiting the Ann Norton Sculpture Gardens
General Admission:
Friday, March 25, 11am - 7pm
Saturday, March 26, 11am - 7pm
Sunday, March 27, 11am - 6pm



Left:

Arman (1928-2005), Untitled, 1989-1990. Paint cans and acrylic paint on canvas, 71.26 x 56.3 x 7.87 inches. Image courtesy of Ascaso Gallery. Right: Federico Uribe (b. 1962), Chasing Butterflies (detail image), 2022. Bullet shells. 21.5 h x 12w x 9.5 d inches. Image courtesy Adelson Galleries.
PARTICIPATING GALLERIES
Adamar Fine Arts
Adelson Galleries
Ai Bo Gallery
Archeus/Post-Modern
Art Angels
Art Bond NY
ArtLabbé Gallery
Art of The World Gallery
Ascaso Gallery
Avant Gallery
Axiom Contemporary


Berry Campbell


Blink Group Fine Art Gallery
BOCCARA Art Galleries


Boccara Gallery New York


Bogéna Galerie
Boulderton Contemporary Art
Bronner Gallery
Burgess Modern + Contemporary
C Fine Art
C. Grimaldis Gallery
Carousel Fine Art
Cavalier Galleries
Coe + Co Photography
Cernuda Arte
Chase Contemporary
Chase Edwards Gallery
Clark Gallery
Colour Senses Project
Connect Contemporary
Contemporary Art Matters

Contemporary Art Projects USA


Contessa Gallery
Cynthia Corbett Gallery
David Benrimon Fine Art
Donghwa Ode Gallery
Eckert Fine Art
Eternity Gallery
Ethan Cohen
Evelyn Aimis Fine Art
Foster Gwin Gallery
Frederic Got Gallery
Galerie Richard
Gallery TABLEAU
GR Gallery
HOFA Gallery
Holden Luntz Gallery
In The Gallery
JF Gallery
John William Gallery
K+Y Gallery
Keyes Art
Latin Art Core
Laura Rathe Fine Art
Laurent Marthaler Contemporary
Lillian Heidenberg Fine Art
Liquid Art System
Long-Sharp Gallery
Lustre Contemporary
Maddox Gallery
Madelyn Jordon Fine Art
Marlborough

Masterworks Fine Art

Maune Contemporary
Michael Goedhuis
Miriam Shiell Fine Art
New River Fine Art
Nicole McGraw Fine Art
Oliver Cole Gallery
Opera Gallery
OPERA: James/Udo Project
Stewart Gallery
The Schoolhouse Gallery
Panorama Design/Arts
Rosenbaum Contemporary
Rukaj Gallery
Samuel Owen Gallery
Sous Les Etoiles Gallery
South Art Dealer
Sponder Gallery
Steidel Contemporary
Stewart Gallery
The Schoolhouse Gallery
Timothy Yarger Fine Art
UVA Gallery
Vertu Fine Art
VK Gallery
West Chelsea Contemporary
Winn Slavin Fine Art
Wynwood ABC Corp
Yvel
Zeit Contemporary Art
Zemack Contemporary Art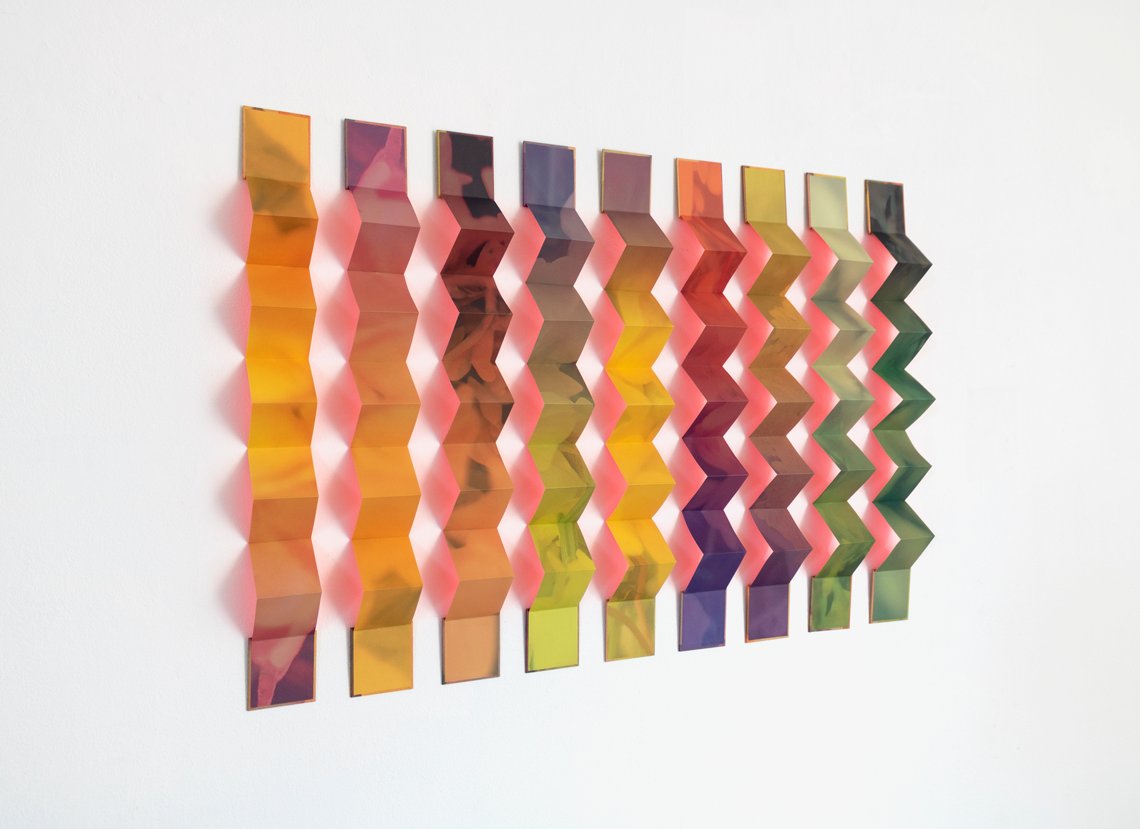 Nicole Pietrantoni, Aurora IV, 2021. Inkjet on Kozo paper, acrylic paint. Handbound into 9 accordion books. Size: 26 x 40 x 2.5 inches. Aurora IV © Nicole Pietrantoni; image courtesy of Long-Sharp Gallery.