Park Avenue Apartment by Ike Kligerman Barkley
Top Interior Design Project Of The Week
Photography by Durston Saylor
A
serene expanse of soft turquoise Venetian plaster swirls through the open living plan of this Upper East Side apartment, designed by Mia Jung of Ike Kligerman Barkley. Vintage mid-century pieces are mixed with custom commissions, as well as pieces designed and executed by Ike Kligerman Barkley. The living room, bar, dining room and kitchen flow in one long stretch, with translucent resin sliding panel doors that can be closed for quiet activities or opened for entertaining. The dynamic option provided by the resin panels offers flexibility and privacy without the heaviness or light-blocking disadvantage of traditional doors.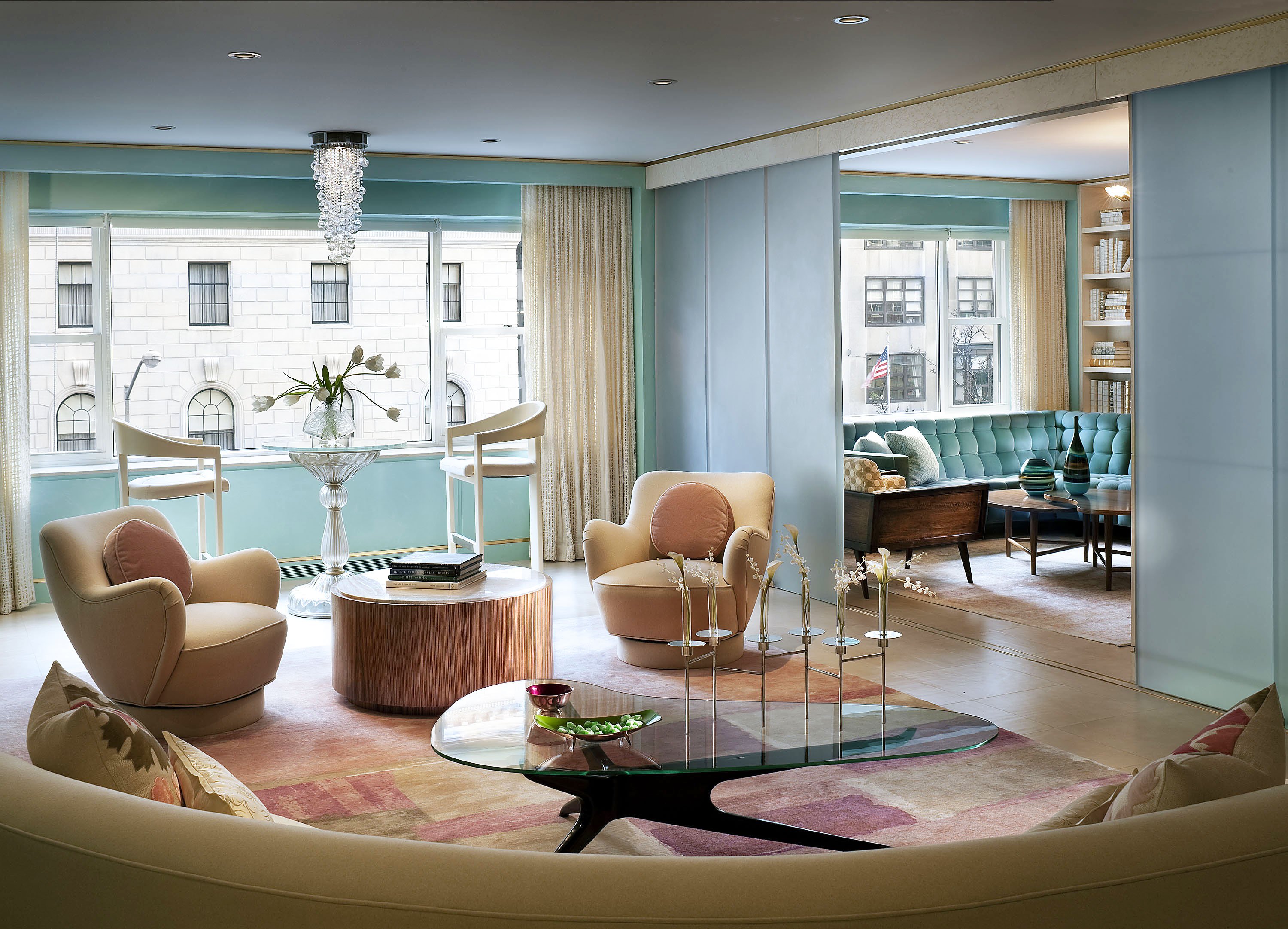 The living room features seating by Vladimir Kagan — a curved-back sofa and pair of barrel-back swivel lounge chairs. Within the seating group are Adrian Pearsall's vintage 1950s "Jacks" biomorphic coffee table, and a custom-designed drum table of zebra wood with limestone top created by Mia Jung. The silk rug from Fort Street Studio was the genesis for the design of the apartment, with the contrasting blue-green hues chosen to offset the pink tones of the rug. Positioned by the window, a custom-designed fluted Murano glass pedestal table, with a pair of vintage Karl Springer lacquered goatskin "Onassis" bar stools. At right, the sliding resin door panels lead to the den. The living room color palette extends into the den, with a biscuit-tufted turquoise velvet sofa and turquoise tones in the modern art glass pieces displayed on the coffee table.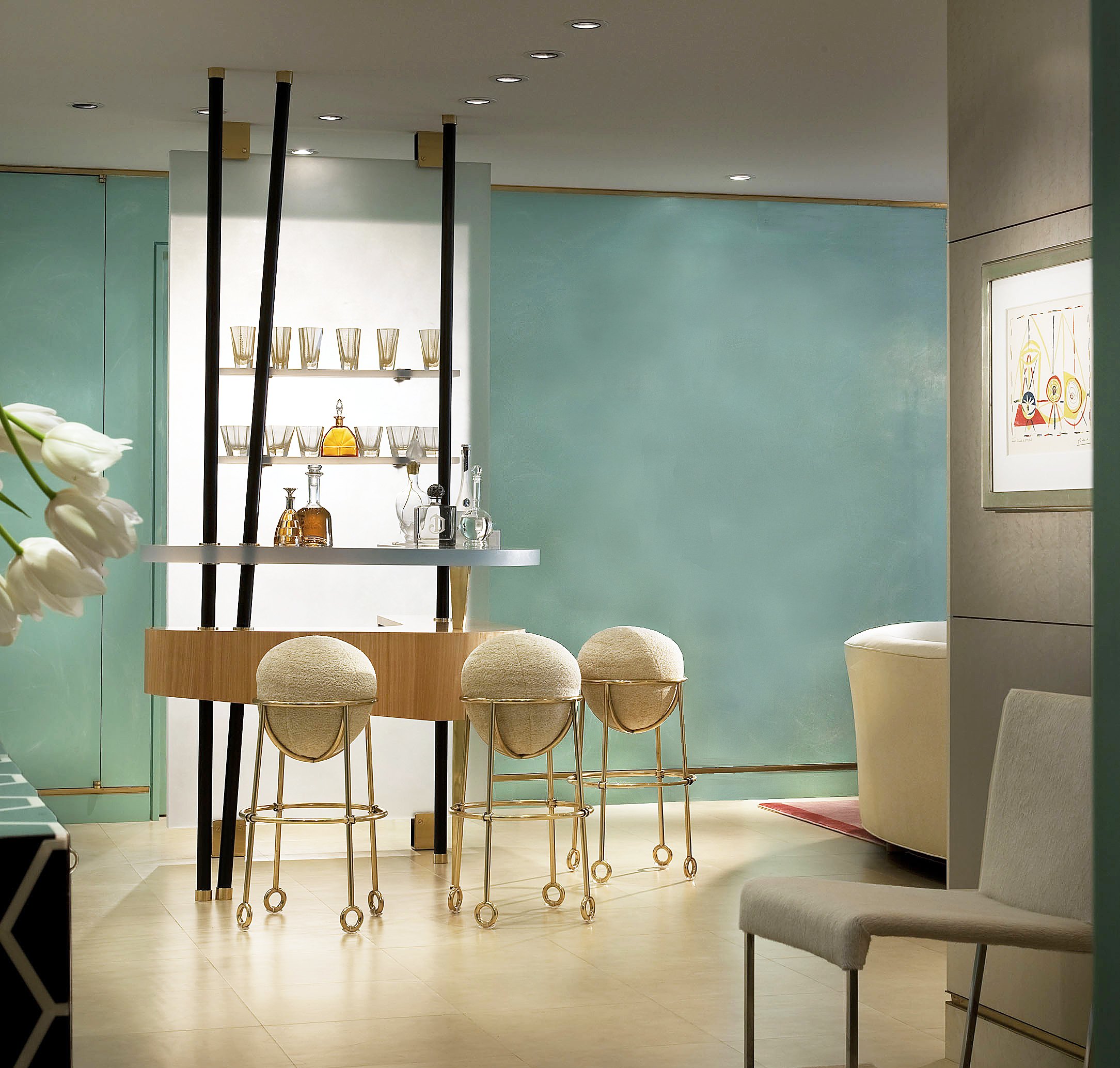 Another translucent resin panel forms a wall behind the bar area, concealing the entrance to the bedrooms. The boomerang-shaped bar and brass Yo-Yo bar stools with "soccer ball" seats are both designs by Jean Royère, circa 1950s, and were executed in custom finishes. The Venetian plaster walls are trimmed at ceiling and baseboard level with brass inlay.
| | | |
| --- | --- | --- |
| | | |
| In a corner of the living room, a vintage Paco Rabanne Space Curtain, ca. 1968 forms a shimmering backdrop, with a pink hand-knotted Dandong wild silk rug from Fort Street Studio. | | In the den, midcentury design forms such as the biomorphic coffee tables and vintage Stilnovo brass chandelier continue the design vocabulary from the living room. The coffee tables were designed by Mia Jung as a set of two that can be positioned to nest or separate. Decorative hubbed-spine books covered in gold lacquer, parchment and an antique document print form a unified background. |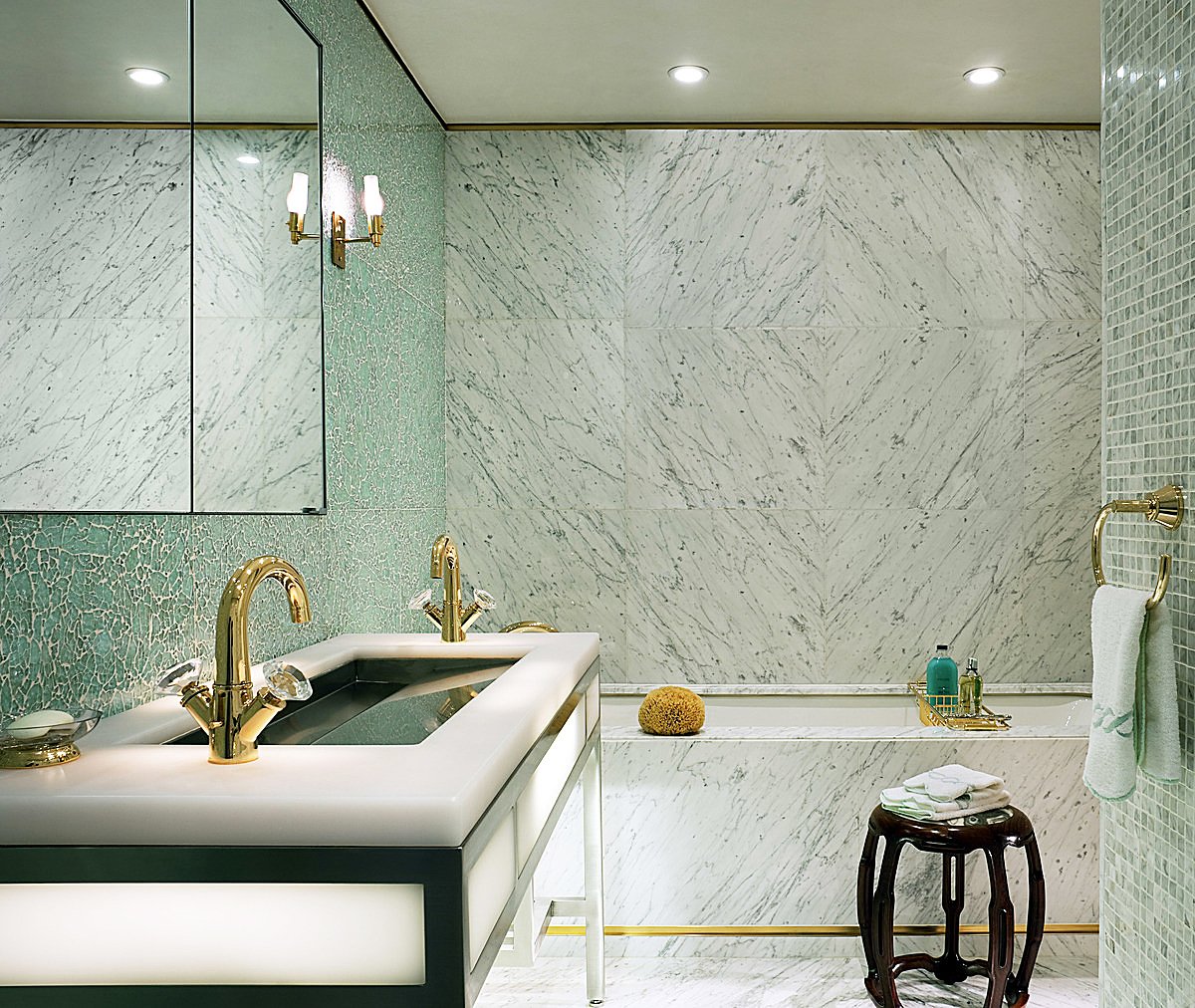 Bookmatched marble tiles are a focal point, with a marble bathtub and walls of marble and glass mosaic tiles. The blue-green tones with warm metal accents from the public spaces are repeated in the master bath to enhance continuity. Mia notes: "The gold finish on the hardware was something the client just loved and when we did it, it was not exactly in style!"
To view the entire project click here