Park Avenue Contemporary By Penny Drue Baird
| | |
| --- | --- |
| | |
| | Penny Drue Baird |
Designed by Dessins, LLC
Photography by Francis Hammond
Penny Drue Baird, the founder of New York City and Paris-based interior design firm Dessins, was enlisted to transform a substantial and elegant space into a fun, comfortable and fresh family home. The original design perspective was traditional, but shifted into a more modern vision, following the direction of the owners' extensive contemporary art collection. These were repeat clients, and Penny commented on the evolution, "It was interesting to work with these clients over several years and watch their journey from traditional to contemporary." A young couple with young children, they purchased a six-bedroom, 6,000 square foot apartment in a limestone-clad Park Avenue building designed by Rosario Candela, New York City's star architect of the 1920s–30s, who designed apartment buildings for the well-to-do. Although it was graced with the generously proportioned rooms, high ceilings and oversized windows typical of Candela's buildings, the apartment required a gut renovation, and so was stripped down to the steel and completely rebuilt. Penny collaborated with architects Ferguson & Shamamian to reconfigure some rooms, repurpose others, and add all new, but architecturally appropriate features. Every room was embellished with elements designed by Dessins: lavish moldings, antique fireplace mantels, rich paneling and sumptuous tufted niches, all carefully selected to establish visual order. And while the apartment pays significant homage to the Art Deco era during which it was constructed, there's a lively play enacted with classical motifs, midcentury lighting and contemporary art as well. All flow together seamlessly, made possible by the encyclopedic design vocabulary and deft artistry of Penny Drue Baird.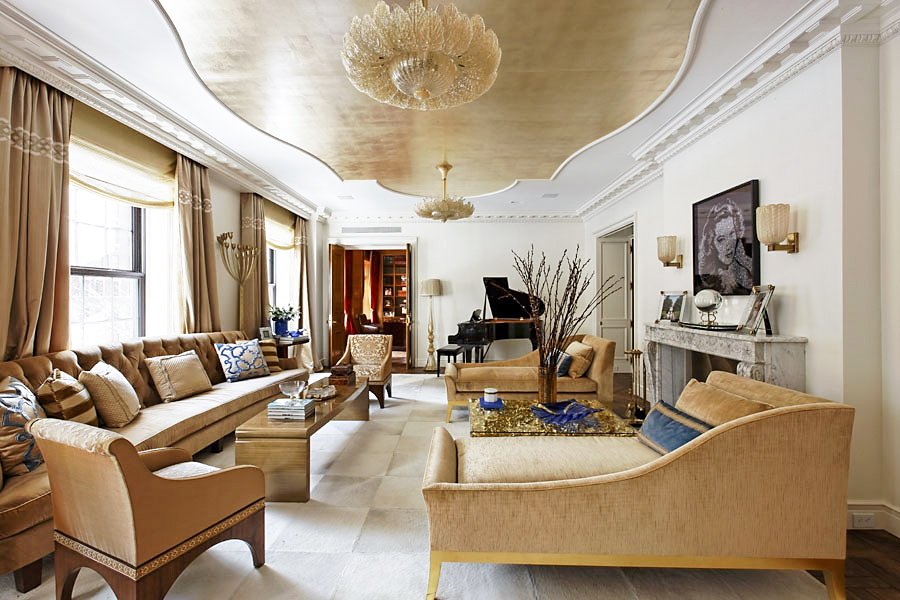 Yves Klein's Table d'Or, containing 3,000 sheets of 22-kt gold leaf, is an iconic piece that the clients always wanted to own, and it provided inspiration for the living room. More gold: a ceiling medallion lined in gleaming gold tea paper, designed by Penny, is complemented by gold leaf-motif Venetian glass chandeliers. Tawny shades of caramel and gold upholstery, accented by sapphire blue, wash over the sumptuous seating options: a pair of chaises, a curved, button-tufted banquette, and pair of Deco-style lounge chairs. A wood finish lacquer waterfall table and bronze torchieres of cascading blossoms up the glamour quotient.



Left: The antique carved marble mantel was selected by Penny and is flanked by midcentury Murano sconces from Bernd Goeckler. Vik Muniz's Ava Gardner (Pictures of Diamonds), from his 2005 series depicting iconic Hollywood divas such as Elizabeth Taylor, Rita Hayworth and Marilyn Monroe, hangs above the mantel. In a fascinating process that speaks to the dual nature of fame — both eternal and fleeting — he created a rendering in diamonds, playing on the association of diamonds and the glamorous stars, and photographed the results. The diamond rendering was then dismantled, with only the photograph remaining, and the diamonds used to create the next portrait in the series. Right: A long stretch of banquette seating, a pair of bronze torchieres and a glossy lacquer table with brass detail. The curtains were embellished in bands at the top of the panels rather than the typical leading edge placement, so the furniture positioning did not detract from the effect.



Left:

The marble floor of the entry gallery is patterned with a design by Dessins that evokes both classical and Art Deco motifs, but appears clean and contemporary. The console was designed by Dessins, and crafted in mahogany and shagreen by master cabinetmaker Mark Luedeman, who works in all styles but has a particular affinity for Art Deco. A pair of rosewood 1930s Art Deco bergères from Bernd Goeckler are positioned astride the console, which is topped with vintage Murano glass lamps. The chandelier is vintage midcentury crystal and brass. The text-based artwork Fireman and Drunk, 1989 is from Richard Prince's Monochromatic Jokes series. A pair of bronze doors embellished with decorative grilles was commissioned by the architect and crafted in Austria.

Right:

A view from the dining room, across the living room and into the library. The rooms are arranged enfilade, with the entrances aligned to create a pleasing vista and enhance the flow of groups of people from one room to another — wonderful for entertaining. Doorways in the apartment are generously proportioned, with sets of double doors leading into each room.




Left: New French herringbone floors of reclaimed oak are so decorative they obviate the need for a rug in the dining room. The antique mantel was sourced by Dessins, with a herringbone brick firebox constructed to create a visual link to the floor design. A pair of antique onyx urns from Carlos de la Puente Antiques are displayed unfilled, in the French style. The symmetry of the urns is repeated with a pair of candlesticks, a pair of gray marble tazzas and a pair of vintage Murano sconces from John Salibello. Centered on the mantel is a French 1930s shagreen clock. A round 20th century mirror contrasts with the strong rectilinear lines of the moldings and the mantel. Right: A voluptuous button-tufted velvet niche displays a 1930s Art Deco sideboard of mahogany and rosewood by Jules Leleu. The vintage Murano sconces from John Salibello create a dramatic effect, casting shimmering rays of light reflecting off the tufted wall.



Left: The family loves to entertain, so a dining room table that seats 16 was a must. The Deco-style chandelier created in silver-finished bronze and rock crystal is from Mathieu Lustrerie. Right: A richly decorated library, with ceiling molding, and walnut paneling with wainscoting and panel moldings. The coffee table was loosely based on T.H. Robsjohn-Gibbings's magazine table, and crafted by master cabinetmaker Mark Luedeman, who built a total of eight pieces for the residence, all designed by Penny. The chairs are a design by Jacques Garcia and the desk is by Dakota Jackson.



Left:

The Rosso Levanto marble mantel is an antique sourced by Dessins; hanging above the mantel is Damian Hirst's Flumequine 2007. One of the custom features in the library is a discreet door that opens to reveal the bar.

Right:

Bookshelves styled with eclectic accessories and sets of antique volumes with gilded spines. The mahogany and brass side table is from Art Deco design master

Jules Leleu.

On top of the table, the rich tones of a trio of red tortoiseshell boxes are a luxe accent.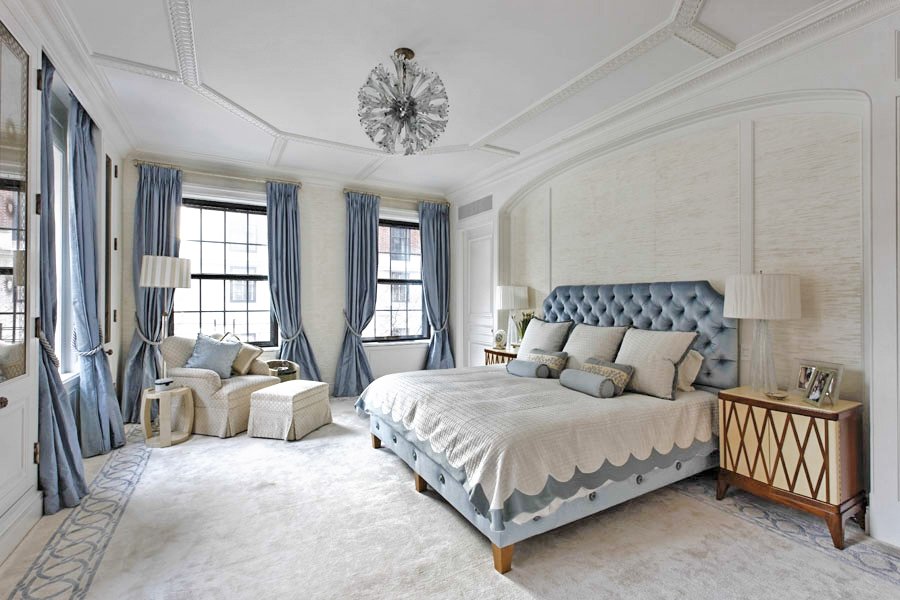 The master bedroom is decorated in French blue and white. A niche with an intricate decorative paint finish by Fresco Decorative Painting frames the tufted silk headboard and nightstands. A midcentury crystal flower ball pendant from John Salibello glitters overhead.



Left: The nightstands are an Art Deco design of parchment and mahogany. On the nightstand is a vintage Art Deco clock discovered at the Paris Marché aux Puces, a Lalique crystal vase, and a lamp by Barovier & Toso, with custom shade by Blanche Field. Right: A glamorous reading nook: Penny commissioned verre eglomisé mirror panels with a gilded lattice design from artist Miriam Ellner. The decorative painting technique employs 22-karat gold leaf reverse-painted on glass. The curved side table is ombré lacquered wood with a glass top.
TO VIEW THE ENTIRE PROJECT CLICK HERE
TO VIEW MORE PROJECTS BY DESSINS, LLC CLICK HERE
---
Penny Drue Baird's Incollect Must Haves
She's been called a "petite powerhouse." She studied at the New York School of Interior Design, but before that, she earned a PhD in family and child psychology from The Albert Einstein College of Medicine of Yeshiva University. She has homes in Paris and New York, and bounces back and forth continually, designing for clients in both countries. She's the mother of six boys. She is known for her pitch-perfect specification of architectural details and luxe finishes — always just enough to make a room magical, but not cluttered. She is an AD100 designer. Her design philosophy: "Listen and find out what the client wants, and give it to them. My job is to make people happy." And, she does just that.
Penny is renowned for her expert sourcing and decisiveness in choosing elements for her interiors. We asked her to select her favorites from among the offerings on Incollect, and her picks reflect her penchant for sculptural profiles and luxe accessories. Modernist design, bespoke pieces from studio artists, a clean-lined Scandinavian modern sofa and mirror — Penny's choices reflect her versatility, highly-focused aptitude for editing and her eclectic layering approach. Herewith are Penny's Must Haves:
Click on any image to view the complete collection