by Benjamin Genocchio
| | |
| --- | --- |
| | |
| | Andy Warhol (1928–1987), Queen Elizabeth II of the United Kingdom, from Reigning Queens, 1985. Screenprint in colors, on Lenox Museum Board, full sheet, 39¼ x 31⅜ in. Signed and numbered 23/40 in pencil (there were also 10 artist's proofs), with the artist's copyright inkstamp on the reverse. Published by George C. P. Mulder, Amsterdam, the Netherlands, framed. Image courtesy of Lobel Modern. |
"The only reason you are not seeing Pop Art prints on my gallery walls or on my website is that whenever I am lucky to get them, they immediately sell," Evan Lobel tells me. Lobel is both a dealer of important 20th-century furniture at his gallery Lobel Modern in the New York Design Center and an art collector, especially of Pop artworks which he has been collecting since the 1990s.
"I grew up on Long Island and would come to New York in the late 70s and the early 1980s and search out the galleries that showed Pop art. To me it was brilliant. Then I would figure out how I could someday buy the work." Today he has an extensive collection of original Pop art paintings and of prints, including a monumental 17-foot oxidation or "Piss" painting by Andy Warhol which he keeps in his home in Florida. He had to extend a wall in his home simply to accommodate the scale of the work.
Pop art was the most popular art movement of the 20th century and remains, today, popular with collectors and the general public around the world. Artists Andy Warhol, Roy Lichtenstein, Robert Rosenquist, Tom Wesslemann and Jasper Johns are household names, famous for accessible, colorful artworks based on imagery derived from popular culture and advertising, as much as for the prices paid at auction.
Andy Warhol (1928–1987), Rebel Without a Cause (James Dean) from Ads, 1985. Screenprint in colors on Lenox Museum Board, full sheet, 38⅛ x 38 in. Signed and numbered 92/190. Published by Ronald Feldman Fine Arts, Inc., New York (with their and the artist's copyright ink stamps on back). There were 10 impressions in Roman numerals, the edition was 190 and 30 artist's proofs. Image courtesy of Lobel Modern.
Lobel began collecting Pop prints in depth in the 1990s and at that time, he says, he managed to "buy a lot of great things at very reasonable prices." Over the years he has owned important prints by Andy Warhol like the Queen of England and of James Dean, among others, as well as rarer, more valuable one-off prints, and trial proofs. He also bought a complete set of the prints after the urban painter and graffiti artist Jean Michel Basquiat and original works by the graffiti artist Keith Haring.
Lobel believes there is a natural consonance between collecting Pop art and high-end design. "People who want great interiors and buy from me seek out the best of everything and so they are going to incorporate the best 20th-century artists. To me, the Pop artists are in a league of their own. No one has surpassed them in ingenuity and creativity. For this reason, they are considered the gold standard in collecting art."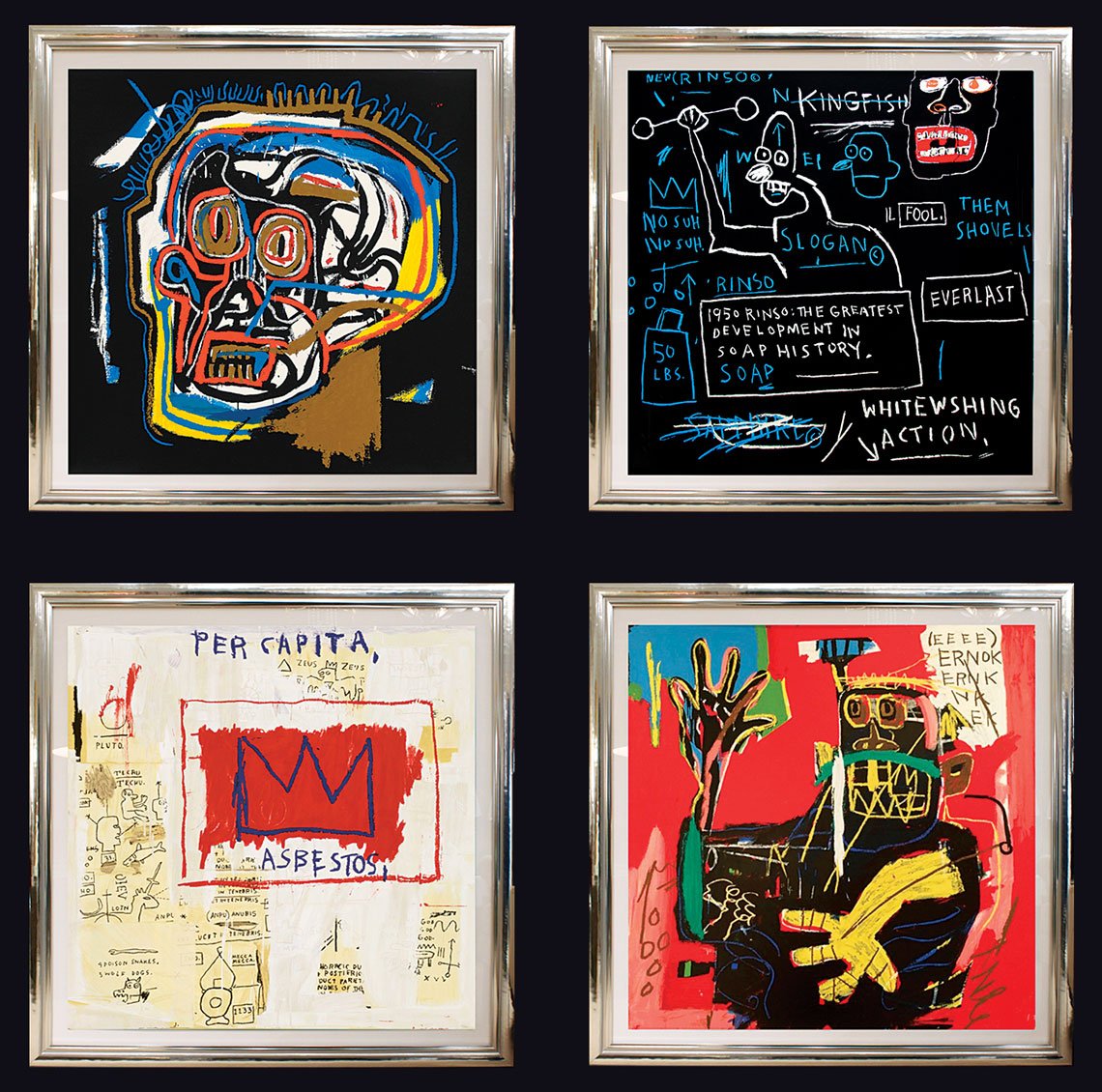 After Jean Michel Basquiat, Portfolio 1, "Head", "Rinso", "Per Capita" and "Ernok" in colors, on wove paper, each full sheet, each one with matching number A.P. numbers in pencil on lower right and signed and dated on reverse "11-19-01" by Gerard Basquiat (Administrator of the Estate of Jean-Michel Basquiat) in pencil with the Estate Stamp, published by DeSanctis Carr Fine Art, Lost Angeles, framed. Each was an edition of 85 with 15 artist's proofs. Unframed the prints measure 39⅞ inches x 39⅞ inches. Image courtesy of Lobel Modern.
| | |
| --- | --- |
| | |
| | One of Andy Warhol's monumental Piss Paintings (1978) hangs in Evan Lobel's living room in Fort Lauderdale. Image courtesy of Lobel Modern. |
Angelo Panayiotou from Splendid Antiques in London also mixes Pop art and urban art with mid-century modern furniture. He started as an art collector 10 years ago. "I had an overstock of art from the house and so I began to add it to the gallery walls to hang with furniture and we found we got many inquiries to buy and the market grew from there." His preference in Pop art specifically is Warhol and next generation Pop urban artists, including Keith Haring, Jean Michel Basquait, and of course Bansky.
"From an artistic perspective Pop and urban art just look great on a wall and they blend extremely well with mid-century design," Panayiotou says. "Mid-century artwork you can't blend with mid-century furniture, it doesn't work, so it is either abstract, Pop or urban art — we chose Pop and urban because we think it compliments nicely. It is also an appreciating asset and so works for clients from an economic perspective."
| | |
| --- | --- |
| | |
| Banksy, Love Is In The Air (Flower Thrower), 2003. Screenprint, signed, edition of 50. Love Is In The Air (Flower Thrower) is one of Banksy's earliest and most iconic images, released as a limited edition screen print in a series of 500, the first 50 of which were signed. | |
Panayiotou has seen an enormous increase in the value of his inventory. "Someone like Bansky has gone up about 2000% in the past couple of years," he says. He also has Warhol works. "Warhol's tomato soup cans prints of which there are 200 were selling for 14–15,000 pounds per print when I started collecting and today you would be hard-pressed to get change out of a sale for about 130–140,000 pounds."
Warhol is the most popular of all the Pop artists and holds the record for the most expensive artwork sold at auction, $195 million for a blue Marilyn print/painting made of acrylic and of silkscreen on linen from 1964 sold at Christie's New York in 2022. A silver Car Crash silkscreen ink and spray paint on canvas sold at auction in 2013 for $105 million. Another ten of his works have sold for over $50 million dollars each.
Warhol is popularly believed to have created over 10,000 artworks throughout his long career, including paintings, photographs, drawings, and most copiously, prints and multiples (objects) that were a real passion of his: Beginning in 1972, he began accompanying every new series of paintings he produced with a print portfolio.
| | |
| --- | --- |
| | |
| Banksy, Very Little Helps (Tesco Flag), 2008. Screenprint, signed, edition of 299. Very Little Helps, also known as Tesco Flag, shows a group of children surrounding a flagpole. Instead of raising a flag, one of them is raising a Tesco-branded bag while the other two are pledging their allegiance with their hands on their hearts, against a serene blue background. A clear reference to Tesco's famous slogan "Every little helps" Banksy denounces the presence of the supermarket chain on almost every high street in Britain and, in some ways, its forcing out of diversity and independence. | |
The art market website Artnet recently conducted a survey of Warhol's market and found that his prints and multiples market is dominated by its "staggering volume." Using data derived from their price database they noted that "since 2010, 14,776 Warhol prints and multiples have appeared at auction, with an average sell-through rate of 79%." In the first half of 2022 alone, the Artnet price database recorded "504 prints sold for a total sales value of $33,687,468." That is an enormous amount.
Artnet attributes much of the success of Warhol's editioned works to the "wide range in price points". His average sale price in 2022 they noted is around $67,000, but the auction results have "ranged from $4.9 million, for a complete set of the 1967 Marilyn prints, to a $250 silkscreened exhibition poster." Warhol's prints, in short, continue to be popular not just with serious art collectors but the art-loving public at large.
"Whether one is speaking of first-generation icons like Andy Warhol and Roy Lichtenstein or subsequent generations from David Hockney (who doesn't consider himself a Pop artist) to Yayoi Kusama — the market remains strong," says Robin Starr, Vice President & Director of American & European Works of Art, Bonhams Skinner. "These artists have proven track records that only continue to climb. They attract art buyers who are focused on art as an investment. Collectors buying art they wish to live with, find the works visually appealing and often joyful."
Pop art made for excellent results at Bonhams Skinner's recent online Prints & Photographs auction. "The Prints session was especially strong, and Andy Warhol was the star of this auction," Starr points out. His signed Flowers mailer went way past its estimate of $20,000–30,000 to sell for $94,875. General Custer and Ingrid Bergman with Hat likewise faired well, both selling at $75,975. Works by Lichtenstein and Hockney also met and exceeded expectations in the auction.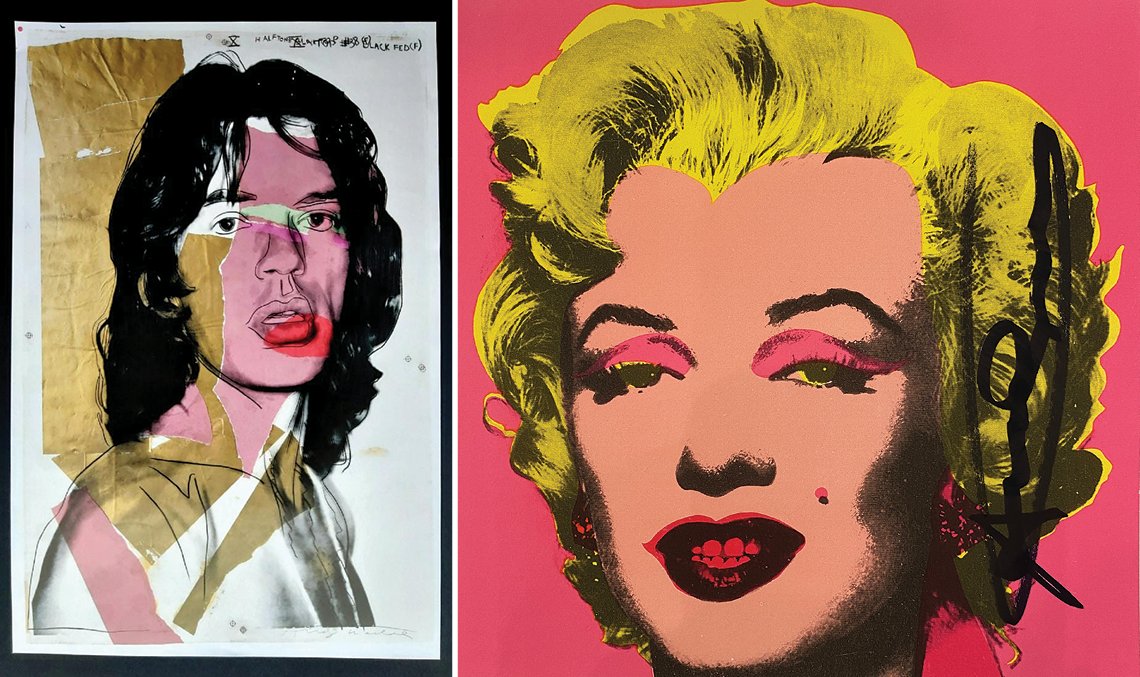 Left: After Andy Warhol, Mick Jagger, 2010. Offset lithograph poster, 34 x 22 in. Signed in plate on the recto. Stamped by Museum of Modern Art, Vienna on the verso. Published by the Museum of Modern Art, Vienna. Right: Andy Warhol (1928–1987), Marilyn Monroe (Announcement), 1981. Hand-signed with black marker. Edition of Castelli Graphics, New York, 1981. Offset lithograph in colors, 17.5 x 17.5 cm. Marilyn Monroe on wove paper, the full sheet, with text printed on the reverse. Images courtesy of Lyons Gallery.
Left: Andy Warhol (1928–1987), Flowers, 1964-65. Color offset lithograph on paper. Courtesy Bonhams Skinner. Sold for: $94,875. Provenance: The estate of Marcus Ratliff, Vermont. Right: Andy Warhol (1928–1987), With Hat from the portfolio Ingrid Bergman, 1983. Color screenprint on Lenox Museum Board. Courtesy Bonhams Skinner. Sold for: $75,975; est. $45,000–65,000.
"The beauty of pop art is that it is accessible to everybody," says Elizabeth Bowen, Marketing and Communications Manager of Lyons Gallery in Australia — they have several locations around the country selling Pop art prints among other things. "You don't need expertise to find pleasure and meaning in the work. Pop art's intertwinement with contemporary and popular culture has kept it relevant throughout the years. It presents imagery to the audience they not only enjoy but can easily relate to."
Pop artists in general embraced the medium of printmaking with its democratic ability to inexpensively replicate multiple versions of the same image, employing innovative techniques such as monoprinting, stencils, photo-silkscreen, as well as the traditional printmaking methods such as drypoint, etching lithography linoleum and woodcuts.
Warhol was a pioneer, a master formal innovator, and frequently experimented with other techniques such as hand-embellishing his images with diamond dust.
Warhol loved repetition — he had 2 long-term relationships with men who were both one of a set of twins, his biography reveals. He loved the idea of coming up with a design and making a series so the image didn't sit just in one person's home. He wanted to spread the design among many collectors. He was panned at the beginning for this approach to art, people said it was just about making money. But he truly believed in making things everyone could have and afford.
| | |
| --- | --- |
| | |
| | Roy Lichtenstein (1923–1997), This Must Be the Place, 1965. Offset Lithograph, 21⅜ x 16 inches. Signed on the plate and in pencil lower right. Published by Leo Castelli Gallery, NYC. Reference: Corlett III.20. Image courtesy of Ro Gallery. |
Lichtenstein also loved printmaking and the bulk of his work bought and sold today is prints, with 13,381 records of sales of prints and multiples documented in the Artnet database. His highest auction record is over $95 million for an oil on canvas painting set at Christie's in 2015, though when it comes to prints around $700,000 is the limit — the record for his most expensive print is "Nude with Blue Hair" from 1994 sold for $769,000 at Rago/Wright in 2021. High edition numbers and a voluminous number of popular prints can often depress prices but demand for his work remains voracious.
Among the other Pop artists Jasper Johns has a solid print market, his images of the American flag, in an edition of 65, from 1973, regularly sell for above $1.5 million at auction. Tom Wesselman multiples are also popular with collectors, with editions of his enamel paint on cut-out steel wall panels selling for above $200,000. Meanwhile, the unique pieces have reached as high as $2 million. David Hockney's now famous swimming pool paintings have been translated into prints of various editions and all sorts of sizes and regularly sell at auction for close to $1 million.
Among the second generation of Pop and street artists, Banksy and Basquiat stand out for the extraordinary prices paid for their prints at auction. Basquiat in particular has a strong print market and in 2018 "Untitled (Return of the Central Figure)", 1983, a silkscreen and ink on canvas in an edition of 10 sold for $2.5 million. Banksy prints and multiples have reached over $4 million for spray paint on canvas and metal, the works sometimes signed, sometimes not, and all in large editions. A 2004 screenprint on paper, edition of 88, signed, sold for $1.5 million at Sotheby's in London in 2021.
Traditionally prints do not appreciate at the same pace as original works of art. That has changed in the past few years according to Constance Aehlig from Bernard Jacobson Gallery in London, who has seen in the past 3 years "an uptick" in demand for prints by 20th-century masters. "Everyone wants to be part of the art world today," she says. "The general audience for art is increasing everywhere at a rapid rate and prints are being recognized as valuable works and frankly are now the only ones you can buy by a recognized artist given everything else has become so expensive."
Alex Katz (b. 1927), Grey Day, 1992. Screenprint on rag paper, 22 x 72 in. Signed and numbered in pencil, edition of 26/75. Printed by Styria Studio, NY. Published by Chalk and Vermilion Fine Arts, Greenwich, CT. Image courtesy of Ro Gallery.
More availability and a range of prices, along with the brand recognition of the Pop artists, make Pop prints a good entry point for new buyers in the market, Aehlig says. "There is no risk, the artist is a known quantity, the print is a known quantity." Color is a major selling point in the print market today, she also notes. "It can be difficult to sell black and white prints but everyone wants color in their house. Andy Warhol, Roy Lichtenstein, Bansky, Jean Michel Basquiat, Jasper Johns, Tom Wesselman or Keith Haring — they all look very attractive to the contemporary eye. Color is important."
Robert Rogal from Ro Gallery in New York deals a lot with Lichtenstein and Warhol and other first and second-generation Pop artists. The gallery was founded in 1972 and today they have a 10,0000 sq foot building in Long Island City with over 8,000 artworks. He sells to galleries wholesale as well as direct to interior designers and decorators and says that while the demand for high-end print works by recognized artists is increasing, acquiring material to sell to his clients is a lot harder.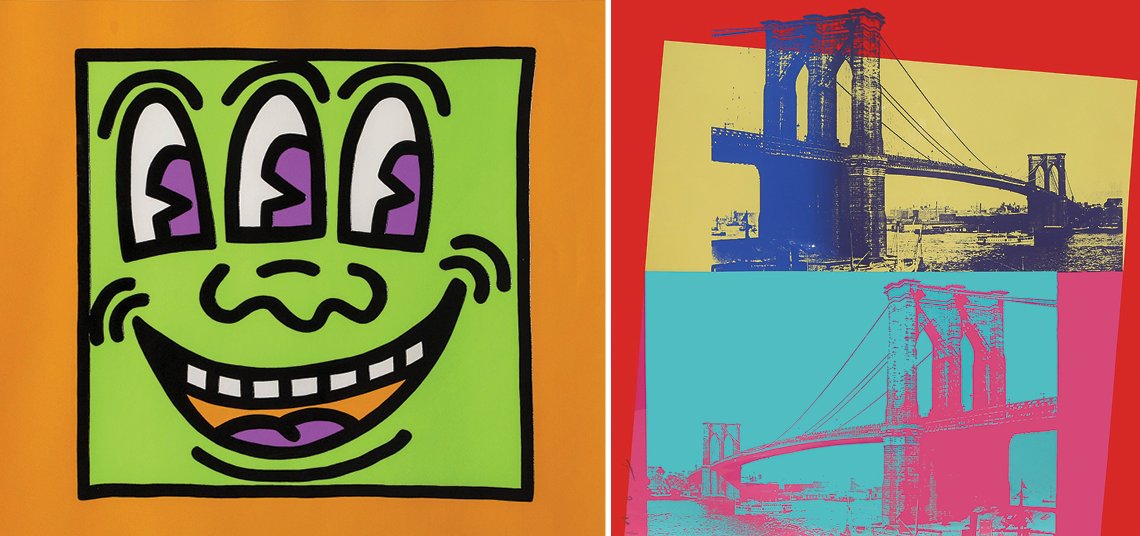 Left: Keith Haring (1958–1990), Icons – Three Eyes, 1990. Screenprint with embossing on Arches Paper, 24 x 27½ inches, unsigned. Edition of 250 (Printer's Proof). Reference: Keith Haring: Editions on Paper 1982–1990, The Complete Printed Works by Cantz, edited by Klaus Littman, pp. 170–71. Right: Andy Warhol (1928–1987), Brooklyn Bridge, 1983. Screenprint on Lenox Museum Board, 39¼ x 39¼ in. Signed and numbered l.l. Edition of 145/200. Printed by Rupert Jasen Smith, NY. Published by The 1983 Brooklyn Bridge Centennial Commission, Inc, NY. Reference: FS II.290, page 129. Images courtesy of Ro Gallery.
"We have been buying art for 50 years," he says "and I buy art almost every day. But finding those new good works at the right price isn't easy. Prices have gone up so far and so fast that the inventory is almost too hard to replace. That is why we have been moving into other areas such as Picasso prints in anticipation of the 50th anniversary of his death next year." Other dealers like Aehlig confirm that for them, as well as for collectors, it is getting harder and harder to find value in the Pop print market.
Rogal is nonetheless optimistic about the growing market for Pop art prints and brand-name artists in general. "We live in a collectible world, people are spending money on collectible sneakers and baseball cards. The world is collectibles today. They are even selling pieces of furniture or clothing from old television shows. To me, however, there always will be real value in a good piece of artwork by a recognized artist which you can live with and enjoy coming home to."