Roberto Rida on the Art of Making Things That People Do Not Understand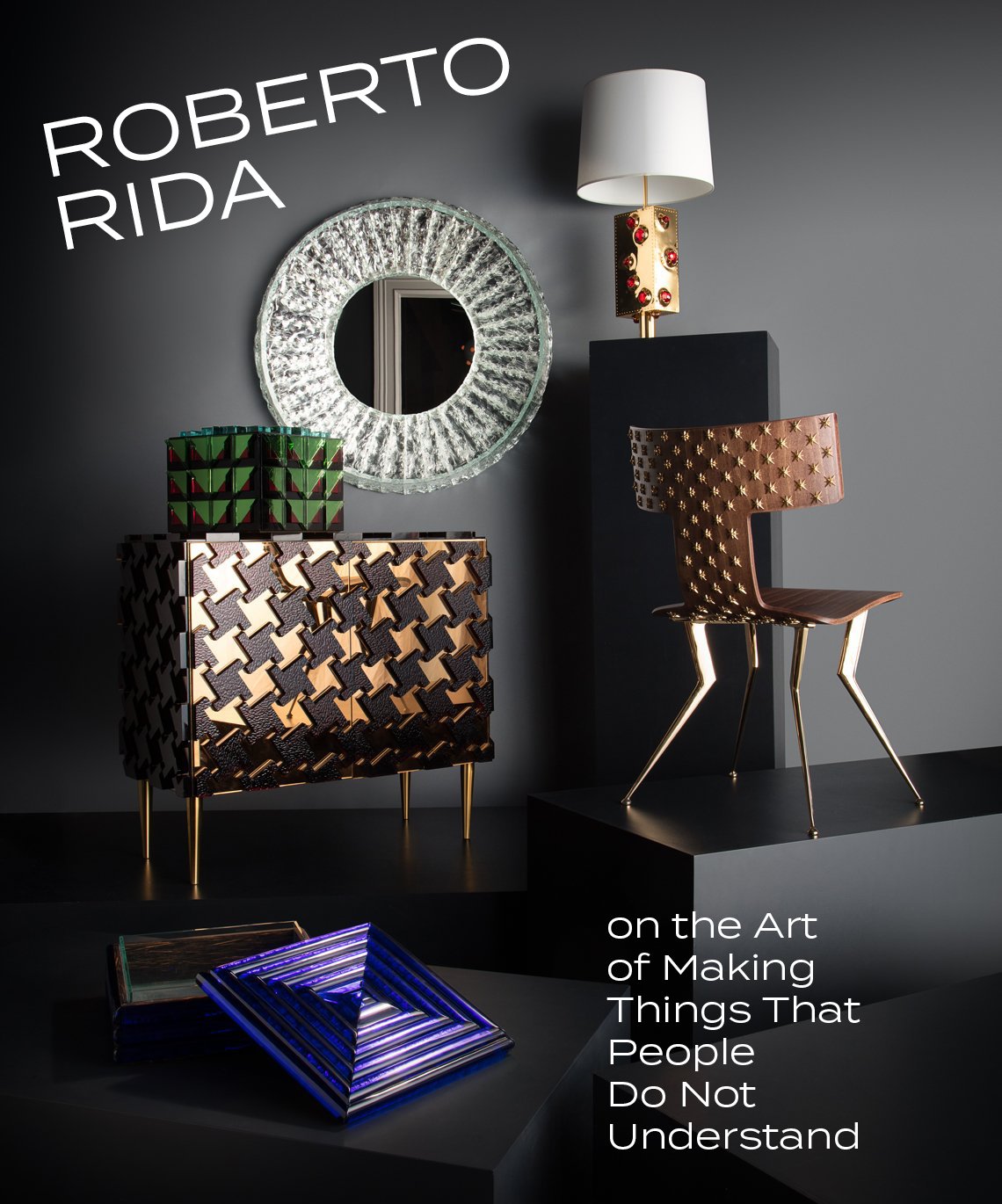 Image courtesy of Bernd Goeckler, Inc. Photo by Joe Kramm.
by Benjamin Genocchio
"My mother says to me every day one mushroom is born," says Roberto Rida, an elegant and soft-spoken Milanese in a blazer and tie standing quietly at the edge of a welcome, major survey exhibition of his work at Bernd Goeckler Gallery in New York.
I'm not sure what he is talking about, or if the meaning of the metaphor is lost in translation in spite of the fact that my Italian comprehension is not too bad. But the display of over a dozen pairs of his bejeweled lamps planted on pedestals of varying heights in bunches in a darkened room resembles, for me, a hidden forest of magic mushrooms. It is utterly alluring and magnificent.
There is indeed something mushroom-like, organic, visually pungent and decadent about Rida's lamps, notwithstanding that they employ two industrial materials only — glass and metal, staples of Italian lighting design since the 1950s. Iridescence and symmetry and surface texture are his signature, achieved through the suspension of colored glass in a finely wrought armature of brass, nickel, bronze, even plated gold.


Left: Copyright © 2022 Roberto Giulio Rida. Right: Image courtesy of Bernd Goeckler, Inc. Photo by

Joe Kramm

.

Rida has reached a level of fame and devotion among collectors that he only works with galleries such as Goeckler where he is celebrating 15 years of representation as a design artist. His designs for lamps as well as for mirrors, chandeliers and custom furniture, some of which are included in the present show, are akin to assemblages, sculpture essentially, with each one signed and marked to confirm attribution.
Glass is the most important element in everything Rida makes. He won't just use any glass either, preferring to work with pieces of modern art glass produced primarily in the 1920s, 30s, 40s, 50s. The material is sourced from factories and glassmakers all across Italy. The artist collects the glass in his studio, sometimes waiting as long as a decade to find the right inspiration, the right application for a design.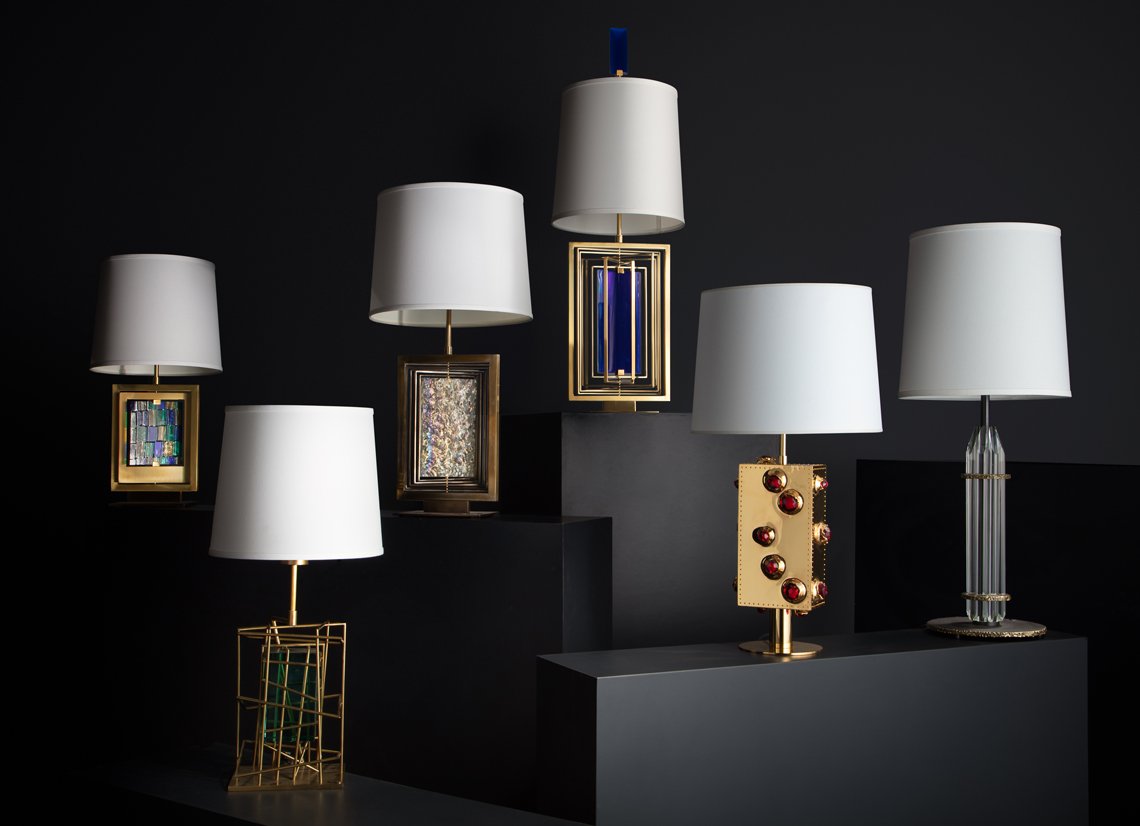 Jewelry for the room, indeed! From left, Giroscopio-Bianconi Chess, with a swiveling checkered vintage glass panel; Prigione Mattoni, with a suspended rectangular green glass block encaged by criss-crossing brass rods; Giroscopio Iride 5 Cornici, with an iridescent clear glass panel surrounded by a series of brass frames, all of which can be swiveled to create unique effects, and at center, rear, Giroscopio, the same design with a sapphire blue glass panel and matching large faceted finial. Next, one of a pair of lamps with riveted bronze plates encrusted with faceted ruby red glass jewels, and lastly, Mini Vlad, with clear glass stakes surrounding a gunmetal structure, held by rings of patinated metal. Image courtesy of Bernd Goeckler, Inc., photo by

Joe Kramm

.

The glass elements in his designs vary from simple, chiseled and discarded chunks of blue-green slag cut from drainage channels at glass blowing factories and used as lamp bases, to surplus hand blown vintage glass objects originally made for Barovier and Tosso and Venini. "The market asks for two lamps, not one," so I have to find beautiful pieces of old and high quality glass that work together," he says.
Everything is made by hand in his Milan workshop. The glass elements are polished to better reflect, absorb,and diffuse light and are frequently, magically suspended in an architectural structure or armature of closely welded brass that is lightly patinated with yellow lacquer to prevent discoloration. The glass elements look like they are floating, suspended in space and might fall, adding to the drama of the design.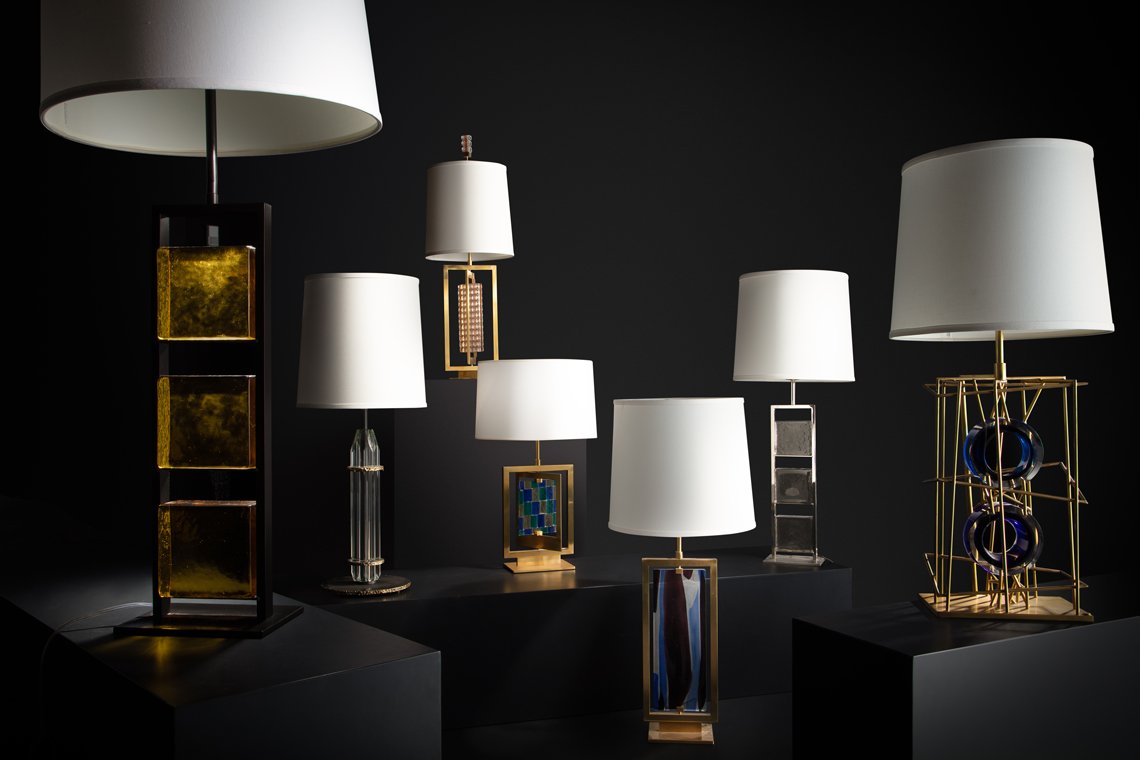 Image courtesy of Bernd Goeckler, Inc. Photo by

Joe Kramm

.

His inspiration lies in Modernism, chiefly art deco and art nouveau and yet he has found a way to transform his raw materials and his historical aesthetic interests into contemporary design. He does not make sketches of ideas, or only rarely, he says, preferring to talk with his craftsman about what it is he is looking for. "The difficulties of execution fascinate me and push me to accept new challenges," he says. "The freedom that I experience when I start a creative project in my head is priceless."
Rida defines his process as "all about the possibility of making things that people do not understand." There is no timeframe for production in his studio, he waits until he is happy with a design, a process that can take years—a gold-plated screen stippled with glass balls at Goeckler contains more than 9,000 individual brass nails. "I don't care how much they cost me to produce at the end, I want a result, I know what the result I want is and so if it is $1000 or $100,000 to make it doesn't matter."
Roberto Rida, Sia La Luce (Let There Be Light), is on view at Bernd Goeckler, Inc., New York, through April 2nd.