Sandra Nunnerley's Serene Upper East Side Apartment
Apartments go on the market every day in New York City, but there are some real estate gems that don't come along very often. A residence in a Beaux Arts townhouse designed by Carrère & Hastings (1895–1924) is one such rarity. So, when Sandra Nunnerley became aware of two apartments in an Upper East Side building by the legendary New York firm, she knew it was an opportunity she couldn't pass up. The New Zealand–born interior designer immediately set to work combining and renovating the spaces into a two-bedroom, floor-through apartment that would blend traditional beauty and modern functionality.
| | |
| --- | --- |
| | |
| | Sandra Nunnerley. Photo by Jessica Nash. |
Nunnerley, who also has a background in architecture and fine art, paid particular attention to the proportions of the rooms and the availability of light. She removed a wall to create a square living room and juxtaposed crown moldings with wide oak floors. "Somehow it's antique and contemporary at the same time, which means I could have this classical space that still feels loft-like," she says. "I wanted that tension. It makes the room more interesting."
The living room showcases an array of works by artists such as Richard Serra and Kenneth Noland, as well as finds from the designer's travels. An adjustable black and lacquer table by Maison Jansen serves as a workspace, or can be moved to the center of the space for dinner parties. "On a cold wintry night we can eat right by the fire," she says. "That's what they used to do in Versailles—just pull up a table and eat in any room. I love that kind of flexibility."

The hues throughout the apartment, from the smoky gray of the bedroom to the rich chocolate of the study, were all carefully chosen for their versatility. "The color palette came from what I like to call the shadow colors—off-beiges and pearlized grays that change with the light of the day," she explains. The effect is polished yet tranquil, providing a neutral backdrop for the global treasures and an eclectic mix of furnishings. The peaceful final product is exactly what Nunnerley had in mind. "The inspiration came from an experience I had in Tibet, standing on a narrow, twisting mountain road," she explains. "I suddenly saw the most dazzling turquoise-blue lake cradled in the green grass of the valley below. As I stood on the mountainside, I felt a profound sense of serenity. I wanted that same kind of feeling in my apartment."
Photo by Giorgio Baroni

Photographs by Morton Bartlett hang above a Louis XIV beechwood table topped with 19th-century gilt objects that Nunnerley has collected on her travels.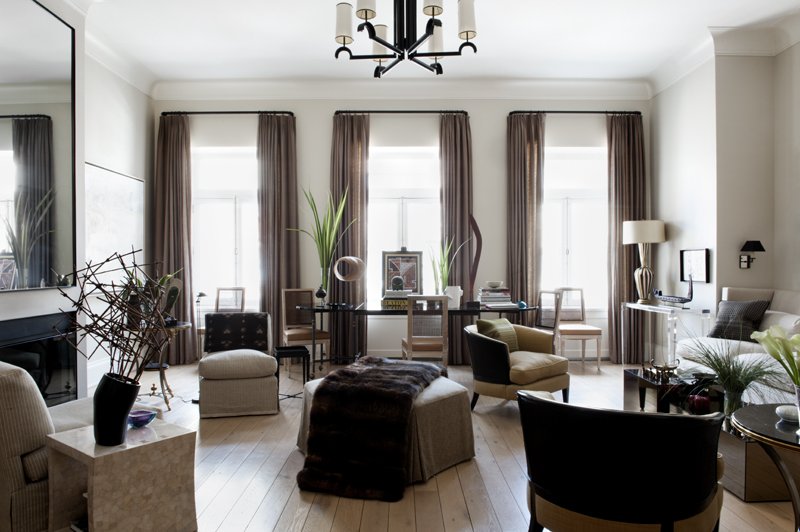 Photo by Giorgio Baroni
"I immediately realized that if I took down a wall I could have a large square living room, something I've always wanted," says Nunnerley. "There's something restful about the clarity of those proportions." A Jean Royére chandelier illuminates the room's multiple seating areas.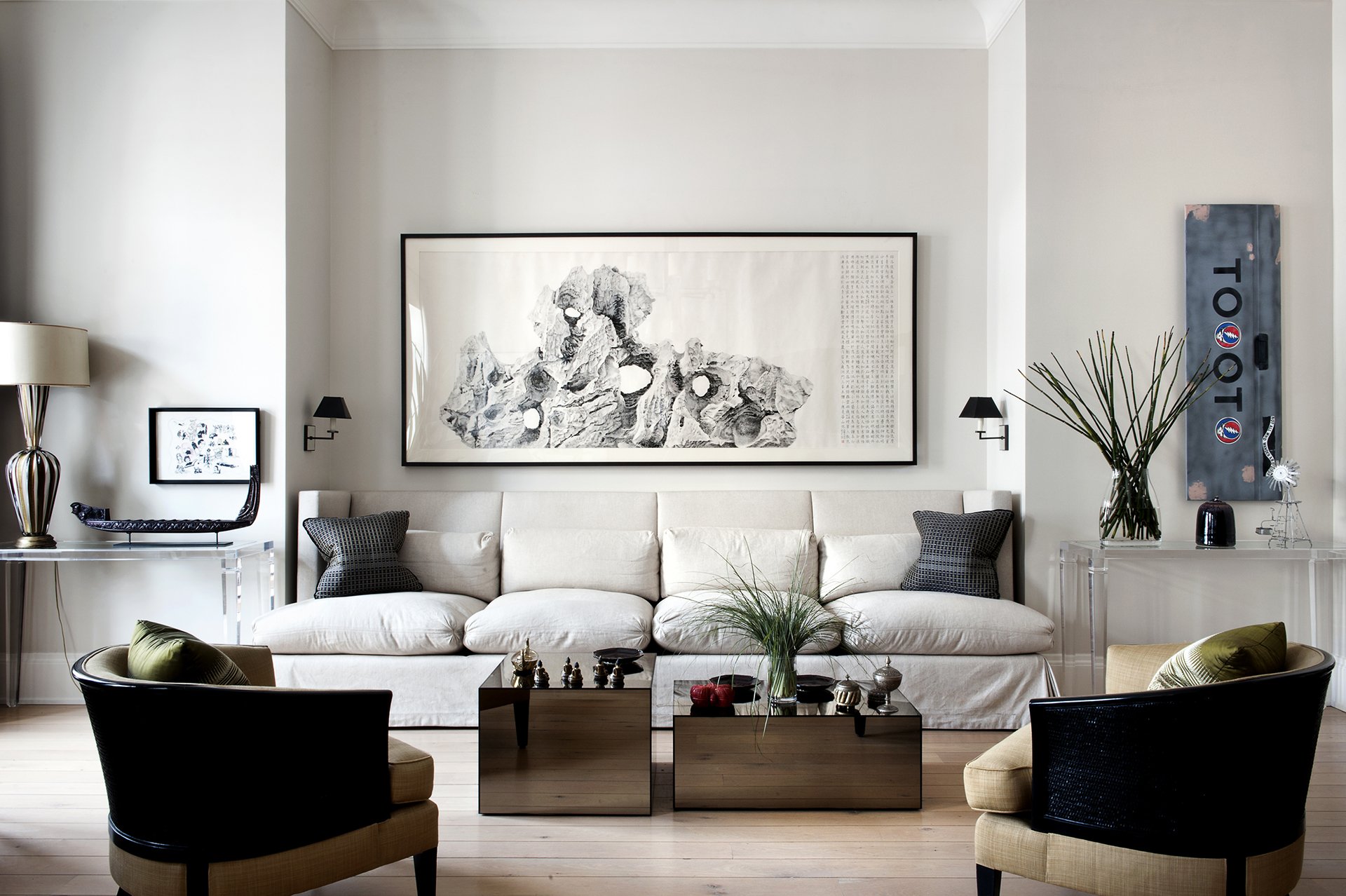 Photo by Giorgio Baroni
Nunnerley designed the living room sofa, which seats six people. "I built a little niche so it wouldn't stick out," she says. "I made it with a very deep, low seat, almost like a Turkish ottoman. Mirrored cocktail tables add a contemporary note.




Photos by Giorgio Baroni



Left: A 1970s Italian Plexiglass console displays a carving of a Maori war canoe and a Murano glass lamp. The chair is a rare piece by Italian Art Nouveau designer Carlo Bugatti. Right: Tailgate by Kaz Oshiro hangs above a matching console across the room. "The carved Ethiopian wooden chair is something I carried back on one of my trips," says Nunnerley.


Left: Photo by Emily Andrews; Right:

Photo by Giorgio Baroni



Left: Kenneth Noland's Diamond is displayed beside Jean-Michel Frank chairs and the Maison Jansen dining table, which is Nunnerley's favorite piece. "It looks utterly sleek and contemporary—a dark watery oval in black lacquer and steel," she says. "It's the perfect table. It expands and contracts to seat ten or two, and it's on casters, which means I can wheel it anywhere." Right: A Jacques Adnet chair resides in the hall beneath Richard Pettibone's installation Brancusi's Dealer.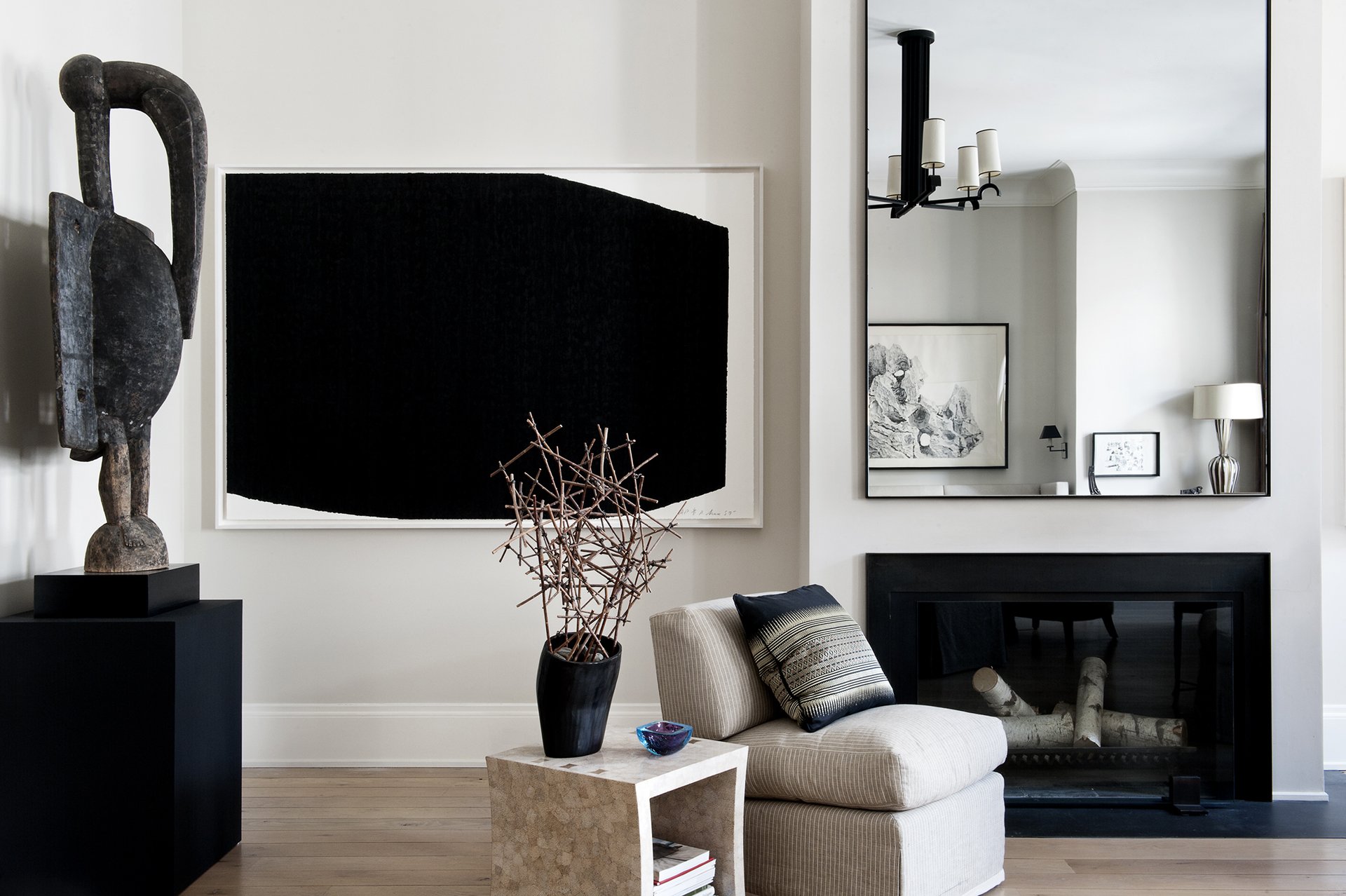 Photo by Miguel Flores-Vianna

Nunnerley is known for her thoughtful use of art in projects and her own home is no exception. "I felt it was very important to include the large-scale painting by Richard Serra hanging dramatically against a corner wall," she says. A Senufo bird statue from the Ivory Coast also has pride of place.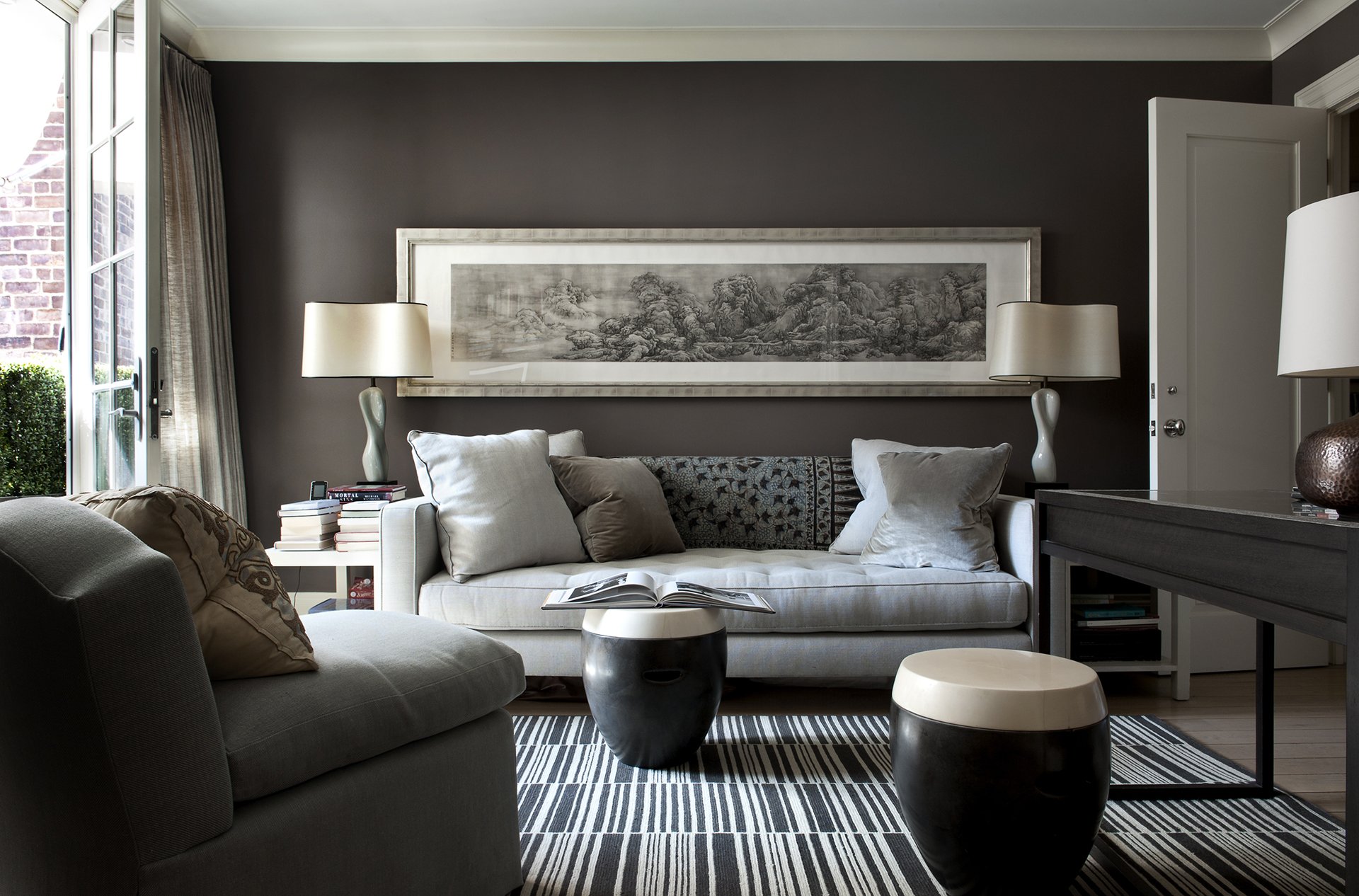 Photo by Giorgio Baroni
Nunnerley added French doors to bring light into the study, which also serves as a guest bedroom. "The lines of the graphic wool carpet remind me of a Tibetan monastery's tattered curtain," she says. The table lamps were made from 1970s Italian vases.




Left: Photo by Miguel Flores-Vianna; Right: Photo by Jonny Valiant
Left: "I kept my kitchen separate because I like to have the option of closing off the kitchen from the living room," Nunnerley says. A portrait of the designer by David McDermott and Peter McGough brightens the hallway. Right: Nunnerley chose the fabric for the master bedroom's headboard because it reminded her of Machu Picchu. The designer admits that the room is her favorite space in the apartment. "It provides you with a sense of serenity," she says. "It's a room you want to come home to at the end of a long day."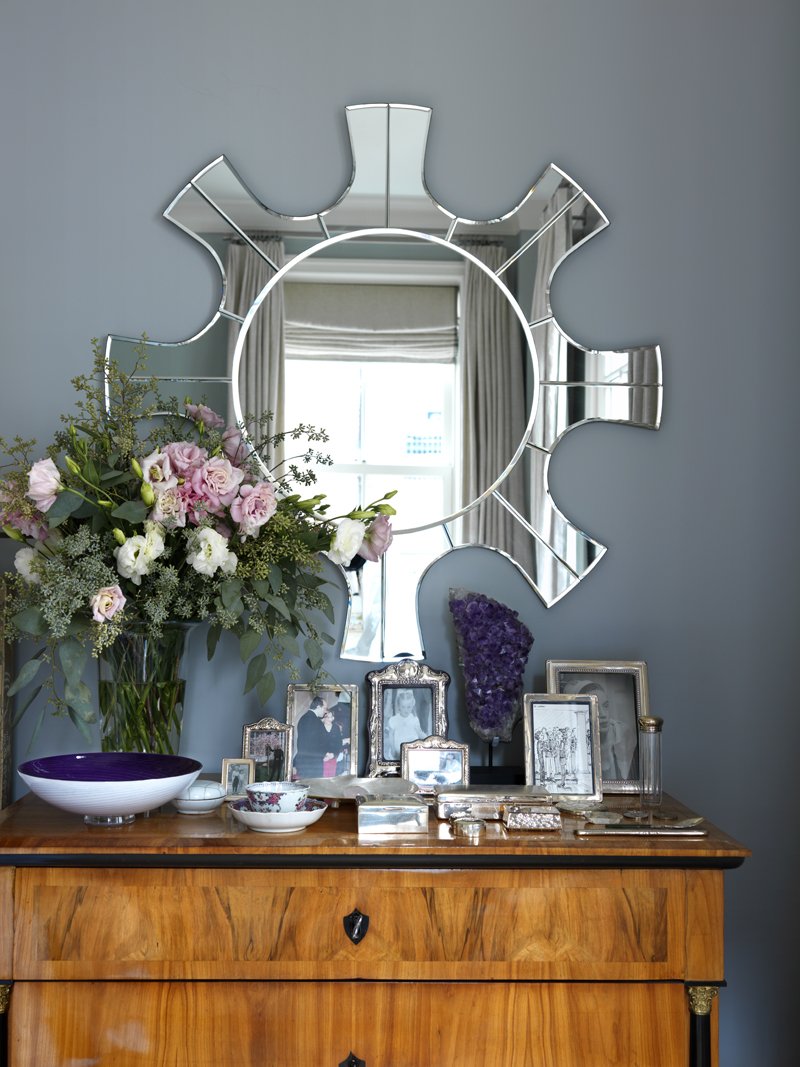 Photo by Giorgio Baroni
In the master bedroom, a mirror by Tommi Parzinger hangs above a Biedermeier chest, which displays family photographs and a crystal from Andy Warhol's estate.

CLICK HERE TO VIEW THIS ENTIRE PROJECT