Simplified Shapes & Unforgettable Finishes from John Lyle Design
Furniture with Flair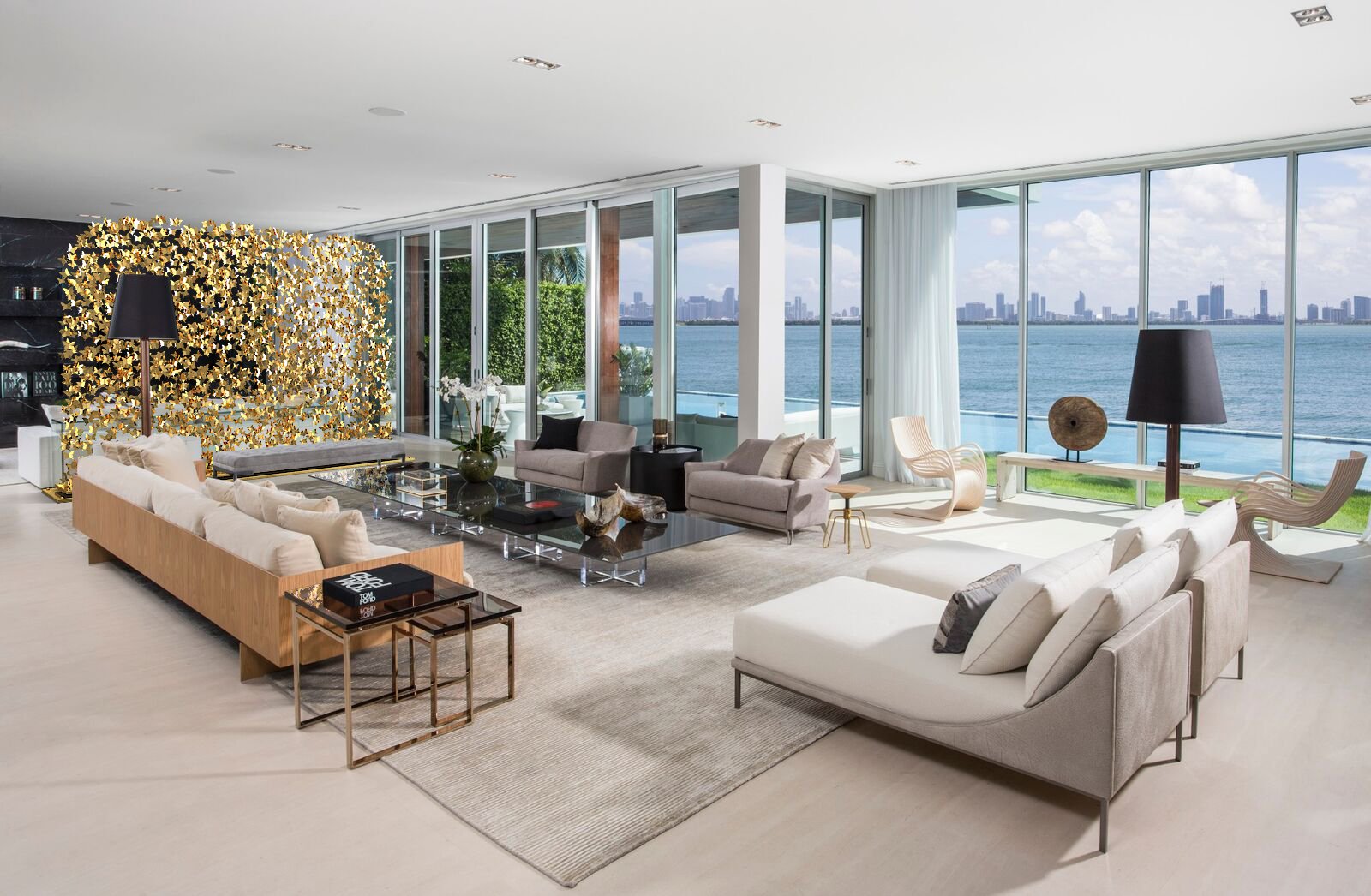 A customized Butterfly Screen from John Lyle Design serves as a functional accent in this open-concept living area.
| | |
| --- | --- |
| | |
| | |
A
fter decades in the New York design world, John Lyle has established himself as an authority on beautiful, luxurious interiors that juxtapose materials and styles. In his furniture, glamorous finishes – lacquered shagreen, mother of pearl, and parchment – are paired with elegant forms designed to complement a range of rooms. He brings an artistic touch to each sculptural piece he approaches, from iconic pieces that play with geometry to simplified forms paired with elaborate inlay.
Lyle first worked in design as a teenager in Jackson, Mississippi, where he assisted a local designer with running errands and upholstering walls. "I was bitten by the design bug early," he says. Following a stint as an agent representing fashion photographers, he launched his first product line in the mid-1980s in New York City and later began designing interiors for clients, often featuring his bespoke furniture. His career has taken him from the communities of coastal Maine to southeast Asia, the Hamptons, and most recently, the Hudson Valley, where he is currently renovating a 1790s Federal house. Lyle's work has been featured in numerous publications including Architectural Digest, Elle Decor, and Veranda.
With a well-honed eye for beauty and unerring taste, Lyle has built his brand on an assortment of customizable designs that appeal to the unique needs of his clients. In the Q+A with Incollect below, the designer explains how he developed his chic offerings over the past several decades.



Shown here in a white mother of pearl finish, the

Mercer cabinet features high-gloss resin lacquer interior drawers.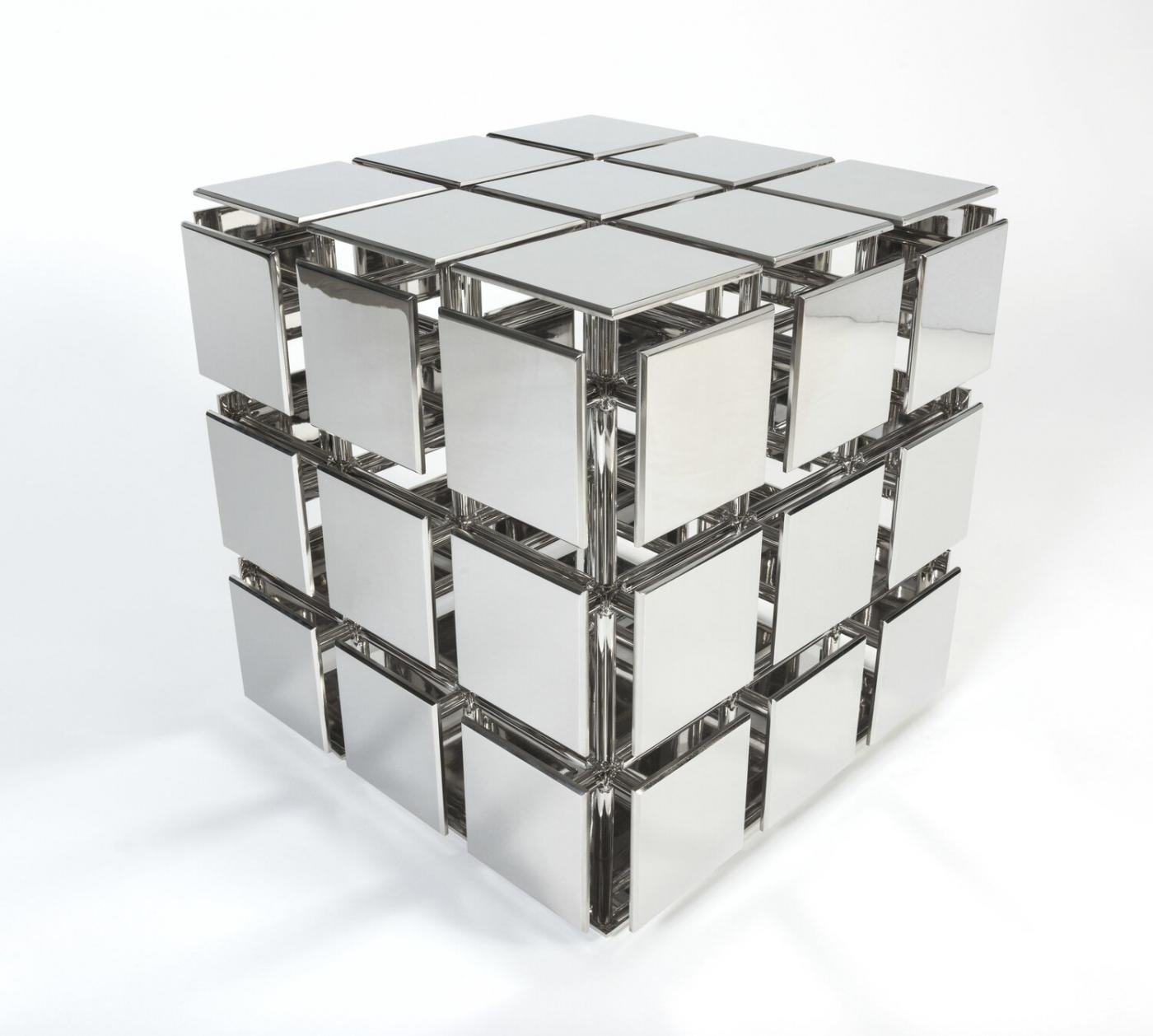 The ornate geometrical faces of the metal
Rubicon
side table.



Above, the

Elizabeth Buffet

is one of the brand's most popular items. This version is finished in pigeon shagreen and decorated with architectural brown bronze handles.
How did you develop your selection of finishes? What was that process like? Did you end up rejecting any finishes?
My finish offerings have developed slowly: one at a time over the last 35 years. I am driven to master materials that I love. My first products led me to the process of lost wax casting with bronze. Following that, I worked with fabricated steel, then wood, shagreen, parchment, lacquer, and sea-shell inlay. Of course, in prototyping many finishes are improved as the work progresses, leaving the first attempts in the dustbin.
Available in a variety of fabricated metal finishes including matte white (pictured top left) and polished bronze (top right and bottom), the ornate
Butterfly Fire Screen
can also be customized as a room divider, wall sculpture, or other creative applications.
Tell us about the design of the Butterfly Screen. How did you come up with the idea for it, and how do you sculpt the individual butterflies?
The butterfly motif took flight after a magical visit to Bai Orchid and Butterfly Farm in Chiang Mai, Thailand. The huge number of beautiful butterflies moved in groups forming clusters and shapes. For our collection, each butterfly is hand cast in white or yellow bronze and then each is hammered, bent, polished, and joined to form the sculpture. The results are joyous.



Pictured here, the

Betty end table is hand-carved with a crocodile pattern and then finished with a snakeskin eggshell lacquer.
What are your favorite pieces from your most recent collection, and in which finishes?
We are doing something new that I am loving — we are carving into the surface of lacquer to create patterns. The lacquer is layered to a substantial thickness using two or more colors and then hand-carved to create a pattern. Check out this one carved in a crocodile pattern.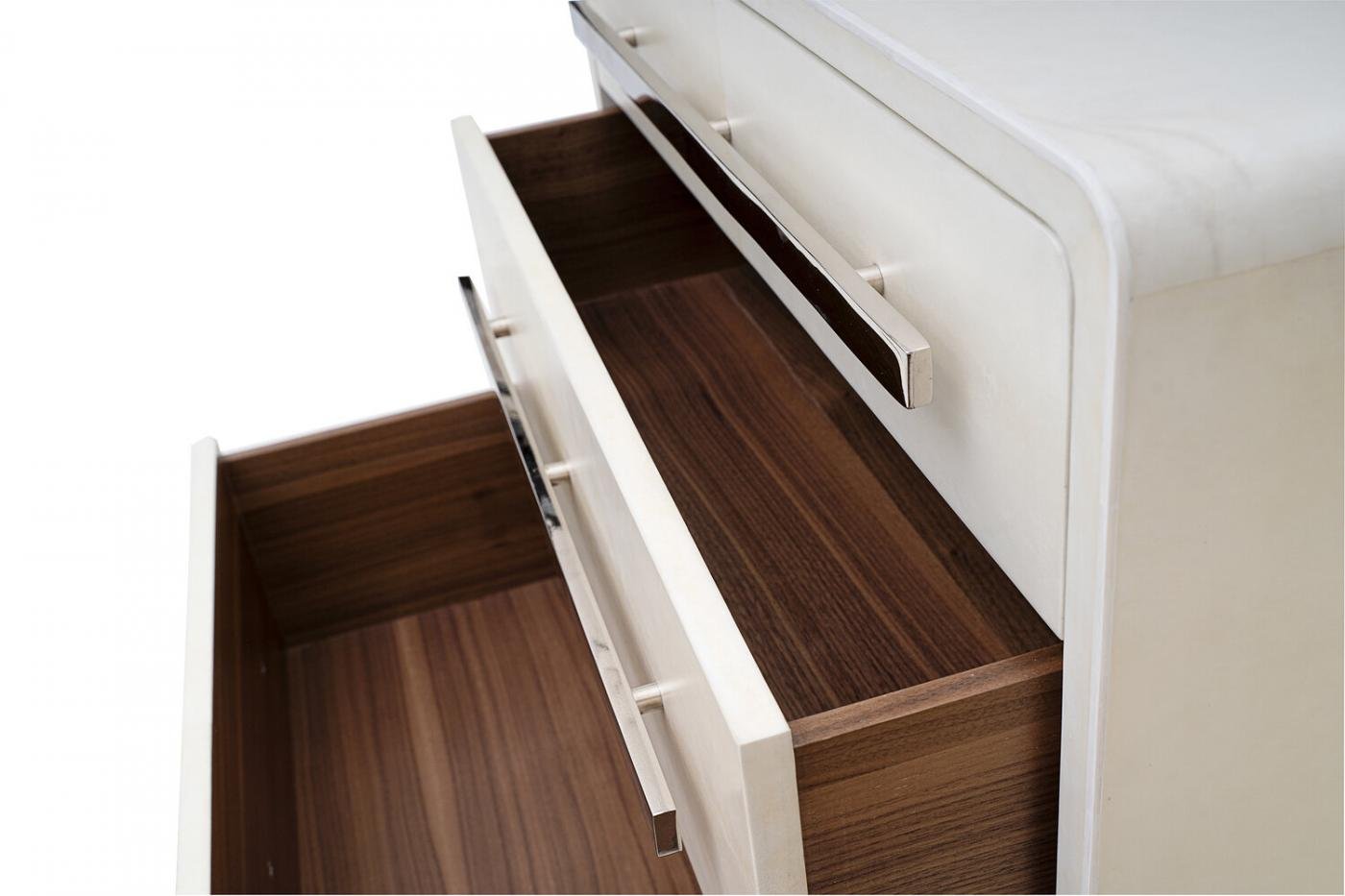 The
Glenn Stand chest
features polished bronze pulls and wood drawers. The exterior here is finished in bleached parchment.
Which periods most interest you as a designer?
All. I have interest in history and design that spans millennia — from cave paintings to the present. I feel a particular attraction to Neo-Classicism, Art Deco, and Bauhaus.... with a little Rococo thrown in for whimsy.


Top: The Vestal Table can be crafted in a circular or rectangular form. The base is customizable in a range of metal finishes including blackened steel, matte bronze, and architectural brown, and the tabletop is available in all of the brand's custom finishes. Bottom: The Vestal Fire Screen.
The Vestal table was an outgrowth of your very popular Vestal fire screen. When you are designing a piece, do you envision an entire product line or does it evolve gradually?
The screen came first and then morphed into many forms, from table bases to benches, and from sconces to cufflinks and bracelets. Everything seems to morph when I design. I start to imagine and develop a component or material in different applications, shapes, and scales.



The top of the

Atlas Table is finished in resin lacquer and decorated with eggshell inlay.
How is designing products different from designing interiors, and how is it similar?
Designing furniture shares goals with designing interiors. Things like scale, color, finish, silhouette, and texture are all shared. Interior designers are producers with great visual talent and (hopefully) similarly great organizational skills. Product design helps with the components the interior designer uses to produce an end result. What I love best is when I can do both for a client — when site-specific custom components can flourish and be used to their greatest effect.



The

Rita Table in linen (left) and the Edwin Table with a bronze finish and rock crystal top (right) are two preferred pieces that are typically in stock and ready to ship.
How did you develop your Quick Ship pieces?
Quick Ship... we all know the world wants objects to appear in the mail as quickly as we can push a key on our computers. But, in reality, special and custom items take time. Art isn't fast, art isn't easy. And often you get the best things when you have patience to wait. That said, although almost everything I make is customized, there are a few things I make that designers do not often customize like andirons, fire tools, and some fire screens. I keep those cast and ready to finish to fill orders quickly. Also, we try to keep in inventory several products that we see designers order again and again in the same size and finish.
What is one of the most elaborate designs you've created?
Perhaps it was a side table that we made in bronze and plated in 24K gold.