Sven Birger Sandzén (1871–1954)
Investing in Art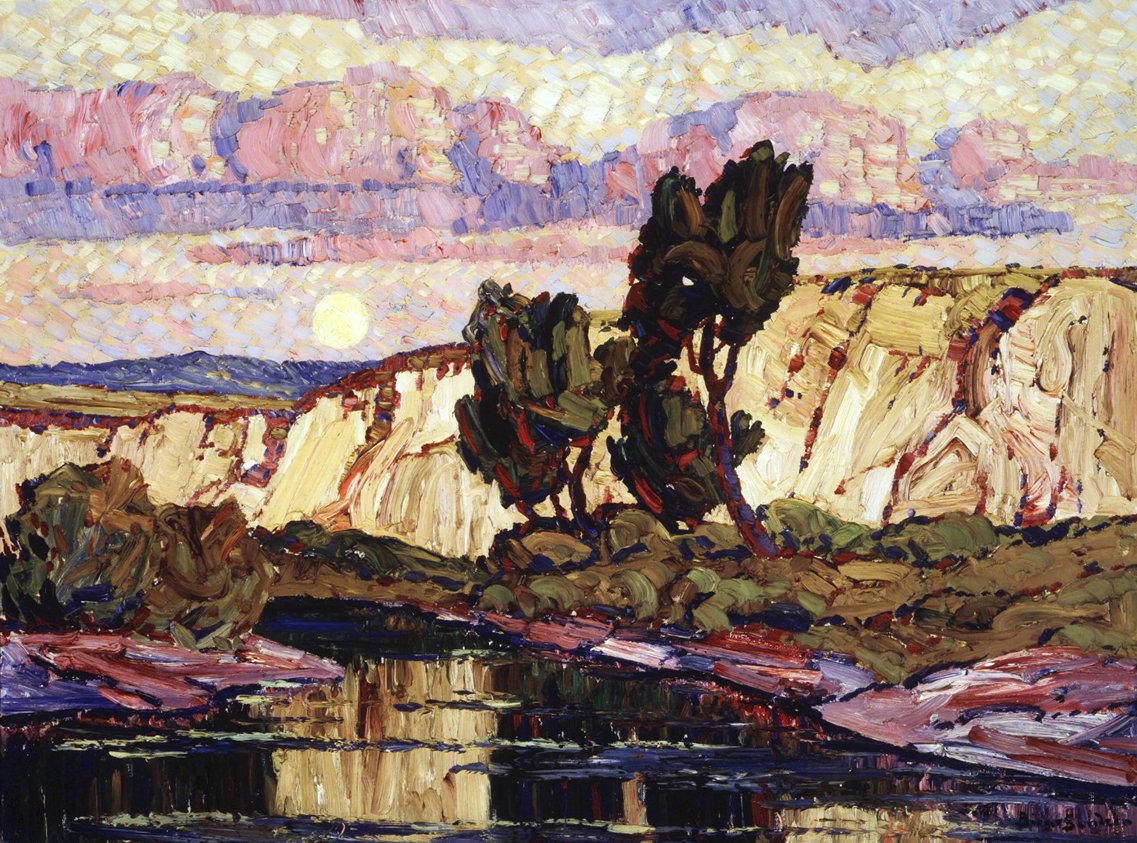 Sven Birger Sandzén (American, 1871-1954). Creek at Moonrise, 1921. Oil on canvas, 35-7/8 x 48-1/16 in. (91.1 x 122 cm). Brooklyn Museum, Gift of Dr. and Mrs. Henry Goddard Leach.

| | |
| --- | --- |
| | |
| | Birger Sandzén in his studio, circa 1932. Courtesy of Birger Sandzén Memorial Gallery, Lindsborg, Kansas. |
Born in Bildsberg, Sweden, landscape painter and printmaker Sven Birger Sandzén (1871–1954) was the son of a rural Lutheran preacher and his wife, an accomplished watercolorist. A protégé of Anders Zorn (1860–1920) and an insider on the lively Stockholm arts scene of the 1890s, Sandzén was among the founders of the Artists League (Konstnärsförbundet) of Stockholm that formed in 1891. In 1894 he studied in Paris, where he learned the semi-scientific color theories of Divisionism (painting with points of color that resulted in vibrant, luminescent images) under Edmund-Francois Aman-Jean (1860–1935), Seurat's studio mate and colleague. That same year, he returned to Sweden for one last summer, where he came under the spell of a devotional book by Carl Aaron Swensson, the charismatic Lutheran pastor and founder of Bethany College in Lindsborg, Kansas. Sandzén fired off a twelve-page application for a teaching job that was met with a three-word invitation from Swensson: "Come at once." The twenty-three-year-old arrived on campus the day the fall semester began, and he remained on the faculty for the next fifty-two years. Remarkable for his dedication, when the Babcock Galleries in New York offered him his first one-man show in 1922, Sandzén missed the opening rather than cancel class.1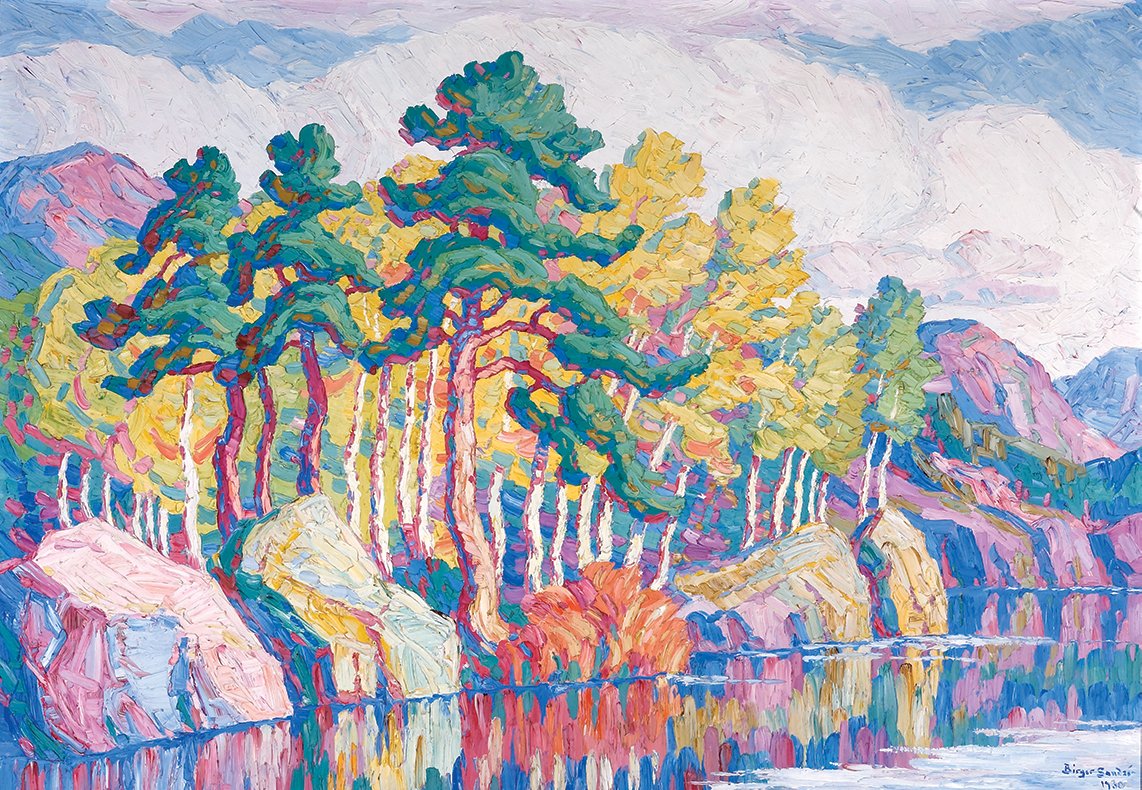 Sven Birger Sandzén (1871–1954), Autumn Symphony, 1930. Oil on canvas, 42 x 61 inches. Signed and dated lower right: Birger Sandzén / 1930. Courtesy of Santa Fe Auction, Santa Fe, New Mexico. In 2006, this painting set the current record price for Sandzén's work at auction of $492,800.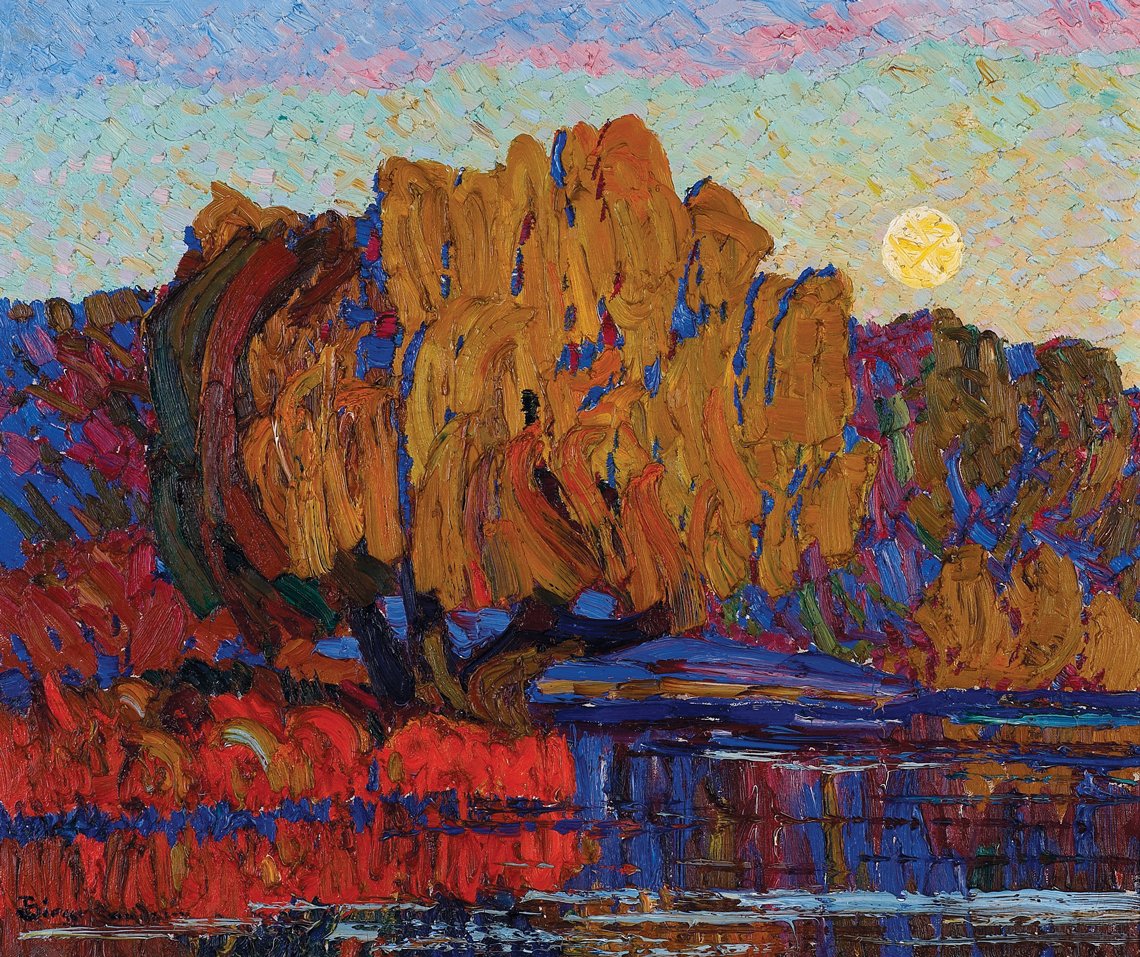 Sven Birger Sandzén (1871–1954), Smoky River, ca. 1919. Oil on canvas, 22 x 26 inches. Courtesy of Birger Sandzén Memorial Gallery, Lindsborg, Kansas.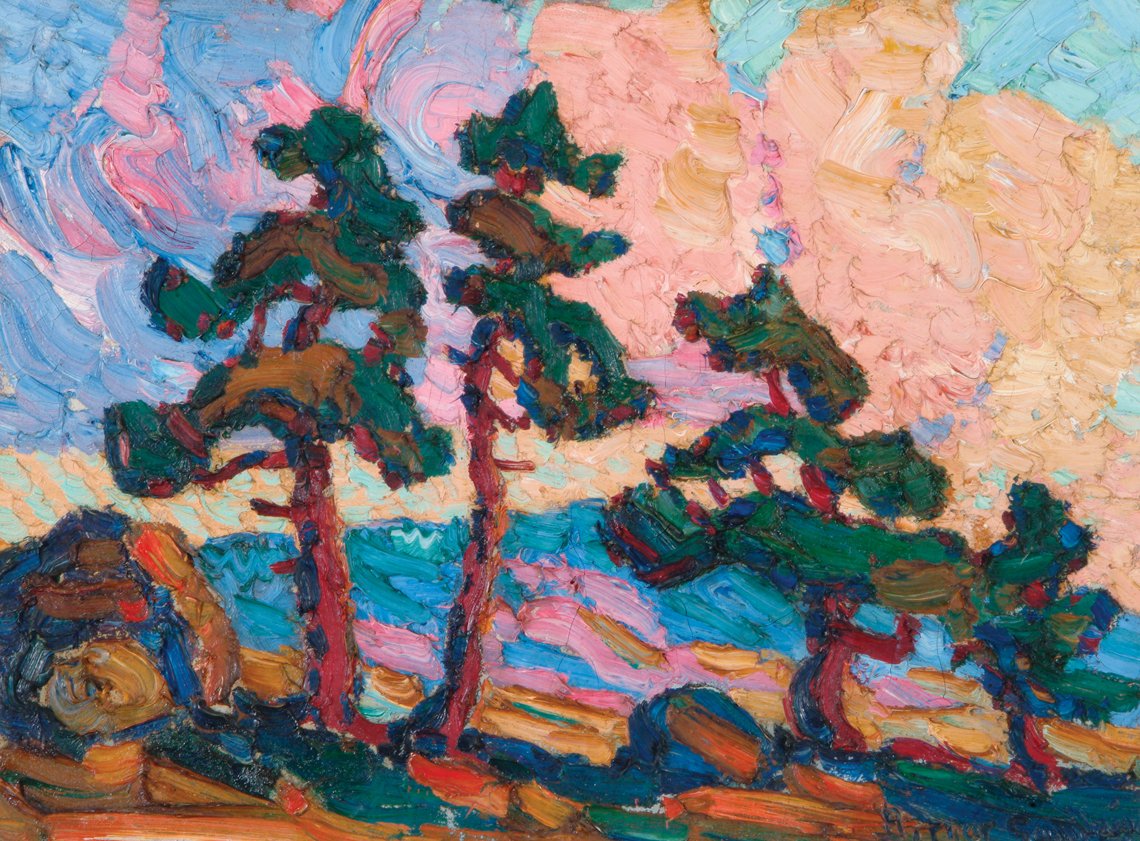 Sven Birger Sandzén (1871–1954), Sunset in the Mountains, ca. 1923. Oil on canvas, 18 x 24 inches. Courtesy of Birger Sandzén Memorial Gallery, Lindsborg, Kansas.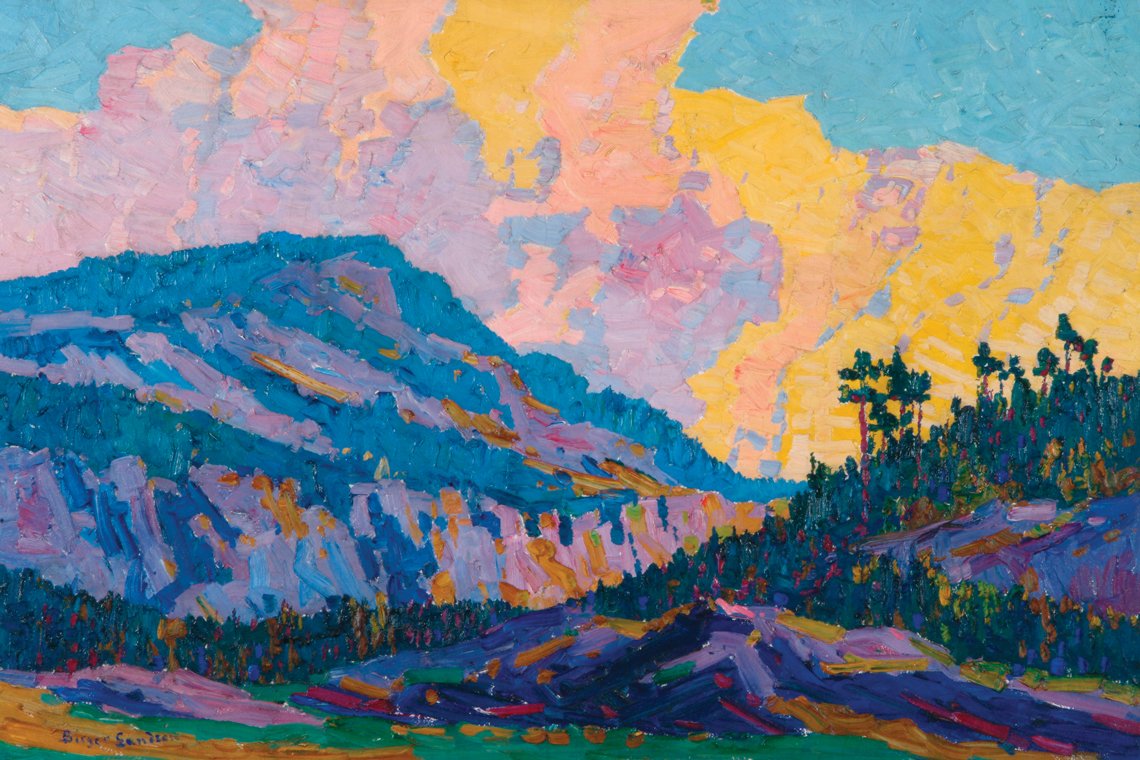 Sven Birger Sandzén (1871–1954), Sunset in the Mountains, 1917. Oil on canvas, 32 x 48 inches. Courtesy of Birger Sandzén Memorial Gallery, Lindsborg, Kansas.

| | |
| --- | --- |
| | |
Sandzén's first trip to the Rockies in 1908 was the beginning of subsequent pilgrimages — to Colorado Springs, Santa Fe, Taos, Yosemite, Bryce and Zion canyons in Utah, and the Grand Canyon. One of the trips out east was in 1948, when he visited Rockport, Massachusetts. In 1915, when describing his painting of the often rugged western landscape to which he was drawn, Sandzén wrote "I feel that one should be guided in both composition and use of color by the character of the landscape…. When painting such [western] motifs, first of all emphasize the rhythm and then sum up the color impression in a few large strokes. In other words: a severe decorative treatment is best adapted for this purpose. One must then use pure colors which refract each other, but which through distance assimilate for the eye — the so-called 'optical' blending — since the usual blending on the palette, the 'pigmented blending,' is not intensive enough and does not 'vibrate.'"2
| | |
| --- | --- |
| | |
| | Sven Birger Sandzén (1871–1954), Timberline Lake, Rocky Mountain National Park, Colorado, 1926. Oil on canvas, signed lower right, titled and dated verso. 22 x 16 inches. Courtesy of David Cook Galleries, Denver, Colorado. $105,000. |
Though his style of painting changed over his career, the above description explains the tenants of Divisionism that Sandzén steadily followed. Most recognizable are his works from the late teens to 1920s that emphasize vibrant properties of color learned from his time in Paris, pumping up his palette to include the brassy yellows set against "purple mountains' majesty." In the 1930s his color selection moved to more natural pastel tones, away from the classic saturation of colors, though he maintained his mastery of colors and the power seen in his brush strokes. Describing his paintings, a friend in 1948 noted "His use of color [is] so startlingly alive it is almost shocking, and his style of painting…robustly applying great, forceful strokes of raw blues and reds to achieve a remarkably pure and beautiful purple. He scorns the 'dirty color' that over mixing pigments gets, rather he strives for clear tones set forth in pure colors put close together to obtain just the right shade."3
Early in his American career Sandzén's landscapes resonated with the growing audience for Southwest art. He was popular enough to attract publishers who produced prints of his work as early as 1916. He also painted mountain landscapes and mural commissions in post offices in Lindsborg, Halstead, and Belleville, Kansas through the Section of Fine Arts, administered by the Procurement Division of the Treasury Department. His work was included in the Denver Art Museum and private collection of Philip F. Anschutz. His two exhibitions in New York at Babcock Galleries as well as in a long string of Kansas, Missouri, Illinois, New Mexico, Colorado, and California galleries, along with his membership in the Prairie Printmakers Society, the Taos Society of Artists, New York Water Color Club, California Water Color Society, Prairie Print Makers Society, and the Chicago Society of Etchers built his coast-to-coast reputation.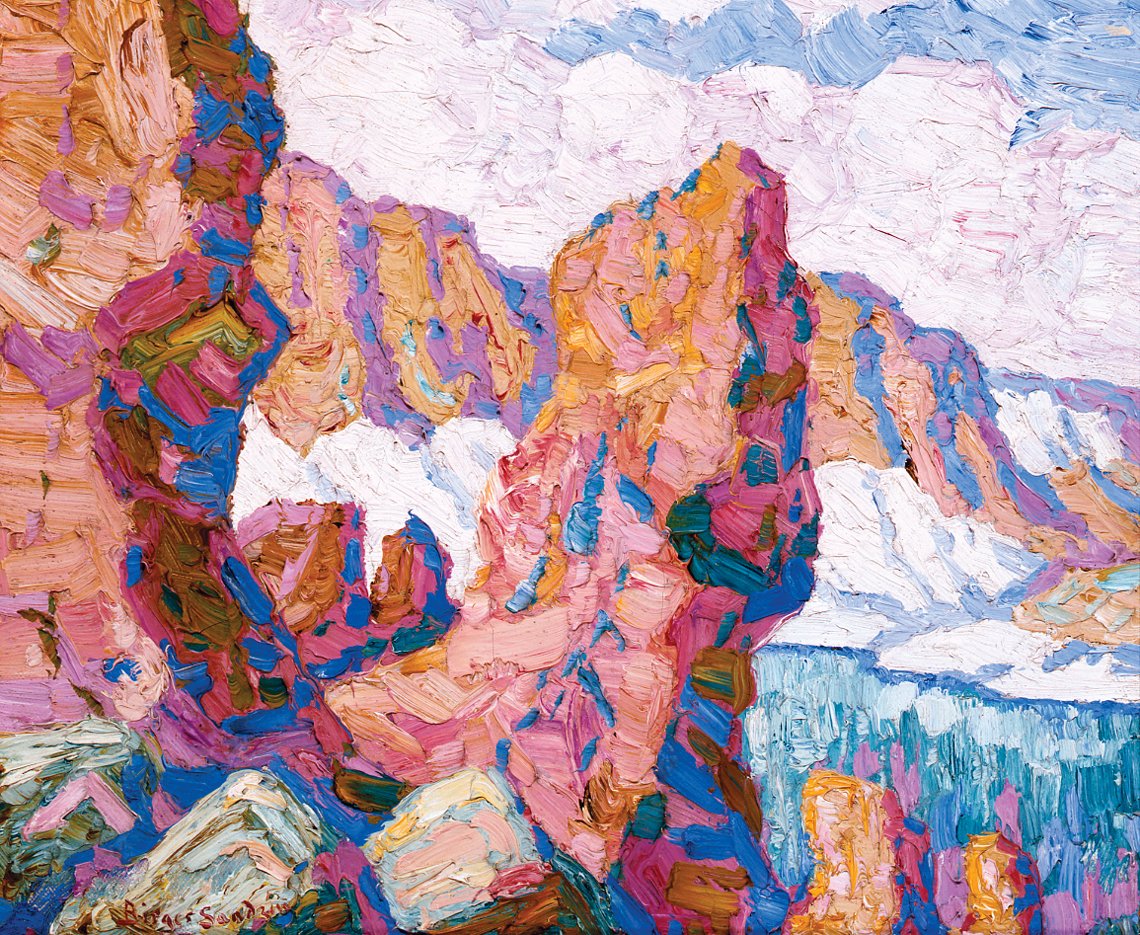 Sven Birger Sandzén (1871–1954), Iceberg Lake, Rocky Mountain National Park, Colorado. Oil on canvas, 14⅛ x 12⅛ inches; 20½ x 18½ inches (Framed). Signed lower left, titled and dated verso, 1930. Courtesy of Owings-Dewey Fine Art, Santa Fe, NM.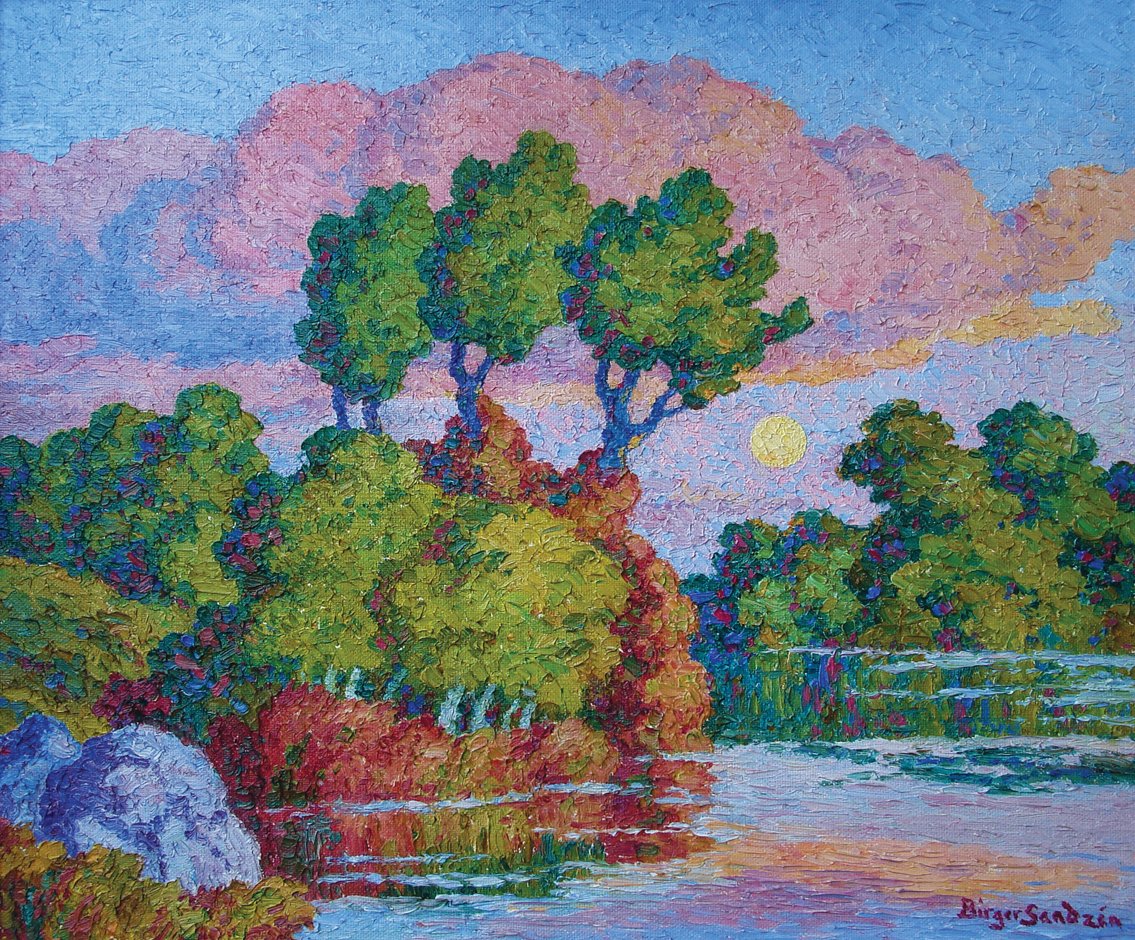 Sven Birger Sandzén (1871–1954), Twilight on Smoky Hill River, ca. 1938–1939. Oil on canvas, 25 x 30 inches. Courtesy of the Hosek Collection.

Although most of his works are in oil, Sandzén was also a talented printmaker and watercolorist, though they do not garner as much interest in the marketplace as his oils. While the work of many artists is either color- or line-based, Sandzén brought the skills of both, and identifying an A-list Sandzén is a matter of finding works that combine sure draftsmanship and fearless chromaticism.
"You can really see an upward trajectory in the marketplace for Sandzén's paintings," says David Cook of David Cook Fine Art in Denver, Colorado. "I have been selling his work for the past twenty years and it is wonderful to see that Sandzén is being rediscovered and validated, and that he is receiving the national recognition that he deserves." Based on his experience, Cook notes, "Buyers favor works from the late teens to twenties as these tend to be his strongest years, though I just purchased a painting from the 1940s that I feel is one of the top five Sandzén's I have ever owned."
Nat Owings, founder of Santa Fe's Owings-Dewey Fine Art, has seen the Sandzén phenomenon mushroom in recent years. "A lot of paintings came on the market when the prices shot up…I would say the more discerning collectors are holding out for particularly strong paintings." Owings notes, "It's a classic market — not all Sandzéns are created equal." His preference? "Anything with a moon in it — and the earlier the better, when the impasto is still rich and those bold colors are at their most dynamic."
Chip Hosek, a collector of American paintings based in Pearland, Texas, had been looking for a major Sandzén landscape for nearly five years when, in the fall of 2006, he turned the corner at an art fair in Philadelphia and felt his pulse race. There was Twilight on Smoky Hill River, circa 1938, a later work with the moon that Hosek required and the vivid display of Divisionist technique that he admired. As Hosek observes, "I didn't appreciate Sandzén's work until after I grasped the technique of Seurat. Only a handful of artists have the talent to transfer minuscule dots of a rainbow of colors to allow the viewer to participate in the depths and pleasure of their detail." Hosek, whose collection of American paintings will be featured in an exhibition at the Pearl Fincher Museum of Fine Art (an affiliate of the Houston MFA) in the summer of 2009, adds, "What I particularly admire about Sandzén is his ability to create a style of his own — you would know a Sandzén from a long way away." Two weeks after Hosek made his acquisition, the dealer who sold him the painting called to tell him a new record had been set for Sandzén: a hefty $492,800 for Autumn Symphony (1930) sold through Santa Fe Art Auction. Four years earlier, $231,000 was paid for Mountain Cabins, Logan, Utah at a Coeur D'Alene Auction in Hayden, Idaho.
---
1. As a tribute to Sandzén's contribution to Bethany College, the Birger Sandzén Memorial Gallery was dedicated on the college campus in 1957. It houses paintings and archives related to Sandzén and a number of his contemporaries. For information visit www.sandzen.org.
2. Birger Sandzén, "Svensk-Amerikanska konstnärernas utställning I Chicago 1912," Prärieblomman kalender för 1913 (Rock Island, Ill.: Augustana Book Concern, 1912), 34–36.
3. Mrs. Paul M. (Hortense) Lindberg, "Birger Sandzén, Artist and Friend," (1948), from Inside Sandzén, Fall 2004, www.sandzen.org.
---
Charles A. Riley II is Director of the Nassau County Museum of Art, prolific arts journalist, reviewer and essayist and author of over 30 books on art.
This article was originally published in the Summer/Autumn 2008 issue of Antiques & Fine Art magazine, a fully digitized version of which is available at www.afamag.com. AFA is affiliated with Incollect.com.