Beauty in the Unexpected: Architectural Furniture with Purpose From Atelier Purcell
| | |
| --- | --- |
| | |
| | |
B
ritish architect Alexander Purcell launched his furniture line, Atelier Purcell, under unusual circumstances. "It was Brexit," he says, explaining his decision to branch further into product design in 2019. As most of his architectural clients put their projects on hold, he began to pursue new revenue streams. "Looking back at the archives of custom furniture we had designed over the past decade for our private clients, it became clear it was time to consolidate them and launch the Atelier Purcell brand," he says.
Brexit aside, Purcell has a natural inclination for architectural furniture. While the majority of their objects were initially designed for specific clients, Atelier Purcell's offerings relate innately to each other through Purcell's distinctive eye for line and function. Tech-driven processes allow for the creation of unusual silhouettes, but then the furniture is perfected by hand, giving it an organic and detailed tactility. His pieces tend to experiment with material, form, or concept, such as an avant-garde marble coffee table with a faceted shape and the undulating face of a bar cabinet. He pays careful attention to the purpose behind his work. "Each object has a reason for being," he says. "We don't just make a chair for the sake of producing a chair."
With a new collection launching in September, Purcell talks with Incollect about his approach to decision-making and the intention guiding his design practice.
The Elysian Dining Table is available with either a wood or marble top. The inlay on the top is a reciprocal profile of the elegant base below. Purcell matched the table with two leather upholstered Khepera Bench, featuring cast legs and ridge detail tapers. The legs of the bench are available in brushed or polished brass and steel, as well as hand-patinated metal.
What's your philosophy as a designer?
I want to create great products that stand the test of time, that are not defined solely by the digital zeitgeist. My work is often generated through conversations with clients about their desires. Other times it's inspired by a manufacturing technique or perhaps the eccentricities of a given material. However I'm going about the creative process, my aim is to instill a sense of purpose, breathing soul into the piece, rather than creating something that exists in a vacuum.

Many products from Atelier Purcell are designed in tandem with one another to ensure their geometries work in unison.
Styled above, a table and storage unit hugs the back edge of the Tuya Sectional Sofa to maximize
the space left by the sofa's L shape. Across from the sofa sits the
Khepera Console
with tapered legs.
Which products best demonstrate your range as a designer?
The Seismic Coffee Table and the Horta Console exemplify a tech-driven approach to the design. At the other end of the spectrum are client-driven products like the Tuya Sectional. With the sectional, the clients wanted a L-shaped sofa, but their London townhouse was deep and narrow. To avoid truncating the space, I designed an off-angle sectional, creating a negative space behind the chaise section of the sofa. A complementary piece of casework was designed for that space along the back edge of the sofa which also includes a slight notch to allow the base of a lamp to neatly nest. Of course, an unorthodox sofa shape meant that a square coffee table would not fit comfortably, so the Cascade coffee table was designed in tandem. The geometry of the table was driven by the angle of the sectional, so that the client would not bang their shins as they sat down. I find real pleasure when my products have a reciprocity between one another, even if they are aesthetically from different collections. This allows clients to curate an interior that has a similar design language, but does not appear repetitive.
The Khepera collection, which includes the recently designed Khepera Drink Cabinet, shows material interconnections and soft shifts in the planar surface of the casework. I like subtle detailing — restrained dynamic movements, like when the shape of a cabinet leg is mirrored in the bottom edge of a door. I also love the Elysian Dining Table. Rather than being a standard square or oval, the top swells very slightly in the middle and then pops out at the ends. To break up the monotony of a long dining table top, an inlay is inserted in a matching finish to the base. This inlay has a reciprocal profile to that of the elegant base, creating a latent visualization of the structural forces applied to the top from below.



Left: Upholstered in bright sapphire leather, the Padus Dining Side Chair gracefully references Art Moderne. The chair is available both with or without arms. On the right wall, the sculptural Wesley Sconce creates a kinetic display of light. Right: Belonging to a larger collection of faceted objects, the well-proportioned Klippen Lounge Chair was inspired by the sedimentary strata that remain in a volatile landscape after erosion.
As an architect, what are some of the most interesting projects you've worked on?
My favorite project is an interior architecture assignment that's a completely blank canvas. The client just says, "I want you to create everything from the space down to the ironmongery." This means we can articulate every aspect of the project with new creations that have never been seen before, and allows us to have a very close dialogue with the client, developing designs inspired by the way they live their lives.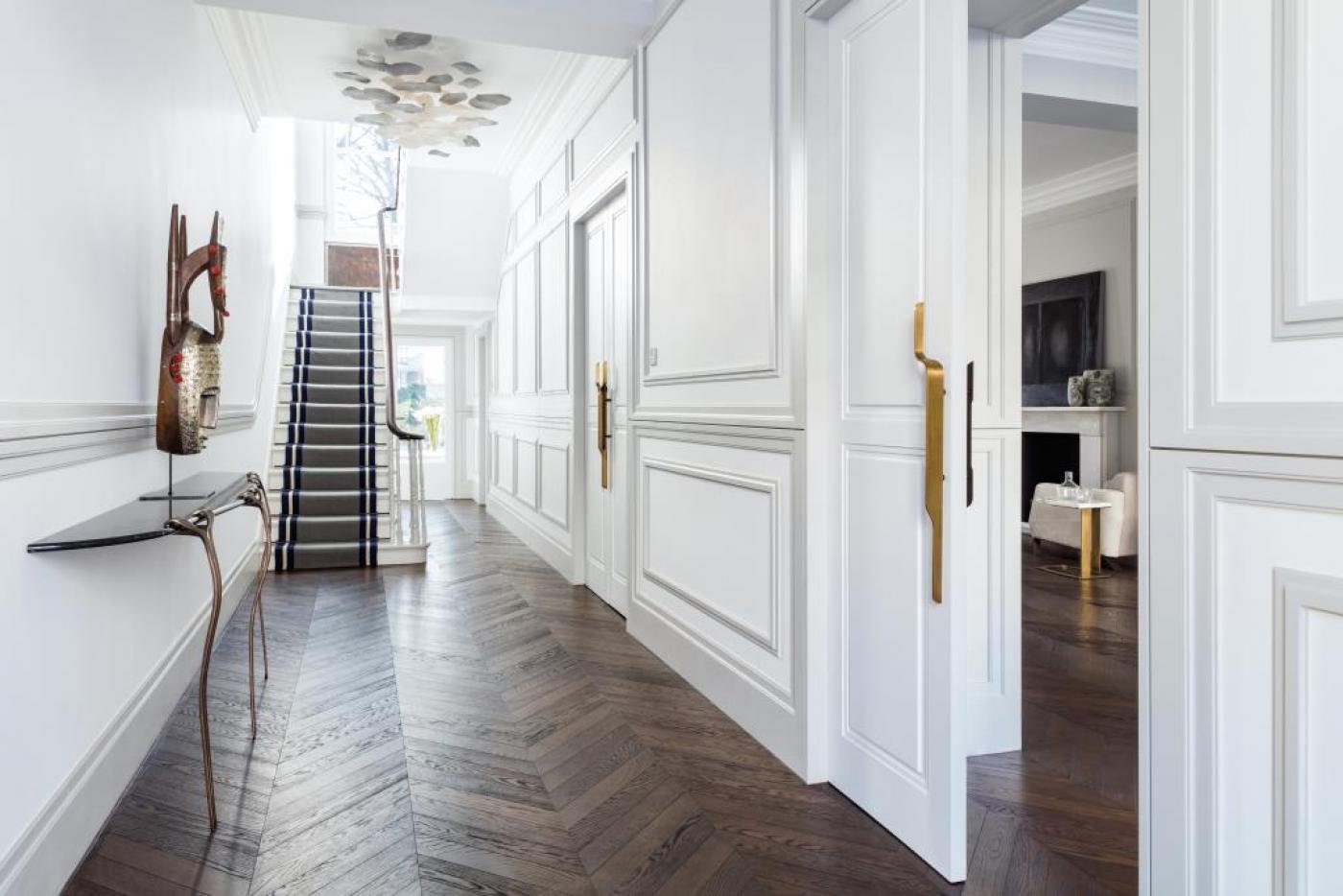 Left: The
Horta Console
by Atelier Purcell is set on the left of this contemporary hallway. Below: A detail of the console's cast metal legs, which Atelier Purcell uses 3D printing to craft, attached to the marble top. "I love marble," says Purcell. "It's thousands of years of history, polished and cleaned up to show a natural beauty that's irregular and random. Every piece is unique and special. At the other end of the spectrum, I love cast metals. It's intriguing to me that their liquid state allows for the freedom to create flowing forms before the metal solidifies."
How do you create a balance of handmade and technology-driven elements in your work?
In my work, I look for a juxtaposition of hand-craftsmanship and technology. Generally, the tech-driven component happens at the front end of the design or production process, then the finishing and finesse is all done by hand. For example, algorithms were scripted to trace and scale the flutes along the evolving surface of the Horta Console leg. Then, we cast the leg in bronze and finish it in the traditional manner. Casting is one of the oldest forms of manufacturing: it can be traced back to 5000 BCE, and can now be combined with cutting-edge form-finding techniques to open new production methodologies. It was a similar marriage of traditional marble craft and modern CNC fabrication techniques for the Seismic Coffee Table.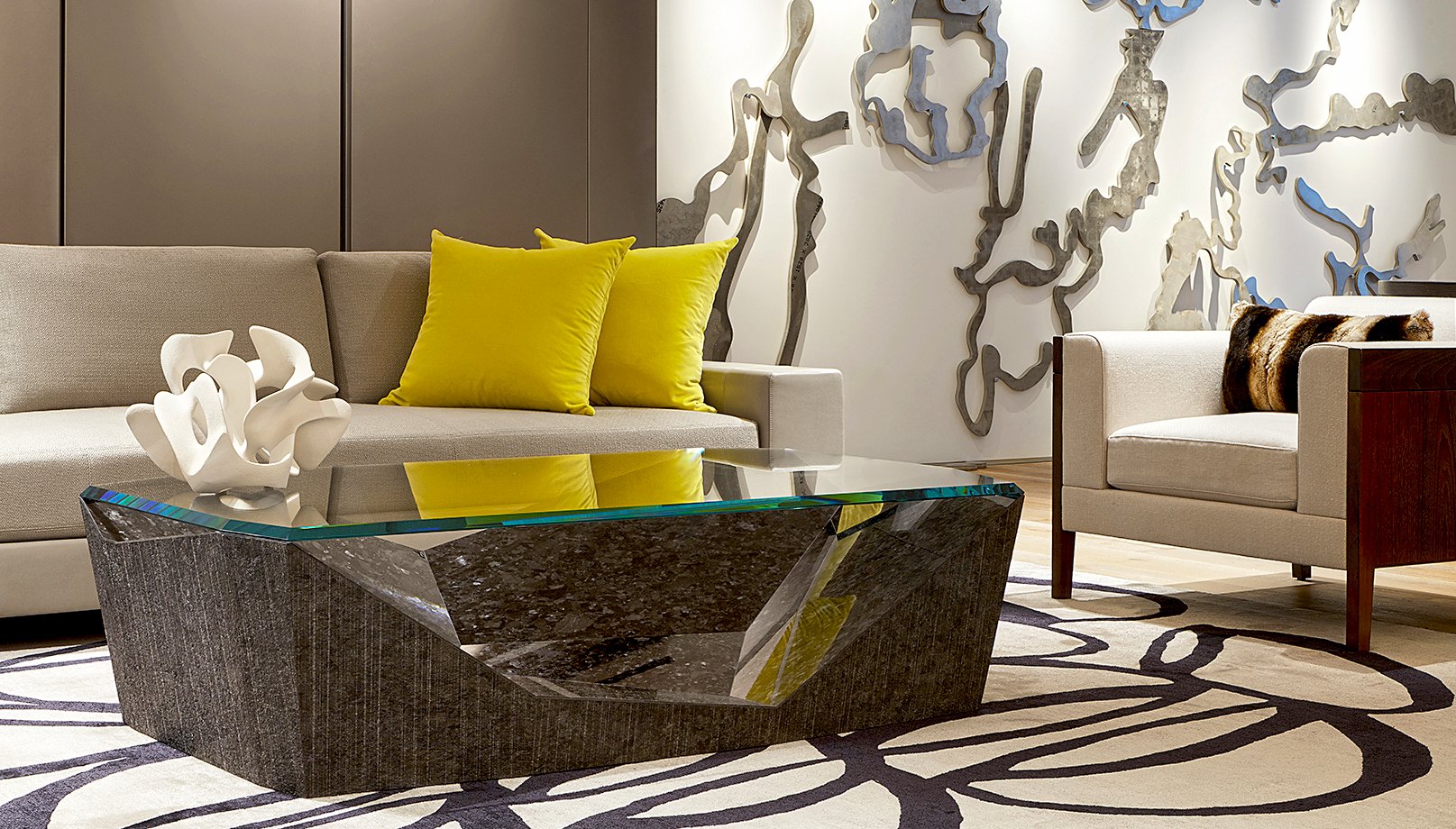 Modeled after a geode, the Seismic Coffee Table features a faceted design and hollow form. Atelier Purcell borrowed cutting-edge marble CNC fabrication processes and honeycomb lamination techniques from the yacht industry to create a table that appears to have been carved from a single block of marble, but is actually hollow and relatively lightweight.
How did you come up with the idea for the Seismic Coffee Table, and how did you bring that idea to life?
It was inspired by geodes originally: the idea of breaking open a stone and finding crystals inside. The original version has a drawn texture on the outside, and the inside was polished to reflect this idea. For a while, my work was inspired by crystalline structures, so this table is an ode to that moment in my life.
There are obviously multiple ways to manufacture the Seismic. One is to get a huge chunk of marble and hollow it out, but that's expensive, wasteful, and heavy. Instead, we partnered with a company that specializes in putting marble in super yachts. As you can imagine, setting chunks of stone onto something that floats is somewhat counterintuitive! Using an aluminum honeycomb core system and CNC cutting, the Seismic Table is actually hollow, with each panel precisely cut and aligned. It is substantially lighter than it would be if it were solid marble, and this approach offers a far more environmentally conscious use of a material that has taken centuries to occur.
We spent four or five months designing and prototyping it. Solid products like dining tables and consoles are actually quicker to move through development than upholstery. With upholstery, you have to deal with "sit", and that takes a long time to perfect. You're playing with multiple foam density combinations, trying to get something soft and comfortable that also looks architectural. Accomplishing this takes a lot of experimentation and adjustment.
How do you select materials for your furniture? What are some of your favorite materials to work with?
Often, the materials are driven by the concept behind the design. A design may start with a single detail, say the arm of a chair, and that element will directly inspire the form language of the entire object, including materials. As such, we arrive at the material selection by considering the structural needs of the initial idea. Maybe it should be thin and yet strong, so then we have to use metal. Other times, we're approaching from a point of interaction the user will have with the object. If we want it to be warm to the touch, then we may use wood. On the other hand, the material can drive the design. The aforementioned Seismic Coffee Table was designed specifically with the articulation of stone in mind.
The
Vista Lounge Chair
, pictured above, was designed for maximum comfort. The legs are offered in brushed / polished brass or stainless steel, obsidian, and hand-patinated metal.
What inspired the Vista Lounge Chair? Which project was it initially designed for?
The Vista was originally designed for a private client in London. Our mission was to create a lounge chair that had a dynamic stance with a relatively small footprint, because it was going to be placed in a bedroom. We were aiming for an object that was visually intriguing, but wasn't a big chunky lounge chair. The arms of the Vista are streamlined, the cut of the bottom arm allows the legs to clasp the sides of the seat, and the back legs flow down in a similar geometry to the back of the chair for a dynamic appearance. It feels like it's moving in space, even though it's obviously static. It was also designed as a reading chair, so we included lumbar support and a foot stool. The client wanted to be able to read their book and look out the window — hence the name, Vista.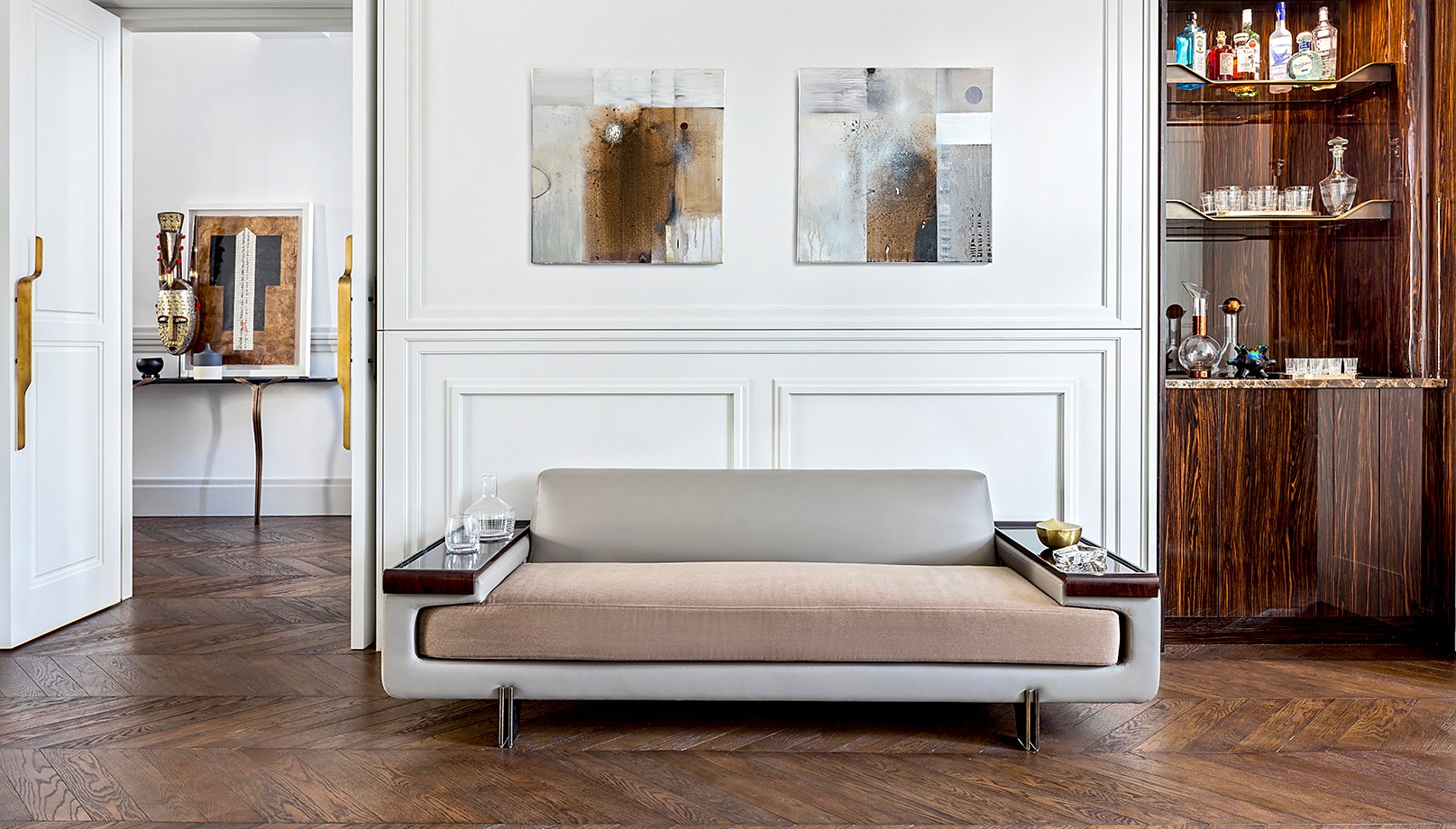 The
Phalanx Standard Sofa
is given dual purpose with the addition of removable inset wood trays along the arms.
What is unique about your upcoming products for your collection launching this September?
The upcoming Henley collection was inspired by rowing, or crew as it's called in America. I rowed when I was younger, and won a high-profile event called the Henley Royal Regatta. A couple years ago, it was our twentieth anniversary, which inspired me to bring the aqua-dynamic form language of racing boats into this collection. You'll see a lot of formal nods toward the shape of oars and rowing boat hulls, as well as the elegant silhouettes of vintage 1950's Riva boats, along with other wooden racing boats. It will launch as a dining set with a rectangular and round table, dining chairs, and a lounge chair. I am sure there will be more to follow.