The Maverick Genius of Philip and Kelvin LaVerne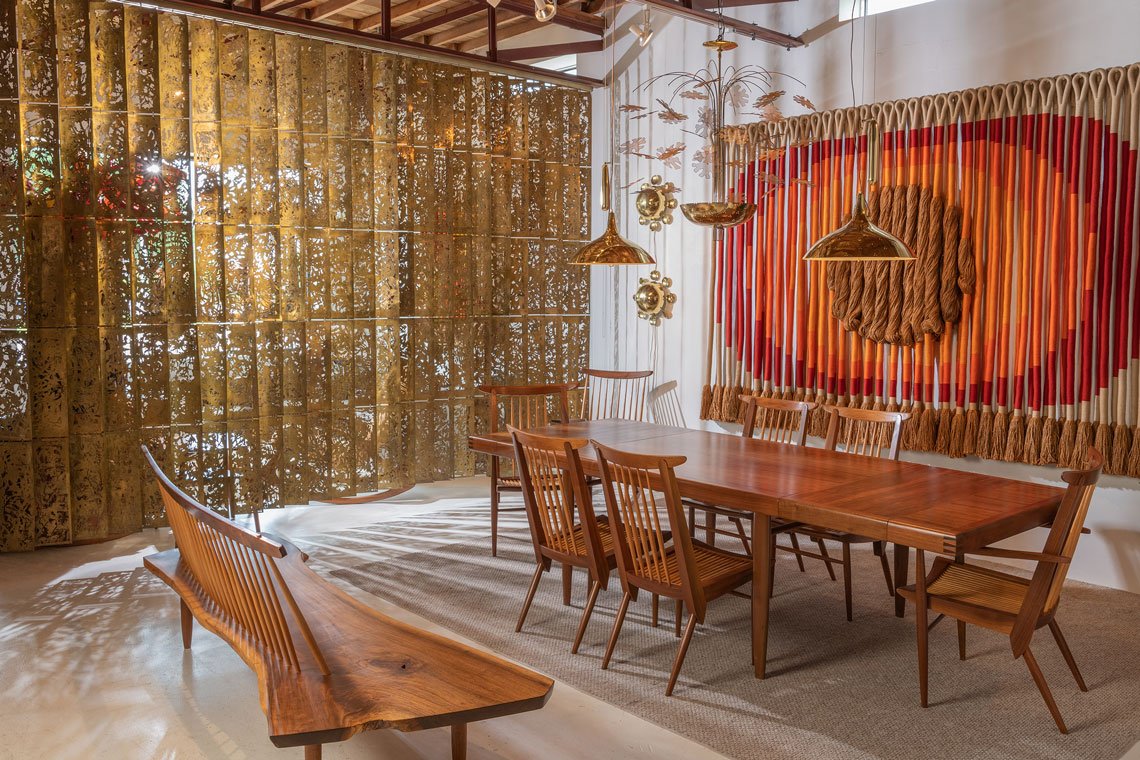 This monumental brutalist screen was a privately commissioned custom piece ordered in 1965 directly from the studios of Philip and Kelvin Laverne for a private residence in New Jersey. The interior of the residence was featured in The New York Times as one of the most iconic interiors of the 1960s. The screen is comprised of 25 vertical rows of 5 elements with a total of 125 panels, and mounts to an anodized gold track allowing the panels to be rotated up to 180 degrees to allow for varying amounts of light to pass through. They can also be opened like a curtain and would work equally well as a room divider, wall sculpture or window covering. On offer from 20cdesign and available through Incollect. Photo courtesy 20cdesign.

by Benjamin Genocchio
The prestigious address of 46 East 57th Street in New York was once the showroom for the father and son team of Philip (1907–1987) and Kelvin (1937–) LaVerne, maverick designers who created limited edition pieces of furniture that are both functional objects and idiosyncratic works of art. Today it is the back entrance to 432 Park Avenue, a thin skyscraper designed by the Spanish architect Rafael Vinoly and the tallest residential tower in the Western Hemisphere, rising 92 floors to over 1,396 feet into the air.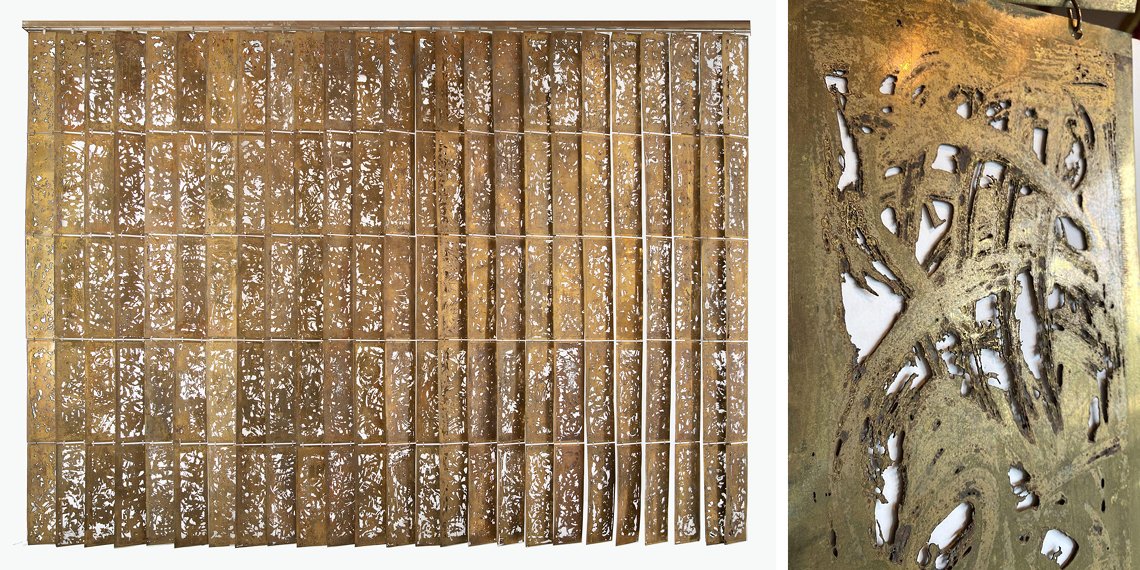 All of the panels were handmade in the Laverne Studios in NY. Each individual 7" × 22" panel is unique. They were created by etching the panels with acid and then using a proprietary applied patina technique to create a distinct design on each one. Photos courtesy 20cdesign.

Much as Vinoly's skyscraper represents an astonishing creative collaboration of the skills of architects, engineers, scientists and designers, so, too, was the furniture of Philip and Kelvin LaVerne. Both of the LaVernes were artists, but they nonetheless brought a scientific, architectural and even multidisciplinary spirit to furniture design. So much so, that the complexity of the process and material experimentation involved made their work both highly original and impossible to copy, reproduce or fake.
Philip called their furniture "functional art." It is sculpture, but much else besides: they constantly experimented with traditional artisanal processes of making, especially fret and filigree work, an interlaced decorative design carved into sheet metal or cut out with a saw, evident in a piece like "Viola", a table with a top made of a delicate, finely hand-cut abstract design in metal around a central image of a viola secured on a cast and welded base that creates the shadow of the instrument on the floor below.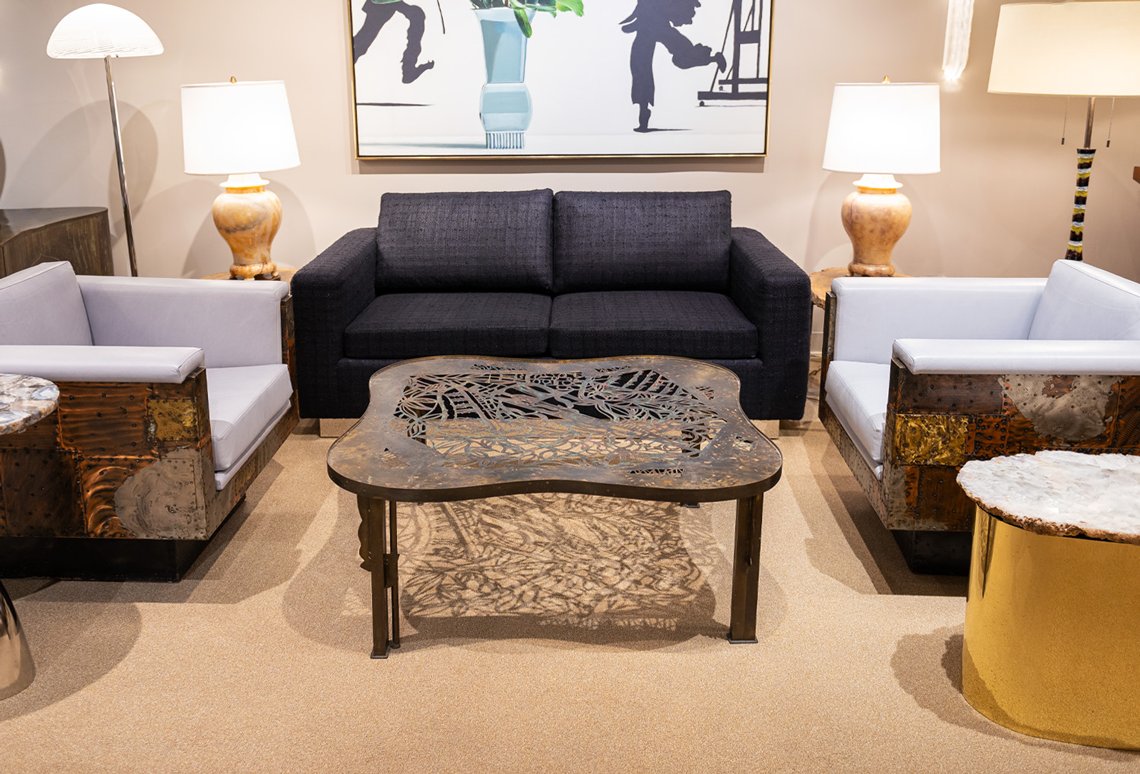 A gallery vignette at Lobel Modern, featuring the "Viola" table. Delicate, swirling fretwork casts hypnotic tracery shadows on the floor below. Tables by the LaVernes are stand-alone works of art and need no styling with accessories to become focal points in a room. Photo courtesy Lobel Modern.

"Viola" is on display at Lobel Modern Inc., a gallery operated by design dealer Evan Lobel in the New York Design Center at 200 Lexington Avenue in Manhattan. Today, Lobel shows and sells more works including many rare and elusive finds, by the LaVernes than any other dealer. Currently, he has more than 30 pieces spanning 30 years of their career on display in his gallery, an impressive collection that ranges from floor lamps to mirrors, tables of all kinds, credenzas, paintings on bronze, and cast and hand-welded, brazed sculptures.
Lobel has a lifelong passion for the LaVernes and has a longstanding personal relationship with Kelvin, now 85, with whom he has been writing a book on the story of the father and son design duo that he hopes will be published later this year. "We've been working on this book together for 8 years now," says Lobel, adding with a grin, "In truth, I think it has been ready to publish for years now, but Kelvin is a perfectionist."
Perfectionism is a hallmark of the LaVernes inventory — obsession might be a more accurate way to describe it, for this is no ordinary furniture. Most of the Lavernes' designs were either one of a kind or in limited edition, in contrast to the mass-produced, modernist furniture of the period. Process was really the product for the LaVernes, for while many of the forms are conventionally beautiful, the process of achieving a finished product was arduous, experimental, revolutionary and insanely time-consuming.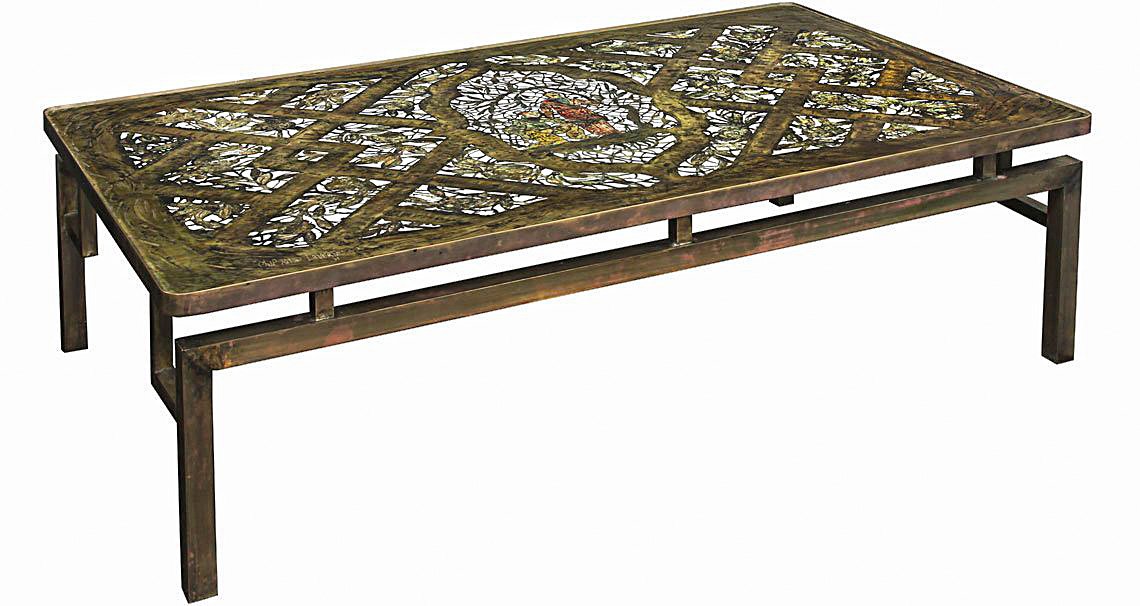 "Fragonard Pierced" coffee table, dated 1967, from Lobel Modern. Intricately hand-carved fretwork with hand-painted polychrome enamels and gold leaf. A rare large size of this motif, likely a custom order. In the LaVerne paper catalog "Sculpture III," page 41 there is a photo of the smaller version of this coffee table titled "Fragonard Pierced." The description states: "Delicately pierced bronze is enhanced with enamels of vibrant hue. A central motif of Oriental inspiration is depicted, complemented by birds and beasts. A gleaming glass surface rests over the floral filigree…" Photo courtesy Lobel Modern.
"Kelvin tells stories of coming home with his fingers bleeding from cutting metal for tables to create the designs," says Lobel, pointing to "Viola," which is just one of the fretwork pieces in his gallery that brilliantly utilizes negative space to create shadows. Nearby is the "Fragonard Pierced Table," the piece custom made for a client in 1967 and one of the largest of this design ever made; here the fretwork process includes delicate weaving of metal finely cut by hand to create floral, animal, and human shapes painted with colorful enamel. It is effusive, decorative, and fun.
Lobel is the expert, but there are other galleries that show the LaVernes. They include Donzella, Gallery Girasole, Gary Rubinstein, Milord Antiquités, 20cdesign, and Victoria Rojas. Donzella is a big fan of the later, more sculptural pieces, which he also personally collects. "What has been interesting, as someone who is not really dealing in more typical works by these two artists, is to see people's surprised faces when they discover this whole other side of their work," he says. "These are people who thought they knew all about what Philip and Kelvin LaVerne's output was and I'm able to open up a new chapter for them. Most people have no idea that they made this type of purely sculptural work. The contribution of Philip and Kelvin LaVerne's work within the pantheon of great 20th-century studio and craft design is only beginning to be fully appreciated, and I'm excited to be one of the people shaking up the market and helping to elevate this material."



"Synchronicity" massive freeform sculpture of welded and hand-worked bronze, riveted corners and applied texture. Photos courtesy Donzella.
Francis Lord, owner of Milord Antiquités has dealt in the LaVernes for 20 years and regards their work as "totally unique," and therefore holds a special place in 20th-century design. "This sort of work was never seen before and not seen after, much like designs by Paul Evans, their contemporary."
For Joseph Abdulian, owner of Gallery Girasole in Los Angeles, it was the amazing technical virtuosity of the LaVerne pieces that eventually captivated him, plus their beauty. "When I first discovered the LaVerne's work I liked it but I wasn't addicted to it then. More and more I learned about the techniques and processes, and when you see the complete product it is just so beautiful and so unique you realize it will never go out of style. That is what I like about LaVerne furniture, it is timeless. It's really a work of art."
Paul Donzella specializes in rare, sculptural pieces by the LaVernes. "Dance of the Fauves" studio-made table in bronze with a polychromed top is one of only two examples known to have been made in this size. Five lower panels, each with welded relief shapes applied. Enameled coloring irregularly placed throughout. This table, circa 1970, is celebratory in spirit while also giving a nod to brutalist architecture.
Nothing left the LaVernes' New York studio until it was ready in the eyes of the artists which meant pieces could take months, years to finish. Designs were mostly made to order, or you could purchase samples from their 57th Street showroom off the floor, where the LaVernes kept a wall of letters from grateful clients thanking them for their artistry and extolling the virtues and beauty of a design. They maintained a roster of celebrity clients (including Aristotle Onassis) at home and abroad and demand exceeded supply constantly.
The "underground" aging of the metals remains perhaps the most idiosyncratic and signature aspect of the LaVernes' process of making furniture. The complexity of the process is legendary and involved binding bronze or brass and pewter and cutting or acid etching designs into the sheet metal, then burying in a special soil laced with chemicals to accelerate and enhance oxidation to form a rich and unique patina. After the aging process, the metal was cleaned, polished, and then usually enamel painted.
The LaVernes researched historical themes through books and visits to museums drawing upon the images they studied to create the frieze-like composition wrapping this pair of "Romanesque" side tables. On offer from Gallery Girasol through Incollect. Photo courtesy Gallery Girasol.
The LaVernes were true intellectuals and sought inspiration for their designs from the study of western and eastern art, literature and music. Mythology was an important source of ideas as well. They made work in series, named for the source material of the decorative schemes used to embellish the exterior metal — the Historical Civilizations series drew on classical Greek, Roman, Chinese and Japanese motifs, followed by more abstract and modern designs as evidenced in the Eternal Forest tables inspired by nature and Mother Earth, and the Fantasia series, which is purely abstract.


Victoria Rojas has in her gallery two spectacular one-off pieces by the LaVernes, both created in the 1970s: above, the crescent-shaped "Creation" cocktail table, with a powerful homage in bronze bas-relief to Michelangelo's "The Creation of Adam." Below, the stunning "Life Force" coffee table. An organically shaped form with an acid-washed bronze top, and sides adorned with hand-sculpted bronze figures. Photos courtesy Victoria Rojas.

| | | |
| --- | --- | --- |
| | | |
The Historical Civilizations series is the most well-known and popular, in particular, the Chan tables depicting Chinese landscape and interior motifs. The imagery was inspired by scroll paintings the LaVernes researched in books and New York museums. When someone commissioned a Chan table from the catalog it was made, and no one knows how many were produced, but no two are entirely alike. "There are slight variations in patterns, no two patinated in the same way and no two were ever painted in exactly the same way," says Lobel. "The whole point was that each person wound up with a unique work of art."
The Chan tables are among the most densely detailed designs and therefore not for everyone. "They have a very strong presence and are as much a work of art as a piece of furniture, not the type of table on which you put books," Francis Lord says. "You want to see the table without anything on it just like you would a work of art. They are appreciated by collectors and designers that know LaVerne, as well as by clients that have never seen them before but are attracted by the uniqueness."


A work from the Chan Series, the "Festival" coffee table depicts a richly detailed Asian village scene, populated with characters in virtually every aspect of daily life — shopping, working and conversing, along with buildings, trees, streets and pathways, evoking the lively preparations leading up to a festival. The work is executed in acid-etched, enameled and patinated bronze and pewter. Signed "Philip Kelvin LaVerne," (see detail) and dates circa 1970. Offered by Milord Antiquités, available through Incollect. Photo courtesy Milord Antiquités.

The LaVernes first experimented with their proprietary process for making the patinated bronze, brass and pewter works in the 1950s and it took several years to refine. But it yielded astonishing results: during the oxidation process, colors fade and bleed into one another, surface textures vary, making the designs reappear in a different light from different angles. The LaVernes worked hard to try to control the many elements of a design but left the final patina of a piece up to chance.
Lord notes that LaVerne pieces are low maintenance and generally in very good condition today because of the natural patinas. "Pewter oxidation processes are strongly set and that acts as a kind of protection," he says. "Once they're patinated and colored they will never change, like a bronze sculpture that has been patinated to fix color in the metal. The fact that they are so beautifully decorated also deters them from being used as simple tables on which you eat, drink and put stuff on."
The LaVernes continued to make the oxidized tables and credenzas throughout their long career, but by the 1970s their creative interests had evolved more towards free-standing sculpture. They experimented with the ancient and complicated "lost wax" bronze-casting method and even brought in a mold maker from Milan and started casting bronze pieces. "They did it for a few years but quickly found it was not a cost-effective method to make large-scale sculptures and was very time-consuming," says Lobel.
From the personal collection of Kelvin LaVerne and the only one made, purchased directly from the artist by Lobel Modern. A cast bronze coffee table "Fluidity" with male and female figures entwined, arching from a platform base and supporting a thick oval glass top. Photos courtesy Lobel Modern.


The endless creativity of Philip and Kelvin LaVerne was applied to such objects as floor lamps and mirrors. These pieces are from the extensive inventory of rare LaVerne works at Lobel Modern. At left, a pair of hand-brazed bronze illuminated sculptures/floor lamps, "Grace" and "Harmony," these are the only pair created. There are 3 light sources on each, a fluorescent fixture on the backs, the clearly visible glass orbs, and a recessed light in the open top. At right, an important large-scale patinated bronze mirror, which Kelvin LaVerne has identified as a singular, one-of-a-kind work. The frame was created in a technically difficult process, with a serpentine continuous tube in patinated bronze. Photos courtesy Lobel Modern.

The cast bronze pieces, which are in small editions and many unique, are among the more expensive works by the LaVernes because they are rarer. Lobel has a table at the front of his gallery depicting an intertwined couple, titled "Fluidity." from the early 1970s which is a one-of-a-kind cast bronze sculpture on a patinated bronze base. With a glass slab on top, it functions as a table, but it is also a modernist sculpture, pointing towards the abstraction of the human form that was popular in the mid-20th century.
But it was mostly large-scale hand-welded, brazed bronze sculptures that occupied their creativity in the 1970s, some of which can be seen in Lobel's gallery and at Donzella in the same building. Made in very small editions, many of them one of a kind; they completely transcend furniture. Lobel has a pair of monumental bronze floor lamps from the 1970s, essentially abstract sculptures, titled "Grace" and "Harmony," in which functionality is an afterthought. They're all about form and technique.
One-of-a-kind "Strategy" cocktail table from the "Fantasia" series, freeform shape with a massive presence. Torched top and sgraffito effect pattern on all sides, rests on casters. Signed on top, circa 1978. Recently sold by Donzella.

Today, the first generation of collectors has passed on and rare early LaVerne material has surfaced on the market again. But it is a small window, Lobel says, for he has noticed in the past few years not only a noticeable contraction in the available inventory but also a steady increase in the prices. Investors have also moved into the market. "I think when a little LaVerne center table sold at auction at Sotheby's in 2021 for $94,500 a lot of people began to take notice. I certainly got a rush of calls! It was like a wake-up call to the market as to the prices of what these pieces can go for."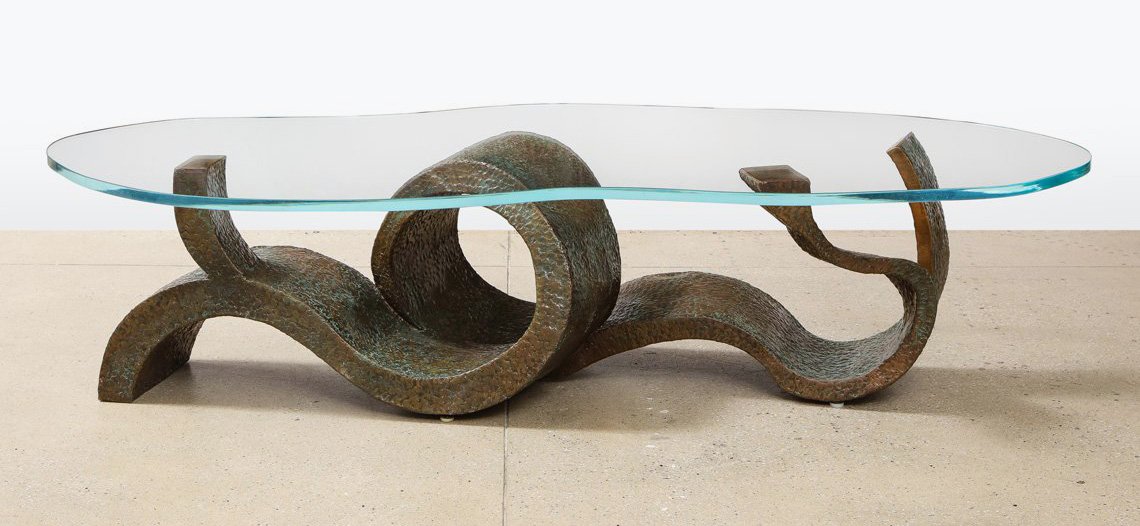 "Wave Crest"" studio made cocktail table. Abstract bronze form with an overall textured bronze surface, created by meticulously dripping solder over the surface of the piece, a technique rarely used by the LaVernes. Created in 1972, this piece shows the progression towards abstraction that marks their later work. Photo courtesy Donzella.
Donzella believes the overall market valuation for LaVerne is still in its infancy. "In the grand scheme of things, it's really a very new market," Donzella says. "While it's been a constant for quite some time, I believe it has really yet to fully break through and will only continue to go up in value and desirability. The pieces are so well made and bronze work has always been very highly valued in the design world. I believe the rarest works by these artists are poised to go through the roof during our lifetime."