The Met's 150th Anniversary Celebrated with Major Gift



Left: Edward Lycett (1833–1910), Faience Manufacturing Company (1881–92), Vase, Greenpoint, Brooklyn, 1886–90. Earthenware. Promised Gift of Barrie A. and Deedee Wigmore. Right: Kimbel and Cabus (1862–82), Corner chair, New York, ca. 1880. Ebonized cherry, paper tile, gilding, and later upholstery. Promised Gift of Barrie A. and Deedee Wigmore.
The Metropolitan Museum of Art
1000 Fifth Avenue, NYC
For information, visit www.metmuseum.org
| | |
| --- | --- |
| | |
| | Louis C. Tiffany (1848–1933), Tiffany & Co. (1837–present), Necklace, New York, ca. 1910. Gold, platinum, and sapphires. Promised Gift of Barrie A. and Deedee Wigmore. |
In celebration of The Met turning 150 and its 2020 Collections initiative, Barrie A. and Deedee Wigmore have promised 88 superlative examples of American Aesthetic Movement and Gilded Age decorative arts and contemporaneous paintings from their collection—one of the preeminent holdings of late 19th-century American art in private hands—to The Metropolitan Museum of Art.
Aesthetic Splendor: Highlights from the Gift of Barrie and Deedee Wigmore will be on view in a gallery named for Mrs. Wigmore and devoted to decorative arts of the Aesthetic Movement of the 1870s and 1880s. The Met's temporary installation will evoke the scrupulously restored interiors of the Wigmores' home (which was constructed in the same period), with reproduction wallpapers of the same era as their collection. While a few of the works have been included in major exhibitions, most of those on display have never been seen by the public.
| | |
| --- | --- |
| | |
| | Bradley & Hubbard (1854–1940), Andirons, Meriden, Connecticut, ca. 1895. Iron. Promised Gift of Barrie A. and Deedee Wigmore. |
"In the Aesthetic Movement, art infused every aspect of one's home, and the incredible range of objects in this exceptional gift will enable The Met to evoke such an interior," said Max Hollein, Director of the Museum. "This gift also has particular resonance in The Met's 150th anniversary year, as the objects represent prime examples of American decorative arts and paintings that were created around the time The Met was formed. We are deeply grateful to Trustee Barrie Wigmore and his wife, Deedee, for their remarkable generosity." Added Alice Cooney Frelinghuysen, the Museum's Anthony W. and Lulu C. Wang Curator of American Decorative Arts, "The Wigmores have been collecting for the past four decades with extraordinary discernment and intelligence, and the items that will be coming to The Met are true masterworks in all media."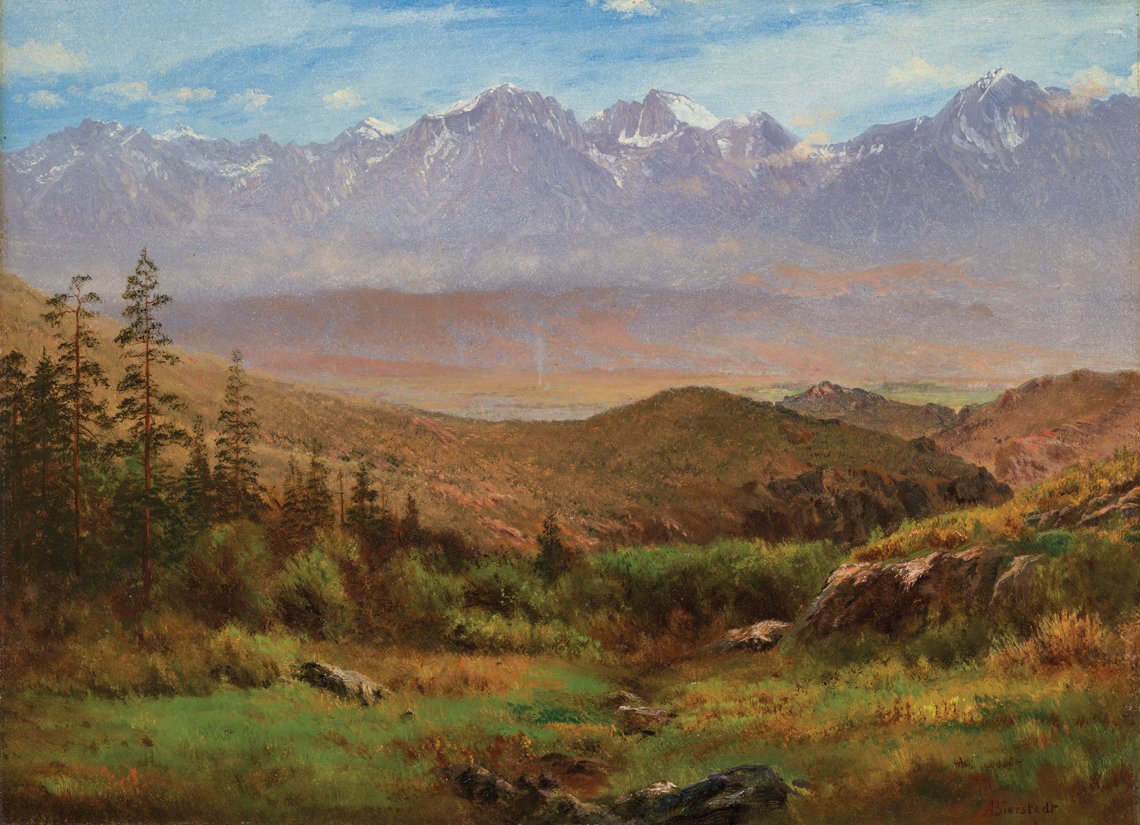 Albert Bierstadt (1830–1902), In the Foothills of the Rockies, ca. 1863. Oil on paper laid down on canvas. Promised Gift of Barrie A. and Deedee Wigmore.
This remarkable promised gift is one of many expressions of the Wigmores' deep commitment to The Met. Over the past 30 years, they have donated or made possible numerous significant acquisitions and they continue to sponsor important exhibitions and scholarly endeavors.
This article was originally published in the 20th Anniversary (Spring/Summer 2020) issue of Antiques & Fine Art magazine, a fully digitized version of which is available at www.afamag.com. AFA is affiliated with Incollect.com.