The Outdoor Sculpture Garden at Oeno Gallery
Thinking of Animating an Outdoor Space with Sculpture?
This is the place to call
Sculpture is the science of the hollow and the bump. So argued one of the greatest sculptors of the 19th century, Auguste Rodin. Decades later, a leading British sculptor of the 20th century, Henry Moore, disagreed. Sculptures, fully comprehended, he said, are the place where form and space are one and the same. Moore said, "I would rather have a piece of my sculpture put in a landscape, almost any landscape, than in or on the most beautiful building I know…. Sculpture is an art of the open air, and sunlight is necessary to it."
Just east of Toronto, Oeno Gallery has dedicated itself to a contemporary reinterpretation of the English landscape movement. This contemporary gallery is situated amidst pinot noir vines in a burgeoning wine region that Time Magazine declared to be one of the top 50 places in the world to visit. The only Canadian destination to make that list, Prince Edward County is gaining international fame for its stunning landscapes, award-winning wines, and most recently, as a mecca for art lovers.
---
"I would rather have a piece of my sculpture put in a landscape, almost any landscape, than in or on the most beautiful building I know…. Sculpture is an art of the open air, and sunlight is necessary to it.
It should smile at you and create fantasy."
---
Designed in 2010 by Oeno Gallery owner Carlyn Moulton and landscape architect Drew McCandlish, this garden is now one of the largest private retail sculpture attractions in North America. Over 40,000 visitors arrive each season — whether by private plane, the helipad next to the garden, by train or by car — to enjoy over 70 outdoor sculptures installed by wild grasses, ponds, butterfly gardens, maples and curved garden beds brimming with purple sage and lavender.
Sculptures from Oeno's gardens now grace private gardens near Toronto, Los Angeles, Houston, New York, London, Hong Kong, Columbo, Sydney and Stockholm. Recent public installations have included golf courses, condominium plazas, malls, parks, and botanical gardens in many North American locations from Vancouver to Las Vegas. The gallery has a full-time team of professionals crating and packing shipping containers with sculptures ranging in size, up to several tons. Drone footage of the garden https://youtu.be/HxxbVHcfKJw reveals the range of abstract and figurative work available.



Left: Philippe Pallafray, Mecanique Celeste, 2016. A polished steel ball is held tight within a horizontal opening shared by two rectangular pillars in cardinal red. The industrial, minimalist sculpture sits in dramatic contrast to the natural environment and yet also mirrors it back to the viewer through the reflective ball. Right: Marc Plamondon, Chute des Cubes, current production. Impossibly balanced, these three white cubes form one monolithic outdoor structure. At night the sides of the cubes appear as free-floating diamonds. This is powder-coated white stainless steel.
For example, Paris-born sculptor Philippe Pallafray's abstract Aquagraphie was acquired for the largest botanical garden in Canada, the Royal Botanical Garden in Hamilton, Ontario. Chute des Cubes by Quebec sculptor Marc Plamondon, in which three stacked white cubes give the illusion of tumbling diamonds, was acquired for a private garden in Easton, Maryland, through art consultant Laura Moribito. Both sculptures are in powder coated stainless steel.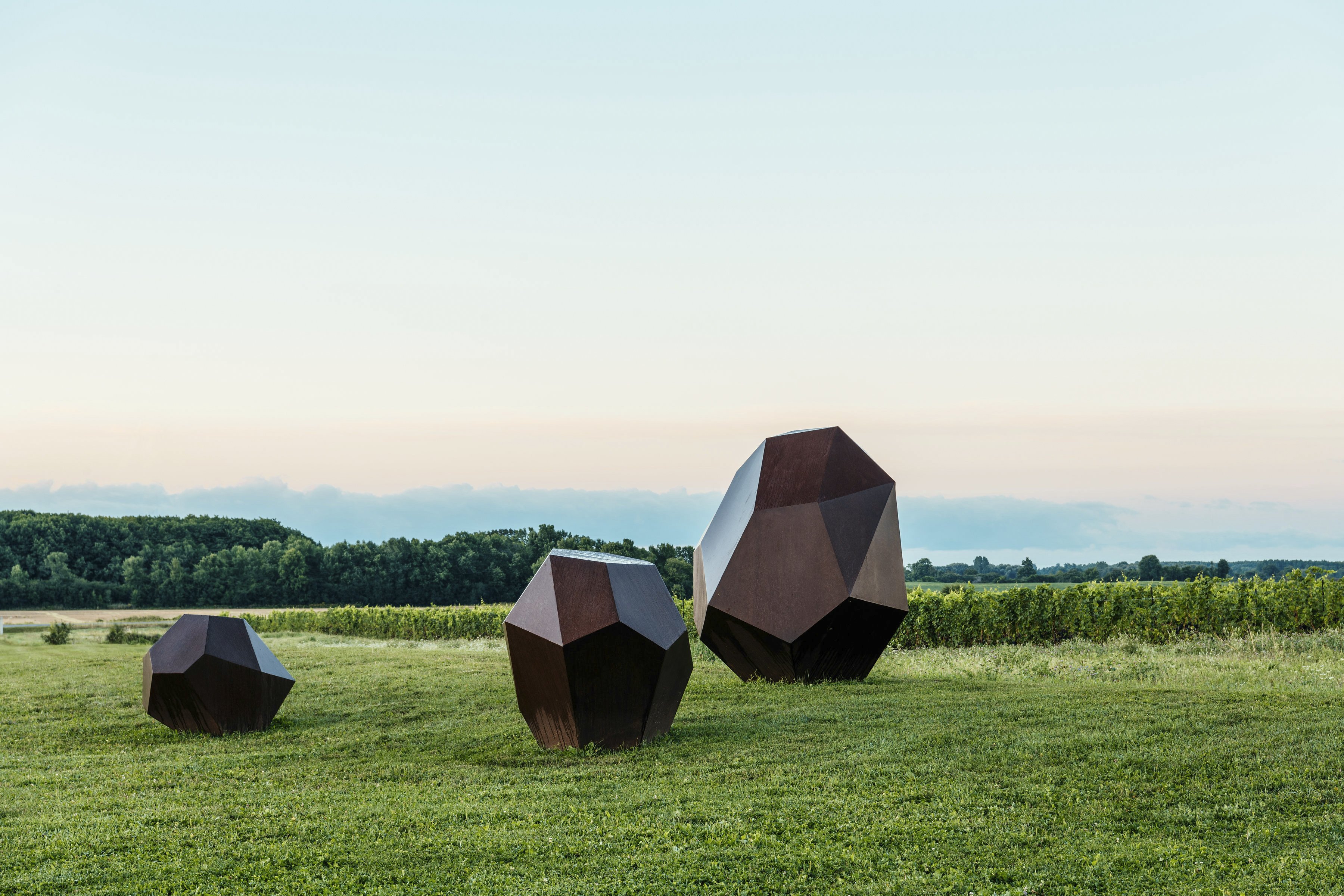 Shayne Dark, Glacial Series: Drop Stones 1, 2 & 3, 2015. This large scale outdoor installation consists of three hollow, polygonal steel boulders called Drop Stones that have a rusted, weathered patina. The works represent erratic, geometric stones shaped and carried often hundreds of kilometers by glacial ice. The largest of the Drop Stones works, this piece has been exhibited at the Albright Knox Art Gallery and the Brooklyn Botanical Garden. Natural stones manifested here in steel creates a natural tension contrasting our experience of nature in an urban setting.
Shayne Dark's contemporary steel sculptures in eye-popping colors have proven perfect for many locations. Tableau Condominiums, Toronto, commissioned Dark to create a neon yellow, site specific work from the artist's Entangled series. Another from this series, his Yves Klein blue Tanglewood (2015) was purchased by the Albright Knox Gallery for its gardens following its exhibition at Art Basel. And his saturated blue Entangled, a private acquisition, was lifted by crane into the gardens of a collector's Toronto estate in 2018. Just last year, he was invited to be artist in residence at the Brooklyn Botanical Garden, where his large Glacial Drop Stone sculpture was exhibited. Dark's work can now be seen in Czechoslovakia, California, Calgary, Chicago, and Toronto.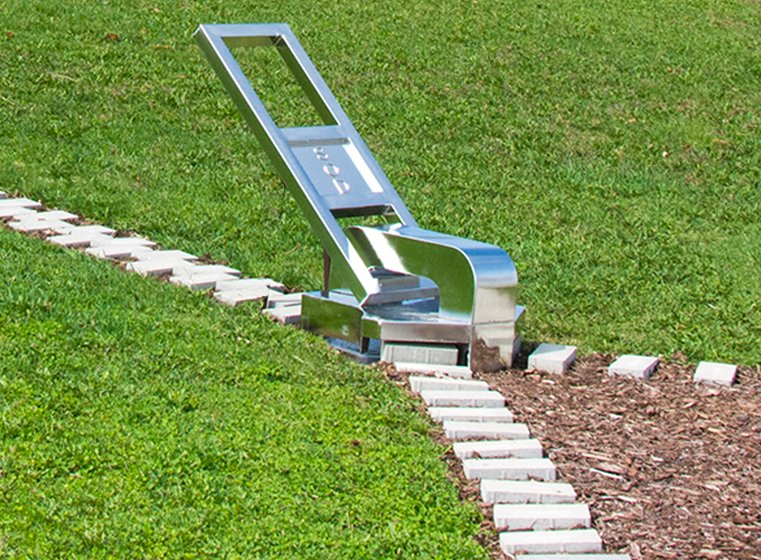 Floyd Elzinga, Unzip the Earth, by commission. Unzip the Earth is a playful, outdoor sculptural installation consisting of a polished and reflective steel zipper handle and concrete brick teeth that give the illusion of unzipping the hillside. This outdoor artwork is available by commission only which may take up to 3 or more months to complete. Pictured here is the artist's proof. Measurements of Zipper sculpture only as in pictured installation: 27 h x 48 w x 31 d inches; installation instructions are included. For convenience of shipping, the brick 'teeth' may be sourced locally. The price indicated here is for the stainless steel Zipper sculpture only. Height of Zipper pull can be adjusted. The installation scale of this sculpture is variable, depending on the length of the zipper. Floyd Elzinga's work explores traditional landscape through non-traditional techniques. Strongly influenced by the natural and cultivated environment surrounding his studio on the Niagara Escarpment, each creation is a direct reference to his distinctly Canadian perspective.

Oeno Gallery has worked with the art placement firm, the Gateway Foundation, in the acquisition of Floyd Elzinga's Unzip the Earth, for a public park in St. Louis, MO. Another edition of this playful, Pop art-inspired stainless steel sculpture was shipped to a private collector in Portugal.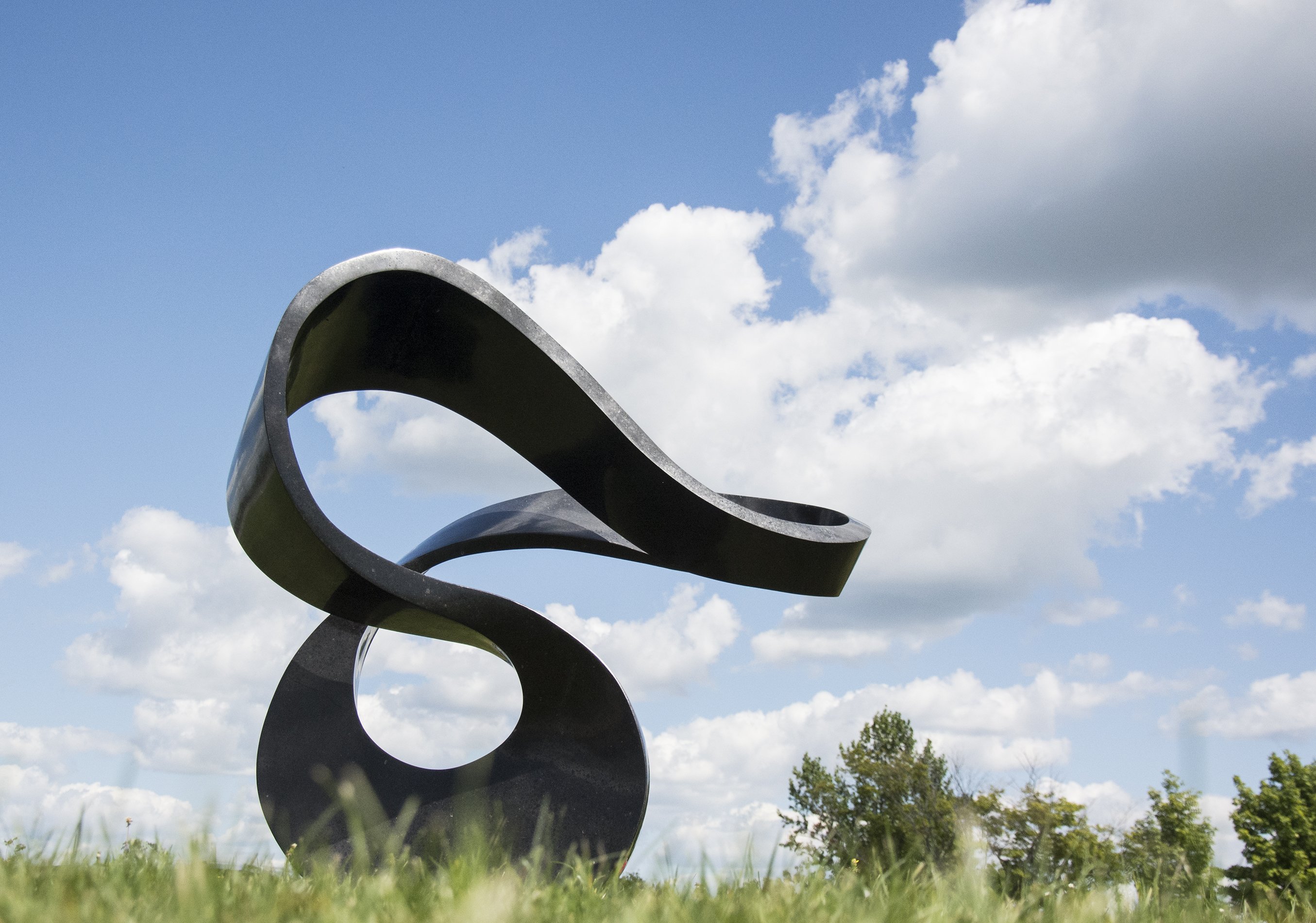 Jeremy Guy, Zephyr, by commission. Smooth surfaced, black granite flecked with copper and white has been engineered into an elegant ribbon in tangible contrast to its large scale and weight. This outdoor sculpture that weighs approximately 970 lbs, has a steel substructure and sits on an concrete pad. The work is aptly titled Zephyr, or gentle breeze, a word derived from the ancient Greek zephuros, the name for the God of the West Wind. As such this sculpture echoes the graceful, bent form into which some northern Canadian pines will grow if exposed to the persistent west wind.

Oeno's outdoor gallery also includes the elegant, engineered stone abstract sculptures by British-born Jeremy Guy. The influence of Barbara Hepworth and Henry Moore is evident in Zephyr, a 9 foot wide, black granite homage to the west wind. This graceful work and others by Guy are now installed in private residential and commercial grounds in Sarasota, Scarsdale, Sri Lanka, Singapore and Toronto.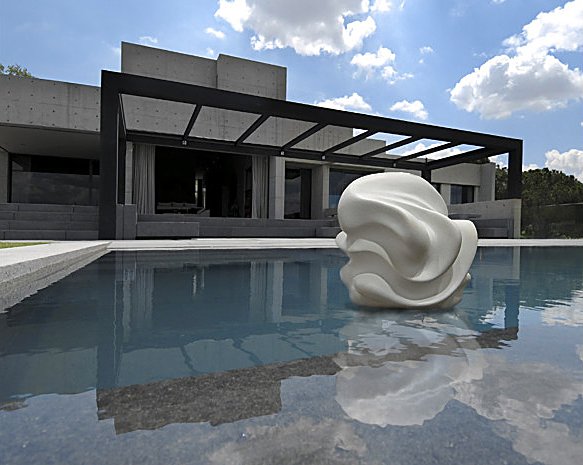 Tim Forbes, Old Soul, by commission.
Tim Forbes, Eclipse, 2010. Cast fibreglass sculpture, coated in monochrome bronze gloss takes an organic form that balloons and twists as it emerges from its base. The work sits on a frame, metal base in gloss grey. The dynamic movement of the monochrome forms in this piece is informed by Forbes' training in graphic and interior design. This work was exhibited in Art Toronto and in New York at the Architectural Digest Design Show.
Tim Forbes' site-specific Old Soul is a swirling white cloud that appears to float in the outdoor pool of a private collector. Made of resin-coated fiberglass, this unique and elegant sculpture is available by commission. Forbes' work Power has been selected as a focal point for the 10th floor open terrace in the new Massey Tower, Toronto, designed by Hariri Pontarini Architects.
Marlene Hilton Moore, Singing Bowl, 2018. This large, stainless steel bowl is coated in a brilliant ultramarine blue aerospace paint by sculptor Marlene Hilton Moore. Based on Tibetan singing bowls, this large scale version can be rung by running a wooden mallet around the rim to produce clear harmonic tones. This sculpture can be installed indoor or outdoor and may be paired with another, smaller Ultramarine Sky bowl. Both bowls are purchased separately.

Commissioned by Morguard Development for The Heathview in Toronto, Marlene Hilton Moore's Flowers at Our Feet, Moon and Stars Above, and accompanying Street Screens are laser cut aluminum screens lit from behind by LED lights. Appearing as richly bronze patinated lattices by day, they become a dazzling light painting at night.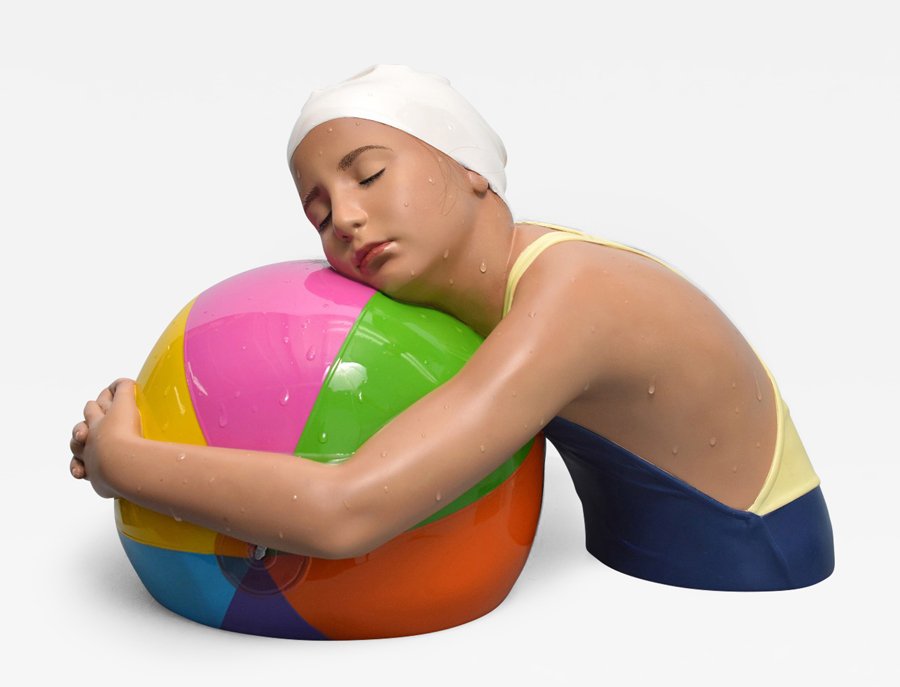 Carole Feuerman, Miniature Brooke with Beach Ball 14/38, 2018. Rendered in hyper-realistic detail – from mink hair eyelashes to simulated drops of water on ultra smooth skin – the upper body of a female swimmer emerges from its plinth to float on a multi-colored beach ball. This work by American sculptor Carole Feuerman is number 14 in an edition of 38. A pioneer in Hyperrealism that grew from Photorealism in the 1970s, Feuerman is known for her life-size and monumental sculptures of swimmers. Working in a variety of media including resin, marble and bronze, Feuerman's sensuous works are typically rendered in bold, saturated pigments.
Oeno is now representing the exciting work of New York sculptor Carole Feuerman. Known for her hyperrealist sculptures of swimmers, Feuerman creates indoor and outdoor pieces in a variety of media. Her outdoor work includes the monumental bronze Golden Mean, owned by the City of Peekskill, NY.



Anne O'Callaghan, Urn, 2018. Poetic and playful, this stainless steel and tempered glass outdoor urn reflects the environment and the changing light of day. Installed next to pond or river, the glass of the amphora shape creates the illusion that it is filling and emptying with water as the sun sets. This sculpture can be created in three sizes and is limited to an edition of 20. Constructed in polished stainless steel, and heavy duty tempered glass, it has been installed in high wind conditions, winter with ice and snow, and high heat situations and has remained totally stable.
New works are installed in the garden every spring, but work is commissioned, sold and shipped throughout the year. Oeno's love of sculpture is also reflected in their interior exhibitions, where work in glass, steel, clay, wood and other media are exhibited throughout the year.
The gallery has a team of experienced art and logistics consultants ready to assist landscape architects, designers and clients to make the process goes smoothly. Oeno offers complimentary shipping to North American destinations, and work ships to the US duty and tax exempt. Just another one of Canada's best kept secrets.