These Innovative Coffee Tables & Consoles Challenge The Limits of Their Materials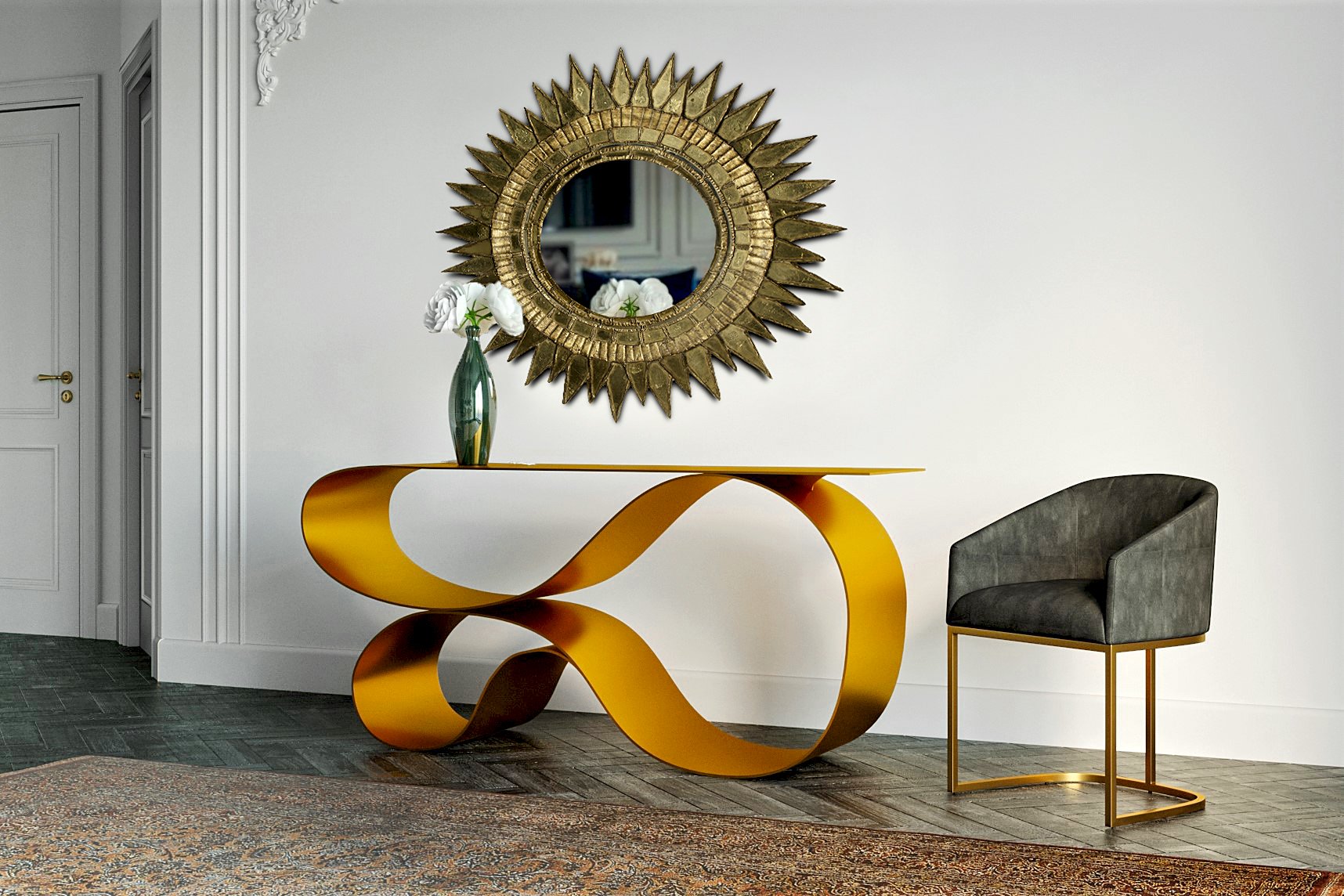 Since the launch of his studio eight years ago in Portland, Oregon, Neal Aronowitz's work has been recognized for its artistic precision and creative use of materials. The aluminum
Whorl Console
, pictured above, features the designer's signature looped silhouette.
| | |
| --- | --- |
| | |
| | Neal Aronowitz |
N
eal Aronowitz came to the attention of the design world in 2017. After reading about Concrete Canvas, a flexible new material used to prevent erosion and build shelters during disasters, Aronowitz was intrigued by what he envisioned as its creative potential, and decided to experiment. Although it was released commercially in 2009, no one had previously used it to produce furniture. He spent three years developing numerous techniques to cast and fold the cement fabric into an elaborate curvilinear shape. The astoundingly lyrical result — called the Whorl Console — was short-listed for design prizes around the globe. Now, the designer's process for working with Concrete Canvas is the subject of an award-winning documentary called "How to Bend Concrete in 108 Easy Steps," and his roster of clients includes Cate Blanchett and Sir David Adjaye.
Since the original Concrete Canvas Collection was completed in 2017, he has experimented with wood, aluminum, and glass tile. Throughout his work, he challenges the limitations of materials to express thought-provoking shapes. "I am drawn to handmade, sculpturally evocative forms that express dynamic movement and forces," he says. Here, he chats with Incollect about the possibilities of Concrete Canvas and his exciting new pieces.
Aronowitz was featured in a 2019 documentary,
How to Bend Concrete in 108 Easy Steps.
How would you describe your work?
I strive to create unexpected forms that are technically and artistically challenging, and stretch the limits of the materials from which my work is crafted. The act of challenging myself is what gives each piece its power and personality. Sculptural presence is a mysterious and elusive quality. To achieve that presence, every object has to be approached as a new exploration and discovery. At its best, my furniture and lighting objects are fully functional pieces that transcend their use to enter the realm of art.



In the artist's Concrete Canvas Collection, concrete is rendered light and fluid. To finish the concrete, Aronowitz applies cement mortar and polishes the object by hand. Top: The Whorl Coffee Table from the Concrete Canvas Collection. Bottom, left: Custom versions of the Whorl Console have been created for high-profile clients including Cate Blanchett and Sir David Adjaye . Bottom, right: The Enso Table was inspired by Japanese ink painting.
One challenging material that you work with is Concrete Canvas. How did you start working with that?
I discovered Concrete Canvas while reading a design blog some years ago. An innovative materials consultancy group had named it material of the year. To make Concrete Canvas, fabric is laid between layers of cement to make it malleable and easy to work with, and it starts to dry in about a half hour once exposed to water. After researching it, I became obsessed with how to utilize Concrete Canvas to make furniture. I have always experimented with unfamiliar materials, but this was completely new terrain. Now I was playing with a newly invented material that nobody had really explored in depth as an art and design medium.
| | | |
| --- | --- | --- |
| | | |



Top: After saturating the Concrete Canvas with water, Aronowitz lays it out on the precision mold and clamp it into place. The process requires speed and dexterity: the Concrete Canvas will begin to harden within half an hour. Center: The Enso Table is cast on the precision mold. Twenty-four hours later, the designer will reinforce the structure and polish it to perfection. Bottom, left: Aronowitz smoothes out the surface of a custom coffee table for a boutique hotel in Mexico. Bottom, right: The top of the Whorl Console is ready to be lowered into its final position. Then, the team will finish the surface. From start to finish, each console takes over 100 hours to produce.
Could you talk about the molding techniques you use when working with Concrete Canvas?
Making furniture out of Concrete Canvas required developing completely new and untried casting and forming techniques. I consulted with the technical team at the company that makes Concrete Canvas, but they could not offer much help, as nobody had ever done what I was trying to do. Through trial and error, I developed a way to make wooden molds to cast the Concrete Canvas. There are many steps that follow the casting, such as reinforcement, pigment coloring, texturing, and polishing. Every step requires great concentration and careful execution. I'm still learning and mastering the technique, so each new piece is a unique adventure.
How does Concrete Canvas compare to other materials you've worked with?
There really is no material like Concrete Canvas, which is what makes it so startling to look at. It has the flexibility of fiberglass, but possesses a powerful sculptural presence. Although it's as solid as bronze, it expresses more fluidity and gracefulness. Concrete Canvas can be shaped into forms that would be almost impossible with most other materials.

The success of the Whorl Console was a breakthrough for you in terms of recognition. Did it change the trajectory of your career?
The success of the Whorl Table elevated the profile of the studio. Suddenly, after winning numerous awards, I was getting international press with blogs and feature articles in half a dozen languages. This press coverage led to international sales, and I'm now shipping work all over the world. Just this week I shipped pieces to the Bahamas and Australia from my studio in Portland, Oregon. Cate Blanchett and Sir David Adjaye have commissioned my Whorl Console. A filmmaker even put together a documentary about the making of the Whorl Console called How To Bend Concrete In 108 Easy Steps, which was awarded Best Documentary at film festivals on three continents. The film will be showing next in early October at the Moscow International Design Film Festival. Finally, I have been invited to lead a MasterClass on interior design and art. I am very much looking forward to that!
How does your background in tile installation impact your design work?
I no longer work in tile installation, but that skill set has come in handy in making this kind of furniture. After years of working with cement mortar, I've developed a mastery of the medium that has been essential in elevating my craft to an artistic expression. The precision required in high-level tile installation is another skill that has transferred well into creating furniture that enters the realm of art. Finally, the project management skills I developed have helped me to manage and build my design studio.



This version of the

Time/Space Portal Console features mosaic glass from Artistic Tile. The Time/Space Collection was inspired by the geometry of triangles.
You have also crafted furniture from mosaic glass. Could you tell us more about that?
The ombré glass mosaic — used in the Time/Space Portal Console — was developed in conjunction with Artistic Tile in New York City. Artistic Tile was very generous and helpful in coordinating their beautiful, award-winning mosaic into this piece. Underneath the mosaic, I placed an aluminum structural frame. I also make another version of the Time/Space Portal Table that is fabricated out of solid kiln cast glass in varying colors.
Why do you specialize in coffee tables and consoles (as well as lighting)? Do you have plans to expand to other furniture forms?
Thus far, coffee tables and consoles have lent themselves to the aesthetic forms that intrigue me. It was never a conscious choice to focus on tables. My work just grew out of my desire to see and create certain shapes. That said, I have some new pieces in development such as chairs, bureaus, and mirrors that I am very excited about. I continue to be obsessed with lighting, and a range of new lighting sculptures is coming out soon.
Which finishes do you prefer for your aluminum tables?
Aluminum has worked perfectly with the forms of the Whorl Tables. To date, I've been using powder coat finishing exclusively with aluminum. I now have two commissions in which I'm experimenting with hand-applied patina colors over aluminum. The effects are amazing, and I'm looking forward to exploring this process over the next few years.
Which custom projects are you working on now?
Really, each custom piece is interesting in that I am always doing different sizes and colors for different environments. Each piece is like a child with an individual personality. Soon, I'll also be developing some custom furniture pieces for a designer showroom on the East Coast. This will require stretching some creative and technical skills, and expanding the Concrete Canvas line. With every object I make, no matter what form it takes, I'm always thinking about new ways to work with my materials and create arresting, unexpected silhouettes.
SHOP NEAL ARONOWITZ ON INCOLLECT