This Week's Events: 100% Design, Art of Dessert, Stuart Davis, American Folk Art, Ben Wilson, Unseen Amsterdam & More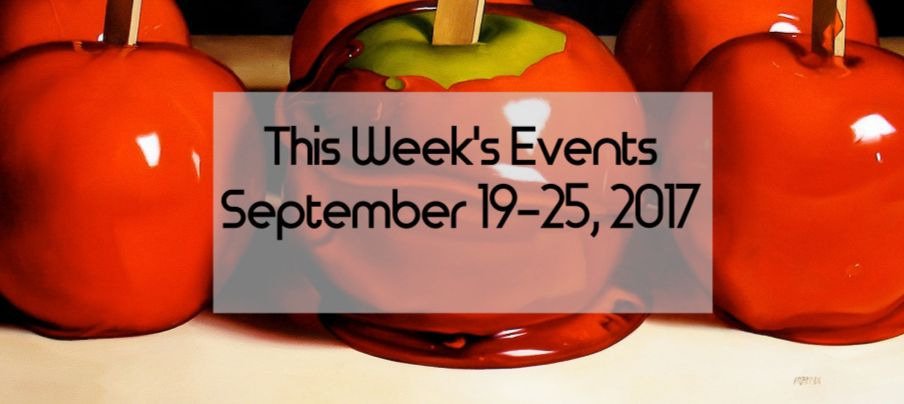 Detail: Margaret Morrison, Candied Apples, 2009. Oil on canvas, 64 x 72 inches. Courtesy Woodward Gallery. In Sweet Tooth at the Shelburne Museum.
DESIGN SHOWS
100% Design
20-23 September 2017
Olympia, London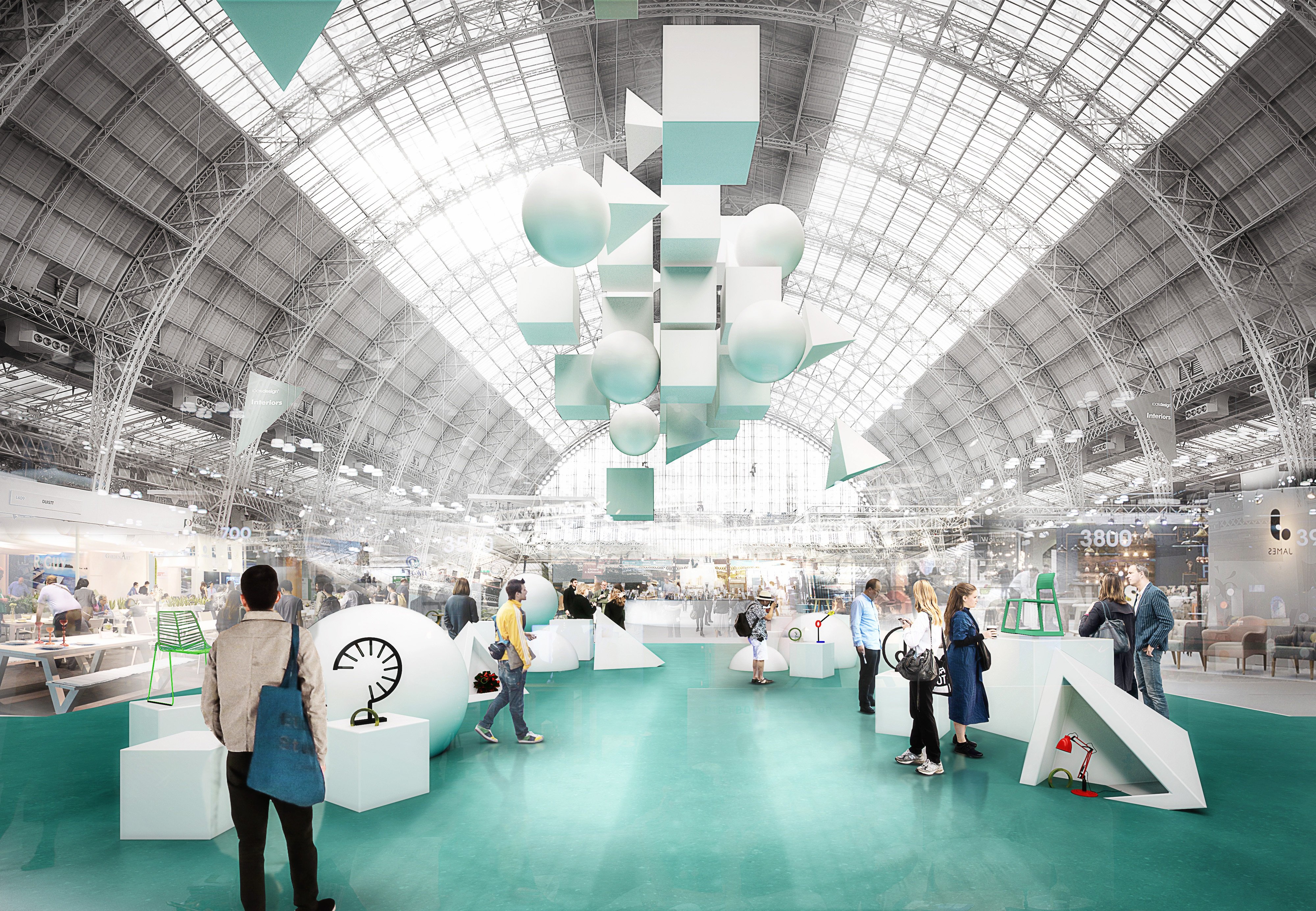 Entrance, 100% Design. "Elements" by Mark Fraser. Courtesy 100% Design.
100% Design is England's largest and longest running trade show for architects and designers and the centerpiece of the London Design Festival. This year's theme, "Elements," considers everything from the fundamentals of design to the components parts that make up a product. Hundreds of exhibitors will be participating in five sections: interiors, workplace, kitchens & bathrooms, design & build, and emerging brands. Adding to the design sensibility of the event, 100% Design has commissioned a series of installations placed within the 22,0000-square-foot Olympia floor plan; each work has been designed to push the boundaries of design in terms of concepts, process, and material capabilities. Attendees will also have access to England's most comprehensive and well attended design seminar program.
A ticket to 100% Design provides free access to Design London, a curated exhibition displaying the best in contemporary craftsmanship and design innovation. Geared to high-end interior designers and industry professionals, the material will be presented within a specifically designed zone within 100% Design.
Zonamaco Salón del Anticuario
September 20-24, 2017
Centro Citibanamex, Hall A, Mexico City
Latin America's leading art fair platform, Zonamaco, presents the fourth Salón del Anticuario, featuring an array of material---ranging from jewelry, furniture, tapestries, maps, coins, and vintage cars and motorcycles---dating before 1960, with sculpture, paintings, and graphic arts prior to 1950. Held simultaneously with the third edition of Zonamaco Photo, which will feature a selection of vintage, modern, and contemporary photographs shown by international galleries, the two shows present the biggest meeting point in the region for collectors of antiques and photography. Attendance to the show has tripled since it's opening in 2014 with more than 15,000 collectors attending last year. In addition to the exhibitors, a conference program will be held in partnership with local institutions.

Unseen Amsterdam
September 22-24, 2017
Westergasfabriek cultural venue, Amsterdam
The most ambitious edition of Unseen Amsterdam, a leading platform for contemporary photography, opens this September 21st with a gala evening followed by a host of events. Numbering 53, more galleries than ever are participating, 15 of which are new this year, all representing 14 countries. Galleries will be showcasing premier works from 95 artists, with much of the material previously unseen. New for the show's sixth year is CO-OP, a space exclusively dedicated to the work of cutting edge artist collectives from around the world. CO-OP will present challenging and pioneering material, presentation modes, and commercial formats designed to stimulate collaborations between artists and create more sustainable careers for collectives.
Exhibitions include "Photo Pleasure Palace" (where participants can playfully explore the absurd and ridiculous interactives) and "Lumix Meets Beyond 2020 by Japanese Photographers #5" (showcasing six exceptional Japanese photographers), among others; site-specific installations feature three interactive ventures in addition to interactive city-wide programming featuring galleries and leading institutions; book signings and launches with 60 independent publishers; and a three-day speaker program about the state of contemporary photography, co-produced by London's Barbican and the Tucson Center for Creative Photography (USA).
OF NOTE
The Science of Design
A Design Collaborative Symposium
September 25, 2017
Liberty Science Center, 222 Jersey City Blvd., N.J.
A day-long symposium hosted by the American Society of Interior Designers (ASID), New Jersey. Participants will hear about the latest advances in building design; learn from ASID CEO Randy Fiser about the WELL Building Institute; attend the 90-plus exhibitor Design and Product fair; and more. The symposium ends with conversation and cocktails.
EXHIBITIONS
Stuart Davis: In Full Swing
Through January 1, 2018
Crystal Bridges Museum of American Art
600 Museum Way, Bentonville, AR

Stuart Davis: In Full Swing is the first major exhibition in 20 years dedicated to Davis (1892–1964), a key figure in the development of American modern art. The 86 works that are showcased reveal the dynamic, original style of this important American painter and chart the artist's development over five decades of artmaking.
Davis' early career was influenced by European modernists like Pablo Picasso, Henri Matisse, and Fernand Léger, and by his love of jazz and advertising imagery. Through his first teacher, Robert Henri, Davis focused on painting the experiences of everyday American urban life, infusing his works with bold, lively colors, shapes, lines, symbols, and words. For Davis, his paintings were an expression of what he called the "American Scene," and he believed abstract art could convey the energy, tension, and experience of American life in a rapidly changing world. Crystal Bridges is the final venue for this exhibition. Previous venues include: Whitney Museum of American Art: June 10 – September 25, 2016; National Gallery of Art: November 20, 2016 – March 5, 2017; and the de Young Museum: April 1 – August 6, 2017.

American Folk Art: Seven Decades of Collecting
Through December 31, 2017
Fenimore Art Museum
5798 State Highway 80, Cooperstown, NY
The Fenimore's remarkable collection of folk art, originated by Stephen C. Clark more than seventy years ago, is one of the most comprehensive and significant in the nation. This exhibition celebrates the portraits, weathervanes, pottery, and more that Clark acquired from private collections such as those of modernist sculptor Elie Nadelman and pioneer collector Jean Lipman. In recent years, the collection has expanded to include the works of important 20th- century folk artists such as Grandma Moses and Ralph Fasanella, both on view in the museum's Main Gallery. The works on display in American Folk Art: Seven Decades of Collecting are a representative sampling of 18th and 19th-century pieces that reflect a visually powerful and historically important expression of the American people.
Sweet Tooth: The Art of Dessert
September 23-February 18, 2017
Shelburne Museum
6000 Shelburne Road, Shelburne, VT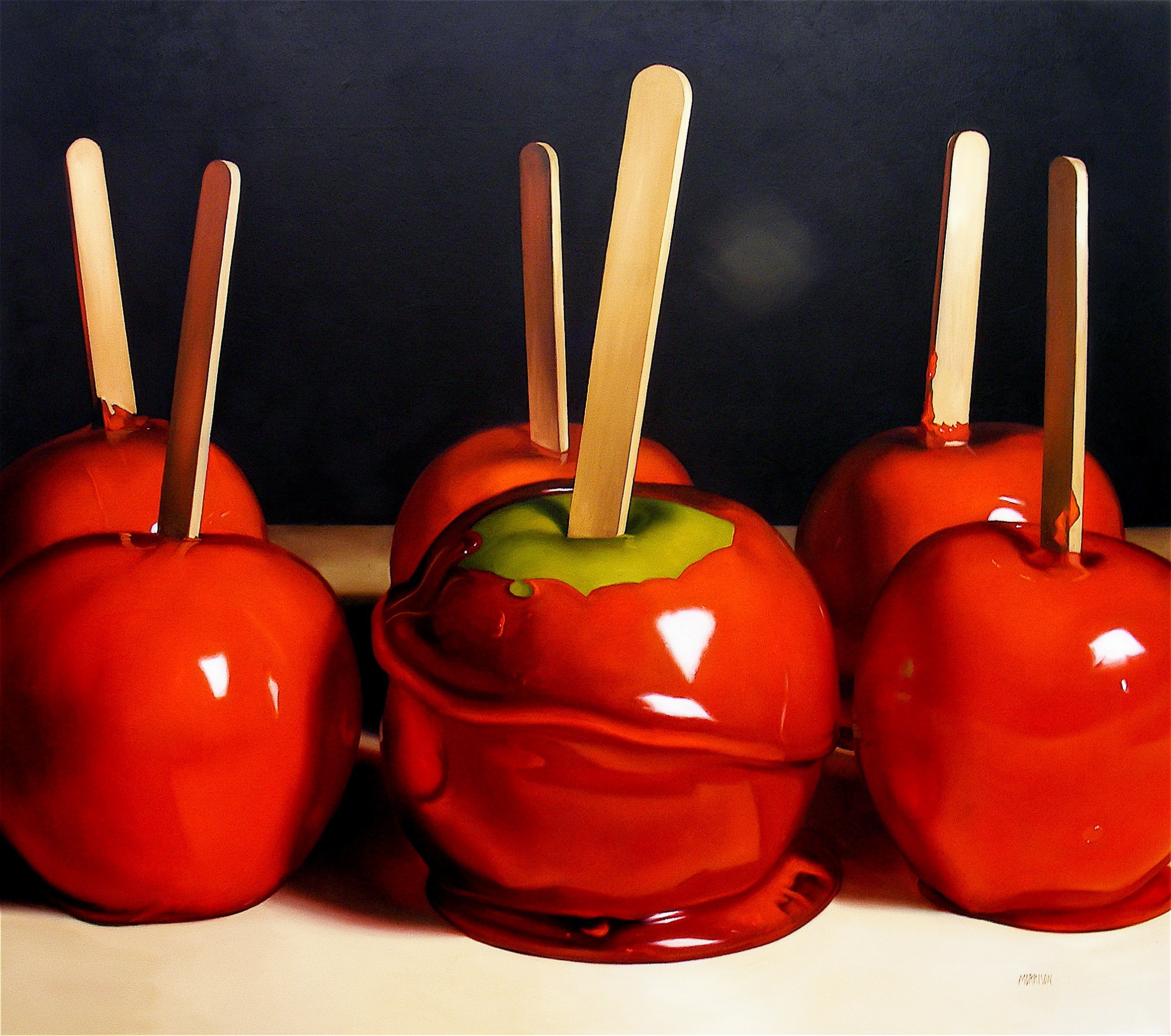 Detail: Margaret Morrison, Candied Apples, 2009. Oil on canvas, 64 x 72 inches. Courtesy Woodward Gallery.
Sweet Tooth: The Art of Dessert explores America's appetite for tantalizing and tasty confections and its impact on modern visual culture. Through the installations of artists working within the subject matter and dessert-themed mixed media, the works of art featured in this exhibition provide a feast for the eyes that is well worth devouring. Delve beneath the sugarcoated surfaces of these delectable paintings, prints, sculpture, and more, and explore the deeper threads of meaning linked to our insatiable desire for sweets.
While at the museum, visit the circa-1832 Dorset House, which has recently reopened after four years of renovations. Inside is the museum's renowned collection of more than 1,000 wildfowl decoys and bird carvings.
Ben Wilson Retrospective: From Social Realism to Abstraction
Through November 4, 2017
George Segal Gallery
Montclair State University
1 Normal Avenue, Montclair, N.J.
Ben Wilson (1913-2001). Left: Victory, 1945; Right: Ben Wilson, 1969. Images courtesy of Montclair State University.
This retrospective exhibition of works traces Wilson's (1913-2001) progression from his WPA works of politically charged Social Realism in the 1930s and 1940s in New York City to layered, geometric abstraction. His Cubist-inflected early pictures, which reflected the violence in Europe, convey the sense of suffering and anxiety that infused the politics of the time, a reality that the artist felt needed to be shared with a wide audience. In the 1950s his abstracted figures morphed into a more symbolic, expressive style, and during the next decade, like many advanced American artists of the period, Wilson moved away from the figure entirely and into a layered geometric abstraction that featured energetic line and vibrant color. These paintings represent Wilson's mature production, and in them he embraced the freedom of a fully developed personal aesthetic.
The exhibition includes a core selection of paintings from the artist's estate gifted to the University by the Ben and Evelyn Wilson Foundation. Throughout his life, Wilson sought to disseminate his ideas through exhibitions and relationships with educational institutions, libraries, and Jewish community groups. This gift of both artwork and archival materials to Montclair State University furthers the artist's wishes to connect his art to the local public.
OF NOTE

America's Presidents Gallery Reopens
September 22, 2017
National Portrait Gallery
Washington, D.C.
After a two-phased refurbishment, starting in February 2017, the National Portrait Gallery's "American Presidents" gallery reopens on September 22. Visitor experience has been improved, touch-screens will provide information on each president, and the gallery space has been reimagined. Among the highlights is Gilbert Stuart's iconic portrait of George Washington (The Lansdowne Portrait), which has also been carefully conserved.
Beyond Audubon
The Art of Ann Chahbandour
Through January 2, 2018
The John James Audubon Center
Mill Grove, 1201 Pawlings Road, Lower Providence, PA
The Audubon-inspired paintings and sculpture of Ann Chahbandour are presently on view at the John James Audubon Center at Mill Grove, which celebrates its reopening after a two-year restoration. Chahbandour's interpretations balance preservation of Audubon's original intentions with innovations of her own creations. Her addition of modern patterns and colors into her art furthers Audubon's concept of exaggerating poses to dramatize his renderings. Chahbandour seeks to convey themes beyond nature, drawing upon a variety of sources and derived from a range of cultures and disciplines, each endowed with its own symbolism and history. Her sculpture--in bronze, ceramic and carved stone--encourages questions of intention and consequence, suggesting narratives beyond Audubon.
Important American Paintings, Volume XVIII:
Be Uncool
Hardbound catalogue available in October
Questroyal Fine Art
903 Park Avenue, New York, NY
www.incollect.com/questroyal-fine-art
Be Uncool celebrates masterworks of American art that are sometimes overlooked by collectors in favor of what's trendy. The hardcover, ninety-six-page catalogue features thirty-seven color plates of paintings by some of the most important nineteenth- and twentieth-century American artists, with examples ranging from masterpieces of the Hudson River School to American Modernism.