This Week's Events: What's New, What's Next + EXPO CHICAGO + London Design Festival + LAPADA Art & Antiques Show & More
DESIGN SHOWS and FAIRS
What's New, What's Next
September 14, 1-9 pm
200 Lexington Avenue, NYC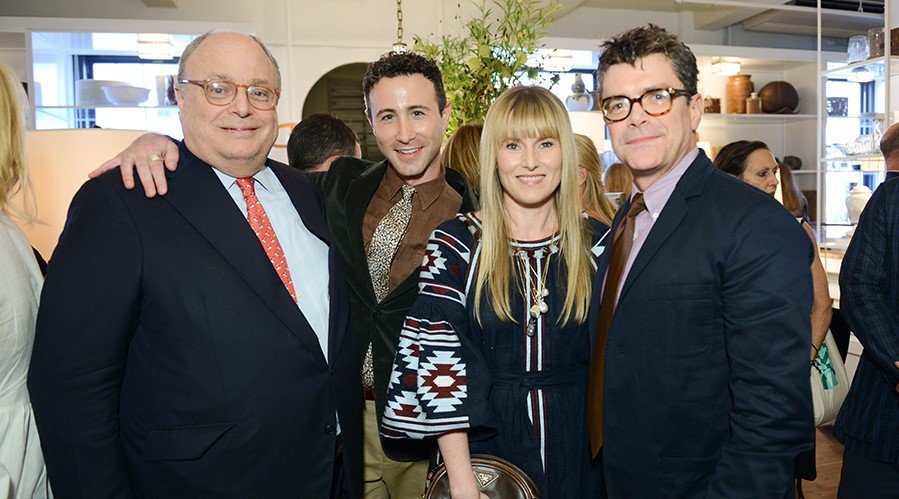 Jim Druckman, New York Design Center President & CEO with designer Dan Fink, Architectural Digest Editor-in-Chief Amy Astley, and designer Thomas O'Brien in AERO.
Courtesy What's New, What's Next.
One of the most anticipated design events of the season is here: What's New, What's Next. Held at the New York Design Center, the premier resource for fine furnishings, the overlapping, seven-hour schedule includes presentations, panel discussions, and book signings, along with sessions hosted by the industry's top designers, manufacturers, and editors--and, of course, great design within each of the many showrooms of the 16-floor historic building. Each of the nearly sixty events is held within a gallery showroom and here's just a small selection of the programs (don't forget to register!):
Starting at the top, on the 16th floor, KGBL and interior designer Timothy Brown's adjoining gallery, t brown studio, host moderator Analisse Taft-Gersten in a discussion with designer Robert Stilin, Christina Gachot, Emily Summers, and Robert Rufino of Elle Decor on "Mixing Contemporary & Vintage Pieces in Interior Design." / Enjoy cocktails with Ellie Cullman and associates Lee Cavanaugh and Alyssa Urban as they celebrate their new book, From Classic to Contemporary: Decorating with Cullman and Kravis, and toast their new "Essence & Evolution" rug collection in collaboration with Crosby Street Studios, where the reception is held (suite 1303). / What's going on in Brooklyn? Find out by attending the session at Cliff Young Ltd. (suite 505), where designers Glenn Gissler, Thom Filicia and others weigh in on everything from artisans to shops to real estate in New York's hip borough. / Antiques dealer and historian Liz O'Brien, designers James Aman and John Meeks, and Wendy Goodman of New York Magazine, survey current interior design projects that imaginatively integrate antiques and contemporary elements; held at Dennis Miller Associates (suite 1210). / Take a visual tour of the captivating and eerily sensuous photography of Formento + Formento at Guy Regal's showroom (suite 425). / Shaker Chic? Enjoy a lively chat on the new forefront of American Style with designers Anthony Baratta, Barbara Westbrook, and Max Humphrey at Century Furniture (suite 200). / To learn about the new (glamorous) kid on the block, stop by Profiles (suite 1211) and join Roric Tobin, Susan Zises Green, and Steven Stolman while they share details about the inaugural Kips Bay Show House opening in Palm Beach this November. Profiles is also collaborating with Bicycle Fine Art to present an ongoing showcase of exceptional contemporary art and design. Founder Lisa-Thi Beskar will use her expertise within the arts and design to curate a network of emerging artists for an ongoing display of paintings on canvas, mixed media on panel, works on paper, and exclusive limited edition prints on display with each new season at Profiles.


More than twenty Meet & Greets will also be held throughout the day/evening. At Cosulich Interiors & Antiques (suite 509), get a front row seat to see a presentation of Murano Glass Fusion technique and an exhibition of the gallery's "Veve Art Glass" collection. / Lobel Modern (suite 915) hosts Brady Legler, a gifted painter, in his gallery; see how Legler explores the relation between color field and texture. / Artisan-made furniture is hot, hot, hot—in design, meaning, and collectibility, so stop by FAIR (suite 601) and meet founder Brad Ford (also founder of Field +Supply) and Steven Learner, architect and founder of Collective Design, who will share their thoughts on the importance of elevated craft in today's design industry.
EXPO CHICAGO
September 13-17, 2017
Chicago Navy Pier, Entrance 2 or East Parking Circle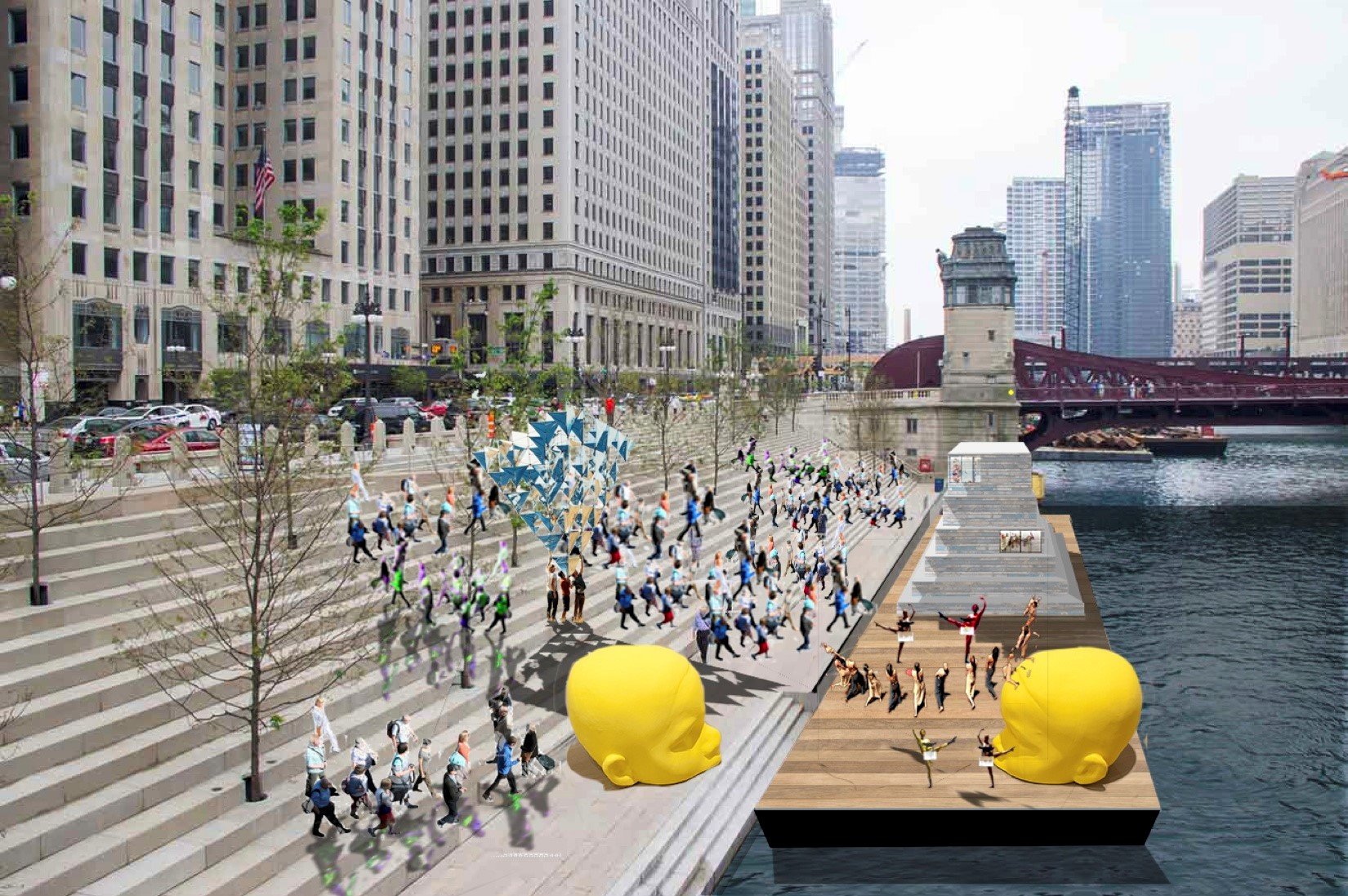 Floating Museum: Chicago River Concept Rendering, 2017 Floating Archive, Chicago River Walk. Courtesy EXPO CHICAGO.
Initiating the beginning of the international fall art season each September, this year EXPO CHICAGO hosts 135 leading galleries representing 25 countries and 58 cities. Held at the historic Navy Pier, leading international exhibitors present alongside one of the highest quality platforms for global modern and contemporary art and culture. In addition to the established exhibitors, programs include the EXPOSURE section dedicated to galleries in business less than eight years.There will also be talks, installations, site-specific works, films and new media works, and special exhibition booths highlighting non-profit organizations. Off-site public programs include art throughout the city.
Major local museums and organizations will open parallel exhibitions and events in tandem with EXPO CHICAGO. In addition to aligning with the Chicago Architecture Biennial (September 16–January 07), EXPO will launch an official partnership with the Palais de Tokyo and Institut français to present an off-site exhibition opening to the public on Tuesday, September 12. The exhibition brings together eleven emerging artists from the French and Chicago art scenes at The Roundhouse—a 17,000-square foot space built in 1881 and designed by Burnham & Root—at the DuSable Museum of African American History in Washington Park.
LAPADA Art and Antiques Fair
September 15-20, 2017
Berkeley Square, London
Of the 550 members of the Association of Art & Antiques Dealers (formerly London and Provincial Antique Dealers Association), 111 participate in the LAPADA Art and Antiques Fair. Founded in 2009, the fair has become one of the foremost international showcases for jewelry, furniture, antiquities, tapestries, clocks, silver, ceramics, and fine art. Every object offered for sale has been vetted for authenticity by a 70-member committee of specialists.
A series of talks will be presented during the show, with a session by LAPADA's cultural partner, the Ashmolean Museum, focusing on their upcoming exhibition, Imaginging the Devine. Other topics include Renaissance sugar sculpture, Australian Aboriginal art, London-made material, jewelry history, and other topics.
London Design Festival
September 16-24, 2017
The city of London
http://www.londondesignfestival.com
An annual event celebrating design and creativity in London, the Design Festival draws on the talents of the city's leading thinkers, practitioners, retailers, and educators to promote the cultural and commercial strengths of London. Programs range from major international exhibitions to trade events, installations, talks and seminars, with product launches, private viewings, and parties. In its fifteenth year, there will be more than 400 programs and events staged throughout the city by 300+ partner organizations.
Celebrating 40 years of design collaborations, Decorex 2017 is England's leading destination for interior design. Held from September 17-20, the location, Syon Park, also serves as the opening destination for the London Design Festival. Recognized among the international design community as a resource for interior designers, architects, and retailers, more than 400 exhibitors, ranging from established to emerging talents, will welcome nearly 14,000 visitors.
The London Design Fair (September 21-24) is another of the events held during the festival. Located in East London, the four-day trade show is an industry event comprised of 500 exhibitors from 28 countries and is the single largest collection of international exhibitions, designers, brands, country pavilions, and exhibitions throughout the festival.