This Week's Events: Modernism Fall Preview, Artist John Sloan, National Design Awards, BIFAS, Women Impressionists & More
ART & DESIGN SHOWS
Modernism Week's Fall Preview
October 19-22, 2017
Palm Springs, CA; various venues
With Modernism Week's annual celebration of midcentury design occurring in February, "Fall Preview" weekend in October kicks off the social season in Palm Springs with a selection of the most popular events from the February festival. Participants will enjoy architectural walking tours, cocktail parties, home tours, lectures, and more during the four days of events.
One of the main attractions is the fall edition of Palm Springs Modernism Show & Sale held October 20-22 at the Palm Springs Convention Center. Forty premier national and international exhibitors specializing in the decorative and fine art design movements of the 20th century will participate in the fourth annual edition of the show. An early buying preview will benefit Modernism Week, which provides scholarships for local students pursuing the fields of architecture and design.
Boston International Fine Art Show
October 19-22, 2017
The Cyclorama at the Boston Center for the Arts
539 Tremont Street, Boston, MA
New England's premier fine art show, BIFAS celebrates its 21st year with a gala preview Thursday night followed by three days of offerings by leading dealers in material ranging from Old Master drawings to contemporary art by emerging and established artists. Works are priced for the beginner and connoisseur. Exhibitors include Arader Galleries, Avery Galleries, Jerald Melberg Gallery, Lawrence Fine Art, Questroyal Fine Art, Vose Galleries, and William Vareika Fine Arts.
A luncheon with top designer Joe Nahem, will focus on how he highlights art within the interiors he creates for clients; a book signing will follow. Other programs offered include topics on jewelry, travel, and collectors' homes.
Outsider Art Fair, Paris
October 19-20, 2017
Hôtel du Doc, Paris, France
http://www.outsiderartfair.com/fair/2139
Held within the glorious Hôtel du Doc in Paris, the fair will showcase thirty-four exhibitors bringing examples of Outsider Art from around the world. Additionally there will be panel discussions and a curated space dedicated to 97-year-old gallerist and dealer Daniel Cordier and his relationship with Outsider Art.
LISTINGS
National Design Awards
October 19, 1017
Arthur Ross Terrace & Garden
Cooper Hewitt, 2 East 91st Street, NYC
The winners of the 2017 National Design Awards, recognizing design excellence and innovation in 11 categories, will be presented at a gala evening this Thursday at the Cooper Hewitt, Smithsonian Design Museum in Manhattan. The awards promote design as a vital humanistic tool in shaping and educating the world. Established in 2000 as a project of the White House Millennium Council, the awards coincide with National Design Week (October 14-22).
WestEdge Design Fair
October 19-22, 2017
The Barker Hangar, Santa Monica, CA
http://www.westedgedesignfair.com
Now in its fifth year, WestEdge offers the best in modern design, all in an environment designed to engage, entertain and inspire. The fair offers the opportunity to shop from premium home furnishings brands-many new to the West Coast and meet the designers behind thousands of inspiring products. In addition, attendees gain insight from leading names in the design industry with a full series of educational programs and special events.
New York Junior League Fall House Tour
October 20-21, 2017
https://www.nyjl.org/nyjl-house-tours
The bi-annual self-guided tours, held each spring and fall, are devoted to showcasing Manhattan's exquisite residences, and highlight architecture, art, history and a range of exceptional interior design styles. Proceeds from the tour support the New York Junior League's funding for the charitable activities of the League. Featured designers include Jamie Drake, Robert Couturier, Garrow Kedigian, Barbara Littman, and more.
MUSEUM EXHIBITIONS
Through the Eyes of Picasso
October 20, 2017-April 8, 2018
Nelson Atkins Museum of Art, Kansas City, MO

This major exhibition will explore Pablo Picasso's life-long fascination with African and Oceanic art, as well as works from the Americas, uniting his paintings and sculpture with art that fueled his own creative exploration.

In addition to paintings, sculpture, and drawings by Picasso, the exhibition will feature significant works of African and Oceanic art that transformed his artistic vision when he encountered them at the Musée d' Ethnographie du Trocadéro (now Musée du Quai Branly – Jacques Chirac in Paris) during the early part of the 20th century. For Picasso, the allure of these masks and sculptures was in the artists' exploration of line, abstraction of the human body, and representation of metamorphosis. Visitors also will see works Picasso collected, lived with, and kept with him through numerous studio moves, still owned by his family, and others that are in the Picasso Museum in Paris.
An American Journey:
The Art of John Sloan
October 21, 2017-January 28, 2018
Delaware Art Museum
2301 Kentmere Parkway, Wilmington, Del
The first major retrospective exhibition of John Sloan's work since 1988, An American Journey explores all facets of the artist's long career: his work as an illustrator in Philadelphia, his famous depictions of New York City, his lively views of Gloucester, Massachusetts, and his fascinating studies of Santa Fe, New Mexico. The exhibition includes nearly 100 works–drawings, prints, and paintings–produced between 1890 and 1946. The Delaware Art Museum holds the largest collection of work by the American artist and illustrator John Sloan, as well as a rich trove of archival materials. This exhibition draws from and celebrates this extraordinary collection, made possible by the artist's widow Helen Farr Sloan.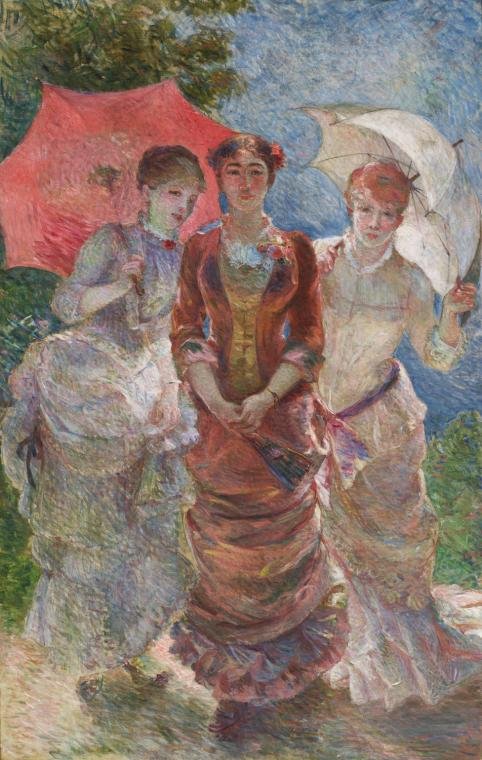 Her Paris: Women Artists in the Age of Impressionism
October 22, 2017 – January 14, 2018
Denver Museum of Art
100 W. 14th Avenue Pkwy, Denver, CO
Paris was a in a time of great social, cultural, and artistic change in the second half of the nineteenth century. Though a cosmopolitan city, Parisian society remained restrictive for women. They were not allowed to attend to the École des Beaux-Arts (Academy of Fine Arts)—the country's most important art academy—until 1897, and it was not socially acceptable to frequent public spaces, such as cafes, to work on their art and mingle with their peers without a male companion.
Her Paris features more than eighty paintings by thirty-seven female artists from Europe and America who migrated to this epicenter of art and culture to further their careers, despite societal challenges. In Paris they attended private academies, exhibited independently, and formed their own organizations.
caption: Marie Bracquemond, Three Women with Parasols, about 1880. Oil on canvas, 54 ¾ x 35 1/16 inches. Musee d'Orsay, Paris, France. Bequest of Gustave Geffroy, 1926. Photo; Patrice Schmidt. © RMN-Grand Palais / Art Resource, NY. Courtesy American Federation of Arts.
CATCH IT BEFORE IT CLOSES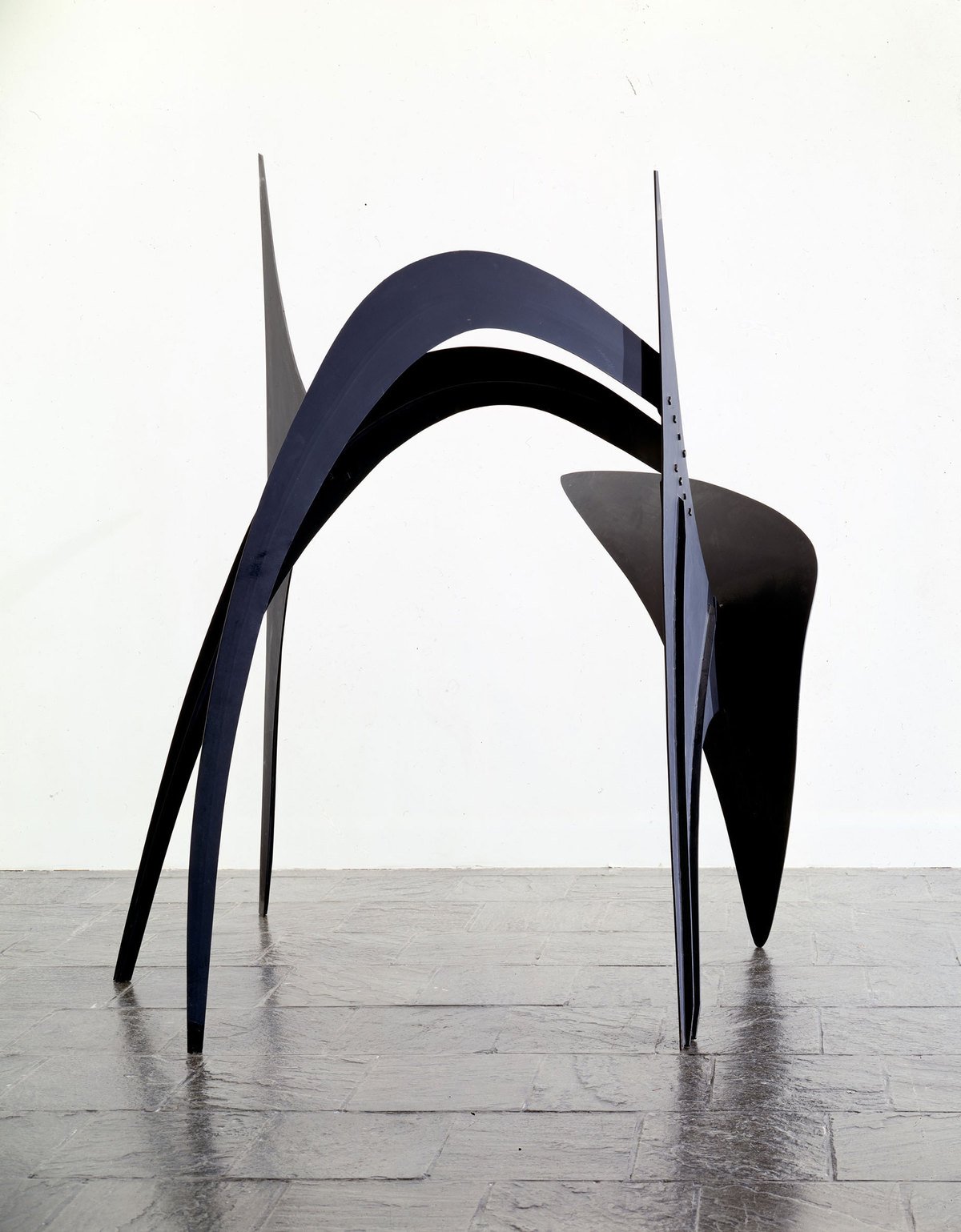 Calder: Hypermobility
Through October 23, 2017
Whitney Museum of American Art
99 Gansevoort Street, NYC
Calder: Hypermobility focuses on the extraordinary breadth of movement and sound in the work of Alexander Calder. This exhibition brings together a rich constellation of key sculptures and provides a rare opportunity to experience the works as the artist intended—in motion. Regular activations will occur in the galleries, revealing the inherent kinetic nature of Calder's work, as well as its relationship to performance. Influenced in part by the artist's fascination and engagement with choreography, Calder's sculptures contain an embedded performativity that is reflected in their idiosyncratic motions and the perceptual responses they provoke.


caption: Alexander Calder (1898–1976), The Arches, 1959. Sheet metal and paint, 106 × 107 1/2 × 87 in. (269.2 × 273.1 × 221 cm). Whitney Museum of American Art, New York; gift of Howard and Jean Lipman 82.44a-e. © 2017 Calder Foundation, New York / Artists Rights Society (ARS), New York.
LISTING
Knights of the Air: Aviator Heroes of World War I
October 17-December 31, 2017
Flagler Museum, Palm Beach, FL
In commemoration of the 100th anniversary of America's entry into World War I, Knights of the Air is the first museum exhibit devoted to the image of the World War I pilot-hero and honors the daredevil pilots who risked everything for the cause at the dawn of aviation. Imbued with a sense of adventure and fierce patriotism, aviators became the face of the War efforts back home. Works of art, souvenirs, postcards, and newspapers celebrated their valiant efforts. After the War, the romance of flight was embodied in new types of daring aviators, such as barnstorming aerial acrobats, airmail pilots, and bootleggers.