Top Museum Acquisitions: 2021 in Review by Daniel Grant
by Daniel Grant
For almost all of 2020 and much of 2021, many museums weren't open or were only open sporadically due to concerns related to the pandemic. Some institutions highlighted "virtual" exhibitions, but the novelty wore off quickly. Meanwhile, a growing percentage of the museum-going public was less interested in what was on view than what was not: works by women artists, African-American artists, works by nonwestern artists, exhibitions that examined the troubled state of the world; many museums answered the call with new exhibits and expanded collecting parameters.
Frustration over the lack of ethnic and gender equity and criticism of income inequality among staff has shaken many institutions to their core. Some of this discontent has come from a growing number of museum employees who have sought to unionize. Staffers at both the Walters Art Museum and the Baltimore Museum of Art formed unions, as did employees at the Art Institute of Chicago, the Brooklyn Museum, the Whitney Museum of American Art, and the Solomon R. Guggenheim Museum in New York. Complaining about management's refusal to negotiate new contracts, the union representing more than two hundred employees of the Museum of Fine Arts, Boston held a one-day strike in November. >>>



(Left to right) Fig. 1: Tatiana Parcero (b. 1967), Interior Cartography #35, 1996. Chromogenic color print and acetate, 9-3/8 × 6-3⁄16 inches. The Museum of Modern Art, New York; Gift of Helen Kornblum in honor of Roxana Marcoci. © 2021 Tatiana Parcero. Fig. 2: Elizabeth Catlett (1915–2012), Singing Head, 1968. Bronze. H. 8-1/4, W. 6, D. 8 in. San Francisco Museum of Art; Gift of The Pamela J. Joyner and Alfred J. Giuffrida Collection (PS20.026). © 2021 Mora-Catlett Family/Licensed by VAGA at Artists Rights Society (ARS), NY.
A number of institutions sold pieces from their permanent collections in order to make up for a lack of donations and revenues resulting from the absence of visitors. The Metropolitan Museum of Art, for instance, announced plans to sell 219 prints and photographs to help plug a $150 million revenue shortfall resulting from the pandemic, joining the Brooklyn Museum and the Newark Museum of Art, which also identified objects for sale.
That being said, collectors continue to show an interest in donating cash and objects to museums, and institutions still manage to make purchases. Recognizing the need to fill in some holes in the history of photography, New York psychotherapist Helen Kornblum donated 100 photographs by seventy-six women artists, including Lola Álvarez Bravo, Claude Cahun, Gertrud Arndt, Catherine Opie, Tatiana Parcero (Fig. 1) , and Carrie Mae Weems to the Museum of Modern Art. Since 2014, Kornblum has been a member of the Modern's photography committee, which undoubtedly gave her insight into what the story of women photographers lacked. Clément Chéroux, chief curator of the museum's department of photography, stated that "at a time when it is more important than ever to affirm parity, equity, and diversity of voices, Helen Kornblum's donation is a welcome addition to MoMA's photography collection."
Another hole in the collecting of art is the contribution of African-American artists, who Pamela J. Joyner and Alfred J. Giuffrida, San Francisco-based collectors of African and African-American abstract art, have helped to fill with their donation to the San Francisco Museum of Modern Art of thirty-one paintings, sculptures and drawings by twenty Black American artists, including pieces by Elizabeth Catlett (Fig. 2), Beauford Delaney, Norman Lewis, and Richard Mayhew. SFMOMA director Neal Benezra called the gift "generous and transformative," crediting "Pamela and Fred's more than two decades of outstanding collecting and advocacy for Black artists."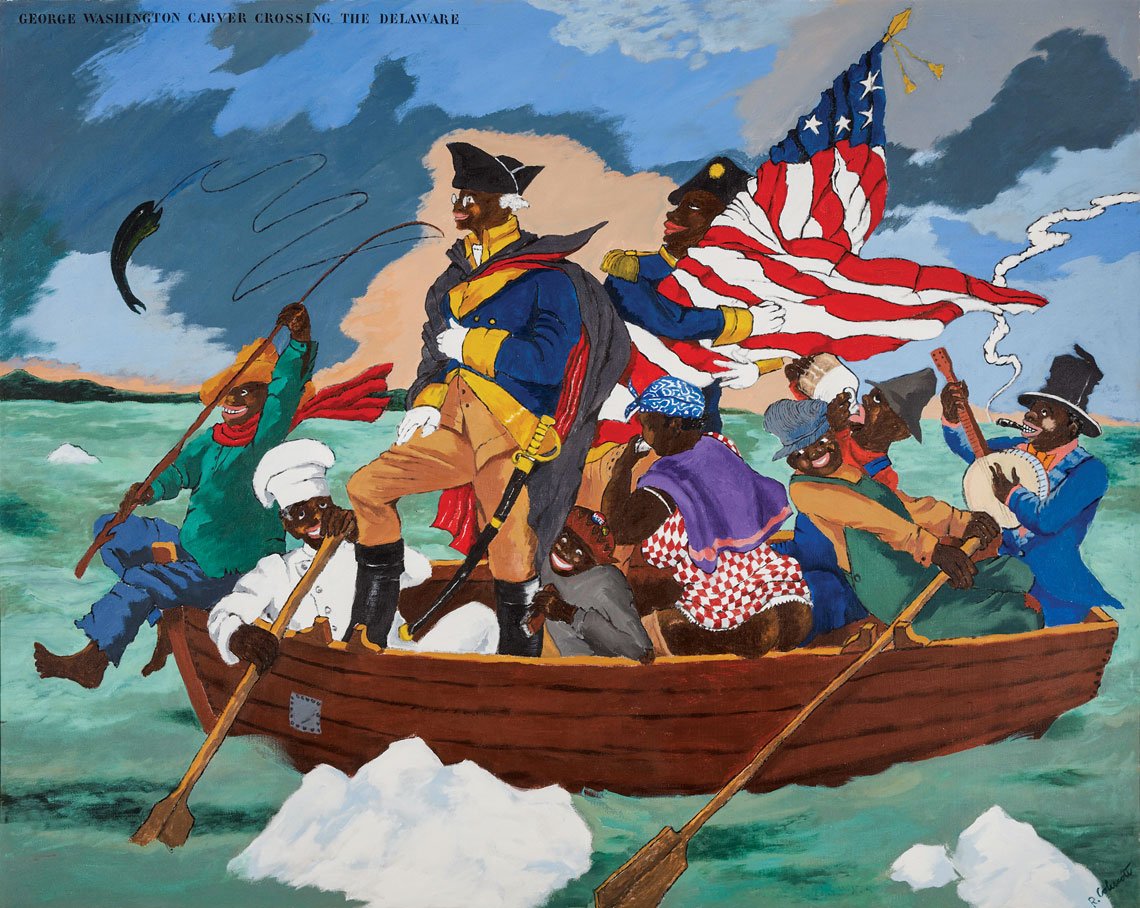 Fig. 3: Robert Colescott (1925–2009), George Washington Carver Crossing the Delaware: Page from an American History Textbook, 1975. Acrylic on canvas, 78-1/2 x 98-1/4 inches. Lucas Museum of Narrative Art, Los Angeles (2021.45.1). © 2021 The Robert H. Colescott Separate Property Trust / Artists Rights Society (ARS), New York.
| | |
| --- | --- |
| | |
| | Fig. 4: Peter Bentzon (ca. 1783–ca. 1850), nutmeg grater, ca. 1810–1820. Silver with steel grater. Wadsworth Atheneum Museum of Art; Douglas Tracy Smith and Dorothy Potter Smith Fund (2021.1.1). |
In a similar vein, the Lucas Museum of Narrative Art in Los Angeles, which is expected to open in 2023, purchased Robert Colescott's 1975 painting George Washington Carver Crossing the Delaware: Page from an American History Textbook (Fig. 3), at a Sotheby's auction in New York last May. The painting is grand in scale, measuring 78½ by 98¼ inches, and has been exhibited and published many times since it was first shown at the Whitney Museum of American Art's 1978 traveling exhibition Art About Art.
The decorative arts collection at the Wadsworth Atheneum in Hartford, Connecticut, has increased with the acquisition of works of American silver, including a nutmeg grater dating back to 1810–1820 by Caribbean silversmith Peter Bentzon (Fig. 4), and a circa-1779 flagon by Connecticut silversmith Ebenezer Chittenden. Bentzon, a free silversmith of color born in the Virgin Islands, trained in Philadelphia and went on to operate his own independent businesses in both Philadelphia and St. Croix. The nutmeg grater, along with a previously acquired marrow scoop attributed to the enslaved silversmith Abraham of Charleston, South Carolina, allows the museum to highlight metalsmiths of African descent.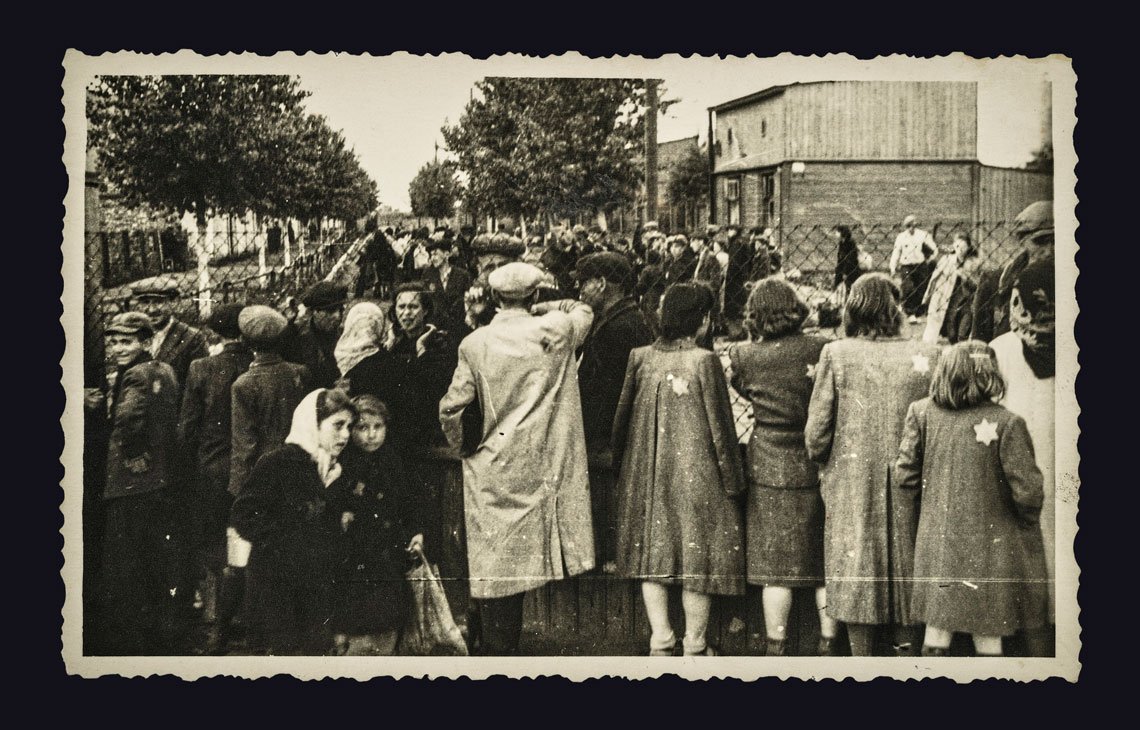 Fig. 6: Henryk Ross (1910–1991), Untitled from Litzmann (Lodz) Ghetto, 1940–1945. Photograph, gelatin silver print. Museum of Fine Arts, Boston; Gift of Howard Greenberg in honor of Jacques Preis. Courtesy, Museum of Fine Arts, Boston.
| | |
| --- | --- |
| | |
| | Fig. 5: Amos Ferguson (1920–2009), Untitled, n.d. Paint on board, 37-1/4 x 32 x 1-5/8 inches (framed). American Folk Art Museum; Gift of Richard and Laura Parsons (2021.6.8). |
The Smithsonian National Museum of African American History and Culture in Washington, D.C., and the Speed Art Museum in Louisville, Kentucky, jointly acquired Amy Sherald's portrait of Breonna Taylor, the 26-year-old emergency medical technician who was fatally shot when police officers forced their way into her Louisville apartment in search of a drug dealer. Her 2020 death became a rallying cry for the Black Lives Matter movement, and the painting was quickly put on display last April at the Speed Museum in an exhibition on Taylor, Promise, Witness, Remembrance. The work was acquired with a $1 million joint donation from the Ford Foundation and the Hearthland Foundation, a new nonprofit run by actress Kate Capshaw and her husband Steven Spielberg. Sherald, who personally orchestrated the sale, is using the proceeds to fund a program she is forming to support students interested in social justice pursue higher education.
Laura and Richard Parsons (the former CEO of AOL Time Warner) donated forty works by self-taught artists—including Horace Pippin, Bill Traylor, Clementine Hunter, Gertrude Morgan, Jimmy Lee Sudduth, and Amos Ferguson (Fig. 5)—to the American Folk Art Museum in New York City, as part of the institution's sixtieth anniversary.
The Museum of Fine Arts, Boston, received a gift of forty-eight photographs by Henryk Ross (1910–1991) (Fig. 6), which offer a rare glimpse of life inside Poland's Lodz Ghetto during the Holocaust. Donated to the museum by collector Howard Greenberg, the group of gelatin silver prints was originally given by Ross to Lova Szmuszkowicz, later Leon Sutton (1909–2007), a fellow survivor of the Lodz Ghetto, who brought them to the U.S. when he immigrated to New York City in 1947. The prints represent a significant range of both official images, which Ross took as a photographer for the ghetto's Department of Statistics, and the unofficial photographs that he took secretly at great personal risk, which documented the grim realities of life inside. Museum director Matthew Teitelbaum stated that "these 48 photographs serve as both memory and documentary evidence of the extremes of war. They are powerful and memorable."
As many museums looked for ways to make up for operating losses, one museum that faced some criticism for its plans to sell items was the Newark Museum of Art in New Jersey, which announced its intention to sell paintings by Georgia O'Keeffe, Frederic Remington, Thomas Moran and Thomas Eakins, in addition to an 1846 painting Arch of Nero by British-born American artist Thomas Cole. It was the Cole landscape that brought the greatest hue and cry, but the artwork did not go far. The Thomas H. and Diane DeMell Jacobsen Ph.D Foundation, a St. Louis–based organization whose aim is to "research and obtain American masterpieces," purchased the work when it went on sale at Sotheby's, and donated it to the Philadelphia Museum of Art.
An 1839 painting by Thomas Cole, Portage Falls on the Genesee (Fig. 7), was purchased by the Huntington Library, Art Museum, and Botanical Gardens in California, in partnership with The Ahmanson Foundation. The painting once had belonged to William H. Seward, who served as secretary of state under Abraham Lincoln.



(Left to right)

Fig. 7: Thomas Cole (1801–1848), Portage Falls on the Genesee, ca. 1839. Oil on canvas, 84-1/4 x 61-1/4 inches. The Huntington Library, Art Museum, and Botanical Gardens; Gift of The Ahmanson Foundation. © The Huntington. Fig. 8: Gustave Caillebotte (1848–1894), Young Man at His Window, 1876. Oil on canvas, 45-11⁄16 x 31-7/8 inches. Getty Museum (2021.67).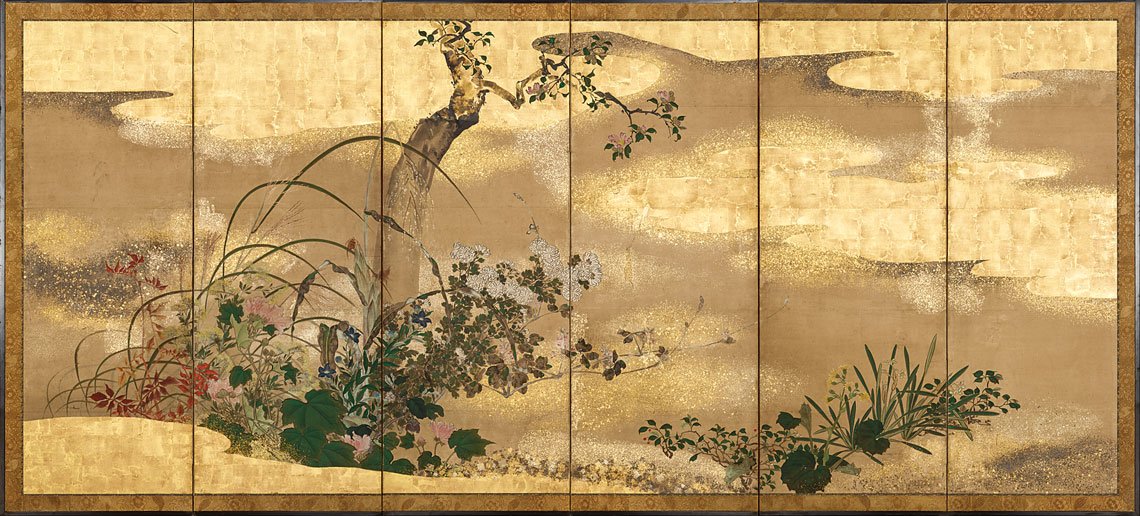 Fig. 9: Watanabe Shikō 渡辺始興 (1683–1755), Flowers and Trees of the Four Seasons (四季花木図屏風). One of a pair of six-panel folding screens. Ink, color, gold, silver, and gilding on paper. Cleveland Museum of Art.
Gustave Caillebotte was a relatively obscure figure in the history of French Impressionism until Kirk Varnedoe, who later became chief curator in the department of painting and sculpture at the Museum of Modern Art, made the artist the focus of a 1987 monograph. The artist's work is now highly sought-after, and the Cleveland Museum of Art purchased a drawing Study of a Man with Hands in His Pockets that shows the artist's close friend Eugène Lamy in a casual pose and facing away from the viewer. Of even greater note is the purchase at a Christie's auction by the J. Paul Getty Museum of the artist's Young Man at His Window (1876) (Fig. 8), formerly considered the most important work by the artist in private hands.
Watanabe Shikō (1683–1755), a Japanese artist who lived and worked in Kyoto, was best known for landscape paintings on doors, walls and screens. Examples of his work are in the British Museum, Brooklyn Museum, Detroit Institute of Art, the Harvard Art Museums, The Metropolitan Museum of Art, and now in the Cleveland Museum of Art, which purchased a pair of his six-panel folding screens depicting flowers and trees of the four seasons (Fig. 9).
Every year, there are gifts to museums that outshine all the others. The Metropolitan Museum of Art received a cash donation from trustee Oscar Tang and his wife, Agnes Hsu-Tang, of $125 million to fund a renovation of the museum's modern wing, which will include creating 80,000 square feet of galleries and public space. Emily Rauh Pulitzer, continuing a legacy of patronage to the Saint Louis Art Museum by the Pulitzer family that dates back more than ninety years, made a promised gift to the institution of twenty-two works, including paintings and sculptures by Pablo Picasso, Georges Braque, Constantin Brancusi, Joan Miró (Fig. 10), Philip Guston, Ellsworth Kelly, Andy Warhol, and others. Min Jung Kim, the newly appointed director of the museum, said, "the most extraordinary thing about this gift is its surpassing quality. . . These works are, by themselves, an art historical primer."



(Left to right)

Fig. 10: Joan Miró (1893–1983); Untitled, 1953. Oil on canvas, 96-1/2 x 67 inches. Saint Louis Museum of Art; Gift of Emily Rauh Pulitzer. © Successió Miró /Artists Rights Society (ARS), New York / ADAGP, Paris 2021, Photograph by Dave Ulmer. Fig. 11: Paul Comoléra, Minton Ceramics Manufactory, Majolica figure of a peacock, 1876. Lead-glazed earthenware, H. 59-7/8, W. 27-1/2, D. 17-1/4 inches. (IL.2020.11.1). Impressed "1876" in a cypher; numerals and marks, inscribed "P. Comoléra." Courtesy of the Walters Art Museum.
| | |
| --- | --- |
| | |
| | Fig. 12: Maurice Quentin de La Tour (1704–1788), Anne-Marguerite Perrinet de Longuefin, Mme. Rouillé, ca. 1738. Pastel on paper, 23-3/4 x 19 inches. The Frick Collection; Promised Gift from the Collection of Elizabeth and Jean-Marie Eveillard. Photo by Joseph Coscia Jr. |
Another major gift is a donation to the Walters Art Museum from Baltimore art collectors Deborah and Philip English of $2.5 million (to hire a curator in the areas of decorative arts, design, and material culture) and a promised gift of more than five hundred objects from their collection of British and continental-European majolica (Fig. 11). Yet another major gift of artwork, this to New York's Frick Collection, is a group of twenty-six drawings, pastels, and prints by European artists, such as François Boucher, Edgar Degas, Jean-Honoré Fragonard, Maurice Quentin de La Tour (Fig. 12), Francisco José de Goya y Lucientes, Thomas Lawrence, and Jean-François Millet. The promised donation came from Elizabeth and Jean-Marie Eveillard, both of whom are long-time supporters of the museum.
Art history is not a fixed subject. Artworks gain new, sometimes improved, and sometimes downgraded, attributions, while unknown works by important artists are sometimes discovered by researchers. One such work, a circa-1520 painting titled The Trojans Building the Temple to Venus at Eryx and Making Offerings at Anchises's Grave, was recently attributed to Italian artist Dosso Dossi (1489–1542) and acquired by the National Gallery of Art in the past year (Fig. 13, image on the right). The painting completes the story of the artist's Aeneas and Achates on the Libyan Coast (also circas1520) (left), which has been part of the museum's collection since 1939.

Fig. 13a, b: Dosso Dossi (1489–1542), (right), The Trojans Building the Temple to Venus at Eryx and Making Offerings at Anchises's Grave, ca. 1520. Oil on canvas, 23-3/8 x 33-11⁄16 inches. National Gallery of Art, Washington; Purchased as the Gift of Anonymous, (left) Aeneas and Achates on the Libyan Coast, ca. 1520. Oil on canvas, 23-1/8 x 34-1/2 inches. National Gallery of Art, Washington; Samuel H. Kress Collection (1939.1.250).
New acquisitions are fun for institutions to trumpet, but there is an ongoing dark side too, in the growing number of museums required to give up items designated as stolen or looted. The Washington, D.C.-based Museum of the Bible returned five thousand artifacts to the Egyptian government; while The Metropolitan Museum of Art returned a religious sculpture from the tenth century to Nepal; the Brooklyn Museum repatriated 1,300 pre-Columbian objects to Costa Rica; the Philadelphia Museum of Art sent back to the Czech Republic a sixteenth-century Italian shield; the Dallas Museum of Art returned a statue of a Hindu deity to Nepal that had disappeared from a temple shrine; the Birmingham Museum of Art in Alabama returned two works of art to two Alaskan Native American tribes; and the Denver Art Museum restituted four looted artifacts to Cambodia. It wasn't just institutions that were caught: celebrity Kim Kardashian was forced to give up an ancient Roman sculpture she had purchased from a Belgian gallery in 2016, as it had been looted, and American hedge-fund billionaire Michael Steinhardt surrendered 180 looted and illegally smuggled antiquities valued at $70 million; he was given a lifetime ban on acquiring other relics as part of an agreement with the Manhattan district attorney's office.
---
Daniel Grant is a freelance writer specializing in the arts industry.
This article was originally published in the 22nd Anniversary/Winter 2022 issue of Antiques & Fine Art magazine, a fully digitized version of which is available at www.afamag.com. AFA is affiliated with Incollect.com.