Traveling to France this Summer? Here are 6 Great Art & Design Exhibitions on View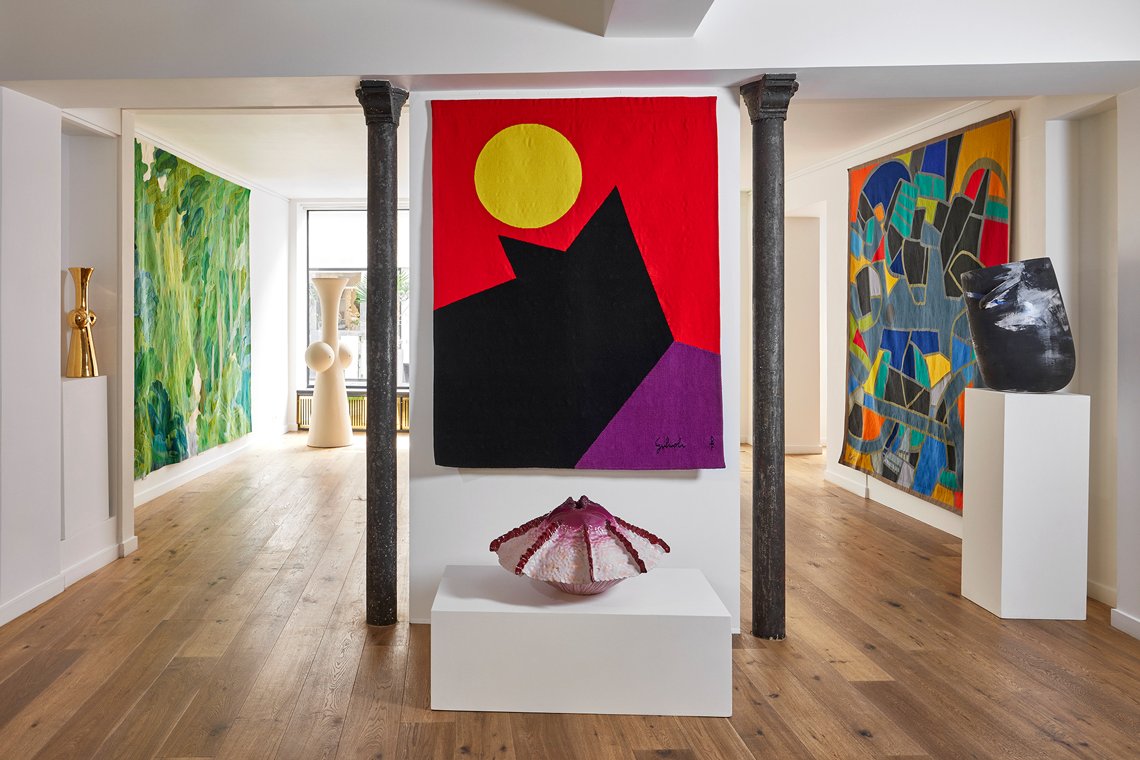 At Galerie Negropontes Paris, through August 5, Dialogues: Tapestries and Ceramics, Pinton Et Rometti.

Traveling to France this Summer? Here are 6 Great Art & Design Exhibitions on View
Summer is finally here, and what better place to vacation than France, the world's most popular tourist destination. If the food, wine, art and architecture aren't enough, then why not check out some of the extraordinary design galleries located all over the country, but of course predominantly in Paris. Here are six of our favorites.
By Benjamin Genocchio
Galerie Negropontes
Dialogues: Tapestries and Ceramics, Pinton Et Rometti
Through August 5
Top:
Untitled wool tapestry by Maurice Estève, executed by Maison Pinton, 1985, and one-off ceramic vessel Orage 10 by Benjamin Poulanges for Rometti, 2018. Above left: Untitled one-off wool tapestry, Pierre Dimitrienko, 1980 executed by Maison Pinton. Above right: Arythmie II, one off ceramic by Jean-Christophe Clair, 2021 for Rometti.

Shows highlighting artistic dialogues, especially between artists who are working in different mediums, are most always fascinating and illuminating. So it is at the Parisian Galerie Negropontes, where the first in a series of exhibitions exploring organic links between creators of ceramics and tapestries showcases works by several artists, while shining a light on two traditional manufacturers — Pinton, the Aubusson tapestry manufacturer, and Rometti, the Umbertide ceramics maker.
Tradition is important, but without change, it can be stagnant. That is what makes this exhibition so interesting, that contemporary creators have sought to draw on the expertise of traditional manufacturers to create works of fresh, vibrant, relevant contemporary art and design, wherein each sphere informs the other. Themes of movement, color and nature abound, noticeable in spectacular wool tapestries from Maison Pinton by Roger Muhl, Maurice Esteve and Émile Gilioli, as well as in the ceramic piece Arythmie, an effusive one-off vase of flowers by Jean-Christophe Clair manufactured with Rometti.
Galerie Negropontes
14-16 rue Jean-Jacques Rousseau - 75001
Paris, France
Monday to Saturday, 10am–7pm
Galerie BSL
Wild Silk - François Mascarello
Through July 9
Top:
Discover Wild Silk at Galerie BSL through July 9. Wild Silk, 22.1 tapestry painting made of shimmering raw silk strips by François Mascarello. Shown with Nacho Carbonell's Luciferase XLII and Pia Maria Raeder's Sea Anemone side table. Above: Warm, intriguing and tactile, François Mascarello's

raw silk tapestry painting

Wild Silk 22.8 .
Galerie BSL occupies three spaces in Paris from which founder and owner Beatrice Saint-Laurent showcases the best, most innovative contemporary art and design. It is a gallery of uncompromising commitment to experimentation and the new, and in this spirit, the gallery is presenting an exhibition of the work of textile artist François Mascarello. The show is titled Wild Silk, and the works are composed with strips of raw silk hand-sewn with invisible stitches on white linen to create abstract imagery.
Mascarello is creating paintings, first and foremost, using silk as well as paint: the artist first creates an oil painting on paper as a guide then moves over to silk. He is interested in contrasts of color, shape and form as well as the creation of a sense of visual harmony through carefully selecting and combining materials. Comparison to Matisse's cut-out assemblages come to mind, both artists creating fluid abstract compositions designed to please the eyes.
Nature is another inspiration for Mascarello, evident not only in the imagery, evocative of landscapes, but also in his affinity for layered, organic warm earth tones.
Galerie BSL
14, rue des Beaux-Arts - 7500
Paris, France
Monday to Saturday, 10am–7pm
Galerie Gosserez
Vincent Poujardieu - Exposition Monographique
Through July 29
At Coutume Studio, 46 rue Lafaurie de Monbadon - 33000, Bordeaux
Thursday to Saturday, 11am-7pm
Top:
Artist Vincent Poujardieu is a native of Bordeaux, so it's only fitting that this solo exhibition of his Nida light sculptures is being held there. Paris-based Galerie Gosserez is presenting the show in partnership with host Coutume Studio of Bordeaux. Here, Poujardieu's Nida pendant, in which light filters through layers of golden aeronautical aluminum honeycomb to create a diffused golden glow with a subtle kinetic refraction, and the effect is sublime. Above: More ways to bask in a golden glow: the Nida floor lamp and table lamp, with 24-kt gold gilded stands. The artist says that the cross pieces depict "shafts of sunlight."
Fresh from a successful showing at PAD Paris and a collaboration with Christie's auction house, the industrious Galerie Gosserez is heading to Bordeaux for the summer to partner with Coutume Studio on a monographic exhibition presenting the iconic Nida lighting collection of designer Vincent Poujardieu. A Bordeaux native, Poujardieu has a knack for combining new technology and materials with forms inspired by nature to create sensual, organic designs for furniture and lighting.
Poujardieu is best known for his Nida lighting collection, a fabulously inventive and elegant take on traditional chandeliers and lamps made from slices of aircraft aluminum, with 24-karat gold gilded stainless steel. The designs resemble giant pieces of honeycomb that have been sliced into a series of cross-sections of perforated metal to allow a soft, mellow, yellow light to filter out. The chandeliers are just stunning, exceptional in beauty, fluid, natural and unique in design.
Galerie Gosserez

3 rue Debelleyme - F-75003 Paris

16 rue de Montmorency - F-75003 Paris

Tuesday to Saturday, 2pm–7pm

Galerie Gosserez at Coutume Studio

46 rue Lafaurie de Monbadon - 33000

Bordeaux, France

Thursday to Saturday, 11am–7pm
Galerie Carole Decombe
Uccelli & Nuvole
June 23 through July 7
Top:
Uccelli & Nuvole opens June 23 at Galerie Carole Decombe, presenting the work of Isabelle Sicart and Francesco Balzano.
Above:
Enameled stoneware work entitled Uccelli. Set of three free-form vases on a tray. Limited edition of 14. By ceramist Isabelle Sicart in collaboration with designer Francesco Balzano, France, 2021.
Finding and showing art and design objects of exceptional quality and beauty, not to mention excellent craftsmanship, has always been the mission of Galerie Carole Decombe, which opened in Paris in 2007 and today has expanded to a second gallery by appointment in Los Angeles. Exhibitions are a regular part of the Paris gallery program and for summer she is presenting a collaboration between the talented young ceramicist Isabelle Sicart and designer Francesco Balzano.
Sicart is a ceramicist of precision and sensuality and her works made in collaboration with Balzano retain those qualities while at the same time becoming more free, open, and even kind of formless in appearance. The title of the show is Uccelli & Nuvole, which translates to 'Birds & Clouds,' thus creating the impression of objects floating in the mind. This is design in the service of imagination but at the same time it is also functional — there is a set of vases on a tray, a coffee table, wall lights, and candlesticks.
Galerie Carole Decombe
30 rue de Lille - 75007
Paris, France
Tuesday to Saturday, 11am–7pm
Maison Rapin
25 Quai Voltaire - 75007 Paris • Monday to Saturday, 10:30am–7pm
3 rue de Beaune - 75007 Paris • Monday to Sunday, 10:30am–7pm
Top:
Treasure chest: Kam Tin Amber Amber Cabinet, encrusted with amber cabochons, polished brass legs and details. Stamped on the inside, signature on the key.

Above: Rare round Gio Ponti and Pietro Chiesa "La Pesca della Sirena" table, 1935. Ebonized wood with engraved mirror embedded in the top, depicting a fisherman standing atop a boat with a mermaid caught in his net, and the inscription "La Pesca della Sirena." Includes a certificate of authenticity from the Gio Ponti Archives.
Philippe Rapin's Maison Rapin galleries in Paris have long been a source for innovative design — he began his career in 1978 as a ceramics dealer. Rapin operates two locations, each with a particular focus. But change is afoot: the gallery is soon to announce a reopening in a new location at 7 Quai Conti 75006 Paris. It will be open in mid-July, so they do not have a show for summer; the public opening of the new space and an inaugural exhibition is slated for September 22. Meantime, it is worth stopping by the two galleries to enjoy stellar design.
At the Rue de Beaune location, you will find historical pieces by 20th-century masters such as Gio Ponti, Paavo Tynell and Paolo Buffa. Highlights include a woolen rug made after a drawing by Diego Giacometti, signed, that was produced in France in 1984, titled La Promenade des Amis; a masterpiece of simplicity. At the Quai Voltaire gallery, there's top-notch collectible design by contemporary creators such as Roberto Giulio Rida and Marc Bankowsky, and large-scale works in porcelain by American artist Ryan Labar. Not to be missed: the dazzling "muebles bijoux" Kam Tin creations, furniture bejeweled with turquoise or amber cabochons, or pyrite marquetry.
Maison Rapin

25 Quai Voltaire - 75007

Paris, France

Monday to Saturday, 10:30am–7pm




3 rue de Beaune - 75007


Paris, France

Monday to Sunday, 10:30am–7pm
Galerie Dumonteil
Ugo Schildge, Nap
Through June 25
Top:
The Nap in Giverny, 2022 (detail), Ugo Schildge. Plaster, concrete, pigment and wood. Above: Installation view, Ugo Schildge, Nap at Dumonteuil. Photo ©Regis Colin Berthier.
Ugo Schildge creates beautiful images, as his new series of works currently on exhibit at Dumonteil splendidly presents. Trees are his specialty, frequently laden with fruit and sometimes showing loving couples reclining on carpets, tables and beds. Persian and Indian miniature paintings come to mind, with their latent eroticism as well as the use of symbolic imagery of love, especially apparent in a work like The Nap in Giverny, 2022, a beautifully sensual, colorful work, part self-portrait, part subconscious memory. The artist and his companion stare into each other's eyes while lying on a blanket beneath a fruit-laden tree. The swollen fruit, which appears to be peaches, is fleshy, ripe and fecund.
Female nudes appear from time to time, though always as young women immersed in a landscape surrounded by trees and flowers. Fertility seems to be the subject at hand, and the role of women in creation, as creators, is presented as a wholly natural and cyclical phenomenon forming part of the overall, interconnected cycle of life on earth. The rich, textural quality of the surfaces of the pictures built up with a combination of plaster, concrete and pigment on wood makes them feel and look organic, natural and even sculptural as if the figures are carved from the landscapes they inhabit.
Dumonteil
8 rue d'Aboukir - 75007
Paris, France
Tuesday to Saturday, 11am–7pm