Twentieth Presents Contemporary Hand-Crafted Design From 8 Top Artists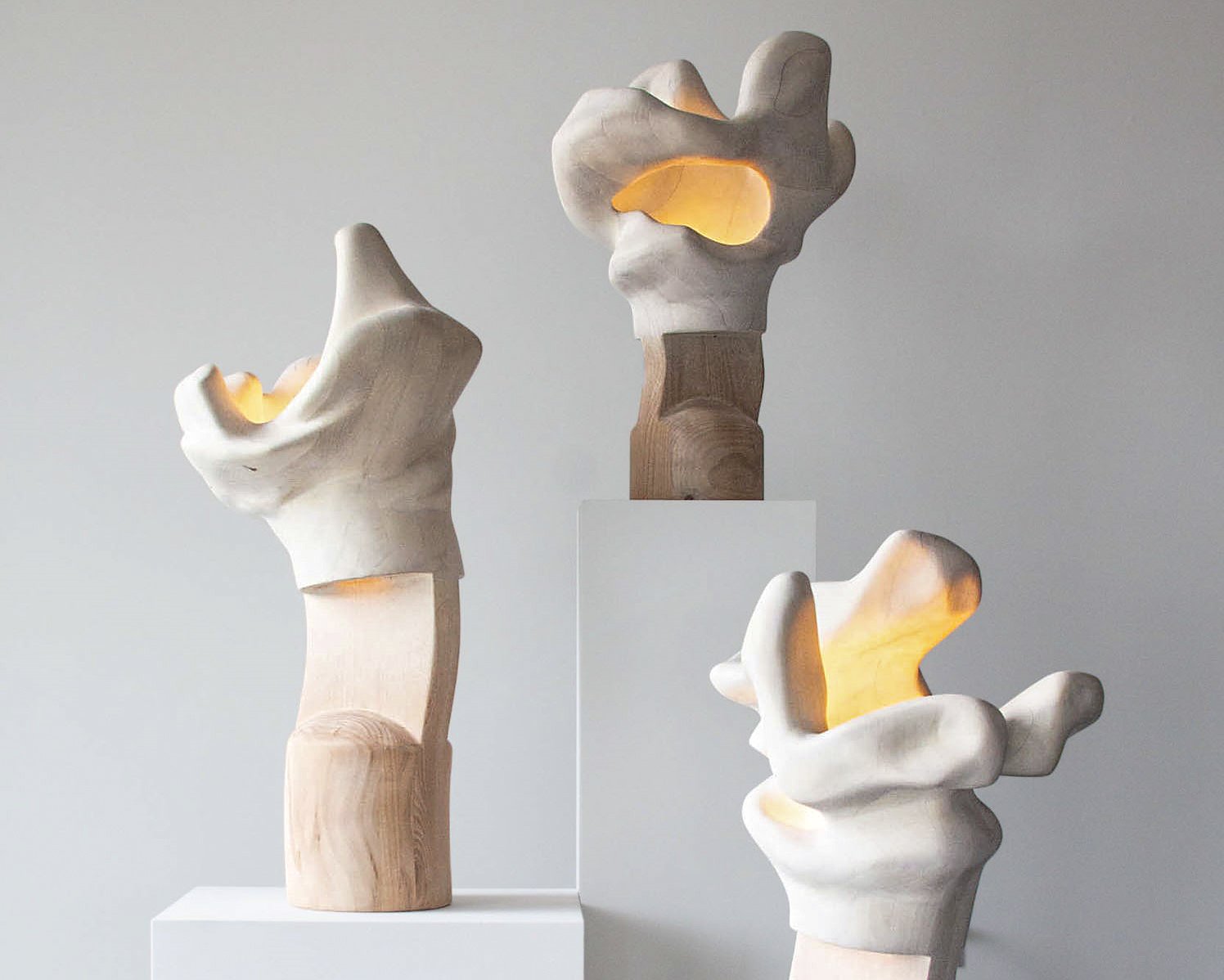 Twentieth's latest exhibitions, Anatomical Torsions and Hydrochrom, explores the work of Vincent Pocsik (pictured above) and Sébastien Léon. The shows run through October 29th and November 19th, respectively, at 7470 Beverly Boulevard in Los Angeles.
T
wentieth is hard to miss. Situated on a calm stretch of Beverly Boulevard in Los Angeles, the striking building designed by award-winning architect Neil Denari balances drama with visual lightness. Across its façade, scalloped bronze aluminum cladding contrasts with black steel window frames and black plaster columns, resulting in a graphic, punchy appearance. The exterior reflects Twentieth's boundary-breaking contemporary ethos. Since the gallery's inception more than two decades ago, founder Stefan Lawrence has amassed a collection of interdisciplinary art objects from some of the world's most captivating creators, right down to its Denari-designed structure.
Lawrence originally launched the gallery in 1999 when midcentury modern design was first entering its comeback phase. He had abandoned a career as a photographer – he worshipped Herb Ritts – and had already developed a reputation as a tastemaker. Due to the influence of a longtime collaborator, Daniele Albright, Lawrence began to expand his collection to focus on innovative contemporary works. As design-industry creatives left New York for Los Angeles over the past decade, Twentieth was poised to welcome them with a commitment to rising talent and an unmatched design selection.

Details of the cladding on Twentieth's exterior.

Today, Twentieth represents some of the leading figures in contemporary avant-garde design as well as emerging artists who probe and extend the traditional limitations of a design object. Many of its designers create their pieces by hand, arriving at unique levels of craftsmanship. The gallery increases visibility for its talented artists through dedicated exhibitions. At these shows, clients meet artists and engage with their work. Two of Twentieth's newer artists, Vincent Pocsik and Sébastien Léon, are currently showing at the gallery through October 29 and November 19, respectively. Pocsik's work includes sculptural, bone-like hand-finished wood lamps, while Léon's references the ocean through imaginative explorations of light and sound.
Below, Incollect and Twentieth present work from Pocsik and Léon, as well as six other artists whose hand-crafted work is shaping the future of global collectible design.
Vincent Pocsik

For Pocsik's show, Anatomical Torsion, fluid dynamic light sculptures adorn the gallery. A corporeal effect flows through his wood lamps. Inspired by the human torso, his figures are cut into odd contortions that border on eerie or—at least—extreme, as the body becomes undone through movement. To achieve the forms, he uses an intuitive process blending digital modeling and CNC milling, and then shapes and refines the objects by hand. He applies dyes, bleach, rust vinegar solutions and tannins to finish the lights, giving them the appearance of bone.
Sébastien Léon
In contrast to his co-exhibitor, interdisciplinary artist Sébastien Léon's objects are predominantly geometric rather than figurative. At his show, Hydrochrom, Léon debuts a collection of enigmatic colored glass tabletop sculptures, light fixtures, and sound installations. The ocean motivated the design of the series. Throughout, hand-blown glass cubes resembling sea glass are hewn together and constructed into various objects. To create his suspended lighting, he pierces the assemblages with metal rods. Some of the featured sculptures are programmed to play an audio track of ocean sounds. His sound sculptures have been shown at the Palais de Tokyo in Paris, the Park Avenue Armory and New Museum in New York, the Triennale in Milan, and UCCA Center for Contemporary Art in Beijing.


John Eric Byers
Working primarily with wood, award-winning artist John Eric Byers creates arresting minimalist pieces. From afar, the wood pieces appear smooth and simple; up close, supple hand-tooled texture and superb craftsmanship are revealed. The level of detail speaks to the care he takes with each piece. He often combines visually pleasing forms and proportions in his work. For example, in the Square Revert Table Or Stool , he joins three cubes of varying proportions in the base, surface, and pedestal. His pieces are included in the permanent collections of the Smithsonian American Art Museum in Washington, D.C., Philadelphia Museum of Art, and Museum of Arts and Design in New York.


Christopher Boots
Hailing from Melbourne, lighting artist Christopher Boots designs simplified natural forms referencing classical themes. Minerals often take center stage in his work—as shown in his well-known Prometheus collection, in which magnetized LED lights and uncut quartz crystals are attached to a brass loop. He often pairs crystal with polished metals such as iron, copper, and gallium. Drawing on his Greek heritage, the artist incorporates ancient themes including geometry, mythology, and archetypal beauty to produce his elegant, dynamic light objects. He has created custom projects for Hermès and the National Gallery of Victoria in Australia.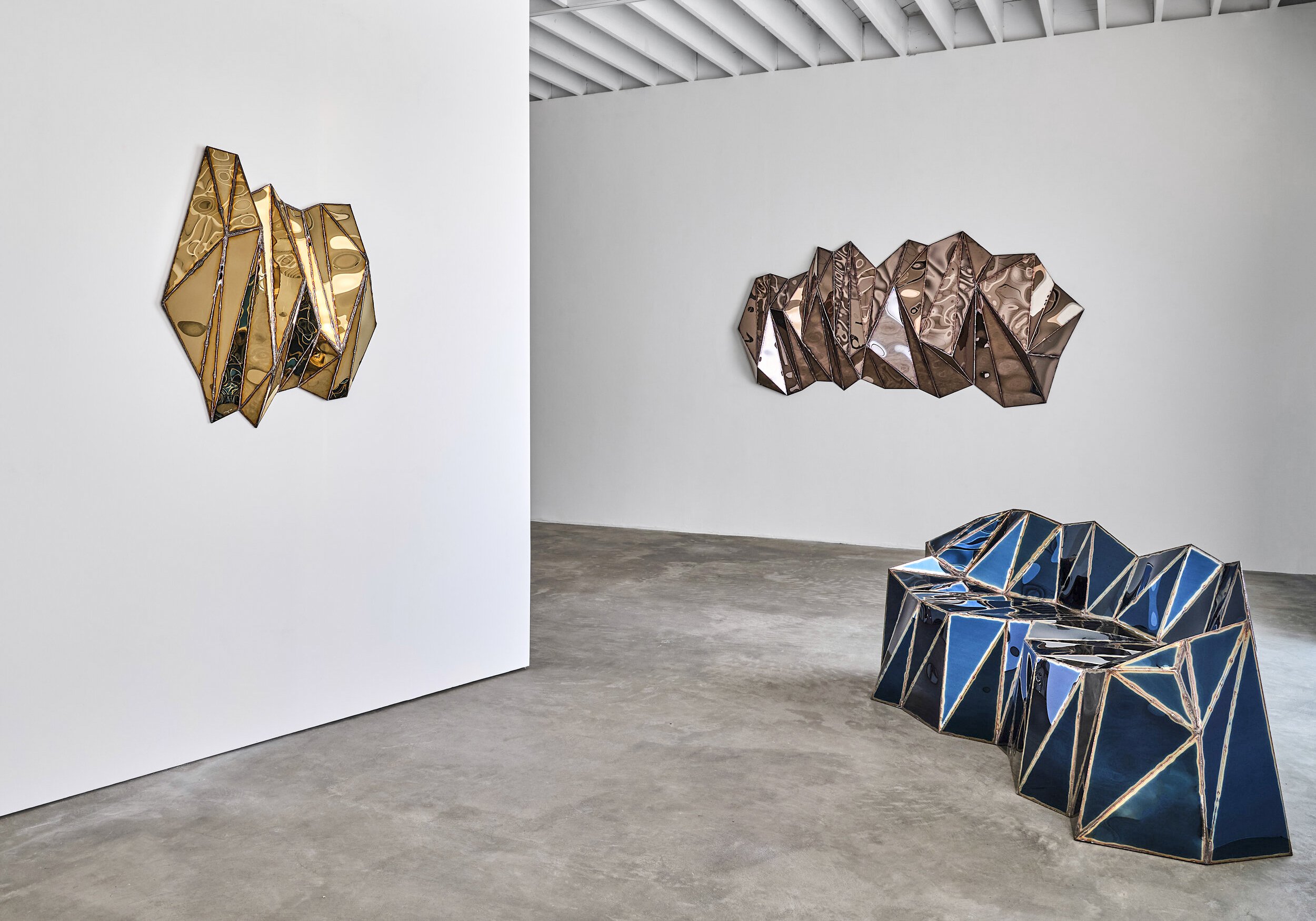 Distortional Rhythm
featuring Julian Mayor debuted at Twentieth in 2019.
Julian Mayor
In 2019, Julian Mayor introduced his show, Distortional Rhythm, at Twentieth. Welding is Mayor's forté. The sculptural tables, chairs, lighting, and wall pieces of Distortional Rhythm blend traditional welding techniques including TIG, a method relying on a non-consumable tungsten electrode, and hand-finished mirror resin. The unfinished seams contrast with the hyper-polished surfaces of his designs. His work has been shown at the Victoria & Albert Museum in London and the Museum of Art and Design in New York.



Top, left: Hex Dining Chair. Top, right: Scoop Chair and Traxler Pendants. Middle: Fernando Chair. Bottom, left: Plateau Table. Bottom, right: A detail shot of the Plateau Table.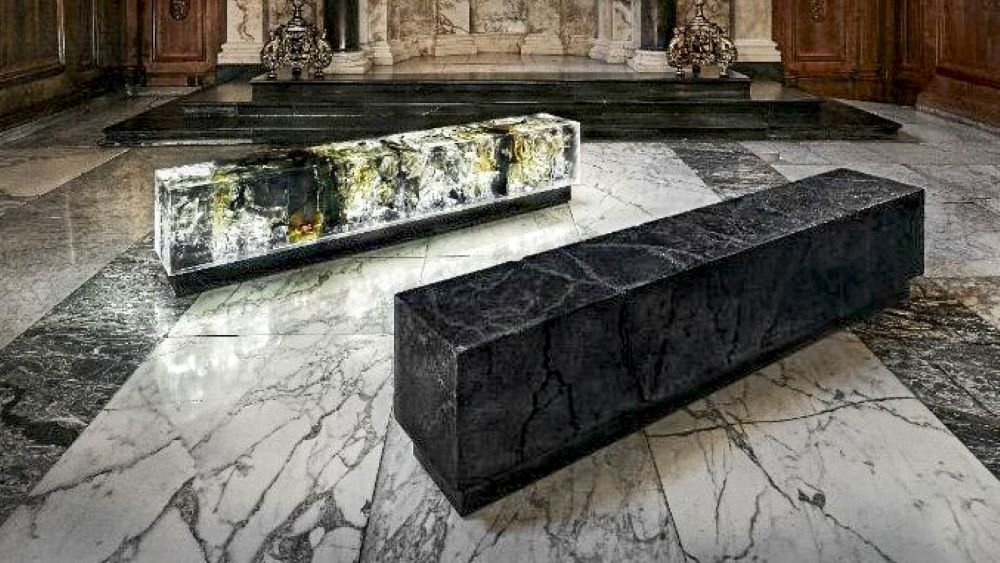 Counterpart Bench 1
and 2 from Tom Price.

Tom Price
Next year, Twentieth launches an exhibition dedicated to artist Tom Price. Already known for his award-winning pioneering art, Price's new series, Synthesis, offers a dialogue between resin and tar as well as art and design. Through an experimental process, he injects tar into his pieces to manipulate the catalyzing process of resin, resulting in colorful cracks and fissures that burst throughout each object. In his light sculptures, interior LED bulbs illuminate the delicate fragmentation of the resin and tar. He has explored radical methods and materials throughout his entire career. For example, in one early piece, the Meltdown Chair, the artist melted polypropylene rope into the shape of a seat.
An introduction to the Synthesis series from Tom Price.



Top, left: A resin and tar detail from the Synthesis Light series. Top, right: A set of Synthesis Lights. Middle: The Meltdown Chair. Bottom: Synthesis Bench 1.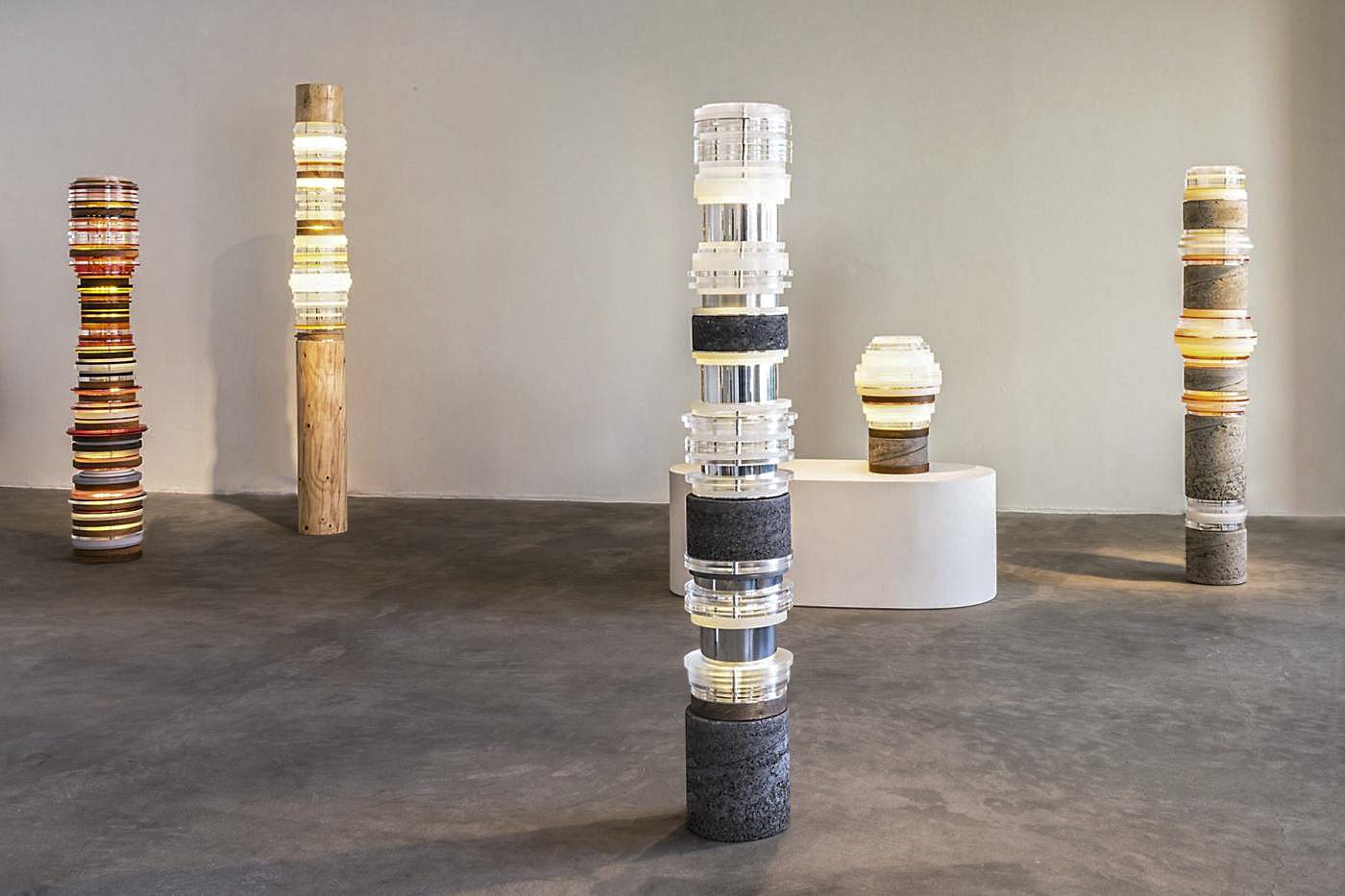 Light Stacks
from Matt Gagnon's show at Twentieth, Material Relations.
Matt Gagnon
In his light towers, Gagnon stacks a spectrum of building materials—including brass, polished aluminum, white oak, yellow pine, concrete, and painted fiberboard—around a central LED cylinder. Through these pieces, he explores how light transforms materials and constructs emotion. During his exhibition at Twentieth in 2018, Material Relations, the artist carefully arranged the objects to engage with each other through scale, color, and light quality. When placed close together, the totems interact, reflecting and absorbing each other's light. This work draws on his 2001 collection of acrylic lamps inspired by office buildings at night.


Mattia Biagi
Italian surrealist Mattia Biagi transmits his unique vision through art. In 2019, Twentieth unveiled Metropolitan Sets, a selection of statuary collages splicing images from diverse media including magazines, pornography, and Renaissance-era art, as well as his personal photos. The array of imagery incarnates how Biagi interprets our cultural subconscious. Together with Twentieth, Biagi designed an immersive space for his pieces that reflected the set designs from Frederic Fellini's Roma. The artist has also designed a collection of design objects dipped in tar, including Mister Moonlight, a wall piece.
Shop the Style: