Valentin Loellmann Creates His Extraordinary Art at the Cusp of Design and Sculpture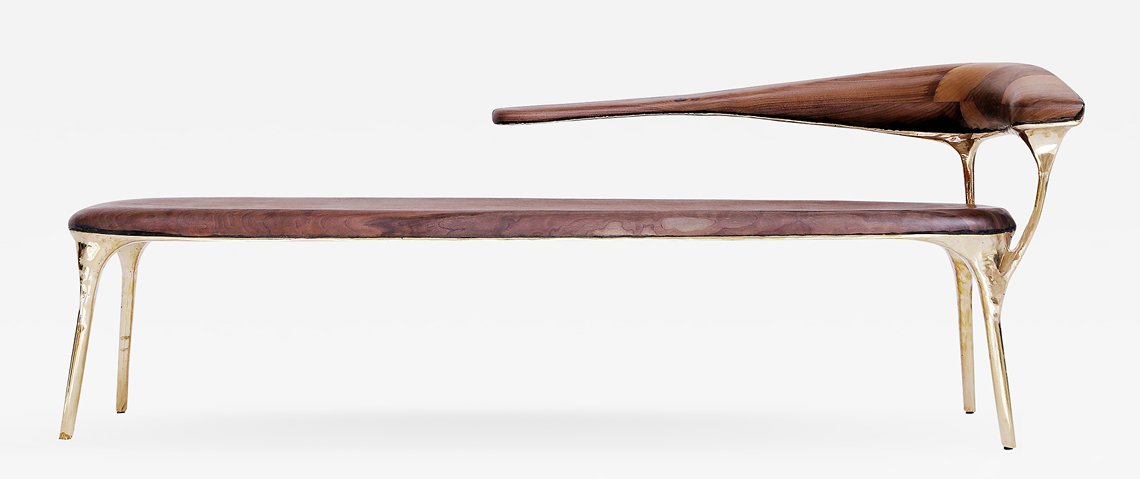 Brass and walnut lounge chair by Valentin Loellmann
presents
Valentin Loellmann's First NYC Solo Show
Opening Friday, May 31 • 6pm – 8pm
Twenty First Gallery, in collaboration with Paris-based Galerie Gosserez, will present the first NYC solo exhibition of designer Valentin Loellmann. The German-born artist is renowned for his meticulous constructions of material, texture and shapes, resulting in dream-like furnishings that materialize ideas and feelings. The exhibition also marks Loellmann's first visit to New York City, and he will appear at the gallery to introduce a selection of his expressive pieces ranging over several collections. Valentin Loellmann's Solo Show will open to the public on May 31 and runs through July 19, 2019 at Twenty First Gallery, 76 Franklin Street, New York, NY 10013.
| | | |
| --- | --- | --- |
| | | Valentin Loellmann, photo by Jonas Loellmann |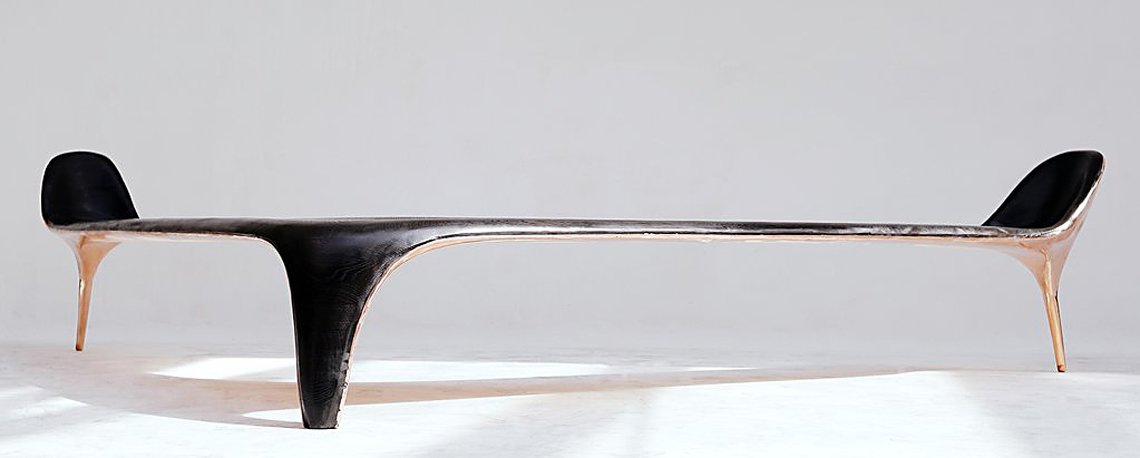 The boomerang-like Corner Bench, charred oak and copper, signed and dated by the artist. Winner of the 2017 PAD London Best Contemporary Design award.




Left: A Copper Corner Bench with the Blue Brass Coffee Table. Right: Valentin in his studio, where the Copper Corner Bench takes form; photo by Jonas Loellmann.
The artist was born in 1983 in rural southern Germany into a family of artists, and studied product design at the Maastricht Academy of Fine Arts. Shortly after graduation in 2010, he founded his Maastricht atelier with the support of Galerie Gosserez, who early on had recognized his unique talent. His work has been exhibited at Art Basel, Collective New York, PAD Paris, PAD Germany and PAD London, where he was awarded "Best Contemporary Design" in 2013 for his Spring/Summer Console and again in 2017 for his Copper Corner Bench.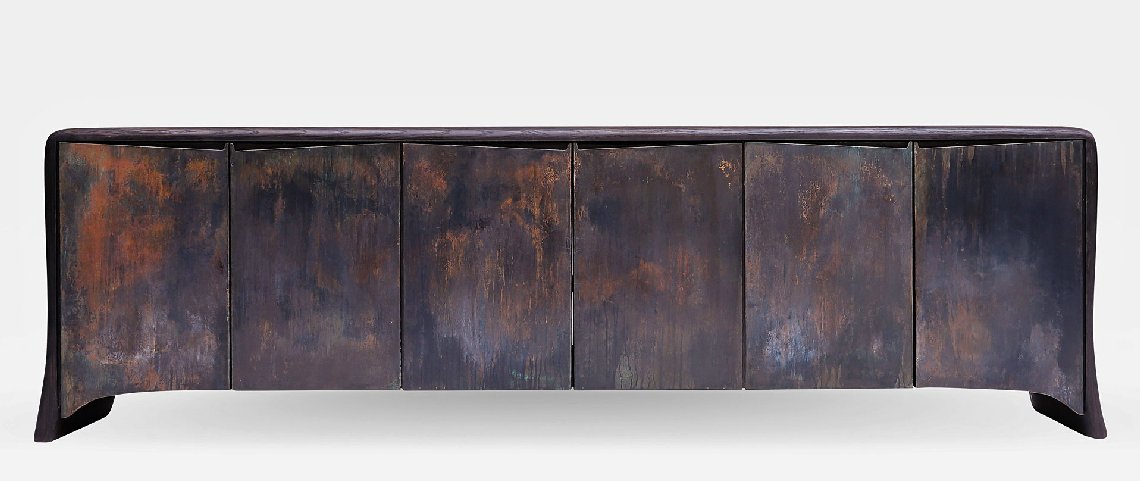 Bronze Buffet in bronze and charred walnut,
signed and dated by the artist.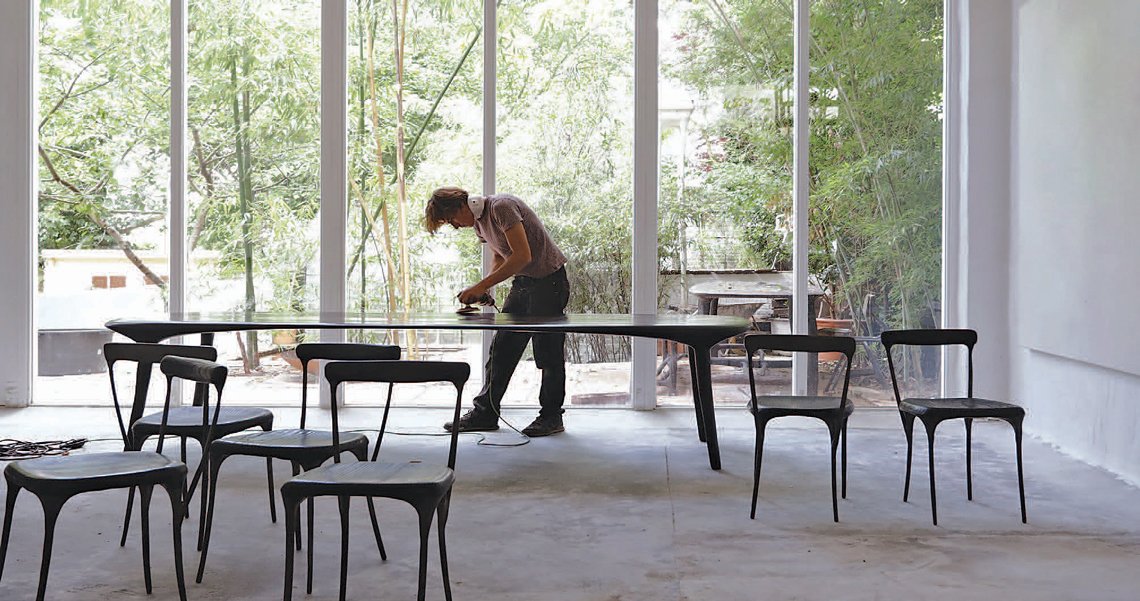 The artist at work in his Maastritch studio, creating the soulful patina his pieces are known for.
Valentin Loellmann is deeply sensitive to and inspired by his environment; he conceptualizes his pieces as arising from and inhabiting their surroundings. His creative process, he says, is rhizomatic, emanating from an unstructured point and meandering in a self-determined fashion to develop into a form that is constantly evolving. In turn, the finished piece gives birth to the next direction for his art. He prefers not to categorize his creations as furniture or sculpture, but as existing in a space somewhere in between.



Left: Blue Brass Coffee Table, 2019. Brass and resin, signed and dated. Right: A coffee table under construction in the artist's studio.
| | | |
| --- | --- | --- |
| Detail of the Blue Brass Coffee Table | | |
Perhaps his most enigmatic works are the Steps pieces, and of their inspiration, Valentin declares, "I like steps - they make me think, where are your coming from, where are you going?" The pieces are elegant in form and each seems to exude a unique energy of its own. The meticulously mirror-polished stainless steel of Steps 1x12 offers an intriguing invitation to self-reflection, and the ladder-to-anywhere Steps 1x8 is a symphony of improvisation, with a surface that is entirely spontaneous, the result of chemical reactions from the mixing of metals and wood.



Sculpture, furniture or paths to enlightenment, perhaps – formed by a rhizomatic creative process and meticulous craftsmanship. At left: Steps 1x12, mirror-polished stainless steel and crotch walnut, signed and dated by the artist. At right: Steps 1x8, brass and walnut, signed and dated by the artist, with Brass Black Chair, patinated brass and charred oak, also signed and dated by the artist.
VIEW MORE WORKS BY VALENTIN LOELLMANN ON INCOLLECT