OAK Oneofakind Gallery
8 allees Frederic Mistral
Toulouse 31400
France
33.065.856.8619
Showrooms
5 Place Tourny
Bordeaux 33000
France

          "The purpose of Art is to embody the secret essence of things, not copying their appearance" Aristotle.  

From this famous maxim, Antoine Vignault has developed his own history, refreshing the traditional ways of established systems. OΔK is a creative concept of Art gallery & Design Studio, curated by an artist to promote a whole universe of contemporary artworks mixing sculptures, furniture, photography and objects. The creation of the gallery was an opportunity to invite other talented artists whose universes revolve around OΔK's concept with a language whose relevance is only matched by their creativity. The stars and legends conveying by them in our imagination for millennia are the common basis for the selection of OΔK gallery. As often the secret symbolism and sacred geometry are associated with this approach, the resulting alchemy makes us feel the essence of magic. 
The artists selected by Antoine Vignault for his gallery propose their work in the manner of a creative social network around OΔK Studio and the gallery fee is a support of mutual promotion. Most of the price for the pieces is diverted to each artist for his production.        
Staff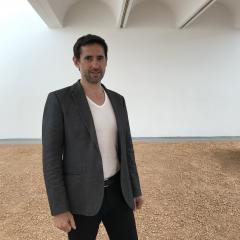 Antoine Vignault
Owner
Gallery Owner, artist and alchemist