Bodron/Fruit
4040 N Central Expressway #150
Dallas, TX 75204
United States
214.826.5200

          At Bodron/Fruit, we balance impeccable interior design and exceptional architecture to create noteworthy buildings with purpose and function. Founders Interior Designer Mil Bodron and Architect Svend Fruit, AIA, established the firm in 1998 and have contributed to many well-known modern homes in Dallas. Our team of creative individuals share a passion for design that is tailored to the client's needs through careful collaboration between architectural elements and the details of the interiors.

 Our team is methodical and purposeful throughout the design process. Each project is a new opportunity to create something unique for our clients. Establishing expectations comes first in our iterative process that builds upon itself with each drawing, furniture plan, 3D rendering, material selection, and site visit until the house is complete. We are masters at making the best use of space - from positioning windows to leverage natural light from a courtyard to configuring a seating arrangement to reveal the perfect view. When it all comes together, it's about the space feeling right.        
Staff
Mil Bodron
interior designer, partner
Mil Bodron is not your typical interior designer. He is methodical and particular in designing a space where everything coalesses. His impeccable interiors are part of many significant modern homes in Dallas. Mil is passionate about the balance and function of a room - from size to texture to color - it's never about one single piece of furniture.

Mil Bodron grew up in Monroe, Louisiana where his parents still reside. He studied architecture and art in college and always had an innate sense for spacial design. After graduating, Mil worked for an architecture firm in Dallas for nearly a decade. As his experience expanded, his interest shifted from the technical side of architecture to the expressive nature of interior design which led him to a new interior arts roll and a new home in Dallas. He ultimately emerged as a freelance interior designer and met Svend while working on a project together. That led to another project and another, until the 2 formed Bodron/Fruit in 1998. Mil has an incredible talent. At an early age, he would sketch floor plans and study how furniture worked in a space. Function is top of mind when he is designing a room - from drawing the furniture on the 2 dimensional floor plan to adding chair and table heights in to the 3-dimensional renderings. He lives and breathes the foundational rules of interior art and design. These foundations come to life in his work in ways that are not about being right or wrong, but are about crisp, intentional and complete living spaces that are true works of art.

Mil is always drawing, designing, thinking about the big picture for his clients. What works best in the space together, that won't overpower the architectural elements. His standards never waiver. He is "trend-free" and resists elements that are not timeless. Overall, Mil is an artist. He pours his mind, experience and love for "spacial expressioning" into his work. They are more than just spaces - they are spaces that are alive with design.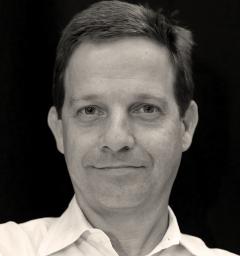 Svend Fruit
architect, partner
Svend Fruit is a passionate creator. When he isn't sketching or building a model, he is in his garage crafting something with his two boys. He is a meticulous planner and invests quality time to study the space he is working with in order to play up the strengths of the property. Svend has been instrumental in renovating many important modern homes in Dallas, always careful to preserve the original architect's creation while adding elements to meet the needs of his clients.

Svend Fruit was raised in Houston, TX and graduated from Texas A&M University with a degree in architecture. He landed a job in New York right out of school but soon ended up in Dallas where he worked for Three Architecture contributing to notable hospitality projects around the Pacific rim. Following his time there, he worked with Max Levy where he learned the importance of detail. Svend first met his partner Mil Bodron when they collaborated on a project together in the early '90s. After nearly a decade of working together, they formed Bodron/Fruit in 1998.

Svend approaches each project with the end goal of creating a home that works best within the given context. His attention to detail starts with analyzing the geometry of the space and taking note of important features to highlight - the highs and lows of the geography, the shape of the property and its proximity to the street or the shade from a large tree. Creating the perfect view is Svend's specialty. He studies every angle intently, arranging windows, doors and pathways to make the best use of the space.

Svend is a creator of beautiful buildings, new builds and renovations alike. His diligence to proportion and scale is remarkable as he personalizes the space for his clients. The iterative process he follows ensures no detail is left untouched, from accentuating significant pieces of art to offering a unique peek to the green space outside. Svend is a purist at heart, committed to exceptional architecture and thoughtful design.