Suzanne Lovell, Inc.
225 W. Ohio
Chicago, IL 60654
United States
312.595.1980

          Suzanne Lovell Inc. is an international architectural and interior design firm specializing in residential interior architecture, design and decoration.

Known for a unique approach towards designing environments that showcase a clients' scrapbook of personal experience and express their passion for home, each project is carefully designed, crafted and executed to reflect their individual and very personal style.

Along with the complete integration of art, architecture, furniture and textiles, we evaluate how each and every object works within the space and pride ourselves on providing peace of mind as we transform dreams into reality. With the understanding that architecture and interior design should be integral from start to finish, Suzanne Lovell, Inc. provides a complete spectrum of services from renovation to custom furniture and millwork, as well as antique, art and auction sourcing.

With over 20 years of experience, Suzanne has been widely published, and is thrilled to be among Architectural Digest's "Top 100 Interior Designers and Architects."        
Staff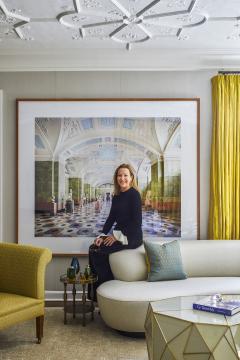 Suzanne Lovell
Founder & Chief Executive Officer
Award-winning architect and interior designer Suzanne Lovell focuses upon residential design for Private Clients. She is widely recognized as an expert in fine art, textiles and design furniture.

After completing her professional degree in architecture, Lovell was hired by Skidmore Owings & Merrill as an architect and moved to Chicago in 1980. She started her own business in 1985 to focus on residential architecture and interior design, and her practice now includes a fine art collection advisory. Lovell creates couture residences that reflect a masterful approach to architectural detailing and an imaginative dialogue around her Clients' integrated experience of place.

Suzanne Lovell Inc. has received national and international design awards, and their work has been published by Architectural Digest, The Financial Times, The Wall Street Journal, Forbes, Modern Magazine, Interiors Magazine, Veranda and Boat International. Lovell is an Architectural Digest Top 100 Interior Architect, she was recently inaugurated into the Chicago Merchandise Mart Hall of Fame (2018) and her office was listed as one of the "Coolest Offices" in Chicago 2018 by Crain's Chicago Business.

Suzanne is a member of the Director's Vision Council at the Museum of Contemporary Art, Chicago, The Society for Contemporary Art at the Art Institute of Chicago, the Advisory Board of Virginia Tech's School of Architecture + Design, and participated as a member for the Dress for Success Worldwide Board of Directors. Her book, Artistic Interiors: Designing with Fine Art Collections was published in 2011.