Tina Ramchandani Creative
70 East 10th Street
New York City, NY 10003
United States
212.321.0037

          At Tina Ramchandani Creative (TRC) we design warm, modern interiors that fully capture our clients' polished lifestyles. Our passion – Soulful Minimalism™ – allows our clients to experience life surrounded by the things that matter, so they can focus on the people that matter.



We set the design vision and provide strong implementation, allowing our clients to move into beautifully completed homes. But "beautiful" isn't the whole story…having a home designed to function perfectly, easily, and completely tailored to our clients is just as important.



Into our signature style, we incorporate our global perspective, and our infatuation for  amazingly crafted, custom elements. We go wherever the work takes us, bringing our love for beauty, and obsession with design, to each of our homes.



There are so many things we love about our work, but above all, it's this: we really believe great design lets us live the life that inspires us every day.        
Staff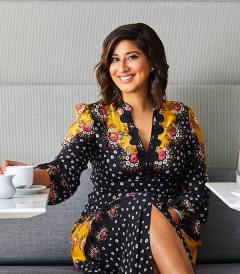 Tina Ramchandani
Principal
Tina Ramchandani Creative is a full-service design firm creating modern interiors that are sophisticated and relaxed. Tina incorporates her vast experience and global perspective into her signature style, Soulful MinimalismTM, delivering a warm layered aesthetic with an emphasis on artwork, couture pieces, and custom elements. While creating unique and livable environments, Tina incorporates local artists and artisans to bring spaces to life while showcasing her clients' personalities in their homes.
Tina Ramchandani developed her design expertise with several top tier, high-end residential and commercial interior design firms in Manhattan, including Frank & Marcotullio Design Associates and Vicente Wolf Associates, which led to the formation of Tina Ramchandani Creative in 2014. Ms. Ramchandani is deeply appreciative of good design and passionate about the impact social awareness can have on one's life. Tina's work has been nationally recognized by publications including Elle Décor, The Wall Street Journal, Architectural Digest, Cottages & Gardens, Lonny, Gotham, Cover, and was named a Next Wave designer in 2018 by House Beautiful. Tina currently resided in New York City with her husband Ajay and her spunky dog Figaro.