In NYC Gallerist Eric Appel's Apartment, Every Object Tells a Story
The treasure seeker's home is a mosaic of unique finds,
his own designs, and touches of humor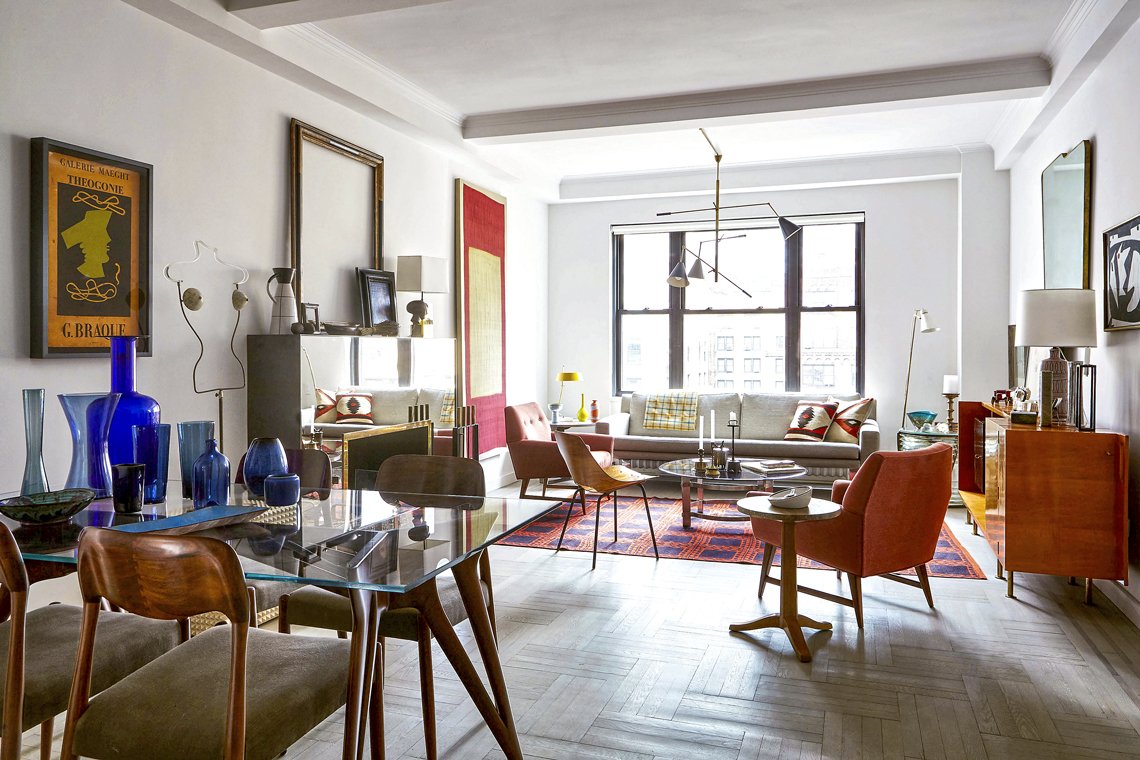 Photo by Josh Gaddy
| | |
| --- | --- |
| | |
| | Eric Appel, in a photo taken while on a "working vacation" in Italy. |
With nearly everyone spending more time at home these days, we naturally wonder what that looks like for those who make their living hunting for, evaluating and selling the objects we decorate our homes with. What do they collect, how do they decorate, which objects catch the eye – and heart – of a professional? Eric Appel, esteemed gallerist of his eponymous New York City storefront Eric Appel LLC, invited us into his apartment to have a look.
After searching for five years, Eric found his 900-square-foot apartment, situated on the 14th floor of a 1924 building on Central Park South. The apartment had been the pied-à-terre of a couple who lived in Tuxedo Park, and was in dire need of renovation. But, Eric recounts, he was immediately smitten. It was flooded with natural light, and the clincher, had a working fireplace. He hired an architect and the two set to work; fortunately, Eric's education in industrial design at Pratt Institute made understanding architectural drawings and schematics second nature. Remodeling took nearly two years to complete, with a total gut of the kitchen, reconfiguration of the maid's room, a retrofitted fireplace and painstaking work to create the perfect finish for the original parquet floors. What emerged was a spacious-feeling, well-functioning and luminous setting for Eric's treasures, gleaned from his travels, decades of art and design-focused activities in New York City and abroad, and pieces that "just happened" to wander home with him from his gallery. Like many New Yorkers who were always out and about, Eric has gained renewed appreciation for his apartment, taking great comfort and pleasure in being surrounded by the tangible manifestations of his lifetime love of art and design.




Left: The entry in Eric Appel's apartment makes a bold statement with punchy color, striking graphic patterns, and touches of whimsy. Right: The elephant, part of a 1920s toy zoo set, is positioned just so, with its trunk turned up for good luck and facing the door, because an Italian friend told him that was customary. Photos by Joshua McHugh.

In the entryway, a rare three-section pendant lamp by Angelo Lelii became the starting point for the apartment's decor. Eric admires its bold color and sculptural form, saying that "Italian lighting from the postwar period is extraordinary, it was the golden age of lighting." The cabinet was purchased at a New Jersey auction; a 1950s Swedish piece that is actually a desk, with a pull-out writing surface. On top of the cabinet is one of several toys that Eric has displayed in his home, a 1920s Austrian toy elephant with an articulating trunk, part of a set of zoo animals he longs to complete. "Everyone wants to touch it, but because of its age, it's quite delicate, so I bought an antique hand-blown English clock case to display it in," he explains. A serendipitous find was the 1925 postcard which hangs in a frame above the elephant, showing Josephine Baker posing nose-to-trunk with the same toy. The crimson-bordered Navajo carpet was acquired from his friend, textile connoisseur Paula Rubenstein's remarkable NYC shop. Asked whether red was his favorite color, Eric replied that it "wasn't intentional," the color palette "just sort of happened."



Left: A group of fascinating pieces animates the dining area, composed to create a dialogue linked by their intrinsic visual appeal. Right: The original mantel was large and ornately carved, but overpowered the room. In its place, Eric designed and fabricated a fireplace surround of bronze, brass and stainless steel polished to a mirror finish, based on a 1970s Maison Jansen version Eric bought in Paris. On the mantel, a favorite Venini lamp shares space with a bronze head by Elie Nadelman, a 17th-century Flemish portrait, and an empty antique ebony and gilt frame. Photos by Joshua McHugh.




Eric's dining area is furnished simply, with an Italian table in the style of Ico Parisi and Scandinavian chairs framed by a composition of sculpture and artwork, each with a story to tell. On the wall at left is a sconce purchased in Paris; particularly taken with the unusual shadows it casts through the feather shapes and small perforations, he dates it to the 1950s. The Modernist female form was an early purchase at the Paris Flea Market when he was just starting out, an intrepid explorer buoyed by boundless enthusiasm, strong opinions and an exacting eye. About 6am on a cold, dark morning, he watched as a dealer pulled three of these forms from his van. He quickly stepped in and made an offer for all, toting them around, while continuing to shop and attracting a continuous stream of admirers begging to buy them. A bit of digging revealed that they were mannequins for brassieres, circa 1930s by French furniture designer René Herbst. Eric noted that he doesn't really look for "names," he trusts his eye and his instincts, whether snapping up pieces for himself or buying for his gallery.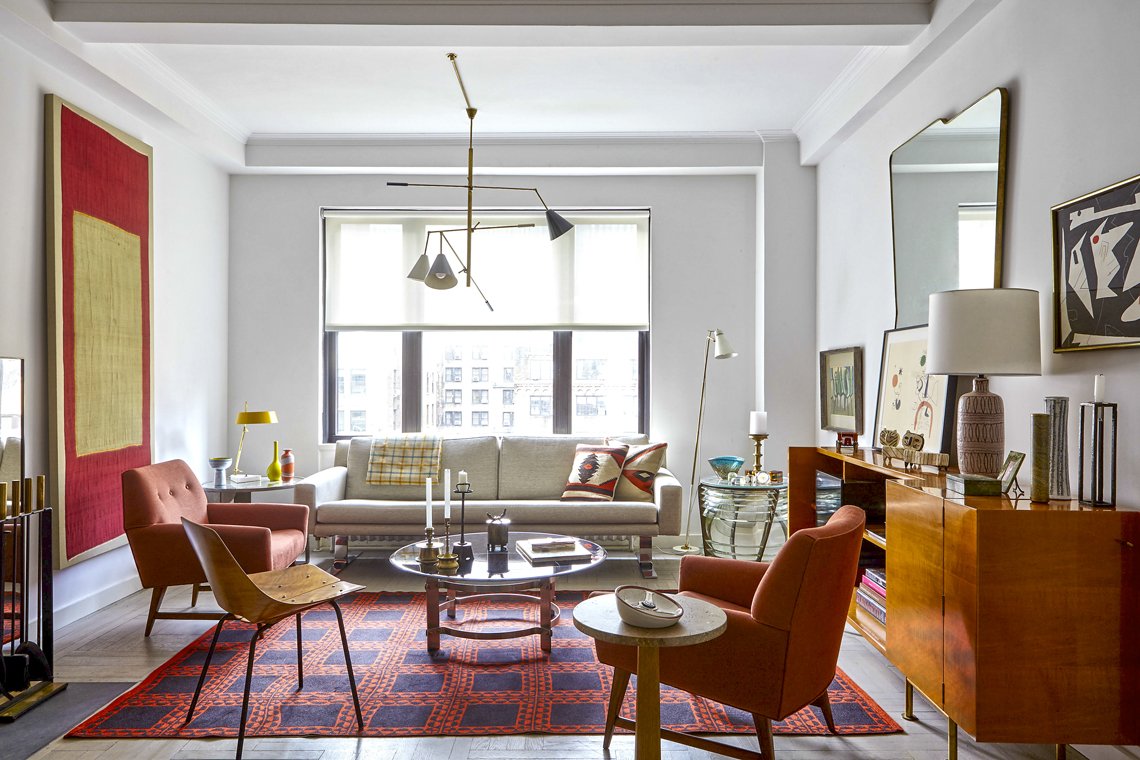 Photo by Joshua McHugh.
A geometric patterned Scandinavian rug found at a flea market, another example of Eric's penchant for pieces with strong graphic appeal, anchors a seating area presided over by a piece Eric refers to with a chuckle as his "affordable Mark Rothko," a 19th-century Indonesian silk shawl in scarlet and pale ochre that glows against a pristine white backdrop. The ceiling light is by Angelo Lelii, which he believes to be a rare ceiling model, and not an adaptation, of Lelii's iconic Triennale lamp. "The hardware is 'right' and in the floor lamp it would be hinged in the opposite direction." Asked whether the decoration was his own work, or whether he enlisted the services of a professional, Eric replied that he mostly did it himself, but admitted to some much-appreciated assistance from his friend Brian McCarthy. On a visit to Eric's apartment, the AD100 designer graciously volunteered to rearrange the furniture to bring it all together, and the results speak for themselves – each piece radiates form.



Left: A 19th-century Indonesian silk shawl is Eric's "affordable Mark Rothko." Photo by Joshua McHugh. Right: A mid-century French console by Raphael has open shelves with a bar cabinet on the right. The 1950s Italian asymmetrical mirror has been so ardently admired by everyone who sees it that Eric now offers handcrafted replicas for sale. A lithograph by Miró, a vintage toy truck, a pair of beguiling 1940s ceramic cats by French artist Guidette Carbonell, a ceramic lamp by Bruno Gambone, and a drawing by longtime friend artist Santo Bruno, each a treasured talisman of his passion for design in the myriad of forms it can take. Photo by Josh Gaddy.

Eric showed an early aptitude for art, and at age five began Saturday morning lessons at the Brooklyn Museum. He studied industrial design at Pratt Institute and after graduation, the next step was art school in Italy through Temple University, where he earned an MFA in painting and sculpture. Returning to New York, he held various art-related jobs: building sculptures and props for the windows at Bergdorf's; building movie props, including many for "The Wiz;" and all the while living the life of a successful artist, with shows of his sculpture at Yves Arman's Madison Avenue gallery. And then, by chance, a new opportunity came his way, and he fell into the business of selling "rather easily," he says. In the early 1990s, an aunt died and he inherited a large collection of trinkets — silver ashtrays and other decorative objects — which he sold at the 26th Street Flea Market. Buoyed by the success of his first foray, he was eager to continue, and the next week he arrived at 5am armed with a flashlight, shopping the other dealers for hidden gems to resell. His inborn talent, art school training and years as a working artist coalesced around his new path; and he discovered how gratifying it was — and continues to be — discovering and sharing objects of great beauty. He recounts the camaraderie amongst the dealers and unexpected encounters of those days with enthusiasm, "everyone shopped the flea markets, Woody Allen, Andy Warhol, even Catherine Deneuve bought from me." Traveling to France and Italy on buying trips, studying from books and auction catalogs and all the while learning more about artists and makers, he established his gallery in 1992. Today, he focuses on objects with outstanding sculptural appeal, always cognizant of the practical considerations of comfort and proportion. He's also putting his training at Pratt to use, designing a number of limited edition and custom pieces for sale in his gallery under the moniker Appel Modern.



Left: Eric came across a Fresnel lens, probably from the 1920s and designed for use in lighthouses, at a flea market in France. Although heavy and fragile it survived the trip home, and working with his fabricator, he repurposed it into a striking side table with a decidedly Art Deco flavor. Eric enjoys the creative challenge of devising furnishings from unusual objects he finds in his travels. Photo by Josh Gaddy. Right: More favorites: A 1991 Roy Lichtenstein poster and a golden Roman foot by Fornasetti. Eric has objects by Fornasetti placed in different rooms; he loves the lighthearted, humorous quality they impart. Photo by Joshua McHugh.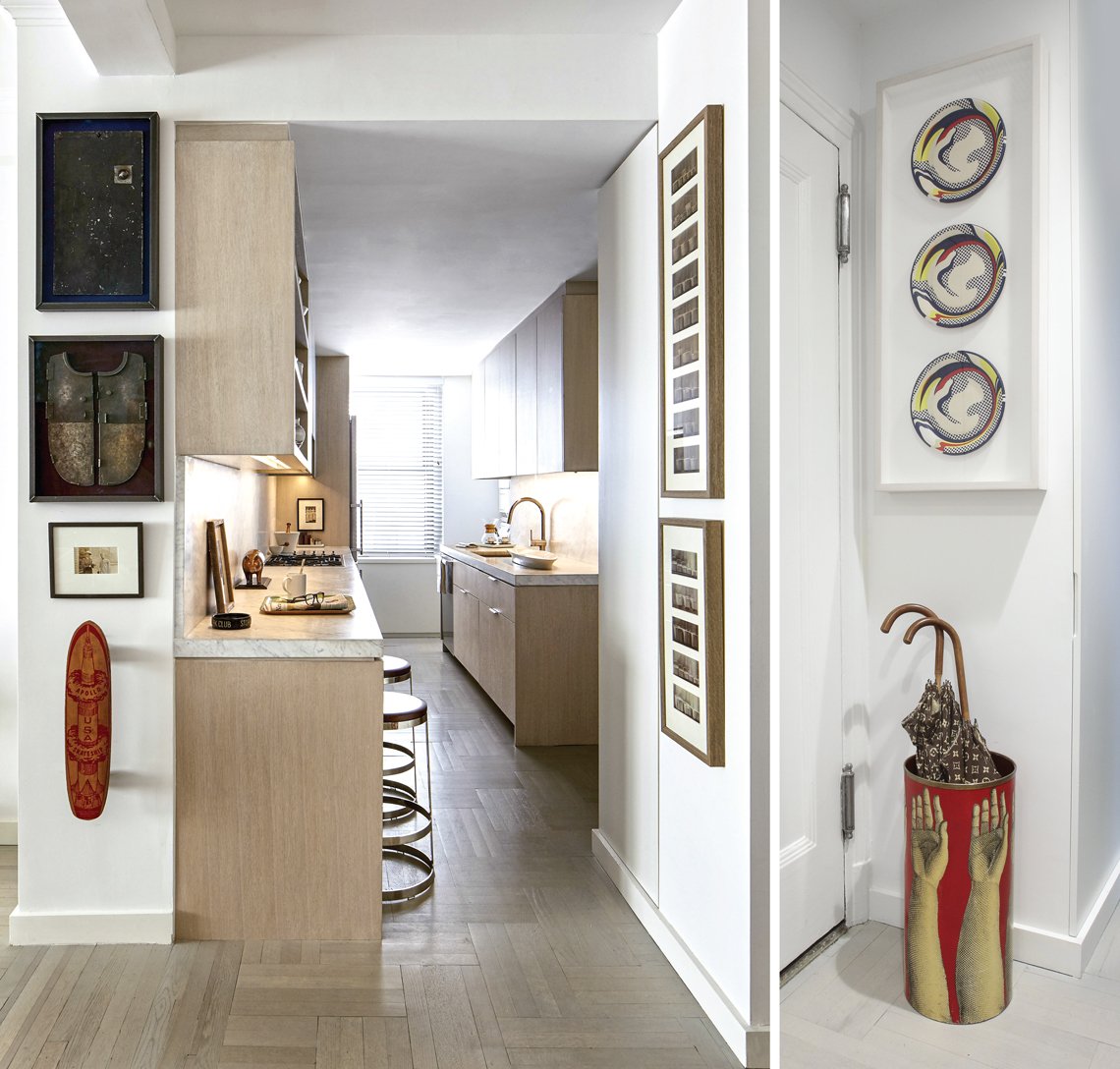 Left: The entrance to a galley kitchen is bracketed by a display of found objects from friend Paula Rubenstein's shop. From the top: a section of a sign from the 1920s, this would have been lit from behind to show off the cobalt blue glass frame. Below it, what looks like a piece of armor is, in fact, a late 19th-century fragment of machinery for manufacturing men's shirt fronts. At bottom, a wooden "Apollo Skateship" skateboard from the 1960s; the bright red graphics depict a space rocket at liftoff, referencing the Apollo space mission program. On the wall at right, a series of antique salesman cards for Shaker baskets. The display of these images, celebrating the unstinting quality of Shaker craftsmanship, is in marked contrast to the Lichtenstein display around the corner. Photo by Joshua McHugh. Right: A framed trio of Roy Lichtenstein's Paper Plate, 1969. Literally a paper plate, these were sold in cellophane-wrapped packages of 10 at photographer Bert Stern's short-lived New York boutique. The display of these as a group of three is a beautiful example of an ephemeral multiple, and as a Pop Art statement on the nature of art as a commodity. The umbrella stand is by Fornasetti, an early piece made from a cardboard construction tube, with a pair of vintage Louis Vuitton umbrellas from the 1920s. Photo by Josh Gaddy.



Left: Eric found the distinctive streamlined form of a French boudoir chair irresistible, and contrasted it with the highly textured, speckled and sparkled surface of an Italian ceramic lamp from the 1950s. Right: A framed limited edition Louis Vuitton silk shawl from 1988 is displayed above the bed. The light fixture is a Paris flea market find, an artisan-crafted object of leaded glass and lucite that reminds Eric of circuit boards. It didn't appear to have any particular function, but intrigued by the possibilities, and certain it would display best illuminated from within, Eric worked with his fabricator to create a unique, one-off piece. He designed the cerused oak nightstands with sculpted fronts, also available through his gallery; vintage photos of Buster Keaton and Stan Laurel hang above. Photos by Joshua McHugh.