Design and Antiquities Markets Rebound with Strong Sales at the 2023 Winter Show in New York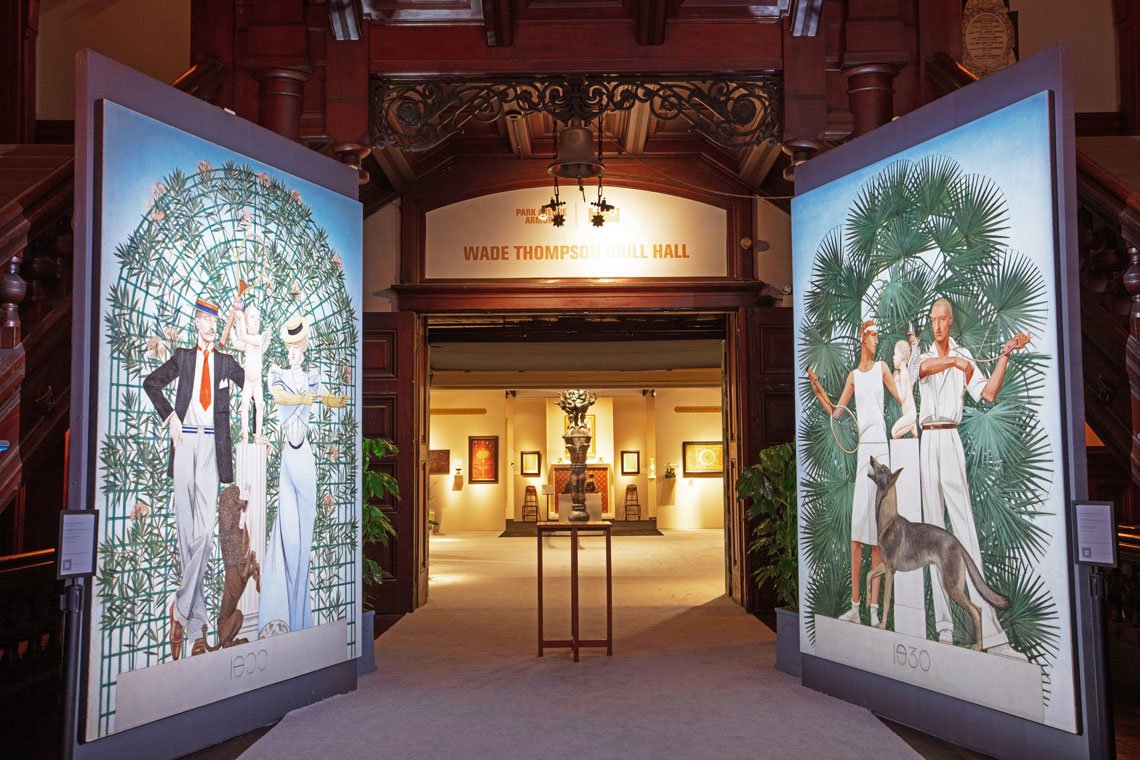 The entrance to The Winter Show in the 55,000 square foot Wade Thompson Drill Hall at the historic Park Avenue Armory, NYC.
Design and Antiquities Markets Rebound with Strong Sales at the 2023 Winter Show in New York
The Winter Show's 69th edition took place January 20–29, 2023, at the Park Avenue Armory in New York and, in a test of the market for high-end antiquities, fine art and design, left most if not all dealers with the impression that the demand is strong — this, in spite of predictions of an economic downtown. Dealers reported not only robust sales but overall enthusiasm from collectors and visitors. This is glad news.
The Winter Show featured over 68 exhibitors from 10 countries, with the inventory ranging from important maps and French paintings to mid-century modern design, rare 18th-century English furniture, contemporary American glass and Japanese ceramics. Sales were made across all categories, according to Helen Allen, the fair director, who praised participating dealers for the quality of inventory on display.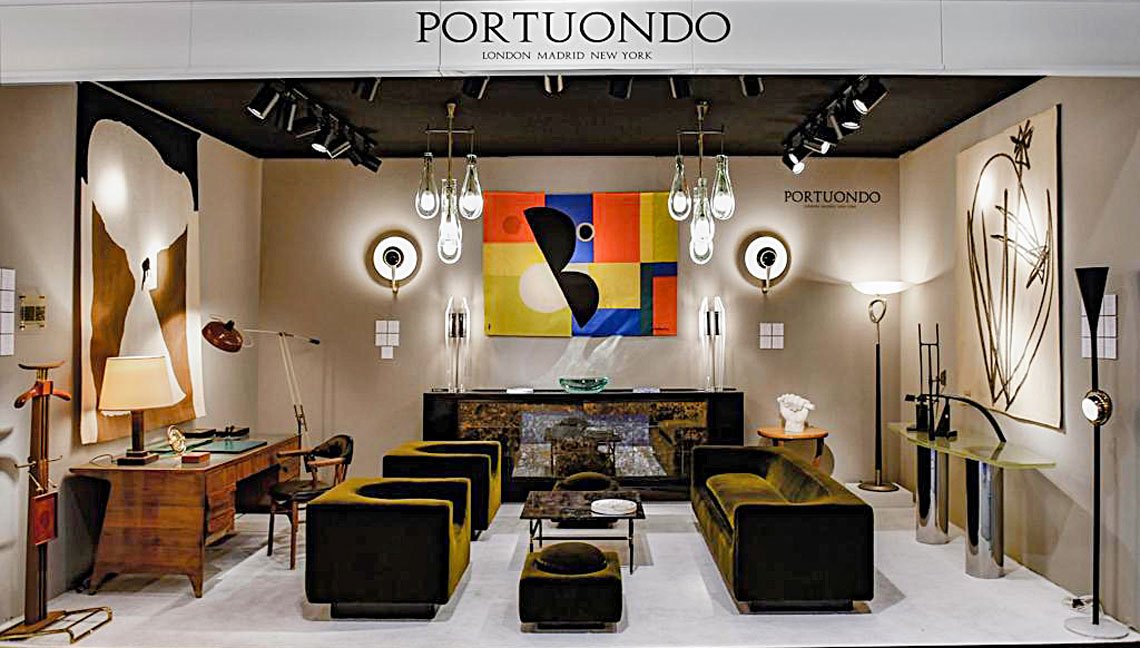 First-time exhibitor Portuondo, located in the Gallery at 200 LEX powered by Incollect, had major sales to report, including the Robert Motherwell tapestry seen on the left wall, and a suite of vintage 1960s "Elliptique" sofa with pair of armchairs and ottomans by French designer Bernard Govin.
Sales began opening night and continued throughout the run of the show, though most dealers say they are still in conversation with interested clients and looking to close further sales in the coming weeks. "We find that it usually takes about a month to see how we did overall from the fair," says Guy Regal, who in addition to selling works at the fair is working on finalizing "half a dozen important sales."
Not all dealers like to report sales, but among those who were happy to give details were Aronson of Amsterdam (Amsterdam, Netherlands) who announced the sale of a pair of rare and exceptional blue and white flower vases from Delft, circa 1700, to a private American collector for a six-figure price. Avery Galleries (Bryn Mawr, PA, USA) a first-time exhibitor did very well, selling William Glackens' (1870–1938), oil on canvas Bouquet with Foxgloves, circa the 1920s, and a painting by William Trost Richards (1833–1905), Salt Marshes, Atlantic City, circa 1886, among other things.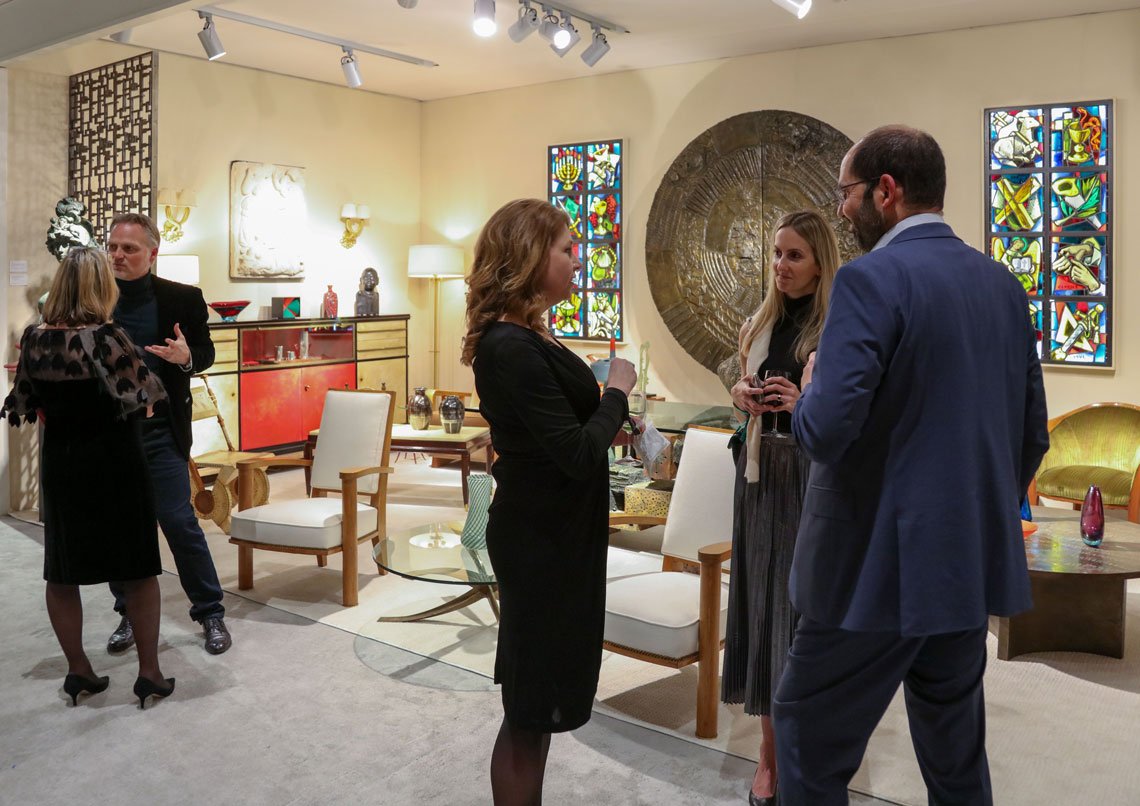 Opening night party attendees gather at Milord Antiques' booth. Photo: Simon Cherry
Francis Lord from Milord Antiques in The Gallery at 200 LEX powered by Incollect says he had a very good show. "I am happy," he said. "I sold well, I sold a smattering of everything I brought across the board, from French Art Deco items and American modernist furniture to Italian glass and ceramics. I also have a couple more things on approval." Lord brought several pieces of Carlo Bugatti furniture which he says garnered great interest. "There was a lot of interest in the Bugatti furniture from various collectors and a museum."
Several dealers echoed Lord's positive sentiments about this year's show. Arlie Sulka, owner of Lillian Nassau LLC (New York, USA) said, "This has been a very good fair for us. We sold our star pieces including the Tiffany Studios Snowball window as well as the Bessie Potter Vonnoh figure for the Burnett Fountain. We have received positive responses to our material and have sold in all categories, so we are very pleased and grateful."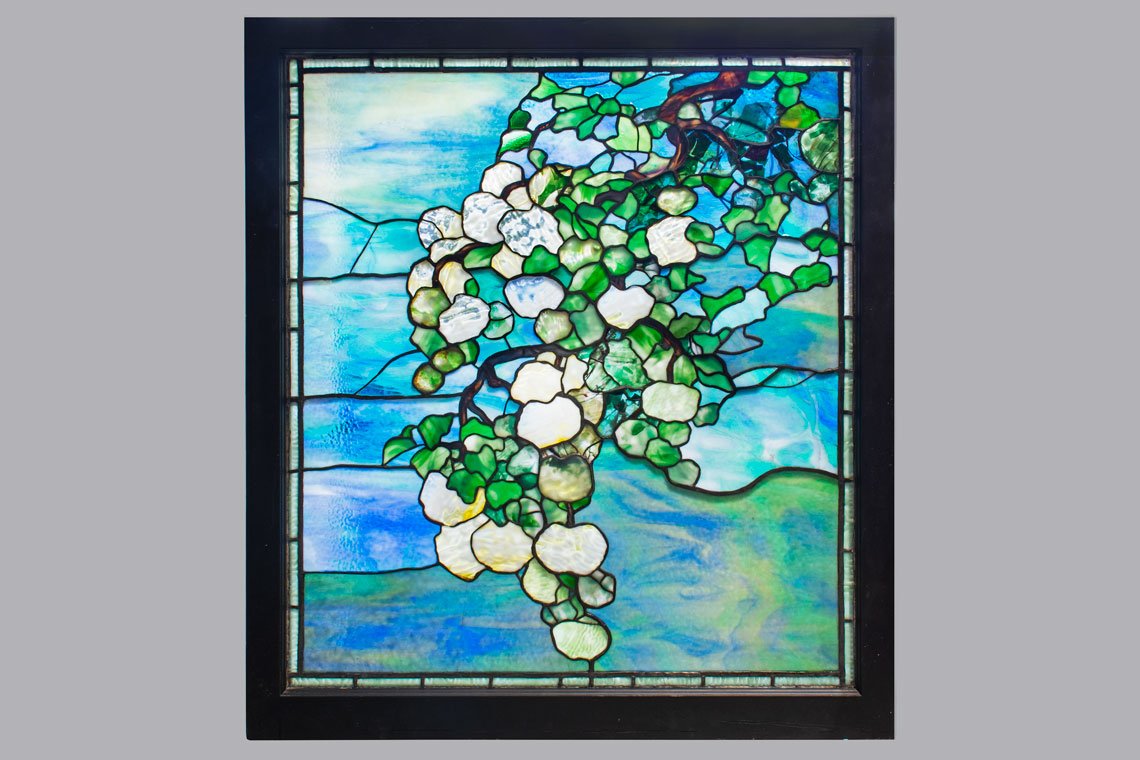 A rare Tiffany Studios Snowball Window circa 1905 was sold by Lillian Nassau LLC. The window depicts a branch from a flowering snowball, also known as guelder rose, a type of viburnum, against a vibrantly abstracted blue sky.
Taylor Thistlethwaite, owner of Thistlethwaite Americana (Alexandria, VA, USA) commented, "It is great to sell wonderful American furniture to great young collectors. Brown furniture is strong with the young collectors and I am so thrilled it found the perfect home at The Winter Show." Notable sales he said included a Walnut Ball and Claw Corner Chair from Boston, Massachusetts, circa 1760.
Sales were not restricted to regular participants; first-time galleries also did well. Portuondo (London, UK and New York, NY), a first-time exhibitor at the Winter Show, sold works including a 1975 hand-woven tapestry by Robert Motherwell (1915–1951) After in Brown and White, and an Elliptique sofa, pair of armchairs and footstools by Bernard Govin, produced by Saporiti Italy circa 1967.
Painting and sculpture sold especially well this year. Jonathan Cooper (London, UK) sold several contemporary works, and Dolan/Maxwell (Philadelphia, USA) sold a 1946 cast bronze sculpture by Elizabeth Catlett (American 1915–2012) to a Midwest museum in the range of $135,000–$150,000. Bernard Goldberg Fine Arts, LLC (New York, USA) sold a bronze cast by Auguste Rodin, one of the Burghers of Calais, conceived circa 1887-95 and cast around 1905, and a watercolor and pencil on paper by Charles Burchfield, "Lincoln Avenue at Main Street, Salem, Ohio," 1916.



Left:

Levy Galleries' booth on preview night. Right: SOLD! A 1770 Boston Chippendale accordion action card table by Thomas Frazer.

Imperial Art (Paris, France) sold a hand study based on the living model for David's epic painting The Oath of the Horatii to an American museum, by Jean-Baptiste Debret, a pupil of the great French classical painter Jacques-Louis David. Levy Galleries (New York, USA) sold a Thomas Frazer Chippendale Accordion Action Card Table, circa 1770, from Boston, and an exquisite Potter Family Chippendale Tall Case Clock, circa 1785, from Providence Rhode Island. Both fetched six-figure sums.
Non-western materials also found strong interest. Patrick & Ondine Mestdagh (Brussels, Belgium) sold a 19th century Kha Wooden Shield from Laos, province of Saravane, in the range of $5,000–$10,000, and a Karkar shield from Papua New Guinea in the range of $30,000 to a private West Coast collector. Joan B. Mirviss LTD (New York, USA) sold several works including a five-panel Japanese woodblock print of Yokohama by Utagawa Sadahide from 1861 to a Midwest museum.
Erik Thomsen from Thomsen Gallery reported the sale of this lovely Japanese folding screen, which brought a price in the high five figures. He is awaiting the finalization of additional sales initiated at the Show.
Erik Thomsen from Thomsen Gallery also had an extremely positive fair. A specialist in Japanese art, Thomsen sold something almost every day, he said, most notably an anonymous 19th-century two-panel folding screen depicting a pine tree by a stream in winter, painted with mineral pigments of gold leaf, that sold in the high five figures. "We did about a dozen sales and are negotiating more now." He said, "The quality of collectors and knowledge of the visitors this year was impressive."
Maureen Zarember of Tambaran (New York, USA) was similarly enthusiastic about her experience and the market. "The fair has been absolutely wonderful for us, we are very happy. We are an exhibitor of different materials, and we have had non-stop visitors and have had some wonderful sales, including to a New York museum."