Designer QnA: Janie Molster on twirling rifles, making beds, and the all-important contextual rub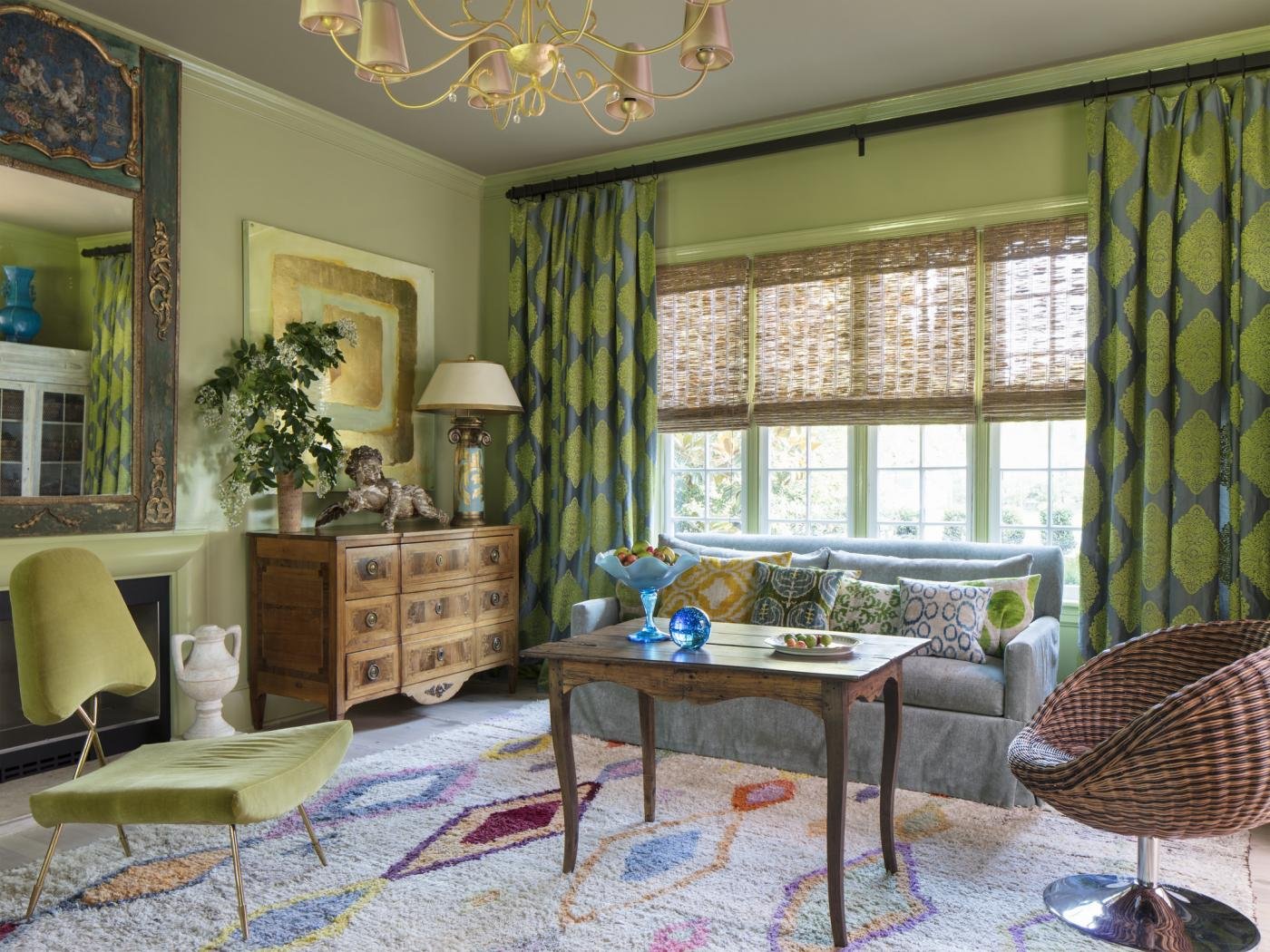 Janie's "Green Room" in her 1907 farmhouse in Richmond, Virginia fearlessly mixes antiques, vintage and contemporary with vibrant verdant color. Contemporary bespoke lighting includes a hand-cast bronze chandelier from French studio/foundry Objet Insolite, and a hand-gilded lamp from one of Janie's favorite Southern artists, New Orleans ceramicist M. Clément. A colorful large-scale diamond-patterned Tulu rug is from JD Oriental Rugs. Quirky, animated mIdcentury style chair profiles are balanced with the demure curves and rustic finish of an antique table. The warmth and weight of traditional pieces was an essential component to grounding the design. Over the fireplace, Janie hung an antique French trumeau mirror she found in L'Isle Sur-La-Sorgue, and in the far corner is an antique French commode of walnut and oak marquetry. Photo by Gordon Gregory

| | |
| --- | --- |
| | |
| | Janie Molster |
Janie Molster believes great design should delight, inspire and embrace her clients. With a portfolio that ranges from family homes to boutique hotels, urban apartments, restaurants, and retail stores; the Richmond, Virginia designer is equally adept at transforming public and private spaces. "I like to think my rooms inspire Southern graciousness, whatever the region. Even the most sophisticated designs, when handled thoughtfully, should infuse a space with warmth and personality." House Beautiful, Traditional Home, Southern Living, Coastal Living and the Wall Street Journal have featured with her work, and clients appreciate her well-honed discovery process, which focuses on their ideas of what's possible and expands on them. "We're translators. We invest in good communication up front to transform a client's ideas into a cohesive workable plan," she explains. "The most satisfying compliment I can get is, 'You understood what I wanted better than I did'. Ultimately, what defines our work is the artistry we put into redefining a client's vision." As a mother of five, Janie understands that good design must be intertwined with comfort and functional practicality. While Janie's designs defy easy categorization, a common thread of authenticity runs through her work. "The most inviting rooms look like they've evolved naturally over time," she says, capturing her design sensibility. "I'm not guided by genre, period, or pedigree. I am guided by good."
DISCOVER JANIE MOLSTER'S INCOLLECT FAVORITES



LOUISA CHASE

Hug, 1979

Hirschl & Adler Galleries Inc




ATLAS SHOWROOM

Morocco Boho Chic Boucherouite Small Multicolored Rug

Atlas Showroom



JOHN PROCARIO

Freeform Series Light Sculpture, USA, 2016

Todd Merrill Studio




1970s Provincial French Decorative Parcel-Gilt Trumeau Mirror in Green and Gold

Cosulich Interiors & Antiques
Role Model:

Today it's Mark Hampton. Old-school good manners are everything.

Necessary extravagance:

Ray who comes regularly to polish my silver.

Secret vice:

Bingeing on Law and Order marathons




Hidden talent totally unrelated to design:

Karaoke

Go-to color scheme:

I am often associated with pink but my go-to is black and white.
Tell us something about you that is not in your bio.
I twirled a wooden rifle in my high school marching band.
What excites you most about the design process?
Creating initial schematics. At this point I turn into a bit of a Tasmanian Devil. My mind starts racing and I generally tear up my office digging for things. I see ideas everywhere. I wake up early in the a.m. and several times during the night. I am obsessed until I get my head around the bulk of it. It's crazy, busy, and exciting. Definitely an adrenaline rush.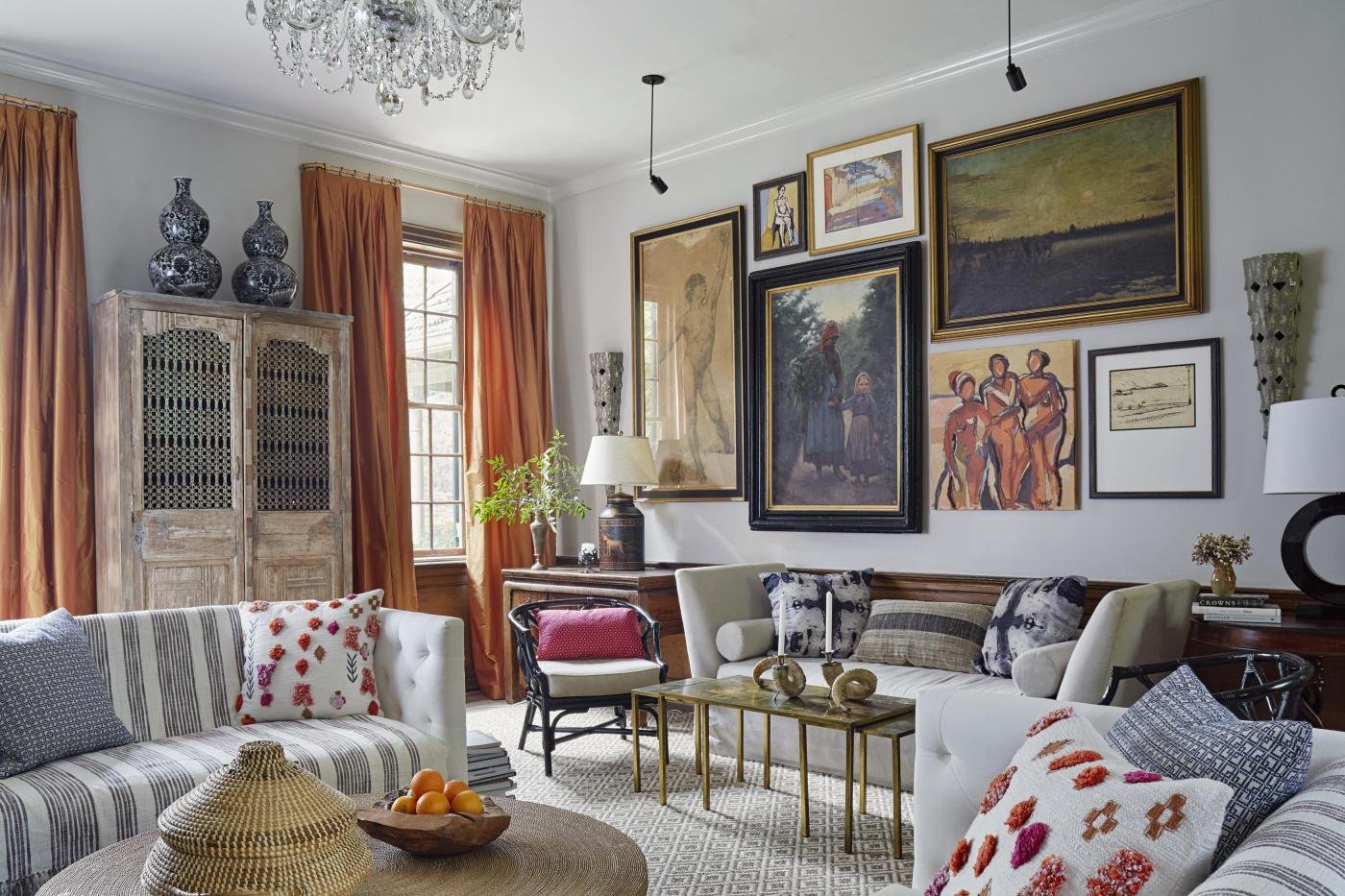 An 18th-century Virginia house retains its heritage, but was updated by Janie to reflect the owners' personalities. The house dates from the mid-1700s, and was purchased from the Virginia Museum of Fine Arts by a traditional southern couple – the wife from Charleston, with a very southern upbringing, and the husband a Virginia lawyer and Virginia history buff. Original stained poplar wainscoting and window trim was polished and waxed, helping to tie the classic architecture to the eclectic interior decor. Eleven-foot-tall pumpkin silk curtains frame the 9-over-9 double-hung windows, a very traditional crystal chandelier hangs from the ceiling, and there are antiques, as would be expected. But the decor takes a turn towards boho, with a mix of ethnic patterned cushions and Asian influences: Chinese bamboo fretwork chairs, a pair of double-gourd vases atop an antique Asian cabinet, and Buddha statues here and there, as a nod to the wife's career as a teacher of meditation. The gallery wall features only a small selection of artwork from a substantial family collection with an unusual history, mixed with some contemporary pieces by Virginia artists. Most of the works are by mother and son artists Mary and William de Leftwich Dodge who were related to the client. Born in Virginia, the artists lived and painted in Paris in the late 19th century. Their paintings from this period remained in Paris with relatives and at the outbreak of World War II, they were shipped to the client's grandmother as a precaution against looting. After the war, it was decided that the paintings would remain with the client's family. Mary de Leftwich Dodge was best known for her expressive portraiture, and William was acclaimed for his grand murals, executed for public buildings including the Astor and Algonquin Hotels, the Library of Congress and the New York State Capitol. There are many such gallery groupings throughout the rooms, and Janie explains how she taped off the dimensions of the display wall on the floor, and laid out the paintings in balanced compositions, often perching atop a ladder to replicate viewing perspective. This one features some of the couple's favorites, flanked by a pair of vintage Murano sconces. Photo by Luke White
SHOP JANIE'S INCOLLECT PICKS



JOHN WHITE ALEXANDER

Green Girl, ca. 1897

Hirschl & Adler Galleries Inc




JACQUES ADNET

Pair of Sconces by Jacques Adnet, France, 1950s

Bernd Goeckler Antiques



Pair of wood finials

JF Chen




19th Century Swedish Gustavian Period Sofa Bench

Maison & Co.
How do clients push you to think outside of the box and challenge you?
Clients often come to us thinking that I prefer to drive the creative direction of their project. The more rewarding relationship is when I can educate and lead a client to be a full partner in the process. Establishing trust is very important. It's a great start when clients have done their homework and have come to me with a wish list, a stack of inspirations ripped from magazines or catalogues, or even pictures of their travels. There are times when all of their goals are difficult to attain and appropriateness is in question — for example 'We want a tropical bungalow-feeling in our sleek high-rise condo.' The challenge is to make the magic happen within the confines of good design.
Name an architect, artist or designer, living or dead, you'd love to collaborate with?
Architect Jeffrey Dungan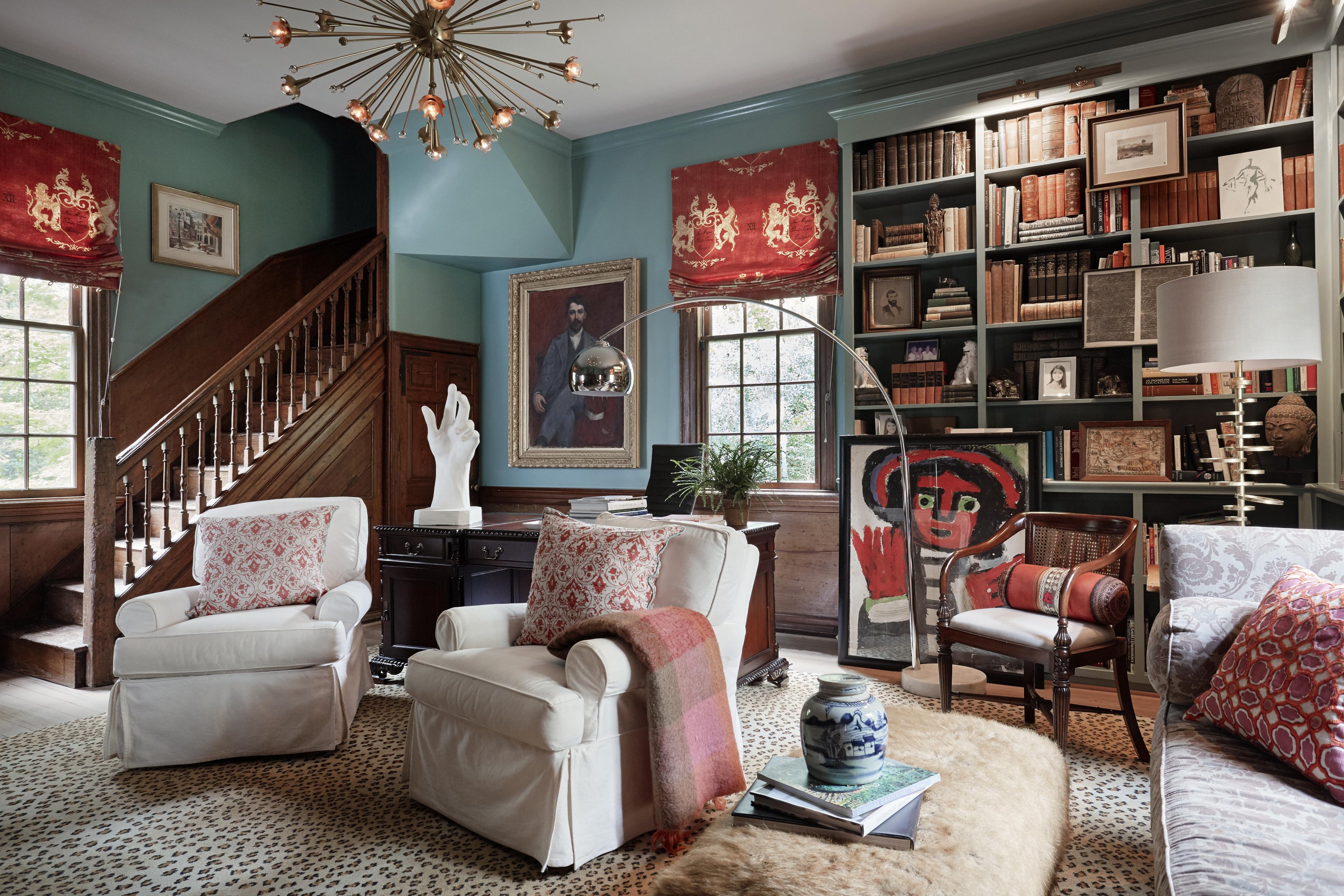 Bold, saturated color and sculptural lighting meet an abundance of historic interior architecture head on, in an updated twist on a lawyer's study. An antique mahogany partners desk and bookshelves filled with leather bound volumes on Virginia history are the only concessions to tradition. A sputnik chandelier and Arco floor lamp are midcentury grace notes, and artwork is a mix of historical photos, maps and letters, works on paper and compelling portraits, including a cheerful modernist portrait that evokes smiles from all. Photography by Luke White




JOHN DICKINSON – ANGELO DONGHIA

John Dickinson Rare and Important "Twig" Floor Lamp ca 1980

Lobel Modern, Inc.




MICHAEL LOEW

"Black Reclining Nude," Ink on paper, 1969

Newel



Large Black and Brass Midcentury Style Sputnik Pendant, Italy, 2019

Lost City Arts




GILLOWS OF LANCASTER (Attributed)

Regency Mahogany Caned Bergere Armchair, attributed to Gillows

Peacock's Finest
How does a design project start for you?
Discovery. In residential projects, we need to dig deep into the expectations of our clients but also their personal habits — how do they really live, eat, sleep, entertain, relax, celebrate, exercise, work, etc. We have to know them well to be able to hear them most effectively.
Is there a particular element that you start with that inspires you the most?
One word: love. When we do a presentation and a client has an immediate reaction to something that speaks to their soul, it often becomes the launch pad for the room. That launch pad can be a fabric swatch, a wall color, a coffee table, a painting, or a piece of art. It becomes a block to build on and the initial block is different in every project.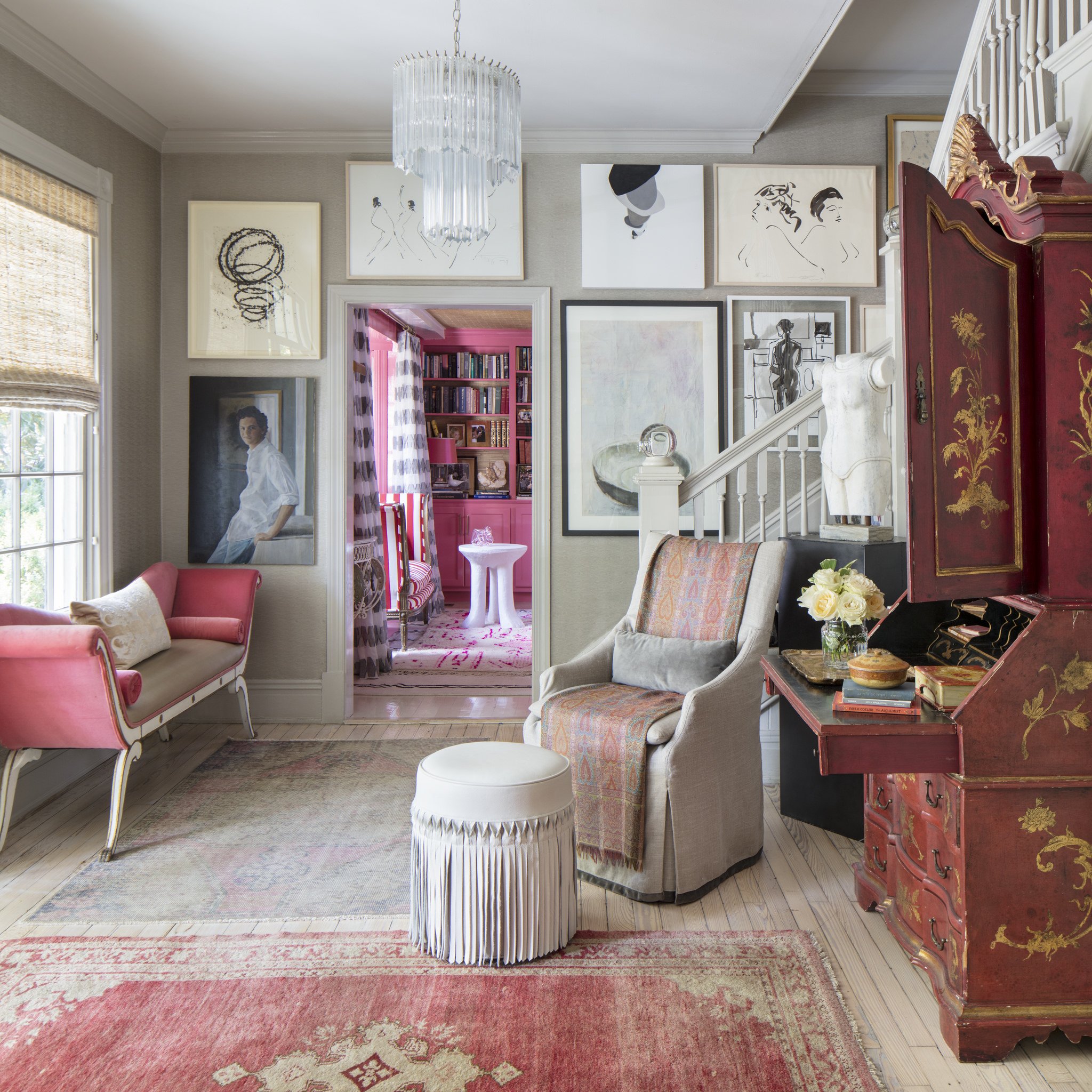 In a household where males outnumber females by 5 to 2, the lady of the house asserted her love for all shades of her favorite color pink, and nary a word of protest was heard. Bold pieces and the rustic patina of the well-worn floors and rugs keep it from feeling too frilly. An antique Chinoiserie secretary is opened to display books, a lacquer tray and flowers, with a linen skirted chair and funky fringed leather stool. A Murano glass "Tronchi" chandelier hangs overhead. The gallery wall of artwork includes drawings, prints, including a work by Richard Serra, and portraits.



Extraordinary George III Lacquered Secretary

Elizabeth Pash Interiors & Antiques




KONEKT (Attributed)

'Thing 1' Horse Hair, Brass and Velvet Stool or Pouf

Konekt



WESLEY JOHNSON

Huge Wesley Johnson Abstract Oil Painting in Variation of Pink

Galerie Sommerlath




OSCAR NIEMEYER

Marquesa Bench

ESPASSO
What is your favorite object in your home and how and when did you acquire it?
I have a nude female sculpture that I found dirty and wet, in an outside booth at an Atlanta antique show 15 years ago. She is Belgian in origin, about 75 years old, and stands 4'6". She has lovely proportions but her two most endearing elements are 1) an amazing mane of thick hair that runs down her back and 2) delicate fingers that have become chipped and broken over time. She stands in a bay window in the front of my house and the average passerby assumes there is small naked woman standing in the window, arms open and welcoming. It's scandalous and fun.
What is your dream project?
A boutique hotel with a hip restaurant and lounge, somewhere warm and temperate, like SoCal. There is a little more creative license given to designers on hospitality projects. Given that our firm is located in Richmond, Virginia and much of our work is in the mid-Atlantic and south, our core client base tends to be traditional. My own leanings in design are more contemporary and eclectic. The opportunity to scratch that itch is always exciting.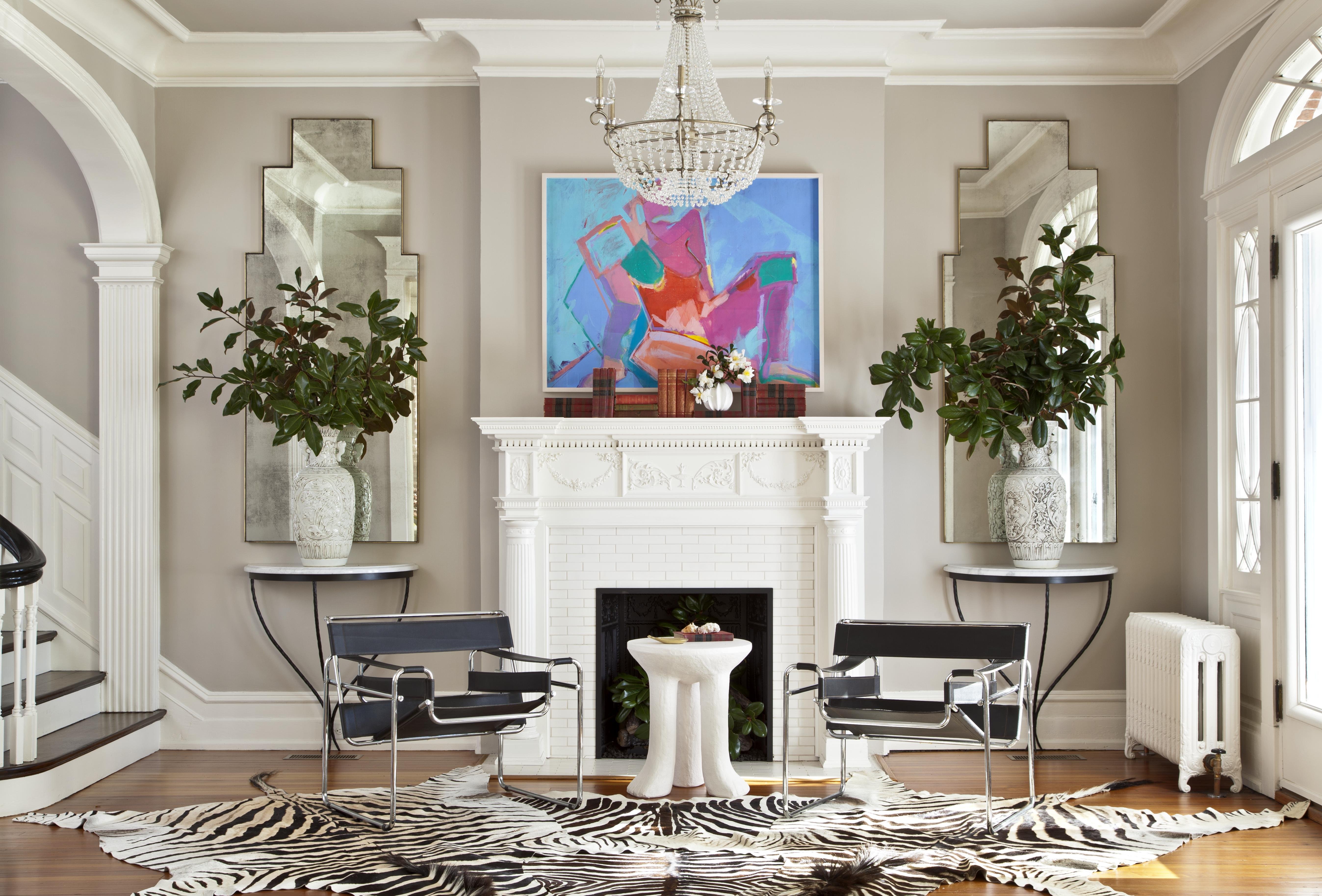 The all-important contextual rub - classical architecture with sculptural modern furnishings and bold contemporary artwork. Symmetrical pairs of chairs, consoles, vases and mirrors dovetail with the classical architecture, keeping a balanced feel to the space, while a double zebra hide rug energizes with its vibrant pattern. A pair of patinated wall mirrors with skyscraper profiles and tall ceramic vases emphasize verticality. The low-slung Wassily chairs, joined by a John Dickinson table keep the sightline to the charming details of the mantle open.




MARCEL BREUER – GAVINA SpA

Wassily Chairs in Brown Leather by Marcel Breuer for Gavina

Montage




WILHELM KÅGE

Stoneware Vase from the Vaga Series with Carrera Glaze

Sally Rosen 20th Century Collections



CHARLOTTE PARK

Untitled (60-13), c. 1960

Berry Campbell




JOHN DICKINSON

Rare and Important 3 Legged African End Table ca. 1980

Lobel Modern, Inc.
What is your favorite part of the install process?
Making beds: I love custom bed dressings and beautiful linens. I know I have really helped elevate my client's life when I install a fabulous bed package.
Do you have a signature element — something you always include when styling an interior?
Antiques and good artwork. There really doesn't need to be much else if the art and the rugs are good. I always like a contextual rub, like an antique Flemish still-life painting between a pair of Jacques Adnet armchairs. Contrast enhances differences, which makes the individual pieces shine and ultimately brings a room to life.
Tell us what you love about Incollect and what one can expect sourcing with us.
The organization of the inventory for browsing is so simple and intuitive. I love all of the options to source by genre, designer, or artist. And the inventory is amazing. There is such a depth to the offerings with a wide array of price points to suit a myriad of our design projects. The photo gallery of designer projects affirms that Incollect really appreciates and celebrates what we as designers do.