Designer QnA: Peter Pennoyer's Alice Engel on her weakness for wicker and the quiet staying power of texture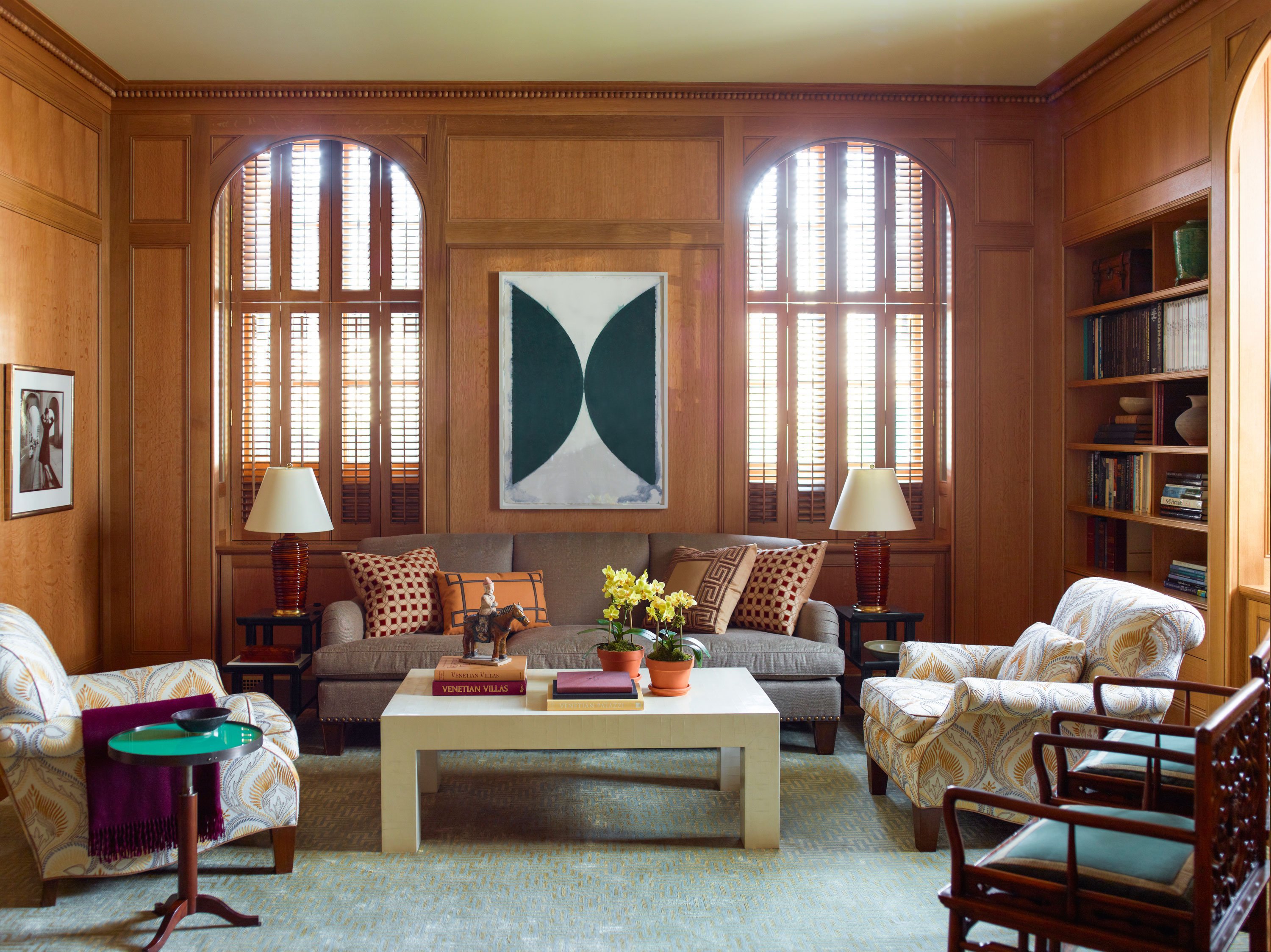 Pale waxed-oak paneling with beaded moulding and graceful arched window frames encase the family room of a gut-renovated Fifth Avenue maisonette duplex. A work by Ellsworth Kelly hanging above the sofa dialogues with the window arches. The firm envisioned a nuanced approach to the Eastern accents requested by the client; woven throughout, subtle references to their Asian roots — a jade green lacquer tabletop, bamboo-wrapped lamps, and Asian design motifs in the pillows and rug are combined with pieces from the family's collections, including a pair of Ming chairs, shown in the foreground, and Chinese pottery displayed in the bookshelves and on the coffee table. Photo by Eric Piasecki
| | |
| --- | --- |
| | |
| | Alice Engel, Director of Interior Design, Peter Pennoyer Architects. Photo by Jay Ackerman |
Peter Pennoyer Architects is an award-winning firm of architects, interior designers, and related professionals based in Manhattan and with an office in Miami, Florida. Founded in 1990, the firm is recognized as a leader in new construction, renovation, and historic preservation for residential, commercial, and institutional commissions across the United States and abroad. The firm's work is characterized by sophisticated detail, high quality craftsmanship and a nimble balance between comfort, beauty, modernity and continuity with the past, designed for today's living. With over 200 built projects ranging from renovations of significant landmarked structures to newly built condominium towers, they have earned a well-established reputation with preservation authorities, local landmark advocacy groups, and community boards around the country. Peter Pennoyer Architects also enjoys longstanding relationships with many interior designers, landscape architects, artisans, builders and consultants, as well as with returning clients. The firm's own interior design department also offers a full range of decorating services and often works in concert with their architectural team to tailor finishes and furnishings from city apartments and country houses to residential developments. Alice Engel is Director of Interior Design at the firm. She brings a scholar's knowledge of art and architecture, and a deep love and understanding of craft to her work. The foundation of her talents goes back to her earliest memories, and was refined through her academic pursuits; she earned a BA in the History of Art and Architecture from Harvard College, and went on to obtain an MFA in Textile Design from the Rhode Island School of Design. Alice began her career in interiors at the Office of Thierry W. Despont, Ltd. – the firm perhaps best known for the renovation of the Ritz Paris and the Woolworth Building in New York City – where she advised on finishes and fabrics for the architecture and interiors departments. Her next step was a position as project manager at Tiffany & Co., creating luxury retail interiors for the world famous brand's locations in Europe and Japan. Alice joined Peter Pennoyer Architects in 2015, and rose to head the Interiors Department in less than 18 months, a testament to her drive and talent. An aesthete with an appreciation for art and design from all eras, she has been appointed to the Benefit Committee for The Winter Show for the past 3 years. We asked Alice to tell us how she begins the design process, recent inspirations and her dream project. Read on for Alice's introspective musings and on-point comments, and view her personally curated collection of favorites from the offerings on Incollect.

Tell us something about yourself that is not in your bio.
My training is actually in Textile Design so I often approach a space from its surfaces and materials, rather than space planning.
What sort of house did you grow up in, what did you love about it, and has it or any other design memory from your childhood influenced your aesthetic?
My childhood home was a small, historic brick house, the former gatehouse of an estate on the Hudson River, which also bordered Wave Hill. I loved its proximity to the river and watching the tugs plod up the Hudson. The smell of raspberries still transports me to the brambles nearby. The neighboring historic houses surely informed an early passion for proportion and style.
What is your favorite object in your home, and how and when did you acquire it?
My favorite object in my home is an Italian ceramic lamp my husband gave me one Christmas, after I had spent a few years eyeing it in the window at Glen Dooley Antiques!
DISCOVER ALICE ENGEL'S INCOLLECT FAVORITES



English Regency Style Mahogany and
Cane Curule Form Armchairs

Acroterion




GIO PONTI

Important Italian Modern Walnut and Glass Low Table

Gary Rubinstein Antiques



GUNNAR NYLUND – RÖRSTRAND

Exotic Fruit Table Lamps in Burnt Sienna and Gold

BAC




MAISON BAGUÈS

Superb gold bronze 2 tier side tables with eglomise mirror top

Galerie Andre Hayat
How does a design scheme begin for you? Is there ever a particular element that inspires the whole project?
A design scheme always begins with the client and the architects, whose process I have the privilege of observing, since my interiors team works closely with PPA architecture from an early stage. We often take our cue from multiple elements — such as a client's likes or dislikes, the period of a house, physical materials, the local setting and vernacular.
What is something you'd love to do that you haven't had quite the right project for yet?
I would love to design a folly or a conservatory with an aviary and plenty of wicker. I have a weakness for both.
If you had to choose, which is more important: pattern or texture?
As a textile design student, I used to be besotted with pattern — on everything from fabric to paper to ceramics. Fifteen years on, however, and now as a weaver myself, I have changed my tune to favor the quiet, staying power of texture.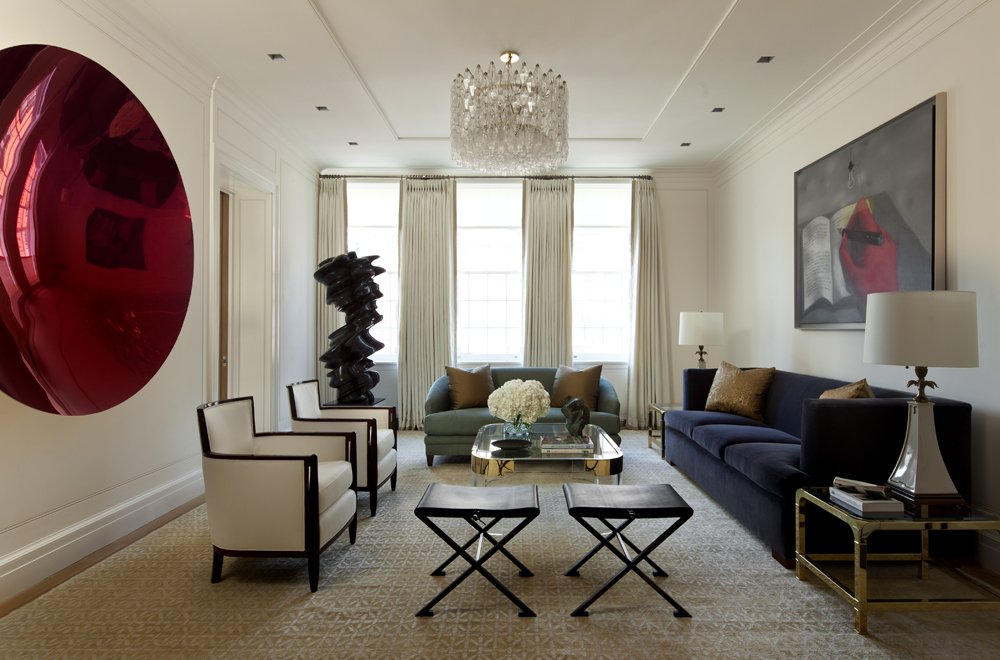 A gracious and well-appointed living room in a 1908 building on Madison Avenue features spectacular art. Anish Kapoor's scarlet concave wall sculpture glows like a benevolent third eye over a conversation area, which offers a comfortable variety of seating options — 1930s French Art Deco bergeres; a curved back love seat; a tuxedo sofa and a pair of classical, hand-forged wrought iron x-base benches. The 1960s textured Murano glass chandelier is from Venini, and a pair of Lenox porcelain flared obelisk lamps are vintage 1950s Stiffel. Photo by Nick Johnson.
SHOP ALICE ENGEL'S INCOLLECT PICKS



PHILIP LAVERNE – KELVIN LAVERNE

Medici Low Table

Liz O'Brien




3-Arm Table Lamp

Donzella



PAUL ALLEN REED

Untitled, 1965

Peyton Wright Gallery




KAARE KLINT – RUD RASMUSSEN SNEDKERIER

Classically Chic Pair of "Mix" Armchairs in Striae Horsehair

BAC
Do you have a signature element — something you always like to include when styling an interior?
Grasscloth wallpaper is a workhorse for us, speaking of texture!
Who is your dream client (entertainer, artist, politician)?
We are lucky to have a number of dream clients already. The ideal client is willing to share their dreams, have fun and be inspired by our designs.
Where have you been, or what have you seen recently that you know will influence your work?
Before the pandemic hit the US, I was in Paris for Deco Off and visited the Musée Jacquemart-André, the interiors of which were splendid. My notes and photos from the visit are already informing some of our projects. Since being cooped up at home, I watched the film Never Look Away, loosely based on the life of Gerhard Richter. Though I missed the recent Richter show at the Met Breuer, this was a riveting stand-in.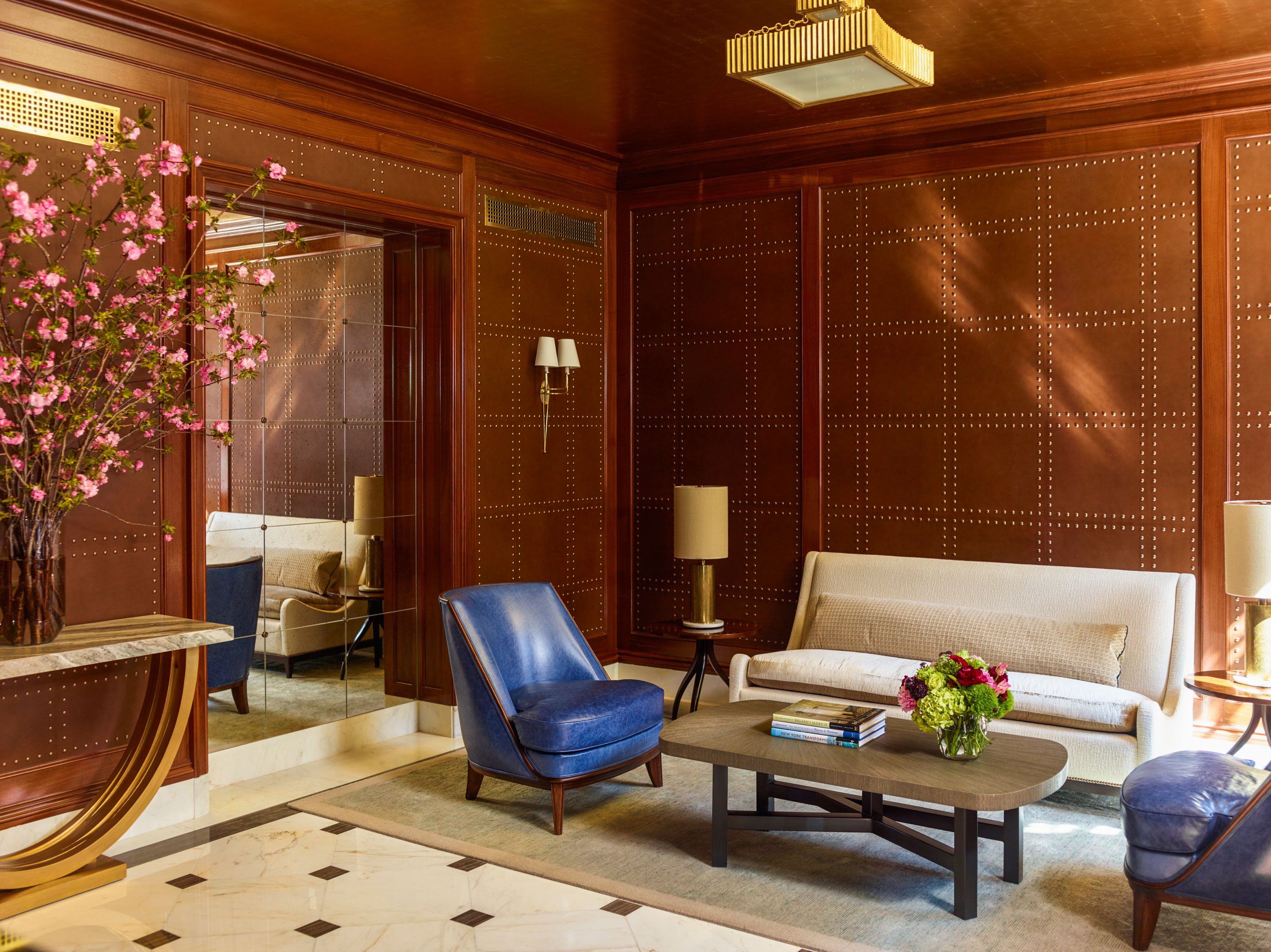 The leather-paneled lobby of 151 East 78th Street is an ode to craft and beauty, remarkable for its intimate scale and warmth. A grid pattern of leather panels is repeated with similar motifs in the mirrored niche as well as the marble floor, and balanced by the curved shapes of the Deco-style console, blue leather slipper chairs, and rounded surfaces on the side tables and coffee table. The material palette has a subtle richness, with light glinting off polished brass nailhead trim, lighting fixtures, and a glowing gold leaf ceiling. Peter Pennoyer Architects designed the entire 17-story building, including the decoration of the public spaces, and kitchens and baths for the 14 distinctive residences contained within. The building received the Stanford White Award in 2016, recognizing excellence in the classical tradition, from the Institute of Classical Architecture & Art. Photo by Eric Piasecki
SHOP ALICE ENGEL'S INCOLLECT PICKS



Art Deco Side Table, Walnut Veneer, France circa 1930

Coloneum Antik




CARL-AXEL ACKING

Early Chandelier in Brass, Sweden, 1940s

Bloomberry



KAARE KLINT – RUD RASMUSSEN SNEDKERIER

Rare pair of easy chairs, model 5313

Studio Schalling




JEAN ROYÉRE

Exceptional Pair of Standing Lamp model "Jacques"

Galerie Andre Hayat
Nugget of design-related wisdom you'd like to share.
Be your own curator. Collect things that mean something to you as your life unfolds.
If you weren't a designer, what would you be?
A contributor to World of Interiors (after honing my writing skills!).
Tell us what you love about Incollect and what one can expect sourcing with us.
I love the transparency of Incollect and the way it facilitates the design process and our most treasured asset – our relationships with our dealers and galleries. A designer is only as good as her best vendors.



Created for the 2019 Kips Bay Show House, Alice Engel and the interiors team at Peter Pennoyer Architects envisioned this enchanting space as a cozy and stylish welcome for a Parisian houseguest. Schumacher's classic Provençal documentary print fabric Le Castellet in blue and gray, the inspiration for the palette, was enlivened by a piquant citron hue that propelled it forward into the now, assisted by a modern gunmetal finish applied to the ornate fireplace surround, an ultra-high-gloss ceiling and contemporary artwork by Christina Burch and sculptor Christopher Flach, each seen in pairs bracketing the fireplace. For a truly collected-over-time ambiance, midcentury accents — a Swedish rug by Märta Måås-Fjetterström and the 1950s Cristal Arte mirror over the fireplace from Bernd Goeckler are intermingled with antique pieces, including a c. 1800 French Directoire mahogany bureau plat with graceful carved stag legs from Newel. A pair of Roberto Rida "Calle" floor lamps from Guy Regal adds a playful touch. Photos by Eric Piasecki.
SHOP ALICE ENGEL'S INCOLLECT PICKS



CARL-HARRY STÅLHANE — RÖRSTRAND

Hand Decorated Drip Vase, 1943

B4




ROBERTO GIULIO RIDA

"Calle," Unique Floor Lamps

Guy Regal NYC



Scandinavian Modern "Pie Crust" Mirror in Elm Wood

B4




OSVALDO BORSANI

Italian 1940s Bedside-Tables (Night Stands)

Valerie Wade
Career Idol




I have many! Madeleine Castaing (pictured at right), Lulu Lytle of Soane Britain




and Sally McQuillan of Raoul Textiles.




Go-to color scheme:

Slate blue and citron yellow, which we brought to life at our Kips Bay installation in 2019.




Necessary design extravagance:

Lighting.




TV show or movie with incredible interiors:

I Am Love.




Favorite way to spend a day at home:

Listening to my husband play the piano and perusing back issues of Country Life
Next design purchase (for yourself!):




A winsome ceramic elephant sculpture by Bruno Gambone. I adore elephants.




Hidden talent totally unrelated to design:

I somehow know all the lyrics to Paul Simon's Graceland album.




Vacation spot:

The Catskills.

Candle or scent from nature:

Anything rose-scented, like Rigaud's Rose candle or Frederic Malle's Jurassic Flower candle




Flora:

Dahlias from my mother's garden.
VIEW ALL OF ALICE ENGEL'S INCOLLECT PICKS