Architect/designer Carlos Motta's CJ1 collection was created exclusively for his friend Carlos Junqueira of ESPASSO. The dining suite is handcrafted of solid reclaimed Brazilian Peroba Rosa wood and metal and includes the sleek CJ1 Dining Table, and the ergonomic CJ1 Dining Armchair and CJ1 Dining Chair.
ESPASSO is pleased to announce an exclusive furniture collection
designed by Brazilian architect/designer Carlos Motta for ESPASSO, on view
at ESPASSO Annex at 186 Franklin Street
in Tribeca through October 5th.
ESPASSO, the premier design gallery and retailer for modern and contemporary Brazilian furniture, art, and design objects is thrilled to announce ESPASSO+Motta, a remarkable collection from transcendent architect and designer Carlos Motta. Created exclusively for ESPASSO in a first-of-its-kind collaboration for Motta, the new line introduces handcrafted interiors pieces that are sure to thrill lovers of Brazilian design.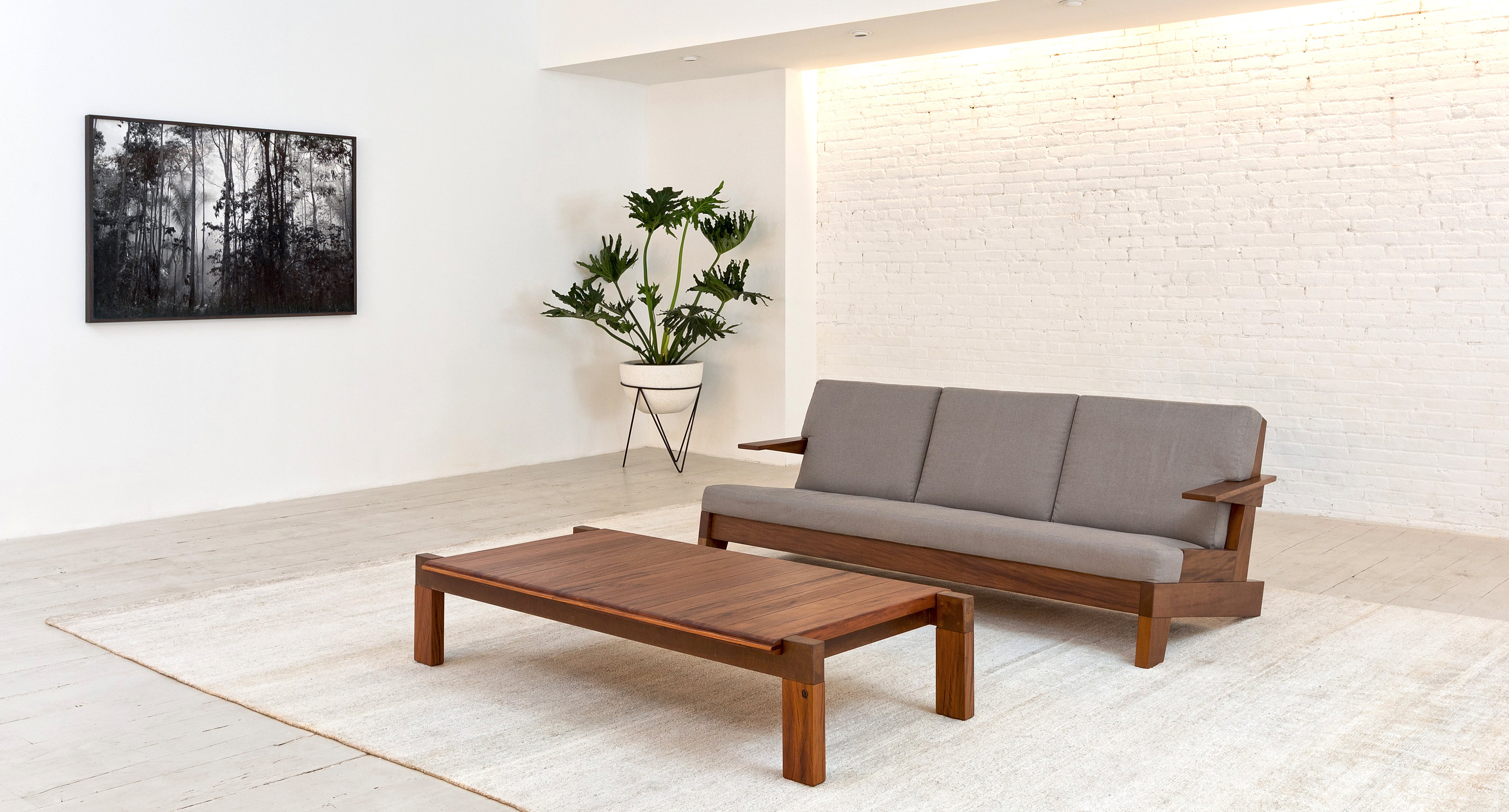 The CJ1 sofa features a solid Brazilian Peroba wood frame and impeccably tailored upholstery seat, seen here paired with the CJ1 Coffee Table. The table is handcrafted of solid reclaimed Brazilian Peroba wood, features a minimalist design with seamless blending between wood and metal, and is available in three sizes.
| | |
| --- | --- |
| | |
| | Carlos Motta |
Carlos Motta on design, inspiration, and his favorite flea market finds . . .
What is your design process? What inspires you?
My creative process usually begins with silence. To me, it's part of a flow. It has to be something simple, that brings me satisfaction. My main inspiration comes from the beauty of nature.
Tell us about your relationship with Carlos Junqueira.
Carlos is a great friend. The way the 16-year business relationship between the two companies – ESPASSO and Atelier Carlos Motta – has evolved reflects our mutual admiration and the respect we have for each other's work. This exclusive collection is part of a natural evolution for us and the materialization of a successful partnership.
How is the collection for ESPASSO different from your other work?
The main difference is the fact that it is a collection for an international representative. It is the result of a great design process because I felt free when choosing different materials, developing a design that carries the identity of our relationship. This collection has a Brazilian DNA, but we believe it has an even stronger international appeal. It represents the materialization of a successful 16-year story.
What Brazilian designer(s) do you most admire? Why?
I have a strong admiration for the anonymous designers, the underprivileged people who create beautiful pieces using skills, intelligence, and reclaimed materials to offer comfort and beauty to their families. It really moves me. I also admire the work of Zanine Caldas, Domingos Tótora, and Sergio Rodrigues.
What is your favorite object in your home? Tell us about it and how you acquired it.
The two pieces I like the most are actually from the USA. A lounge chair from Charles Eames and a University Chair, from the late 19th century, which I got at a flea market in Santa Cruz, California.
"We are extremely excited to premiere ESPASSO+Motta, a truly special furniture line that is the fruit of a long, successful friendship between Atelier Carlos Motta and ESPASSO," said Carlos Junqueira, founder of ESPASSO. "Motta is a brilliant artist whose work embodies the evolution and emotion of contemporary Brazilian design. Celebrating pieces such as these, which so perfectly bridge the gap between our history and today, is precisely why I created ESPASSO."



Left: The CJ1 Lounge armchair pays homage to the modernist roots of Brazilian furniture design but is infused with Carlos Motta's core principles of simplicity, clarity, respect and longevity. Right: The CJ1 Dining Armchair is accented with brass nailheads between the solid Brazilian Peroba wood frame and the seat cushion, which is offered in a selection of fabrics and leathers. Designed with precise attention to ergonomics, it is a stellar example of the architect's credo "form follows function."
ESPASSO+Motta is the first collection Atelier Carlos Motta ever created for an international showroom. The line features simple yet refined pieces that prioritize outstanding comfort and craftsmanship and embody the designer's effortlessly refined aesthetic. Pieces include a lounge armchair, dining armchair, dining chair, dining table, sofa and coffee table, all handmade in solid wood, refined metal, and luxurious cushioning with a clean and sophisticated aesthetic concept. Motta expertly blended wood and metal in the collection's tables and dining chairs for a seamless, intricate design. ESPASSO+Motta will appeal to a diverse, international clientele, while maintaining the core values and elements of Brazilian identity, impeccable craftsmanship and sophistication that both Motta and ESPASSO are sought for.



Left: Carlos Motta's CJ1 Dining Chair. Chairs designed by architects typically express their aesthetic as clearly as a core value statement, and this one is no exception: pristine, sleek, and respectfully crafted. Right: The CJ1 Dining Table is available in 3 lengths and is handcrafted of solid reclaimed Peroba Rosa wood.
"I am honored to debut ESPASSO+Motta for an international audience. Developing this collection was an incredible process for me because it is the natural progression of my relationship with Carlos Junqueira and ESPASSO. The collection carries the identity of our relationship. It has Brazilian DNA," said Motta. The ESPASSO+Motta exhibition is on display at the ESPASSO Annex, located at 186 Franklin Street in Tribeca, New York, through October 5, 2018. To schedule a showing please contact ESPASSO at (212) 219-0017.

ESPASSO is the premier design gallery in the U.S. and U.K. for modern and contemporary Brazilian furniture, art and design objects. Opened in New York in 2002, Los Angeles in 2004, London, United Kingdom in 2012, and Miami in 2016 by São Paulo native Carlos Junqueira, ESPASSO is committed to conserving Brazil's rich 20th Century design heritage, presenting works by mid-century masters and discovering today's emerging designers. The gallery regularly presents a highly curated selection of pieces that are often unavailable outside of Brazil or made exclusively for ESPASSO. Through its unique relationships with some of the best Brazilian architects and designers it has created a shop-in-shop for Sergio Rodrigues, presented the first solo US exhibitions by Isay Weinfeld, Carlos Motta and Claudia Moreira Salles and showcased works by mid-century masters Oscar Niemeyer, Ricardo Fasenello, Joaquim Tenreiro, Jose Zanine Caldas, Branco & Preto and Gregory Warchavachic, in addition to contemporary designers Etel Carmona, Arthur Casas, Fernando Mendes and Zanini de Zanine.