Of Mud and Magic — The Allure of Contemporary Studio Ceramics Part 2
Part 2 of a 3-Part series exploring some of the most sought-after makers of this once humble art form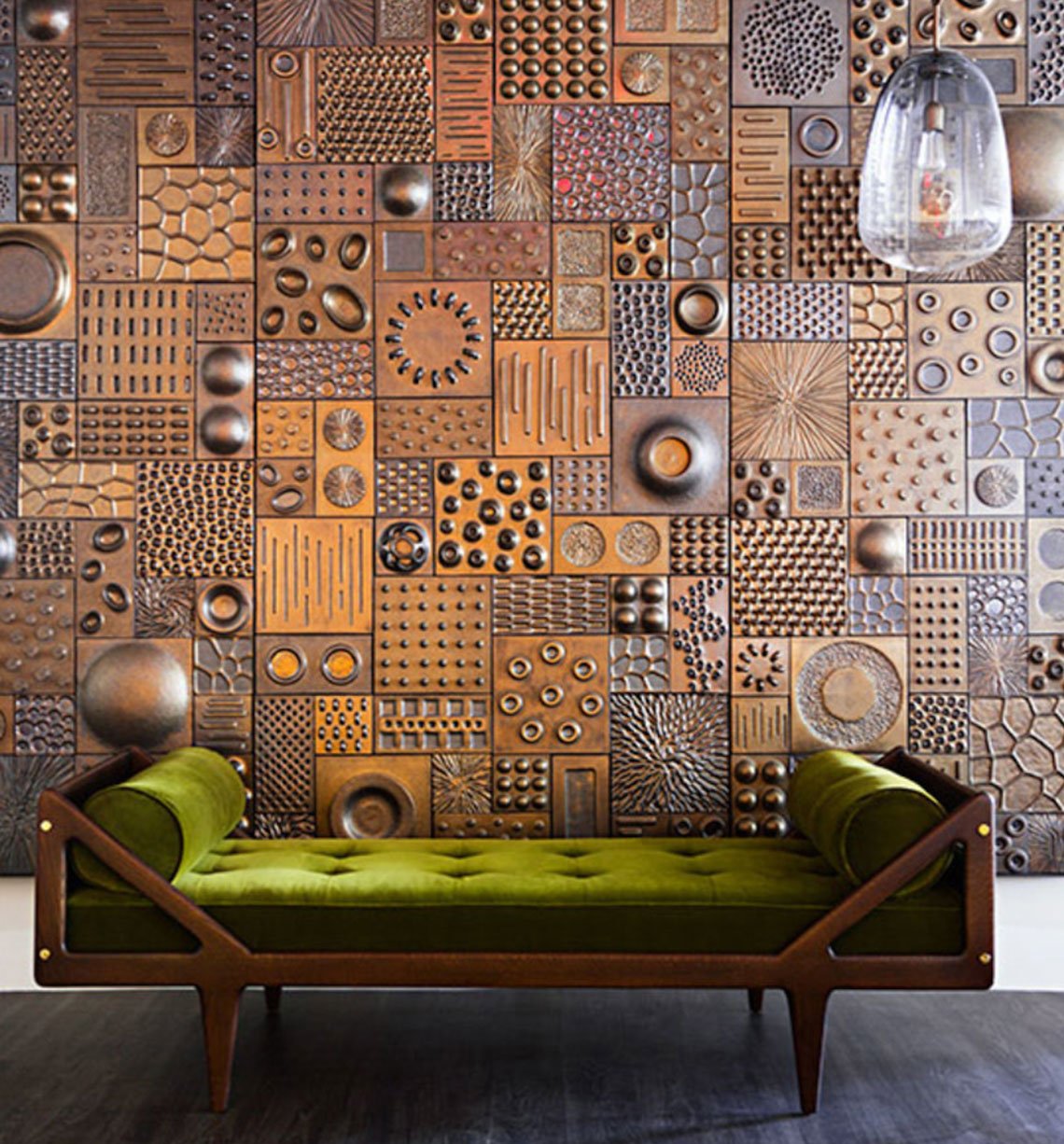 Assemblage Wall Installation in stoneware by Pamela Sunday, made for the entry of Studio Van den Akker's New York showroom. Each installation is site-specific, unique, and handmade to order, in sizes ranging from 10 sq. ft. to over 25 sq. ft. Photo: Brittany Ambridge courtesy of Studio Van den Akker.

Of Mud and Magic — The Allure of Contemporary Studio Ceramics
Part 2 of a 3-part series exploring some of the most
sought-after makers of this once humble art form
by Benjamin Genocchio
"This is my guilty pleasure," says Los Angeles art dealer Peter Blake, speaking about his ceramics collection that includes pieces by artists Otto Natzler, Axel Salto, Charles Krafft, Jerry Rothman, Ken Price, Manuel Neri, Peter Voulkos, and Robert Arneson, among others. "I have been collecting ceramics since the day I opened my gallery in 1993 and I just love them." He then adds, "This is not something that I tend to sell either, it is just for me, for my own pleasure."
Blake is fairly typical of ceramics collectors — in a word, obsessive, driven by a love of the material, clay, as much as the endless varieties of glazes, surface treatments and creative forms. "Ceramics is really rich in terms of the sculptural field, also a lot of ceramics artists are painters, with the glazes akin to abstract paintings. Then there is the history of centuries of people taking the earth and turning it into something. Ceramics is a near inexhaustible form of art, you never get done with the genre."
Transformation (Black) 2017 by Stephanie Ann Bachiero, made of an engineered aerospace composite. This is a much larger version of the original porcelain tabletop-size piece.
Blake is excited about the way new technology is pushing the medium. One of his artists, Stephanie Ann Bachiero, has experimented with scale, scaling up 10–15-inch ceramic pieces into 4–6 foot sculptures in collaboration with an industrial-military fabricator using 3-D animation and resin casting, and the technology exists to scale ceramics to as much as 20 feet high. "New technology is going to bring ceramics to the next level," Blake says, "and can move ceramic artists into museums or corporate spaces, which will bring ceramics into the big time market where you see high prices."
New technology is also changing the way in which ceramics are made and even the way in which we acquire them. Jolie Ngo, a recent graduate from the artist program at Alfred University in New York, is using 3-dimensional printing technology to create unique, fantastical forms in high-keyed colors. She was taken on by R & Company while still in art school after selling out her studio shows on Instagram. When I spoke to her recently about her success, Ngo reminded me she was still in school. "I am at present really trying to focus on my work and not let other things distract me."
Fashions arrive and then disappear, and something else takes its place. We've seen video and glass emerge as new collecting categories, Chinese art, and now African figurative painting seems to be dominating collector interests. The new enthusiasm for ceramics has been a long time coming, though of course the market for a few ceramic artists exploded after major galleries picked them up and made them blue chip, such as Ken Price, Ron Nagle, Grayson Perry, Tal R, Kathy Butterly.



Repetition of pattern and element expressed in ceramics by artists Bill Hudnut (left) and Paul Briggs (right) available at Liz O'Brien. Photos courtesy Liz O'Brien
"There has definitely been an aesthetic shift in the past few years," says Liz O'Brien, owner of her eponymous gallery in New York. "The hand built quality is what people respond to right now, in my opinion. So much is mass manufactured today, I find that my clients want unusual things, they want unique contemporary or vintage pieces. They don't want what everyone else has. Things have to have a bit of soul to them."
O'Brien has been buying and selling ceramics since she opened her shop in the early 1990s. She started with French studio ceramicists, she says, before broadening out, and is delighted to see how the market has acquired a fresh taste for a variety of studio ceramics. "I look for makers who are grounded in the history of the medium, who know about the history of ceramics, are particularly skillful in their technique," she says. "Our client buys collectible vintage furniture and ceramics, they mix things, they respond to the uniqueness of this kind of work."
Deborah Colman, from Pavilion Antiques, sees the change in attitude as part and parcel of a new understanding of ceramics no longer as decoration but as "situating the work in the conversation within architecture or within space as sculpture." Context and the conversation around ceramics, for her, has been critical. "The conversation is no longer only about the vessel or its function, as many artists using clay have moved away from that being the only dialogue. I think designers and collectors are buying form, volume, color, many of the same concerns when they buy sculpture."
Studio Van den Akker
Pamela Sunday
Pamela Sunday surrounded by her natural-world-inspired, hand-built sculptures. Electrum sculpture by Pamela Sunday, through Studio Van den Akker. Photos by Paul Sunday, courtesy Interior Design.
Studio Van den Akker has been championing the ceramic arts since their inception and continues to work directly with a variety of ceramic artists including Pamela Sunday, Georges Pelletier, Frederic Bourdiec and Melissa A. Cromwell. Especially in demand are Sunday's bespoke ceramics, installations, sculptural objects, and lamps, all of which are unique pieces and handmade. "She is frequently inspired by nature," Rob Copley from the gallery says, but also takes a somewhat scientific approach to her art form, reveling in cratsmanship, detail and material research and exploration. There is a freshness and newness to her ceramics that points clearly to the future.
Olicore Studio and Liz O'Brien
R. A. Pesce
One-time antique dealer specializing in pottery and textiles of the Art and Crafts period, the influence of which can be seen in his work, R.A. Pesce learned to throw pottery on a kick wheel at age of 15. Left: A vessel/puzzle of complex planes, fold and facets, in black and creamy glazes. Photo courtesy Liz O'Brien Right: Cubism 0215, signed RP. Wheel thrown and manipulated cubist wide mouth vessel, white stoneware, steel glaze. Photo courtesy Olicore Studio.
Most of the time, you can't appreciate the true beauty of an object without seeing it in person. The ceramics of R.A. Pesce are a perfect case in point. Consisting of wheel-thrown carved or shaped geometric vessels, Cubist in orientation, in stoneware with concentrated monochromatic glazes, they seem unduly simple at a first glance. But with time and attention you can begin to appreciate the precision of the lines, the folded shapes and forms that come together to create these inventive and intellectually stimulating prismatic objects. Brutalist is a word sometimes used to describe them but they are more organic than mathematical or rigidly architectural. I would even go so far as to describe them as sensual in spite of the metallic and the luster glazes which he specializes in. His work is precise and yet playful — a paradox.
Dorian Caffot de Fawes Antiques
Karen Swami
A unique wheel-thrown stoneware vessel by Parisian ceramist Karen Swami, with a pure and elegantly rounded form. Unglazed, smoke-fired, waxed and reworked with traditional Japanese vegetal "Urushi" lacquer and pure gold filling the natural cracks, in the Kintsugi technique. Photo courtesy Dorian Caffot de Fawes Antiques.
Karen Swami is an unabashedly traditional ceramic artist, working with established forms and techniques of ceramic production. Custom made in France with gold and stoneware, her vessels exhibit an obvious love of simple forms and atmospheric smokey glaze decoration achieved through wood-fired kilns and minimal, elegant decoration — in this case fine gold lacquer filled crack lines running up the side of the vessels, a traditional Japanese technique known as kintsugi, meant to exalt the imperfections in the clay. Best known for her smoked, fired, and waxed pieces that are reworked with Japanese vegetal 'Urushi' lacquer and pure gold, in the kintsugi technique. The design and form are so sensual and alluring that it is easy to overlook that the clay is porous and thus the objects non-functional. This is ceramics raised to an art form.
Established & Sons
Liselotte Watkins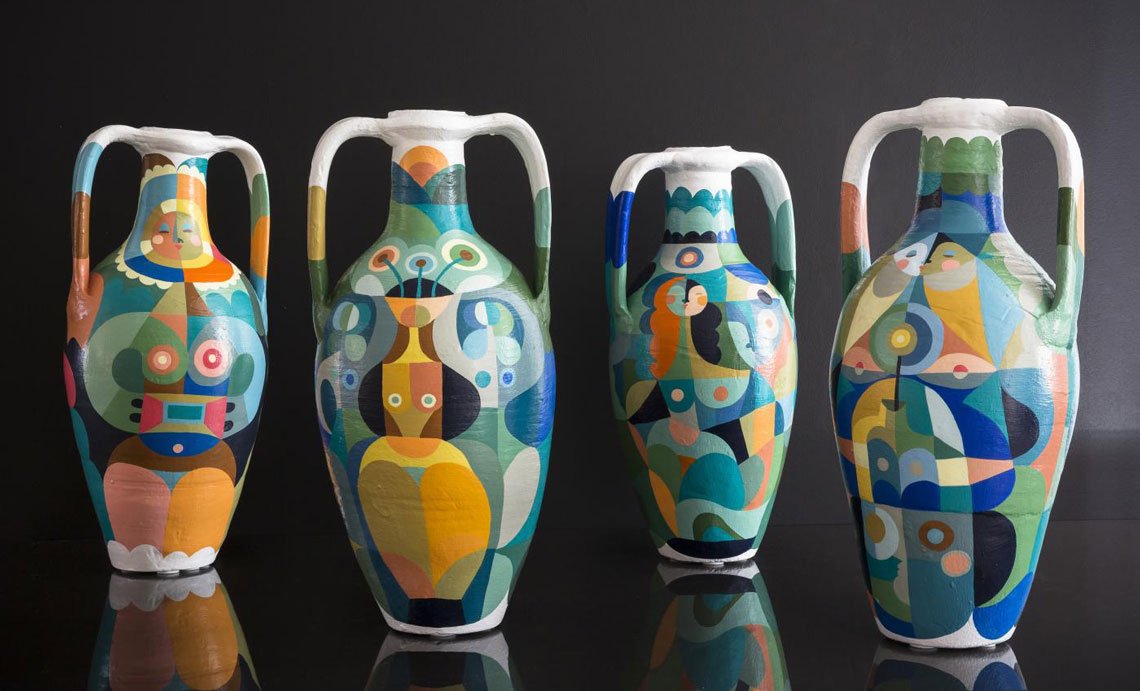 Liselotte Watkins' decorates ceramic forms not with glazes, but with acrylic paints. The cubist style, collage-like paintings are reflections of her Swedish heritage, her earlier career as a NYC fashion illustrator, and her current life in the countryside of Italy. Photo courtesy Established & Sons
Liselotte Watkins is essentially a painter who uses ceramics as a canvas. Her acrylic illustrations of feminine figures and patterning composed of geometric shapes are bold in color and dynamic in design, accentuating the sensual quality of the curvy, amphora-like forms she uses as a base. These are decorative art but highly individual and unique, the blending together of old and new while at the same time looking and feeling completely contemporary — there is a sense of fun and joy when looking at these ceramics, which work together as a a group, brightening up the corner of a room, or as a centerpiece on a credenza. We will no doubt hear much more of Watkins, who has already collaborated with Miuccia Prada and Bitossi.
Peter Blake Gallery
Stephanie Ann Bachiero
Undulating ribbons of pristine porcelain seem to float effortlessly in space, belying the complexity of their creation, which requires fastidious attention to the construction and surface of the temperamental material. At left, Parallax, 2017 and right, Contortion, 2017 in porcelain by Stephanie Ann Bachiero. Photos courtesy Peter Blake Gallery

Minimalism with a constant sense of movement is how one might describe the work of Stephanie Bachiero, who is a sculptor, in essence, working with a wide variety of materials including clay. Jazz comes to mind when viewing her sensual or undulating forms which at the same time resemble ribbons of fabric but also musical notes on a page. I am reminded of the artworks of Clement Meadmore, obviously at a different scale, but also Brancusi who strove to capture movement. Material exploration is an important part of her practice and artworks have been produced using engineered aerospace composites as well as more conventionally porcelain, bronze, chrome, and stainless steel. The gallery explains that "Bachiero views her sculptures as a way of thinking and communicating what she often cannot speak since she suffered a severe head trauma in 2003 that impaired her cognitive and speech function." For the artist, sculpture is a way to fully express herself, she says. "I still have this isolation in my mind, but I can have conversations with the porcelain as it moves."
Alguacil & Perkoff
Nicholas Arroyave-Portela
Wheel-thrown vessels by Nicholas Arroyave-Portela, who early in his career was inspired by a quote from ancient Chinese philosopher Lao Tzu, ""It is written the water that flows into the earthenware vessel takes on its form." Thus began his exploration of the opposing qualities of saturation and dehydration, fullness and emptiness, and these themes as a reflection of the human condition, and the passage of time.

There is a strangely dehydrated quality to the work of Spanish ceramic artist Nicholas Arroyave Portela, who makes vessels in clay that are both sumptuous and deflated at the same time — they seem to crumple, flatten in on themselves in ruched bunches or undulating, fatty folds, an affect achieved, his gallery explains, "using a technique unique to him where he pulls up as much clay from the bottom as possible so that the clay walls may be thin and even in order to be best manipulated while still soft and malleable." Various stoneware glazes are then employed, using spraying and even pouring techniques then fired, multiple times, with multiple glaze layers, at very high temperatures to achieve very saturated, rich tonal textures that are both dense and dry. The artist sees himself as capturing a "symbolic emotional gesture of the human condition", based upon, he says, " a fascination with saturation, volume and fullness and with its opposite qualities of emptiness, dehydration, cracking and dryness."
Pavilion Antiques & 20th Century
Zachary Weber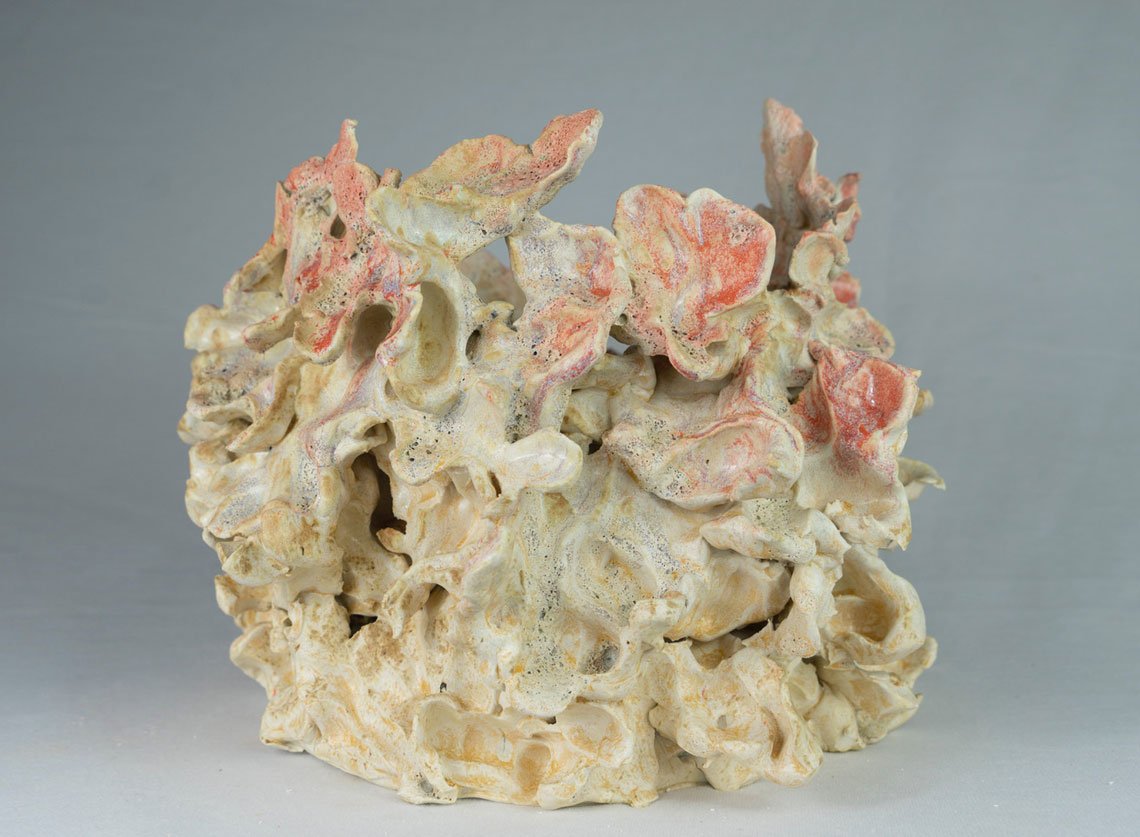 Zachary Weber embraces the unexpected, chance happenings that occur in the firing process, bringing the spirit of improvisation into his construction methods as well. His work is an exploration of the balance between chaos and order. Photo courtesy Pavilion Antiques & 20th Century
Formless is how we might describe the work of Zachary Weber, whose contemporary ceramic explorations in porcelain vaguely resemble standard vessel forms but which are really unique sculptural creations. He constructs his objects, by hand, in pieces of clay, or layers in a process the gallery describes as "a metaphorical practice of finding order, and cutting out spaces, redressing the topography of surfaces, and embracing chance, being the inverse exercise of chaos." There is obviously structural integrity to the objects and yet they always seem to tether on the edge of collapse, a tension that is part of their charm but also reflective of the qualities of chance that go into making a final form — the artist gives over control to the kiln, to see what happens in the fire. "I am always trying to naturally escape from a recognizable style of pattern," the artist says. "I want there to be an attraction from one piece to the next, but also a disruption within that. I am not working with perfection, more towards individuality."
Valerie Goodman Gallery
Claire de Lavallée
At Valerie Goodman Gallery, "Great Black Torso, 2020, a wall sculpture by Claire de Lavallée brings to mind the fleshy curves of a human body, and alternatively a plate of armor, solid and protective; the duality of strength and vulnerability. Photos courtesy Valerie Goodman Gallery

French artist Claire de Lavallée makes whimsical ceramics, at least in their overall appearance. But there is no whimsy or lack of intention or skill in the process used to create her vases, centerpieces, trays, bowls and other household items, frequently brushed expressively with rich colorful painterly enamel glazes. "The works of Claire de Lavallée are more sculpture than purely decorative. They are striking because through the folds, color expansions and textures you can feel her generous attention to the world around her," says dealer Valerie Goodman, who regards de Lavallée as a sculptor and painter. "Claire wants her luminous earthenware to be reminiscent 'of the moment the sun lands on the forest floor and floods it with its joyous stain,'" Goodman says. Her ceramics are about life, the human touch — alchemy in clay.
Galerie Philia
Willem Van Hooff
The raw, imperfect beauty of form and surface in Willem Van Hooff's ceramics is the source of their mysterious allure. Van Hooff explains that he visualizes forgotten "stories" to inspire his creations, and in turn, brings them to life, and imbues them with soul. Photos: Galerie Philia

If it weren't for their luster and intact forms, you could easily assume that Dutch artist Willem Van Hooff's rustic, raw-looking vessels were unearthed from archaeological digs. They are inspired by prehistoric African building and stoneware techniques, which for thousands of years have been used to create simple, functional vessels and homes. "I think real ceramists will say it's not a proper technique," the artist says, but not claiming to be a master ceramicist, he is far more interested in developing his own formal language through complete freedom of expression. In this way he hit upon the idea of "flat vessels," transforming a vessel that is usually round and hollow into a flattened out and almost two-dimensional version (each vessel is thinner than 4 inches) made from flat pieces of clay pressed together. They are also functional as vessels, the artist adding new life and inspiration to old ideas. "Willem's work is unique in the contemporary design world, both sculptural and organic, playful and deep," says gallery co-founder Ygaël Attali.