On the Rise: Discover These 10 Innovative Furniture Artisans
Furniture makers shaping the present and future
No one knows more about luxury craftsmanship than our latest crop of top artisans. From the elegant masters at Chapter & Verse who perfect the silhouettes of traditional styles and remix them for the future, to those Irish makers Dunleavy Bespoke Furniture, who find inspiration in the loaded history of the Emerald Isle's landscapes, these 10 artisans create exquisite handcrafted furnishings designed to be passed down from generation to generation.
Zelouf & Bell



Left: the Koi Pond in the Snow Low Table from Zelouf & Bell. Right: the Ginkgo Cocktail-cum-Games Cabinet.
Extravagance and quality craftsmanship define Zelouf and Bell, a decades-old design studio producing exquisite work in the midlands of Ireland. One of their earliest supporters, the Irish government, commissioned the brand to design furnishings for several embassies across the globe, and the National Museum of Ireland has acquired three pieces, including the Koi Table, a glossy wood table inlaid with a swirling fish design that was inspired by pioneering Irish designer Eileen Gray. As in the Koi Table and the Ginkgo Cocktail-cum-Games Cabinet shown above, marquetry factors heavily into their work, with elegant designs ranging from graphic optical patterns to animals and pop-art style florals. To create their unique furniture, highly trained craftspeople work with a remarkable breadth of hard-to-find woods — including Macassar ebony, koto, and anegré — and other luxury materials. The Ginkgo Cabinet, for example, is crafted from blue, pressure-dyed ripple sycamore inlaid with brass and mother of pearl ginkgo; inside, chamfered shelving is carefully set against a quartz bar, and drawers pull out to reveal bronze gold lamb nappa lining. Each object from Zelouf and Bell can be customized to suit the clients' style and space.

Juliana Lima Vasconcellos Studio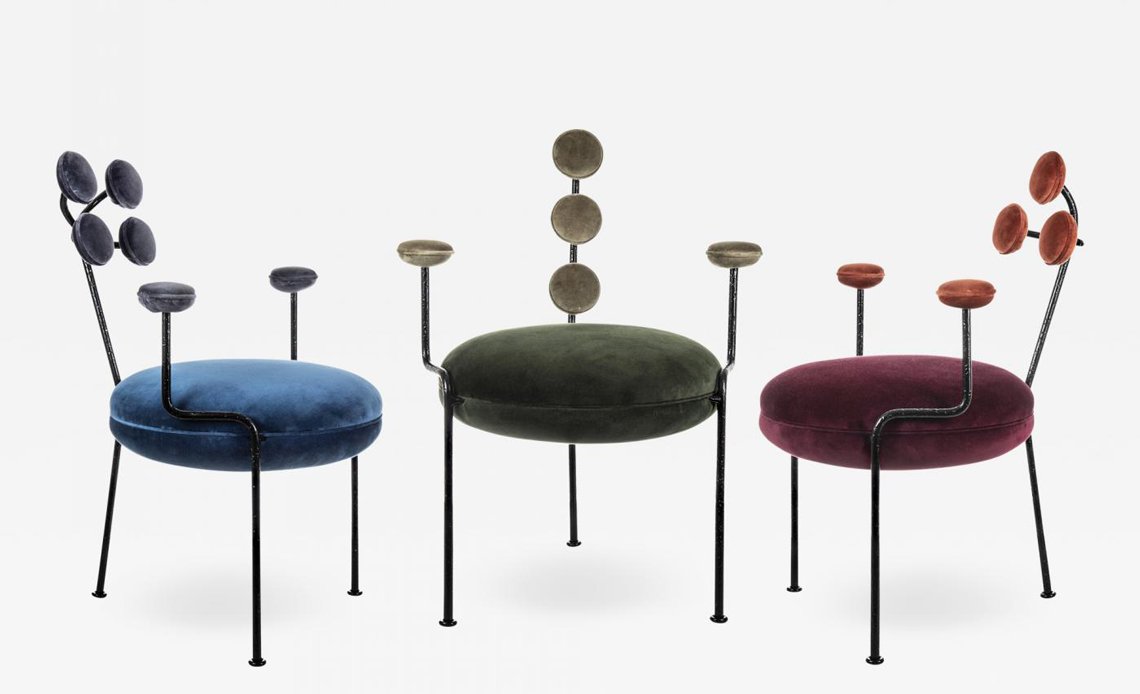 Confetti Chairs in Hand-Hammered Iron from Juliana Lima Vasconcellos.
Based in Brazil, architect and interior designer Juliana Lima Vasconcellos began product design with commissioned pieces for clients, and eventually launched her own line in 2015. Vasconcellos is inspired by contrasts: a home recently featured on Clever — Architectural Digest's eclectic offshoot geared toward millennials — pairs the timeless sleekness of mid-modern silhouettes with the tongue-in-cheek sensibility of pop art, and her furniture design is no different. Contrasts abound in her work, from an artfully curved, upholstered sofa with a wood base to iron dining chairs inspired by confetti.
Amorph
Founder of Amorph

Amir Habibabadi works on the Petra Console Table.
Unexpected curves soften each furnishing from Los Angeles-based brand Amorph. Known for applying innovative technology to create sculptural forms, Amorph is headed by architect Amir Habibabadi, who studied robotic fabrication and production during a master's program at Southern California Institute of Architecture. An object from Amorph is instantly recognizable for its surprising, branch-like shape and smooth, glossy surfaces. Standout pieces include the Palm Side Table — a wood table with a gold-finished base and black marble top — and the Chimera Barstool, available in various finishes.
Dunleavy Bespoke Furniture

A pair of tallboys from the Esker Collection by Dunleavy Bespoke Furniture.
Irish brothers Tim and Seán Dunleavy established Dunleavy Bespoke Furniture in 2009 as a high-end, artisan line combining traditional cabinetmaking with contemporary processes and aesthetics. The quality of their craftsmanship extends to raw materials: each beam of timber that the brothers work with is hand selected. Wood curvature factors heavily into their designs, as hardwoods as well as exotic and decorative wood veneers are sculpted into luxurious, softly sculpted artisanal furnishings. Named after ridges formed at the end of the last Ice Age that pass through the middle of Ireland, the Esker Collection features cabinetry and tables with hand-carved folds throughout the wood, mirroring the remains of glaciers. The Macassar Collection, meanwhile, is inspired by the Art Deco designs of Émile-Jacques Ruhlmann.
James Devlin Studio



Left: the Black Marble and Bronze Fluted Table Lamp from James Devlin Studio. Right: the Lapidary Table from James Devlin Studio.
Originally an interior designer, James Devlin left New York-based firm Foley and Cox to pursue a passion for metalworking and used to sell his works at the Brooklyn Flea. For his own line, Devlin tends to favor sleek marbles and luxurious metals. Simplicity dictates his designs, a concept he pairs with luxurious materials: for example, a compelling side table is crafted from a marble slab and inset with a round metal tray, the marble's sharply hewn solidity contrasted against the seemingly floating metal. Another impactful design, a fluted table lamp, is constructed from black and white Dalmata quartzite. Most of his pieces are customizable.
Chapter & Verse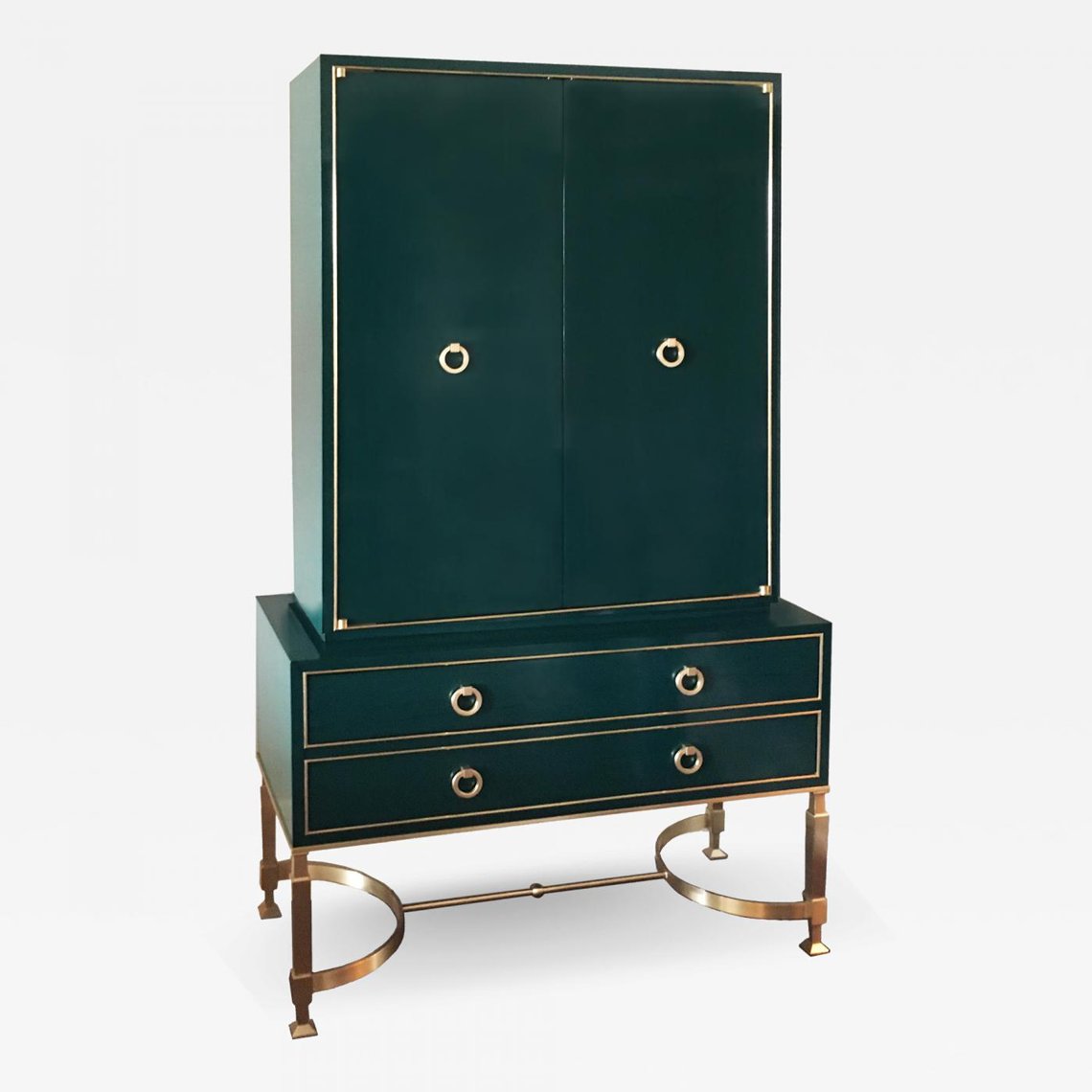 The Henri Chest on Stand from Chapter & Verse.

Brooklyn-based duo Joseph Cleghorn and Connor Moxam founded design studio Chapter & Verse in 2016. Quality craftsmanship creates cohesion among their pieces, which range in style from subdued — in which traditional silhouettes are decorated with compelling accents or a dose of texture — to eye-catching and experimental. Many of their designs, like the emerald lacquered Henri Chest with antiqued brass circular pulls, include a degree of whimsicality and, like the Mona Console, creative and unexpected details.
Fernweh Woodworking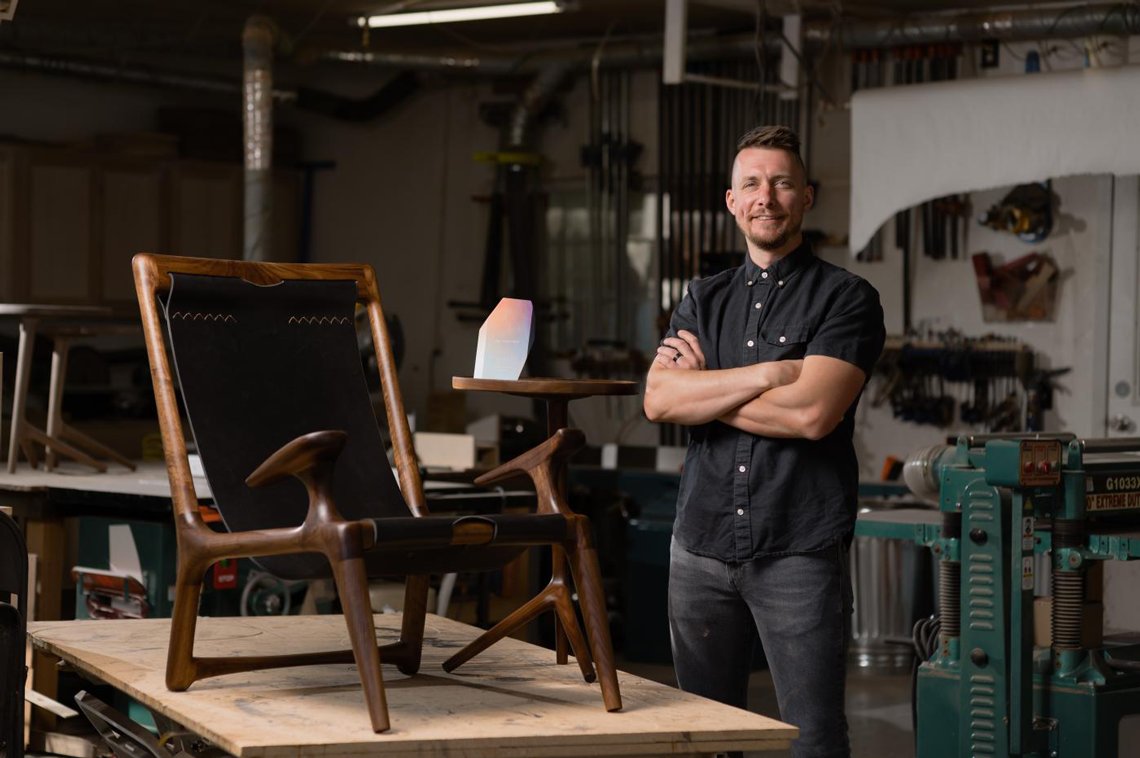 In his workshop, Justin Nelson of Fernweh Woodworking stands with his Sling Chair.
Mid-modern icons like Finn Juhl and Hans Wegner influence the refined simplicity of Justin Nelson's small-batch brand, Fernweh Woodworking, located in Bend, Oregon. Named after the German word meaning "to be homesick for somewhere you've never been," Fernweh produces wood furnishings with seamless joinery, evoking an American nostalgia for classic, creative woodworking. Key pieces in Nelson's collection include the award-winning Sling Chair, crafted from stained American white ash and hand-stitched leather, as well as the architectural Oxbend Bench.
Sherwood Hamill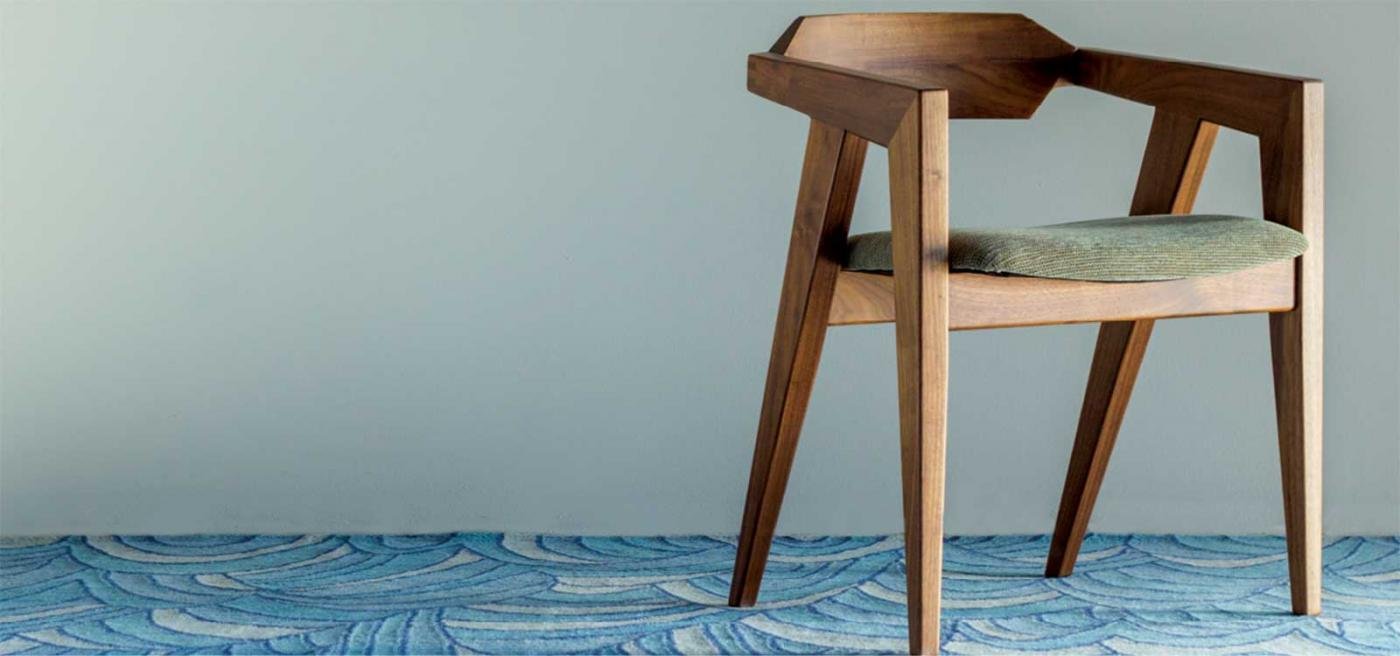 The V2 Dining Chair from Sherwood Hamill.
The Sea Bird Sidecase from Sherwood Hamill.
New England design legend Sherwood Hamill — most known for co-founding handmade area rug and furniture brand Angela Adams with his wife — is the creative force behind his namesake furniture line. Handcrafted in his studio in Portland, Maine, his modern furniture bears the influence of his native state, and lives at the confluence of modernism and traditional craftsmanship. The graceful lines of the maple Sea Bird Sidecase mirror the wingspan of coastal birds; another keystone of the latest collection is the V2 Dining Chair with a hand-shaped back, designed for both comfort and style.
Eben Blaney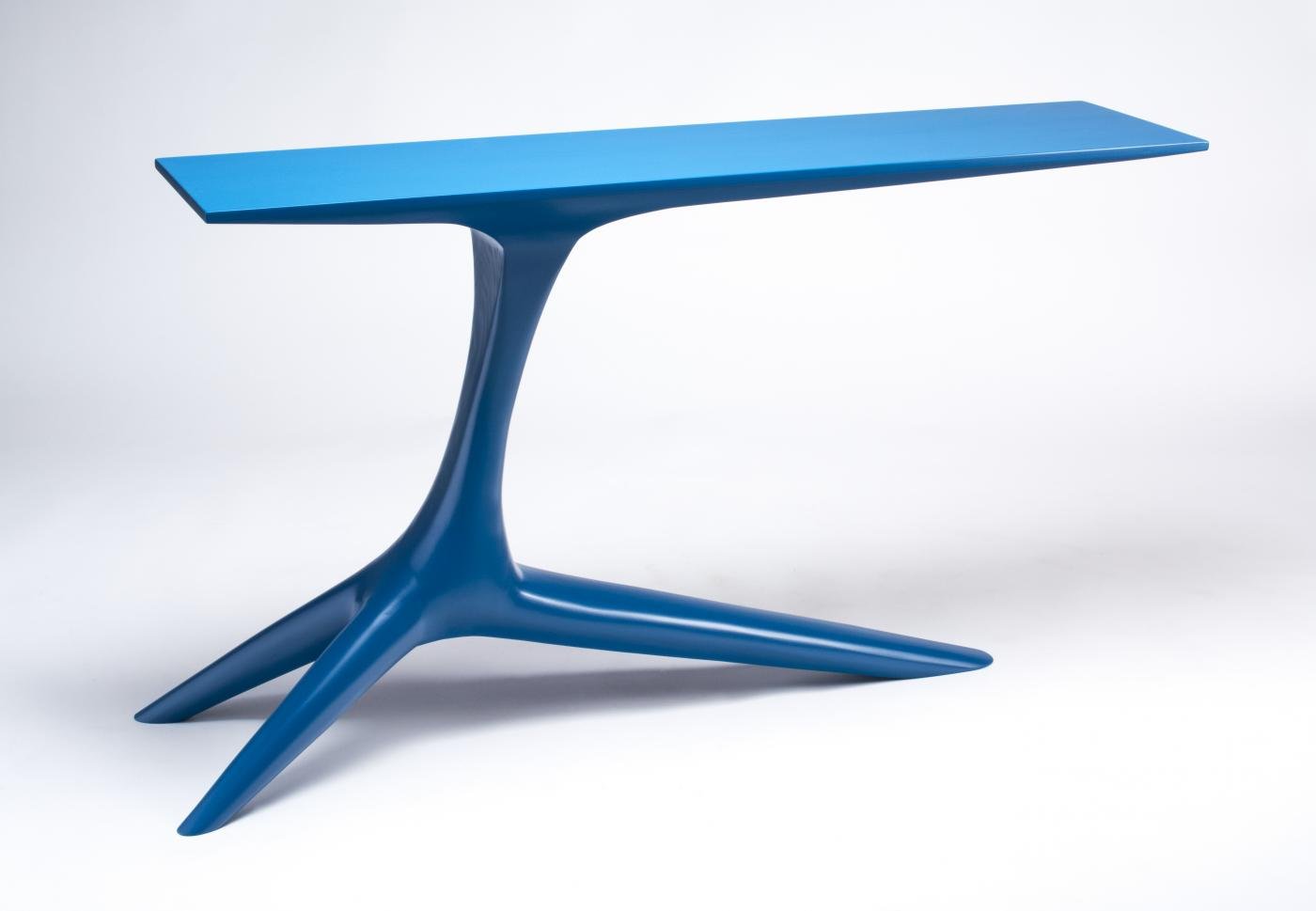 The Blue Crane from Eben Blaney.
The son of a boatbuilder, craftsman Eben Blaney designs elegant, practical furniture on a custom or small-batch basis in coastal Maine. His philosophy speaks of minimalism, showcasing the beauty of function over that of excess. With decades of experience in woodworking, Blaney has also shared his knowledge as a teacher at the Center for Furniture Craftsmanship in Rockport, Maine. The Crane table is constructed from a single piece of mahogany, which he hand sculpts into a silhouette reminiscent of a bird, with the wood grain highly visible in the final product; Blaney uses poplar to craft the blue version of the table. Other standout furnishings include the Sawtooth Table, with a plywood framework and maple veneer.
Keep Furniture



Left: the Scheinbeim Cabinet from Keep Furniture. Right: the Break Through Table from Keep Furniture.
Trained as a painter, Steven Bennett turned his artistic skills toward woodworking. In 2015, he founded Keep Furniture in Brooklyn, which releases custom-made, hand-crafted wood furnishings. His objects retain a fine art quality, especially in their extravagant ornamentation that flows naturally within the frame of the piece; for example, the Break Through Table features a wandering oak vine design spiraling from the table's base upward toward its surface. Other pieces reference a connection with nature. In the Scheinbeim Cabinet — crafted from American walnut and tropical African sapele — open, latticed edges resemble a garden trellis.