On the Rise: 22 Furniture Artisans to Watch, Part 2
FURNITURE MAKERS SHAPING THE PRESENT AND FUTURE
Collectors and creators have always belonged to the same ecosystem. Inspired by art and evolving understandings of beauty, they share a belief that artisanal design brings deeper significance to their surroundings. They revel in how the shape of a chair can magically shift the mood of a room. Makers breathe an object into being, painstakingly transforming raw materials into art. Collectors, by placing that object in their homes and by simply loving it, give it continued life. Here, we've gathered a list of 12 key artisans whose ingenuity will energize collectors for years to come.
To view more top makers, see Part 1 of "On the Rise: 22 Furniture Artisans to Watch."
William Earle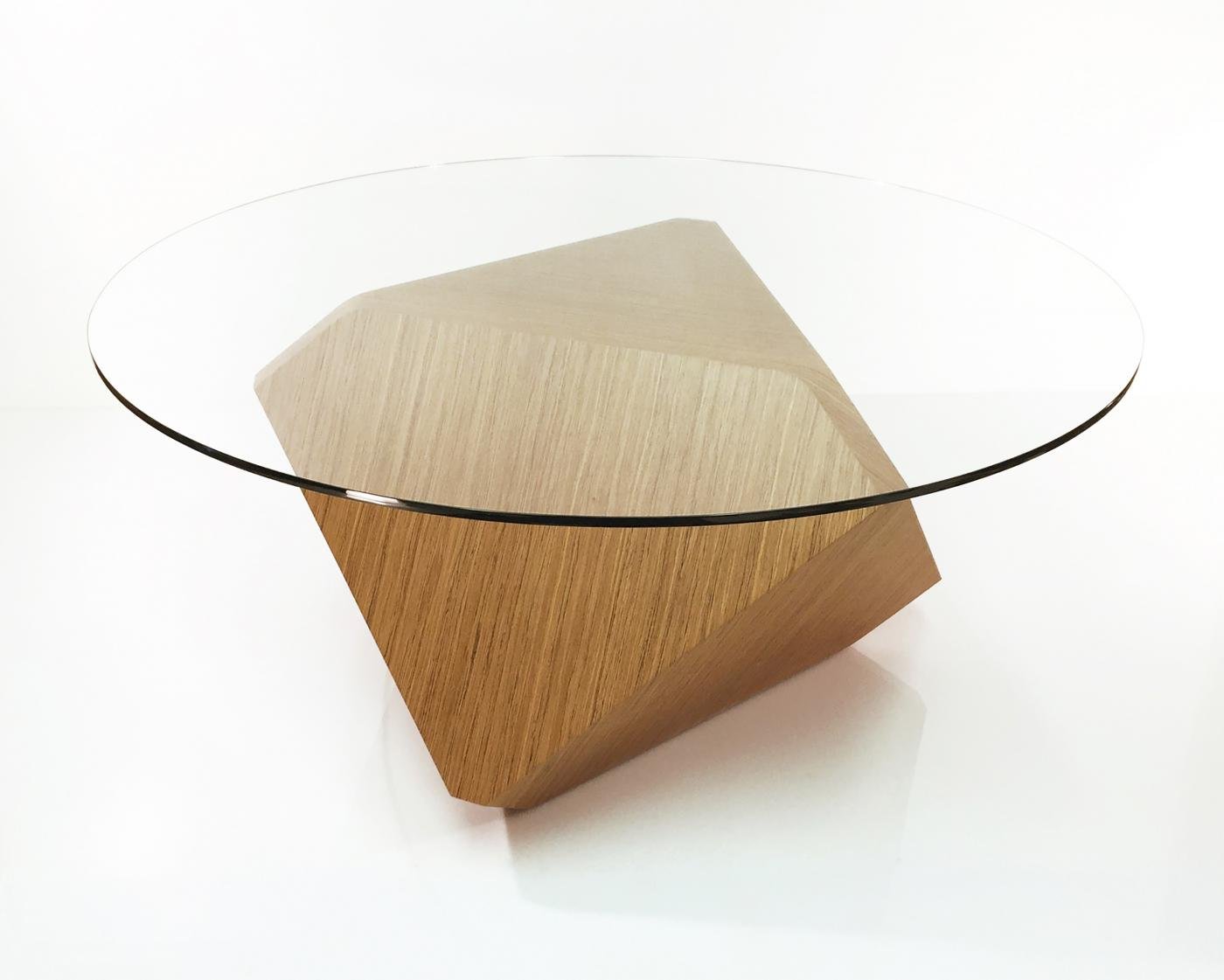 The iconic "Hal" table from William Earle, originally released in 2000. The table is shown here in Italian teak.
Renowned designer William Earle prides himself on his authenticity. More than two decades since releasing his faceted and innovative "Hal" table, and negotiating the international design fame that came with it, Earle continues to personally craft each of his furnishings. His unique vision of minimalism is applied to pieces like the "the Barrens," which functions as either a dining, pedestal, or center table. Like his other artisanal furniture, the Kimono table shows how masters of minimalism can introduce a touch of drama to a pared-down design.
MSMD | Studio



Left: The Isomorphic Star Table from MSMD | Studio is crafted using bronze, steel, and Rosso Levanto marble. Right: The Serous Bar Stool from MSMD | Studio, featured in

Black Panther

.
Driven by a passion for both digital design and anatomy, Las Vegas-based designer Michael Sean Stolworthy uses 3-D animation and innovative manufacturing processes to create unique, avant-garde objects for his brand, MSMD | Studio. Furnishings within the collection render organic shapes as aesthetically futuristic through the exoskeleton style of their frames and the glossiness that speaks to technology's ability to transform nature. Stolworthy's work has been showcased in a wealth of home publications like Architectural Digest Mexico and Atlanta Homes and Lifestyles, as well as fashion-focused publications and even film: his asymmetric Serous Bar Stool was featured in 2018's Black Panther. A newer work, the Isomorphic Star Table, was the result of a collaboration with the New York Institute of Technology's Dustin White, the shape of its surface modeled using the 2-D vector origins of isomorphic stars.
Grzegorz Majka Ltd



Left: The Epicure I Contemporary Center Table Set of Four from Grzegorz

Majka Ltd. Right: The

Pink Lady Eclipse Contemporary Coffee Table reverses the expected formula of a coffee table with hand-blown glass serving as the pedestal instead of the top.
Following a career as a stonemason, Polish creative Grzegorz Majka reinvented himself as a product designer who transforms rough, natural elements like quartzite and onyx into works of art. Majka sees his furniture line as a way of creating industry opportunities for young stonemasons, who can dream up inventive new ways of working with subterranean materials. The artisan's "Epicure" line of center tables features irregular, overlapping ellipses of quartzite grounded in a brushed brass base. Recent designs also venture into hand-blown glass: a series of lush, glass coffee tables in colors like amber, emerald, and rose are available in limited editions of eight per model.
Zimmerman Workshop - Ot/tra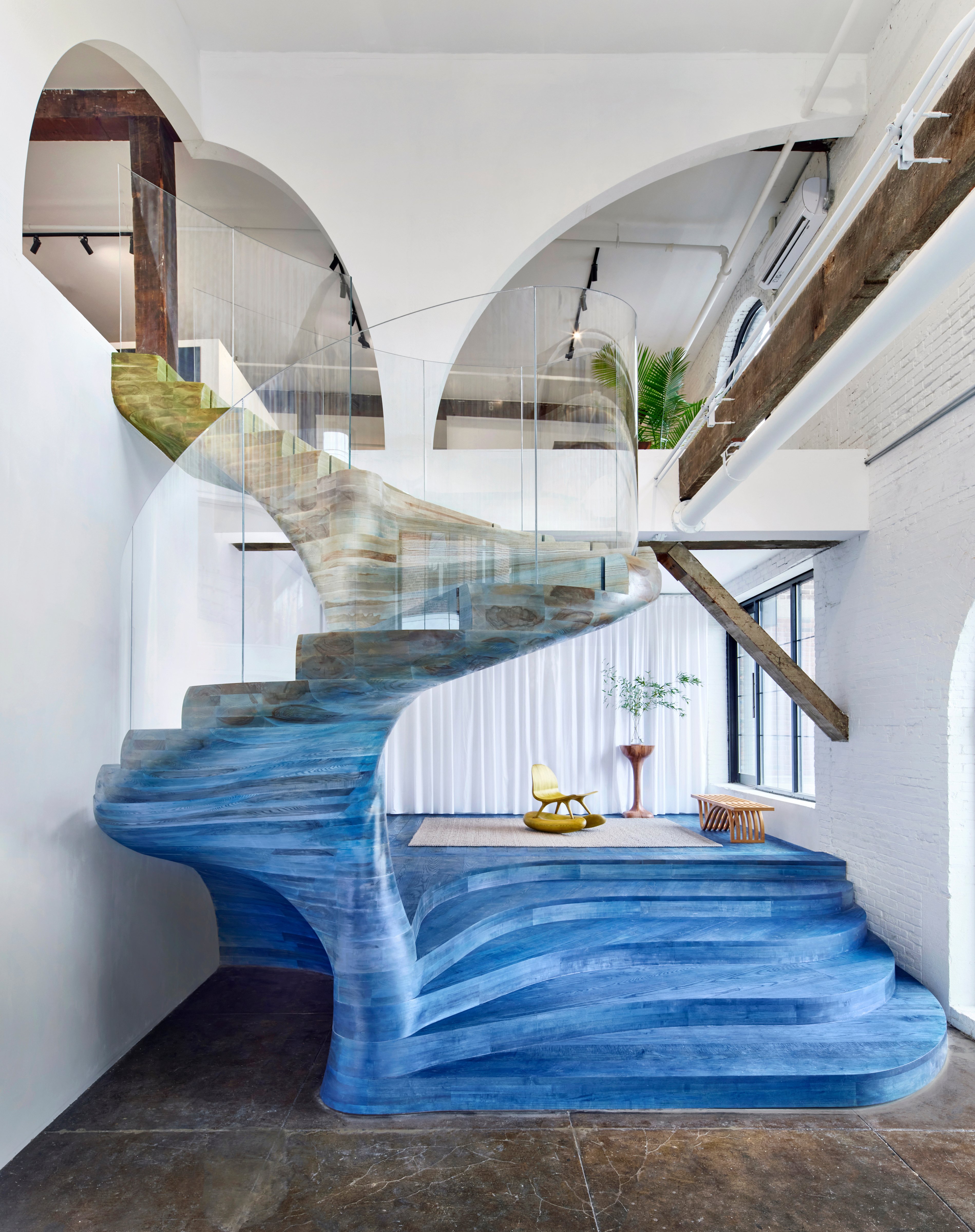 This elegant wood staircase sets the tone for
the new Ot/tra studio in Red Hook, Brooklyn. Photo by John Muggenborg.
Husband-and-wife team Adam and Sofia Zimmerman founded their architecture and design studio, Zimmerman Workshop, in 2010. After years of creating custom designs for clients, they launched their first official line called Ot/tra in Brooklyn. Their production process is entirely in-house, allowing them to offer numerous customization options for clients. Named after the couple's children Otto and Petra, Ot/tra focuses on soft, contemporary lines paired with chic materials and quality craftsmanship. The simple shape and glossy finish of the Sculptural Nightstand demonstrate the brand's aesthetic, as does the wave-shaped base of the Asymmetric Bench that elevates the style of the piece without extravagance. This past year, the pair moved into a new space complete with a showroom, shop, and studio in Red Hook, Brooklyn, a creative neighborhood that's home to a diverse set of makers.
Arriau



Left: Pair of Sconces in Brass and Agate from Arriau. Right: Double Coffee Table in Brass Marquetry and Jade from Arriau.
Normandy — where Arriau's foundries and workshops are located — is known for its sculptural granite and limestone cliffs framing the coastline. It's easy to find the influence of this dignified, historic landscape in Arriau's furnishings and objets d'art. Arriau specializes in luxurious, metal designs that incorporate flashes of gemstones like lapis lazuli, malachite, and amethyst. Art, function, and nature meet in elegant pieces such as a pair of sconces adorned with brass and agate chiseled into water lilies. Aspects of a natural landscape are referenced here, while patinated brass emphasizes the luxe, contemporary personality of the brand. In the Double Coffee Table, a metal surface in the shape of clouds is inlaid with bright jade.
Erickson Woodworking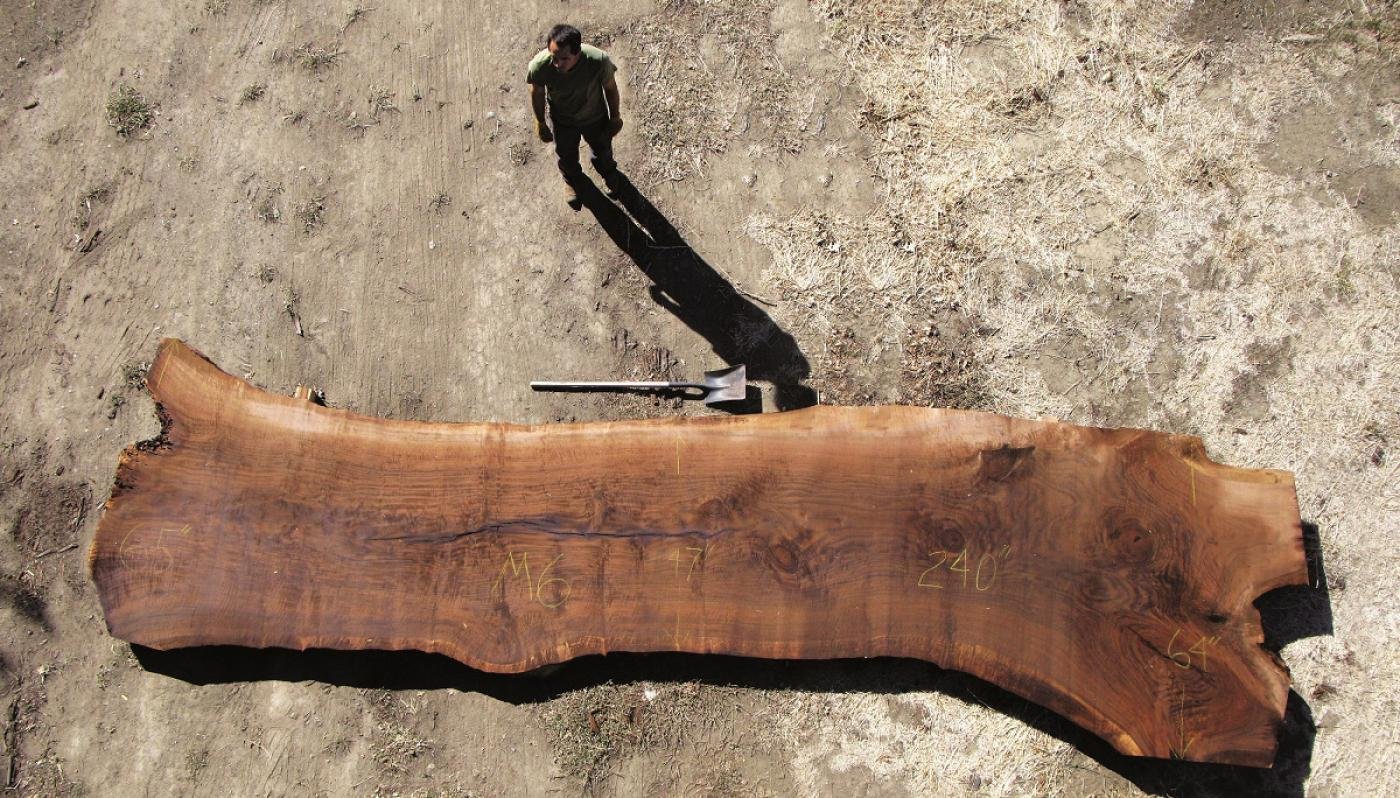 Based in Nevada City, California, Erickson Woodworking creates about 75 furnishings per year and specializes in chairs and tables.
A father-and-son business, Erickson Woodworking brings comfort, a love of nature, and highly detailed quality to each chair and table they build. During the production process, a rocking chair will typically be sanded for eight to ten hours before it is inspected; then, once approved, each piece is hand polished with a blend of citrus oil and beeswax to perfect the glossy finish the company is known for. Co-owners Robert and Tor Erickson also pay careful attention to the landscape around them, with nearly all the woodshop's electricity coming from solar power, including that for the kiln. Standout works include the Floating Back Rocker with an ergonomic back, which comes with 12 measurement-based adjustments to create the most comfortable sitting experience, and the Sandhill Table crafted from California walnut and hand-forged steel.
Visilek Furniture



Left: The Kinder Pietra from Visilek Furniture is made with Carrara marble. Right: The Aerialist Cabinet from Visilek Furniture, shown here in Ash.
With a background in interior and lighting design, cousins Ricardo & Filipe Rodrigues launched Visilek Furniture in 2014. Each piece is architecturally crafted and attempts a cohesion between timelessness and a contemporary spirit. The Kinder Pietra is an accent chair with a solid Carrara marble base and channeled, lounge-style cushion, while another luxury offering, the Aerialist Cabinet, features an assortment of functional drawers across the face and metal circles within the structure of the legs.
David Gaynor Design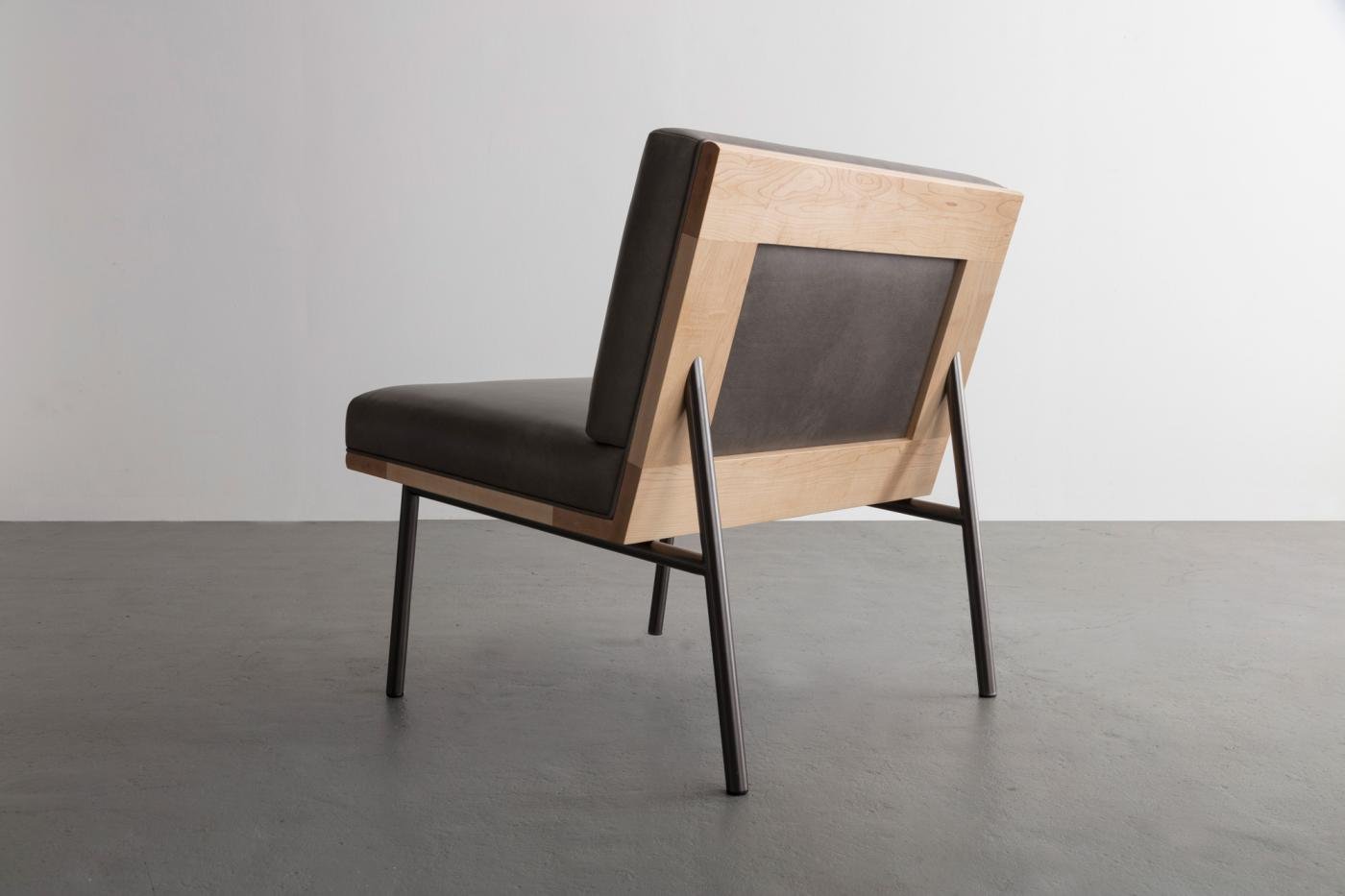 The DGD Lounge Chair from David Gaynor is made with wood, powder-coated steel, and leather upholstery.

After attending Rhode Island School of Design and creating furniture for the sustainable furniture company Uhuru Design, David Gaynor opened his namesake brand in 2010. Located in Brooklyn, his studio produces beautiful, clean-lined furnishings that can complement a variety of private and professional spaces. The intersection of surface and structure is the focus of his Pierce Console Table, which is offered in a choice of hardwoods with a marble top. The DGD Lounge Chair, (shown above) with alternating light and dark tones of wood in the seat frame, is an artful celebration of materiality.
Eidos Glass


Left: The Obscura Cascading Chandelier from Eidos Glass, hand-blown in Brooklyn, New York. Right: The AURUM Sculptural Vessels from Eidos Glass are influenced by Scandinavian design.
Eidos Glass founder Lorin Silverman first began working with glass in his early teens and gradually built a reputation for himself within the industry. In 2013, he launched his own collection of hand-crafted glass lighting and decorative objects that transport the Venetian tradition of glassblowing to a sophisticated, contemporary clientele. Artworks from Eidos Glass tend to play with the optical possibilities of their medium. The brand's Obscura series is inspired by the effect of the camera obscura, in which light passes through a small hole to invert and reproduce images. When the Obscura pendants are clustered together within a single fixture, spatial boundaries blur as the cylinders and spheres that comprise the design reflect and distort each other. Equally unique, products within the Aurum line each feature a band of 24-karat, Japanese gold foil.
Michael Gloor Design



Left: A range of woods including bubinga, wenge, mahogany, and ebony are used to make the The Walking Man 2 from Michael Gloor Design. Right: The Arc Sideboard from Michael Gloor Design.
New England-based furniture designer Michael Gloor finds inspiration in the clean lines of traditional Shaker furniture and the simple forms of Japanese ceramics. In Gloor's work, traditional American cabinetry silhouettes are made fresh again through the selection of unique woods and slight manipulation of lines. For example, in the Walking Man 2, angled wood legs elevate the style of the finely crafted, freestanding bar cabinet. Elegant curves factor heavily into the Arc Sideboard, in which several types of wood including sapele, yellowheart, and myrtle are used to create a subtly striped appearance. His pieces have been featured in various publications, as well as on television programs like HGTV's Modern Masters and PBS Rhode Island.
Jason Mizrahi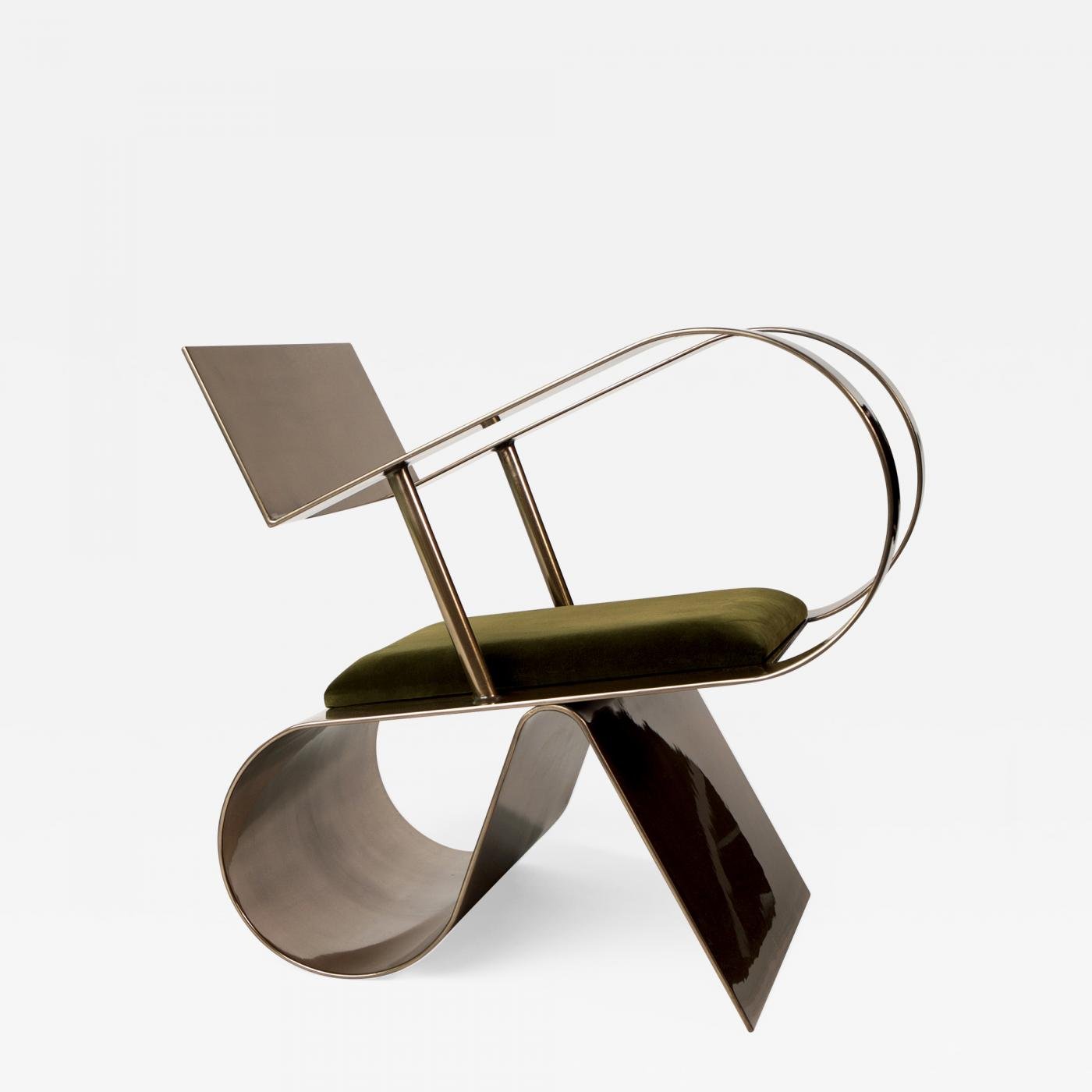 The Symphony Chair from Jason Mizrahi evokes the movement of music.
Inspired by contemporary art and fashion, as well as a background in architecture, designer Jason Mizrahi brings an elegant, creative touch to each piece he crafts in his Los Angeles-based studio. In the award-winning, curvilinear Symphony Chair, exquisite lines transform the object into architecture. Intentional empty space is equally representative of Mizrahi's artistry in the Symphony Chair and aspects of other works, such as the looping metal base of the Sia Bench. Despite their sculptural design, his furniture is intended to be used, and MIzrahi gives careful consideration to comfort along with aesthetics.
Elan Atelier


Left: the Forest Side Table from Elan Atelier. Right: the Bruda Chair from Elan Atelier.
Elan Atelier was born from a collaboration between global interior designers Christopher Noto and Alison Legge. To the brand, Legge brings an extensive background in furniture production in Southeast Asia, while Noto, who previously worked as a banker, founded a bespoke furniture company based in Singapore. Legge and Noto hold a deep love for European and Asian design, and the possibilities of cross-pollination between different cultures and design eras. Unique offerings include the contemporary Forest Side Table, which features an artistic metal base styled after a sloping branch, as well as the gold bronze Bruda Chair with artfully angular arms and a silk seat.