The Thrill of Brazil How Brazilian Mid Century Design Soars Above and Beyond Beauty and Function
How Brazilian Mid-Century Design Soars
Above and Beyond Beauty and Function
By Benjamin Genocchio
"I can't live well with too much rigidity. The 90-degree angle, for example, is something I love, but I can't do it. The things I do end up being a little lyrical, a little sensual, in short, there is always an element that does not come from purity or cleanliness."

— Jorge Zalszupin



Selma Cisic has a story to tell—many stories, actually, beginning with her upbringing in Bosnia-Herzegovina, where she trained as an architect and designer, then traveling with her husband for work to Brazil, where she met a group of modern architects and designers and fell in love with Brazilian modern furniture. She later moved to Los Angeles, opened up her showroom Adesso Imports, and began to import Brazilian design.
During her time in Brazil, Cisic met Sérgio Rodrigues (1927–2014), the Rio de Janeiro-born and raised architect who helped transition modernist architecture into sculptural wooden furniture. Today, he is most famous for his Mole armchair, from 1957, which is included in the collection of MOMA in New York. She also became a friend of Jorge Zalszupin (1922-2020), born Jerzy Zalszupin in Warsaw before moving to Bucharest, then Rio de Janeiro in 1949 as part of an influx of immigrants from Italy, Poland, Germany and Portugal, where he joined Rodrigues and formed a loose-knit group of architects, designers and artisans who spearheaded modern Brazilian design as part of a national cultural imperative in the 1950s to become a modern country.
The Russian-born architect Oscar Niemeyer was a central figure in this cultural push, epitomized in the development of Brasilia as the planned capital of Brazil, with design as a defining component, similar to the creation of Chandigarh in northern India that was designed in part by Swiss-French architect Le Corbusier. Rodrigues, Zalszupin, and others designed furniture for Neimeyer's buildings in Brazil, and Zalsupin was one of the team of designers who produced modernist furniture for the many buildings for Brazil's new capital, which took formal inspiration from modern architecture pioneered in Europe by architects Mies Van de Rohe, Walter Gropius and Le Corbusier.



Left:

Selma Cisic owner of Adesso, visiting at home with Jorge Zalszupin. Right: Designed in 1959 by Jorge Zalszupin, the "Carrinho de Cha" tea trolly/bar cart was inspired by the 3-wheeled baby buggies Zalszupin saw in his native Poland. The diminutive ball foot and oversized polished brass wheels are strongly contrasted in size, but balanced in appearance, owing to the delicacy of the open wheel design with only four spokes. The distinctive triangular sides of the bottom tray add to the fluid, aerodynamic feel of the piece. Photos courtesy Adesso.


Designed by the visionary architect of modern Brazil, Oscar Neimeyer, a three seat sofa in Brazilian Rosewood veneer with upholstered cushions was designed circa 1990; available from Jeff Lincoln Art + Design.

"The furniture literally came out of the architecture," Cisic says. "Both Rodrigues and Zalszupin were architects by training, designing modernist homes for clients in Brazil and couldn't find modern furnishings and so they ended up designing it themselves." The industrial and mass manufactured materials being used in mid-century modern furniture elsewhere were then not widely available in Brazil, so the modern forms the Brazilian designers imagined were largely crafted in local natural materials, specifically tropical hardwoods, leather, and cane.



Left:

Light filters through the louvered skylight ceiling in a spectacular Sao Paulo residence by Studio Mellone, where a pair of lush "Curva" club chairs designed by Joaquim Tenriero, circa 1960s, invite relaxation. Photo: Fran Parente Right: A Park Avenue apartment by Studio Mellone is imbued with the rich and soulful beauty of Brazilian Modern design. The "Andorinha" coffee table is by Jorge Zalszupin, a form inspired by the wing of a swallow — Andorinha in Portuguese — in flight. At right rear, elegant toothpick legs distinguish the "Janete" tripod side table by Sergio Rodrigues, circa 1950s. Photo: Stephen Kent Johnson
This focus on local materials, especially exotic tropical woods, led to the creation of a unique national modern style that is unmistakably Brazilian, and also cannot be easily replicated. says Brazilian-born New York-based interior designer Andre Mellone (Studio Mellone) whose father, Oswaldo, is a distinguished Brazilian designer who kept company with Rodrigues and Zalszupin. "It gave a richer, softer, soulful feel to pieces and allowed for the creation of an original set of finishes in veneers or in solid wood that gave the work an identifiable Brazilianness," he says. The tropical woods include Canvanuva, Jacaranda (Brazilian Rosewood) and Pau Ferro (Ironwood).
Cisic says it was the wood that initially drew her to Brazilian design. "Nothing is more exciting than when you see this beautiful veneer, the beautiful grain of the wood. I get goosebumps when I see Rosewood" she exclaims. Brazilian Rosewood or Jacaranda has an extremely strong grain and variations in color—it goes from lighter to darker in range, sometimes the range even existing within a single piece of wood. "Jacaranda is one of the most noble, beautiful woods in the world," according to Cisic.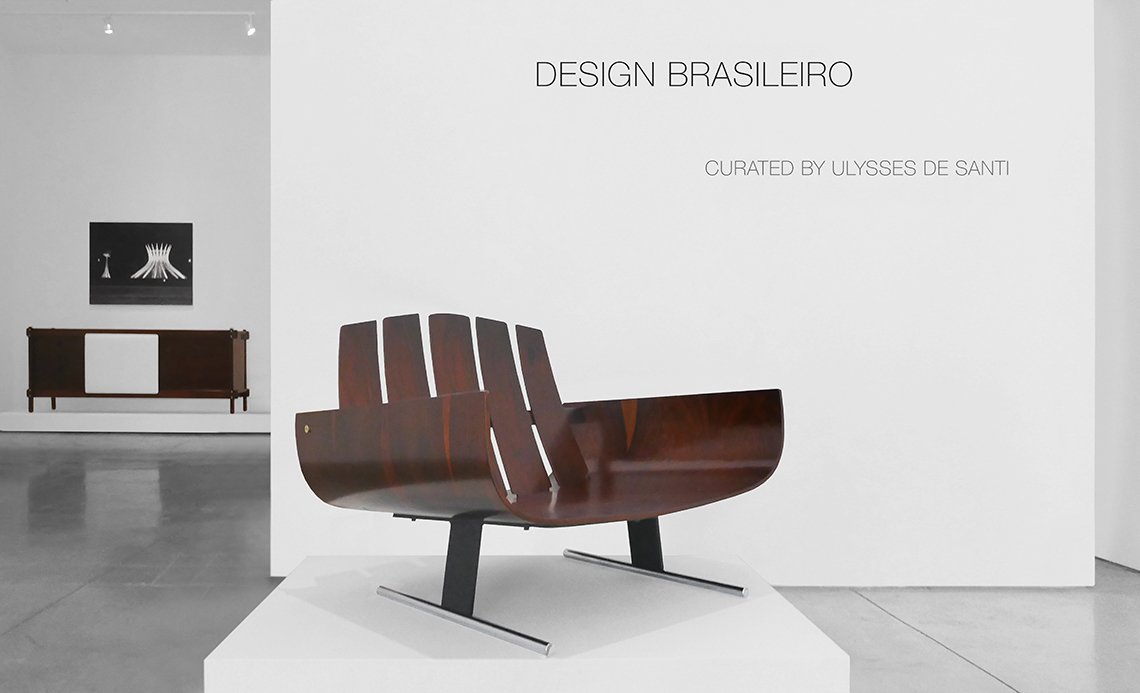 Installation views from Peter Blake Gallery's 2018 "Design Brasileiro" exhibition. Jorge Zalszupin's "Presedencial" chair with Brazilian Jacaranda Rosewood bentwood seat and arched, slatted back, circa 1959. At the rear of the image, a 1965 cabinet by Sergio Rodrigues in Brazilian Rosewood with drawers and sliding doors.

Most nations worldwide have banned cutting, exporting or importing of Brazilian rosewood harvested after 1992, and that includes furniture made from rosewood. Peter Blake, who deals in this material from his gallery in California, points out that the restrictions on the import and export of rosewood and other exotic Brazilian rare woods used in mid-century furniture construction make it difficult to source high-end material these days—pushing the prices higher. With no more furniture in rosewood being made, the market is therefore limited to the existing purely historical design objects.
The designs themselves are also unique: in general, Brazilian mid-century furniture tends towards "a comfortable and relaxed but elegant aesthetic, based on simplicity and at the same time with a timeless artistic quality," says Carolina Alcantara from Herança Cultural Design Art Gallery in São Paulo, one of the most important galleries in Brazil for design. It is also handmade, for the most part, she points out, partly because the materials were rare and expensive and partly because the industrial manufacturing processes required to mass produce furniture were not in place at this time.
These elegant armchairs, designed by Joaquim Tenreiro showcase the minimal and sculptural craftsmanship that Tenreiro's work is famous for. Circa 1960s. Photo courtesy Equinoctial.
There are many great names in Brazilian modern design, but the Portuguese-born Joaquim Tenreiro (1906–1992), a designer, carpenter and sculptor, was a pioneer in the business. He made everything by hand, working with a range of colored Brazilian woods and straw which he shaped and combined with astonishing skill. He "put his concept of modern furniture into practice," Alcantara says, the "son and grandson of carpenters, he treated Brazilian tropical wood with mastery and lightness, characteristics worthy of his work as a creator." His three-legged chair (c.1947) is famous, even perhaps the most iconic work of the period.
Damon Liss, an interior designer based in New York with a deep passion for Brazilian mid-century furniture regards Tenreiro as the greatest and most sought-after Brazilian designer of the period. "His work defies logic, it is so light and deft and yet functional. He is for that reason the most expensive and in demand as there is so little stuff on the market— partly given the limited production and partly people don't sell it." Liss has a 1950s Tenreiro desk in his New York offices in Tribeca, while the side table is by the Austrian-born Brazilian designer Martin Eisler (1913–1977). Eisler, along with Carlo Hauner designed many of the pieces for Brazilian furniture company Forma.
Liss places Brazilian modern furniture in most of his interior design projects, up to 20 projects annually. He is doing a lot of work right now in beach houses and finds that Brazilian modern is "incredibly relevant" there, he says, "with the casual, minimal, and comfortable qualities of the design matching up perfectly with the desired simplicity of a beach home." He believes Eisler is the most undervalued or under-collected of the mid-century top Brazilian furniture designers. "His cane works, cabinets, tables and chairs, are incredibly elegant, approachable, and very down to earth. The material is becoming increasingly scarce," he cautions, "as the design world is taking notice."
| | | |
| --- | --- | --- |
| | | |
Swooping, sensual curves are a hallmark of the Brazilian Modern aesthetic. Above left: The "Banco Curvo" (curved bench) in Brazilian Peroba by Carlo Hauner for Forma, circa 1960s. Photo courtesy Equinoctial. Above right: An icon of Brazilian mid century design, the circa 1955 "Reversivel" (Reversible) chair by Martin Eisler has an instantly recognizable sculptural form, which is also eminently practical. The chair can be adjusted by lifting and repositioning the curved seat from its tubular steel frame to create a high-backed lounge chair. Photo courtesy Peter Blake Gallery. Below: A pair of 1950s vintage "Costela" lounge chairs by design duo Carlo Hauner and Martin Eisler, so named for their slatted frame's resemblance to a rib cage. Photo courtesy Equinoctial.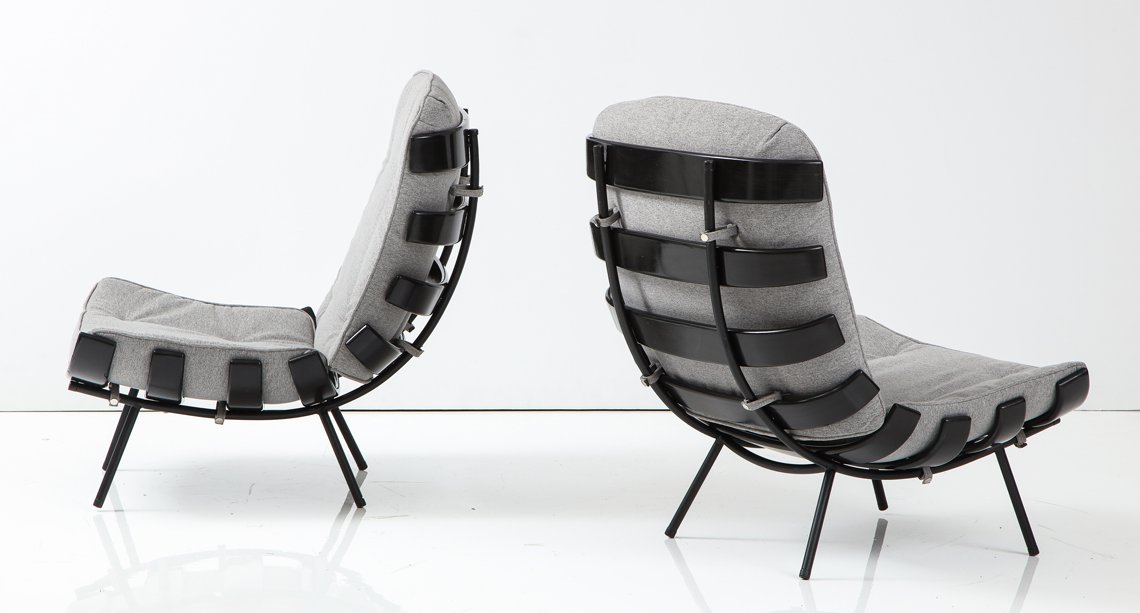 Some of the designers like Rodrigues or Zalszupin produced a lot. But others, such as Lina Bo Bardi (1914–1992), for example, did not produce on a large scale, so her pieces are difficult to find and therefore the market for each of these makers and their designs varies greatly. Recent editioning of iconic pieces has also had an impact. But in general, prices are escalating fast. "We are experiencing the greatest appreciation of modern Brazilian furniture over the last two decades," says Marcelo Vasconcellos from Equinoctial in The Gallery at 200 LEX powered by Incollect in New York and Boca Raton, another important dealer in Brazilian mid-century modern furniture. "A production that came to be despised, or sometimes even thrown in the trash, literally, has now become an object of desire around the world."
Vasconcellos points to the value and importance of "extensive research" on makers in recent decades resulting in dedicated exhibitions of mid-century Brazilian furniture in art galleries and museums and a "consistent literature" on the topic along with a few, more mundane changes such as "the professionalization of the international logistics sector in Brazil - despite numerous bureaucratic and fiscal obstacles" as having been critical in the development of the awareness and the market. He also credits websites and design fairs as important generative factors here, consistently "boosting and solidifying the position of Brazilian Design in the international market."
New York interior designer and dealer Jeff Lincoln is also a fan of Brazilian design and sums up succinctly the purely aesthetic reasons among collectors internationally for the demand: "Brazilian mid-century combines the rigor of European design with the exotic woods and the sensuous sensibility of the country of Brazil – what could be better?" Lincoln says that he "frequently selects one or two choice pieces of Brazilian modern furniture for his custom interior design schemes," because, he says, "it mixes well with most European mid-century design and art collectors have taken a fancy to mixing Brazilian design in with other designs in their collection." Works by Brazilian mid-century designers are offered for sale at his Southampton gallery.


Two sides of José Zanine Caldas's aesthetic: the rustic and the refined. Left: Namordeira two seated "Tête-à-Tête" lounge chair, hand carved from a single large tree section, circa 1970s. Right: A circa 1949 plywood frame lounge chair, with upholstered cushions and armrests. Images courtesy Jeff Lincoln Art + Design.

José Zanine Caldas left his legacy on Brazilian modern design too. He is known for his instinctive treatment of raw materials, and the organicity of his creations, and his work today is prized by top collectors according to Angelo Panayiotou from Splendid Antiques in London—the 'Namoradeira' Tête-à-Tête Rocker Conversation Seat or the 'Banco Pilão' Chair is a favorite. "The rare few times that we've managed to procure one of these pieces recently, they have literally flown out of the door and made their way to a big installation for an A-List celebrity client in New York. The same client has asked us to source a number of other key pieces which we are confident in doing!"

Above, the MP-51 Armchair by Percival Lafer in Pau Ferro (Brazilian Ironwood) circa 1960s. Below, the simple, elegant Ouro Preto armchair by Michel Arnoult, in Imbuia wood with nylon string backrest support. Photos courtesy Heranca Cultural Design Art Gallery.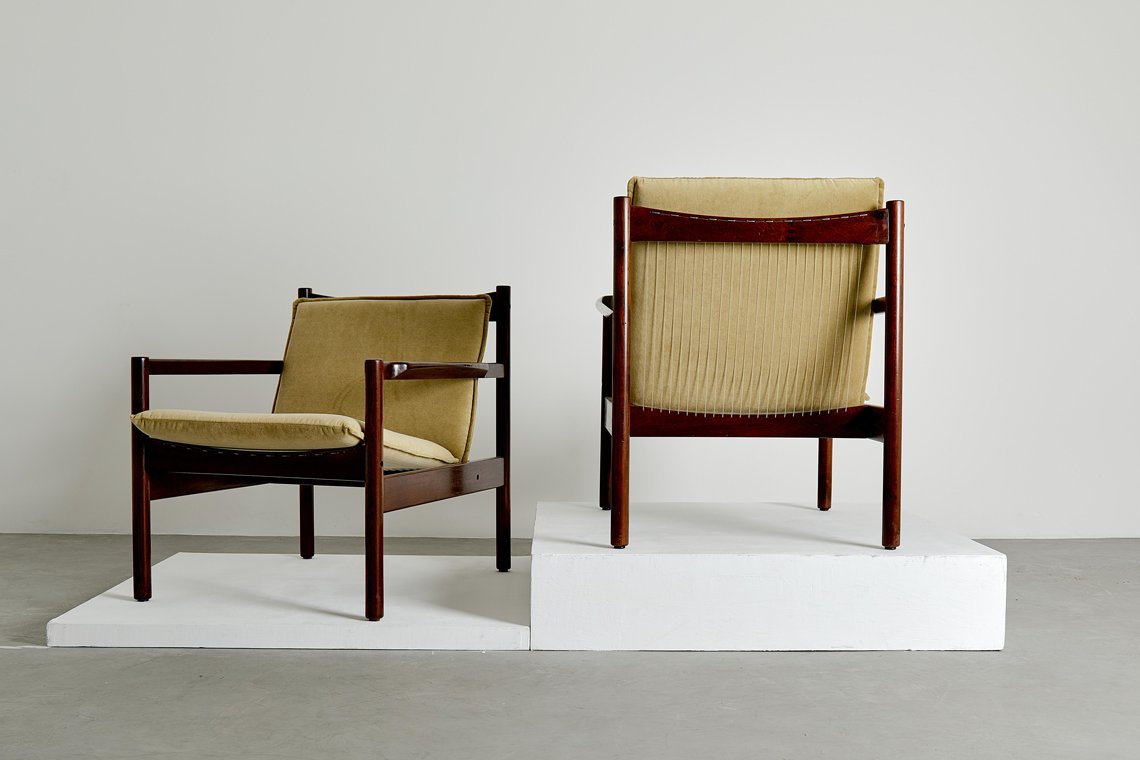 Percival Lafer is lesser known outside of interior design circles but also contributed to mid-century Brazilian design with what Alcantara describes as "his innovative and original form of production for the time. He was one of the pioneers of the use of industrial design processes and his pieces are of exceptional quality, in addition to having a very original design." Then there is Michel Arnoult, a French designer who lived in Brazil for a long period and is known for ready-to-assemble furniture. "He believed everyone should have a beautiful piece of design in their house," Alcantara says. "He had a very special eye for details and left a legacy of beautiful furniture." Vasconcellos singles out Abraham Palatnik, who also left a small legacy in terms of quantity of pieces, but, he says, "gigantic in terms of creativity and quality!"
"This mixture of people generated a fascinating artisanal expressiveness" Alcantara muses, referring to the fact that so many talented architects and designers from all over the world lived and worked in Brazil during this period, spurred by European migration following World War II. She is particularly enamored of the designs of Lina Bo Bardi, an Italian-born architect and designer who worked with Gio Ponti in Milan before relocating in 1947 to Brazil. "She didn't produce furniture in large quantities but her work is substantial and unique", she says. Her Glass House in Sao Paulo, from 1951, which was her home, is one of her most famous creations, along with various designs for chairs that are much sought after by serious collectors.
"Mid-century Brazilian furniture design has never been more in demand than it is now," says Panayiotou, who believes that for unusual historical reasons it never achieved its deserved popularity and status outside of Brazil at the time. "Brazilian mid-century design had a complicated upbringing," he explains to me. "Under the various military dictatorships that governed the country from the early 1960s through the 1980s, the exportation of Brazilian furniture was illegal and prohibited. This meant Brazilian furniture design was one of the best-kept secrets in the design world."


Zalszupin's "Petalas" coffee table and side tables are constructed with origami-like "petals" of Brazilian rosewood, originally designed to utilize the leftover pieces from another of his designs, the "Andorinha" coffee table. Photos courtesy Splendid Antiques.

Panayiotou says the demand for mid-century furniture has become so great that the minimalist elegance of Zalszupin's 'Banco Onda' Bench, Petalas Coffee Tables and Side Tables are an almost weekly request from interior designers and private clients. "In the Petalas series Zalszupin plays with the organic form of flower petals, the geometric form has been interpreted in a poetic way," he says. "Petalas tables are captivating due to their clever construction and sensual shape, bringing to mind some of Neimeyer's architectural forms, for instance, the Palácio da Alvorada in Brasilia."
Another collector favorite and in huge demand is the 'Mucki' Bench by Rodrigues, designed in 1958, and today according to Panayiotou "seriously sought after and an absolute show-stopper." The versatile 'Mucki' can double as a bench or as a coffee table and was one of the designs produced at Oca, a 'factory-like' workshop that Rodrigues established in 1955 in Rio de Janeiro and which he later referred to as 'a laboratory for Brazilian furniture and handicrafts'. The designs that were executed and manufactured here were pivotal in the flowering of modern Brazilian design.
Most dealers and designers believe that the appetite will only continue to grow for Brazilian mid-century design, and as a business, they have refocused their attention to reflect the current interest. The challenge of course remains to find and source the best material for clients. "The world has caught up to Brazilian design," Mellone says, "and so the things are getting harder and harder to get." He points also to the entry into the market of celebrity collectors, such as Miuccia Prada, who has been buying large quantities of Brazilian modern furniture through dealers.
Mellone uses Brazilian furniture in all kinds of residential projects, from New York apartments to country homes and beach houses. "The appeal is timeless," he says. "My clients understand that this specific period style fits and matches with a lot of other things, as most of our interiors I like to define as mixes. Every designer has their own mixes, and we have ours, and ours just include a lot of Brazilian furniture. Our clients understand that and appreciate in particular the quality of the materials, the amazing handmade manufacturing that is so transparent, and the design itself."