This Week's Events: Antiques Week in New Hampshire, Objects of Art Santa Fe, Renaissance Women in Asia + More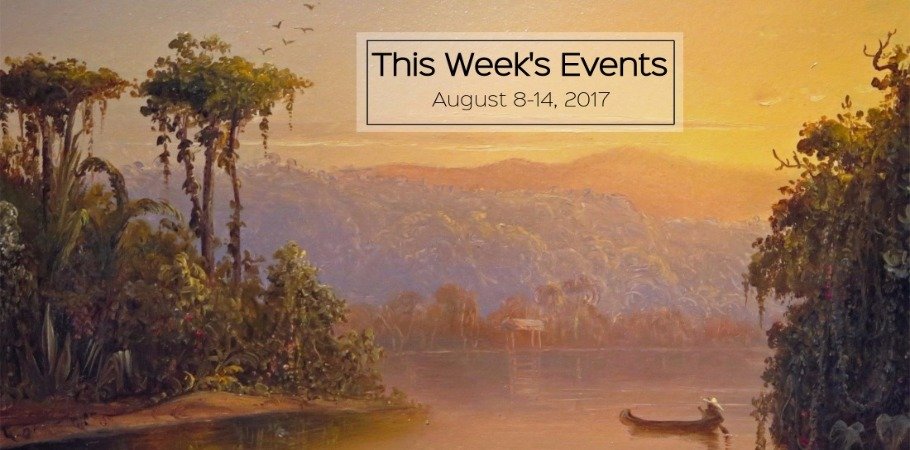 Each Tuesday we present our weekly roundup of top shows, exhibitions, and events. For those with a passion for antiques, this week's Events offers an array of shows that are sure to pique your curiosity.
Antiques Week in New Hampshire
August 6-12, 2017
Manchester, NH
For more information, visit: www.antiquesweeknh.com
Every year, thousands of collectors head to New England for Antiques Week in New Hampshire. Held from August 6-12, the fair actually consists of seven events spread throughout the "Live Free or Die" state, with each offering their own assortment of antiques, Americana, and art for collectors of all levels. While all of the events are certainly worth a visit, the three major shows are clustered together in Manchester. The first to open are Antiques in Manchester and Midweek in Manchester, where some of the leading dealers specializing in Americana will be exhibiting the finest 18th, 19th and early 20th century antiques.
Closing out Antiques Week will be the longest running show of them all, the 60th Annual New Hampshire Antiques Show. Deemed "the premier New England summer show" by Yankee Magazine, the show will be packing in 67 exhibitors including American Garage, Brock & Co. and Kelly Kinzle for a grand display of everything from folk art to fine porcelain, country and formal furniture, paintings and prints, metalware, glassware, pottery and more. "The New Hampshire Antiques Show is the longest running Antiques Week show and it's the anchoring event -- it's the one that everyone looks forward to," says Mark Brock, President of Brock & Co. "The show attracts a very loyal customer base and you see many of the same people every year coming from all over the country. Last year we saw a number of new buyers. As a dealer, that's the kind of relationship you want to cultivate at a show."
Nantucket Summer Antique Show
August 11-14, 2017
Nantucket Boy's and Girl's Club, Nantucket, RI
For more information, visit: www.nantucketsummerantiquesshow.com
Civil war era flag with stars in a 4-5-4 pattern. On offer at Jeff Bridgman Antiques. Jack Atherthon, Rare decorative map of Nantucket, 1937. On Offer at Sylvia Antiques.
Following the smashing success of its debut show last year, the Nantucket Summer Antiques Show returns this week with an outstanding roster of exhibitors offering marine antiques, paintings, fine antique furniture, rugs, prints, silver, and much more. Continuing the 26 year tradition of managing fine antique shows on Nantucket, the show will be presented by The Antiques Council, with a series of special events (including a "Show Preview Strawberries and Cream Brunch" and a "Oysters and Bloody Marys Sip and Shop") being held throughout the weekend to benefit such organizations as the Nantucket Preservation Trust and the Community Foundation's Nantucket Fund. Among this year's exhibitors are Jeff Bridgman, Cooley Gallery, Harry Leslie Hoffman, and Sylvia Antiques.
Says Marty Shapiro, President of the Antiques Council, "There has always been a very strong market on the island for fine quality antiques. With this new show our exhibitors will be able to continue bringing their best examples to their best clients. This show will encompass the rich history of Nantucket with a focus on the needs and interests of the islands homeowners and visitors today."
Whitehawk Antique Indian & Ethnographic Art Show
August 11-14, 2017
Santa Fe Community Convention Center, Santa Fe, NM
For more information, visit: www.whitehawkshows.com
The Whitehawk Art Shows, Inc., was founded in 1978, when antique Indian arts collector, Don Bennett, thought it would be a good idea to get some of his fellow collectors together so they could buy, sell and trade from each other. Thirty-nine years later, the Antique Indian & Ethnographic Art Show has a reputation as the premiere showcase of American Indian and Ethnographic art. With more than 100 dealers flocking to Santa Fe each year to display their diverse selections of treasures, this year's list of exhibitors includes Marcy Burns American Indian Arts, New World Antiquities, and Throckmorton Fine Art among others.

Objects of Art Santa Fe
August 10-13, 2017
El Museo Cultural de Santa Fe, Santa Fe, NM
For more information, visit: www.objectsofartsantafe.com
Also opening in Santa Fe this week will be the eight edition of Objects of Art Santa Fe, which promises to be the city's biggest and boldest event yet. Over 70 galleries will be presenting material ranging from paintings, sculpture, and fine art of all kinds to furniture, books, fashion, jewelry, textiles, and tribal, folk, American Indian, African, and Asian art. With prices ranging from a mere $25 into the six figures, the show will bridge the worlds of historic and contemporary art in a high-quality global showcase of extraordinary art that beginner and seasoned collectors alike can appreciate.
"This is not your grandmother's antique show," says Kim Martindale, the show's coproducer. "The goal of the show is not about having a complete set of Chippendale furniture. People are no longer keeping strict boundaries in art, they are uniting and putting diverse pieces together. They want to have art and design they can live with, they can wear, and they can love." Martindale (with John Morris) also produces the Antique American Indian Art Show, held in the same location just days after Objects of Art Santa Fe, from August 15th-18th.
Galleries, Museums Exhibitions & More
Van Gogh to Cezanne, Bonnard to Matisse: The Collection Hahnloser
August 11, 2017-March 11, 2018
Kunstmuseum Bern, Basel, SUI
For more information, visit: www.kunstmuseumbern.ch
Opening this week and lasting until the spring of 2018, the Kunstmuseum Bern in Basel, Switzerland is mounting an exhibition of veritable masterpieces from the likes of Van Gogh, Cézanne, Renoir, and Redon to Matisse, Marquet, and Maillol. As one of the most comprehensive exhibitions of the former Hahnloser Collection (now owned by the Hahnloser/Jaeggli Foundation), Van Gogh to Cezanne presents an overview that brings together the important paintings, sculptures, and works on paper of French modernism and the Swiss avant-garde.
"The collection is unique not only because of its vision and coherence, but also because it is one of the few private art collections that has remained virtually intact," says Villa Flora curator Angelika Affentranger-Kirchrath.
Catch It Before It Closes:
Renaissance Woman in Asia: Florance Waterbury and Her Gifts of Asian Art
Through August 20, 2017
Worcester Art Museum, Worcester, MA
For more information, visit: www.worcesterart.org
A painter, world traveler, collector, and noted Chinese art scholar, Florance Waterbury rose to prominence in 1922 with a one-woman show in New York as a still-life painter which depicted Southeast and East Asian objects she collected during her travels. In the years the followed, her fascination with Asian art would slowly transform from its visual form to its historical study. After her important study on Chinese ritual bronzes, Early Chinese Symbols and Literature: Vestiges and Speculation, was published in 1942, Waterbury became a recognized scholar and began giving several of the gifts she had picked up on her trips to the Far East to the Worcester Art Museum. Many of these pieces would go on to shape the WAM's early collection of Chinese art, which now includes thousands of objects ranging as far back as the 6th Century. To honor both Waterbury's studies and her contributions to the museum, the Worcester Art Museum unveiled Renaissance Woman in Asia: Florance Waterbury and Her Gifts of Asian Art back in May.
The Jazz Age: American Style in the 1920s
Through August 20, 2017
Cooper Hewitt, Smithsonian Design Museum, New York City, NY
For more information, visit: www.cooperhewitt.org
During the 1920s, the influences that fueled design's burst of innovation, exoticism, and modernity were manifold and flowed back and forth across the Atlantic. Jazz music, a uniquely American art form, also found a ready audience in Europe. An apt metaphor for the decade's embrace of urbanity and experimentation, jazz captured the pulse and rich mixture of cultures and rhythms that brought a new beat to contemporary life.
The first ever Smithsonian exhibition to focus on the creative explosion that happened in America during the 1920's, The Jazz Age is an exhibit of a wholly unique variety. Closing next week, it spans more than 400 examples of interior design, industrial design, decorative art, jewelry, fashion, and architecture, as well as related music and film in an attempt to "highlight the dynamic changes in American taste and lifestyles that prompted an outpouring of design and heralded an exhilarating new era." The Associated Press has called The Jazz Age "a multisensory blockbuster of a show", making it a must-see viewing experience for art fans and cultural historians alike.