Designer Tom Stringer's Adventurous Life
| | |
| --- | --- |
| | |
| | Tom Stringer |
Tom Stringer's first book tells the story of journeys—those of a world traveler, those of a young man becoming an interior designer, and of the journey taken with each of the interior design projects showcased in this volume. An Adventurous Life: Global Interiors by Tom Stringer is filled with page after page of fascinating travel images and the glorious interiors that take their inspiration from the world travels of Tom and his clients. He travels with his clients whenever possible, as a way of cementing the relationship and understanding better what they respond to. As Tom describes in his opening essay, "As I have often said, to me, design is storytelling, and in fact I cannot imagine delivering an interior that, however aesthetically pristine, is devoid of personal narrative. My first, and perhaps most critical task, on every project, is helping my clients to distill and articulate their story: once I know it, we have a connection—one that gives direction, meaning, and resonance to the rooms that I create."
What form those stories take is both lyrical and tangible, and they are translated into stone, glass, textile and furnishings in the obvious ways—art and artifacts collected through travel, and more subtle ways—polished white limestone surfaces and Moorish-inspired patterned grillwork that recall travels to Northern Africa. The designer's efforts to make the elements he chooses appropriate and authentic, without appearing "pasted on" sometimes take a complicated turn; in one anecdote, he describes constructing an Indonesian pool pavilion for a California estate. In order to comply with southern California seismic code, the structure's welded frame had to be fabricated in state, then shipped to Indonesia and fitted with a teak overstructure, dismantled and shipped back. Rather than have the entire structure built in California to Indonesian style, the client now had an authentic Indonesian pool pavillion, and, as a result, a story to tell.
| | |
| --- | --- |
| | |
Tom Stringer founded his eponymous multi-disciplinary firm more than 20 years ago to conceive and deliver unique design solutions for private residences, restaurants, and yachts around the globe. A world traveler and inveterate shopper, Stringer's expertise reflects both his formal education in classical architecture and his personal passion for exotic travel. Stringer and his expert team masterfully weave together antiques, contemporary furniture, original art, and ethnographic elements with the client's personality and passions to produce serene environments imbued with distinct character.
Widely lauded and published, Stringer anticipates bringing his global sensibility to original product design, expecting to debut integrated collections of furniture, fabric, and accessories in 2018, immediately following the publication of this book.
Stringer holds a Bachelor's degree in design from the College of Architecture and Environmental Design at Arizona State University and began his career working for Charles Pfister designing product for Baker Furniture, Brown Jordan, and Casella Lighting. He served as Design Director for the renowned Chicago firm Branca, Inc. before forming Tom Stringer Design Partners in 1995.
An Adventurous Life: Global Interiors by Tom Stringer, written by Tom Stringer with Marc Kristal; forward by Holly Hunt, can be purchased through the firm's website and is available from Rizzoli, Amazon, and Barnes & Noble.
---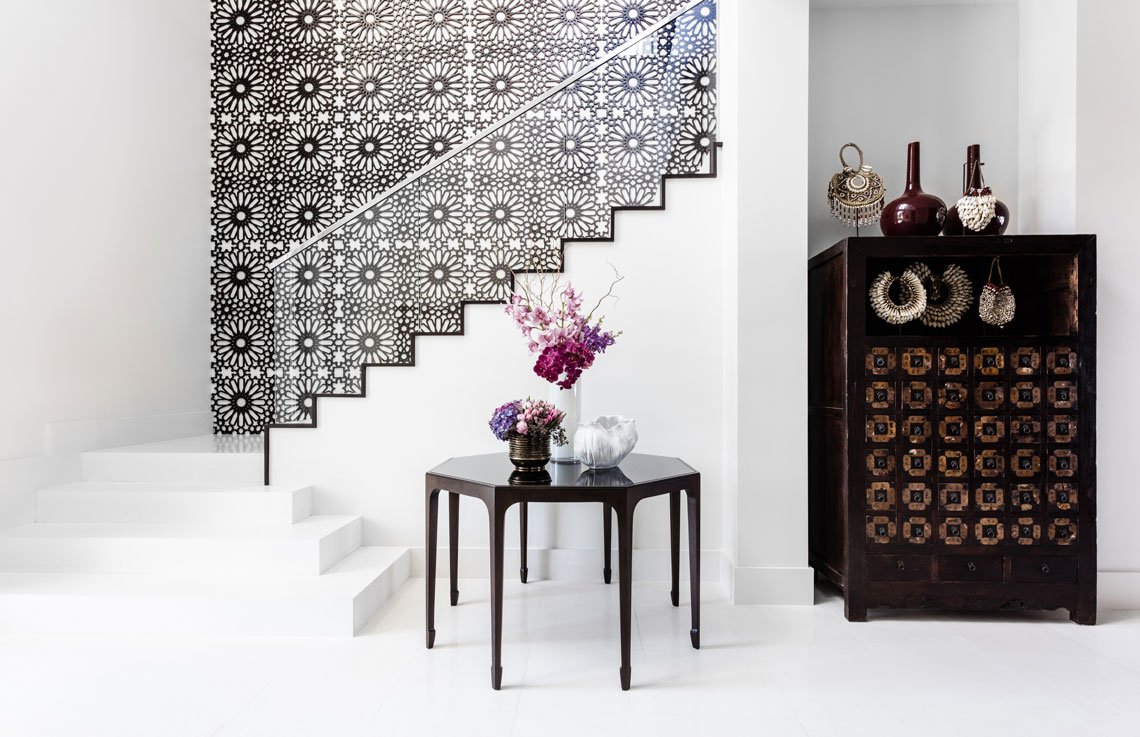 An inspiring trip to Marrakech with his clients yielded interiors imbued with North African style in their Miami home, where highly polished white limestone paves the floors of the entrance hall. The mashrabiya-like screens here and throughout soften the harsh sunlight and cast delicate shifting patterns. A mahogany and stainless steel early French modernist table is beautifully attuned with the Moroccan aesthetic.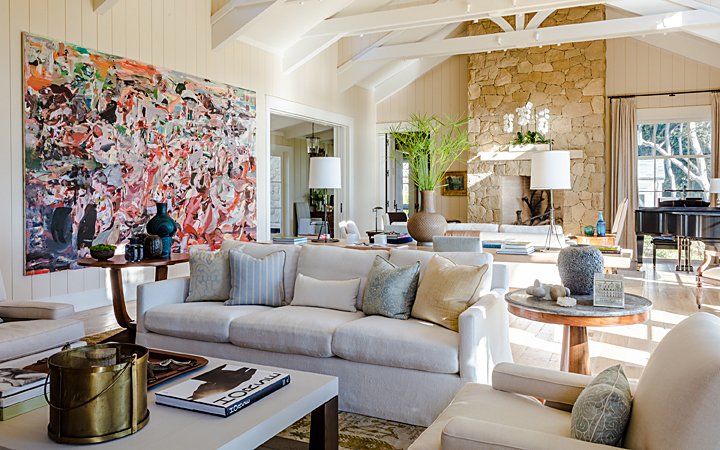 A magnificent
Cecily Brown
painting animates the casual board-and-batten atmosphere of a beachfront Santa Barbara estate living room. A collection of
Axel Salto
pottery adorns the tabletops of an eclectic blend of antique and modern pieces.




Left: Vintage Jens Risom walnut, lacquer and travertine console, topped by African artifacts, including a trio of walking sticks. Right: The bar in a guesthouse reflects the "contemporary Prairie" style of the main house, with hand-sawn walnut floors, backlit onyx panels, hand-blown glass light fixtures and ceiling panels of top-stitched leather.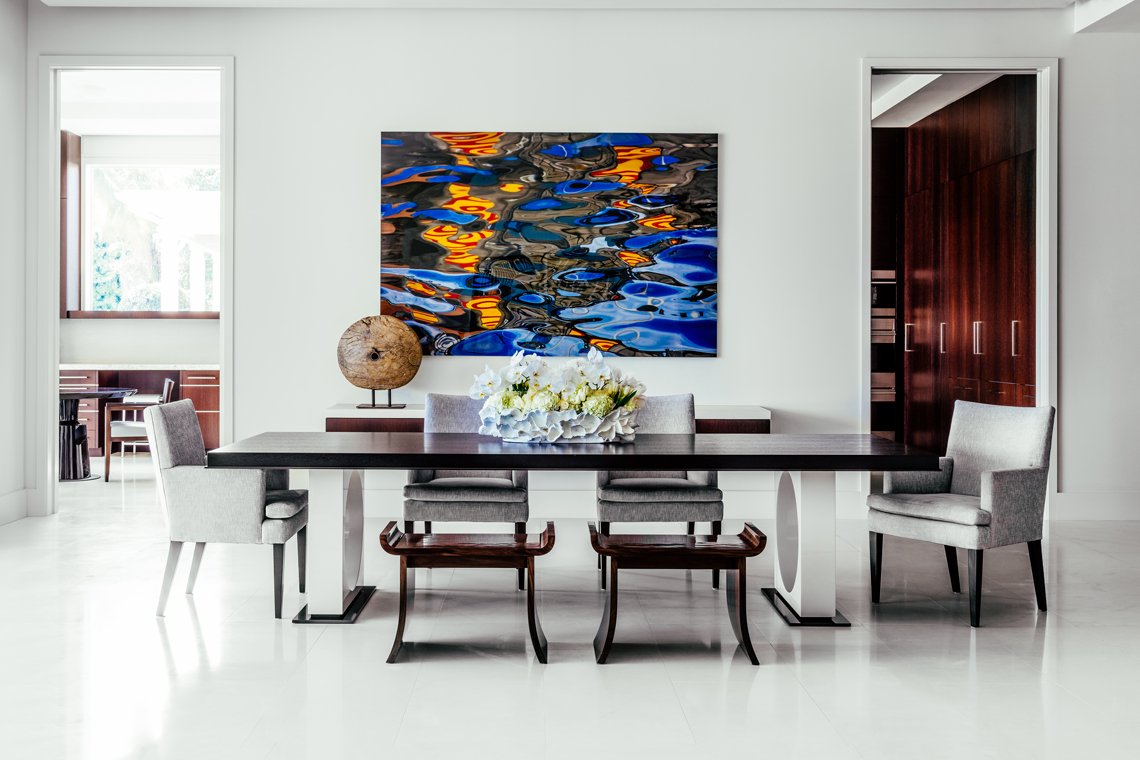 A photograph of reflections in the Baltic Sea by Chicago artist Michael Noonan presides over a modern dining table, with a pair of zebrawood benches. The floors are polished white limestone.



Left: In the entryway of Tom Stringer and husband Scott's home, the floors are chevron-patterned white oak, the chandelier is giltwood and mercury glass. The German Deco console is flanked by Russian Regency chairs covered in a Fortuny fabric. Right: Textures, colors and patterns from travels provide inspiration reflected in the interiors crafted by the firm.
In a Lincoln Park penthouse, with commanding views of Lake Michigan, Lincoln Park and the Gold Coast, the living room draws together 18th-century French fauteuils, a modern tailored sofa, and custom tub chairs by Tom Stringer, with Chinese ancestor portraits and a pair of Tang dynasty horses atop a chrome and glass coffee table that recalls the 1970s.



Left: Works commissioned from contemporary studio artists add another layer of nuance to Stringer's designs. A pair of large-scale bronze wall fountains by Albert Guibara in the entry courtyard of a Santa Barbara estate. Right: A coffee table by the artist Jim Zivic, crafted from a lump of anthracite coal.
TO VIEW MORE PROJECTS BY TOM STRINGER DESIGN PARTNERS CLICK HERE